Many PPC campaigns are not fully prepared for advertising and it's obviously affecting sales and organic rankings. Today Assaf Vigdor from PPC Winner share best practices and advice on how to improve your listing and which elements are critical before launching a campaign.
No coupons found.
Is your listing "PPC ready"?
When preparing a listing, there are some seriously critical elements that need to be taken into consideration. These are:
High-quality product images
A detailed listing with relevant keywords
Minimum 10 positive reviews
Pricing – refer to your competitors, product life cycle, etc.
Setting expectations and ACOS goals
Product images
Having a high-quality product image is not always enough – you also want to make sure it meets Amazon criteria. First of all, your main image should be with a white background so there is no need to think of any other way how to showcase your product. The simpler, the better! Other than that, you need to have a minimum of 7 images with dimensions 1000×1000 so your listing is fully completed. It's also highly recommended to have a video as your last image.
In the example below, on the right side, you see some add-on images that show what this product is about. Since people always want to know what product they are going to get, it's a great way to set up expectations. As you can see, you can add product images or show its benefits as well as show the final result of a product – in this case, there is an image showing a dish that creates emotional value to a buyer.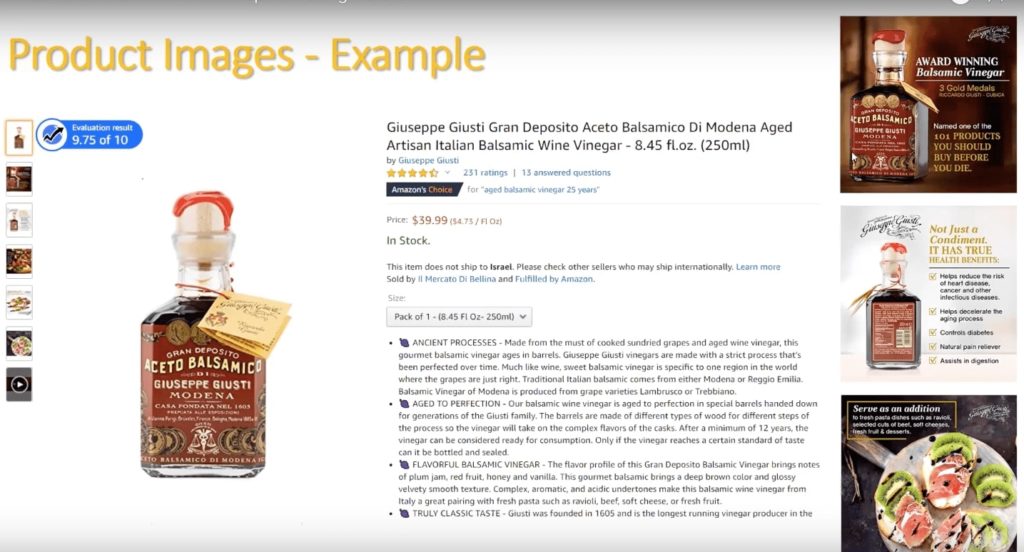 Relevant keywords
If you look closely into the previous example, you'll see that the title has all the required information for a potential customer. Below there are some bullet points with thorough information about the product. The more you explain about your product, the higher your chances to sell it – invest some time so you are sure it's done properly.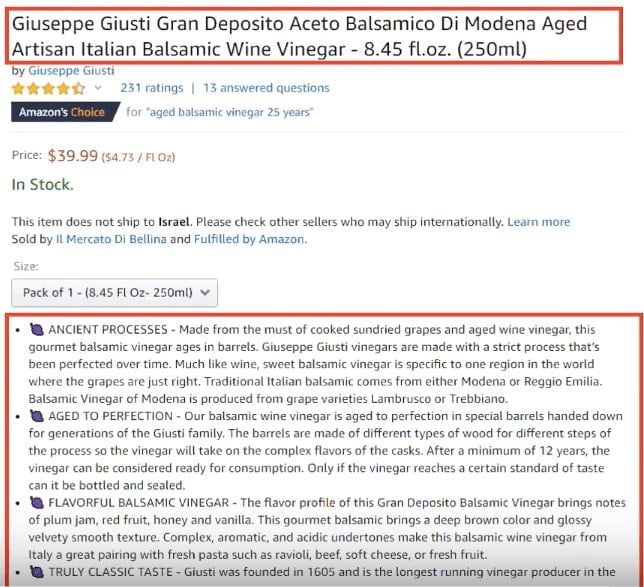 However, when customers browse on mobile devices, the first thing they see is the title and then product description. Keeping that in mind, you shouldn't forget to write an informative product description, even though there is information in the bullet points. And when preparing both description and bullet points, it's important to include relevant keywords – take the most converting ones or the ones that are closely related to your product. It will definitely improve your SEO performance, meaning your product gets more organic impressions as well as PPC.
Positive reviews
Yes, we know how tough is to receive as many positive reviews as possible since people are more likely to leave a negative review instead of a good one. However, Assaf does not recommend to start a PPC campaign unless you have 10 positive reviews or 5 five-star reviews. Do not rush things and be patient – in order to have a successful PPC campaign, you need to first have a proper listing with positive reviews. If you have less than 4 stars, people will not click on your product.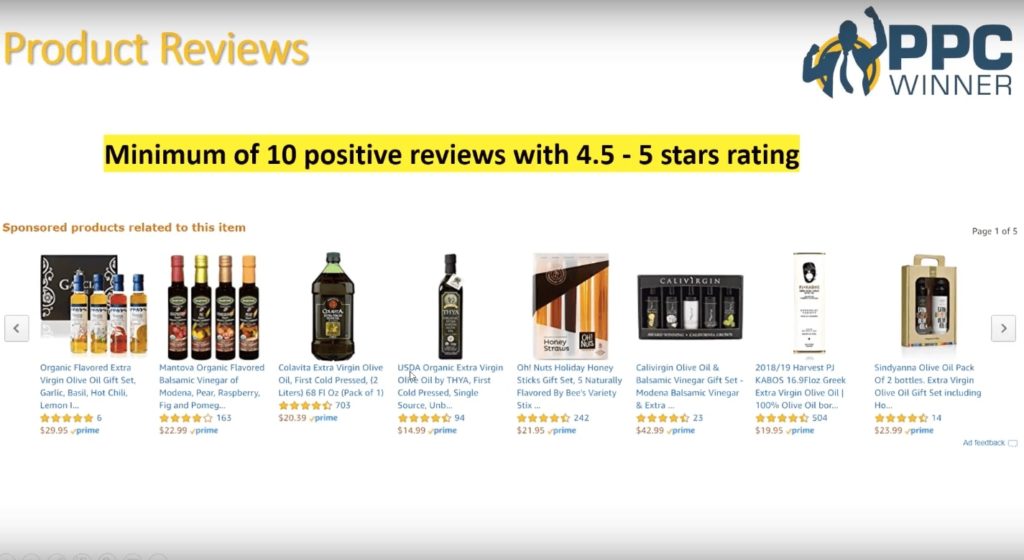 Long-term pricing strategy
Selling on Amazon is a serious business and you need to have a proper pricing strategy. In order to define it, first of all, you need to understand your product life cycle. Starting with your launching price, remember you can't have the same price as the products that have been sold on Amazon for the past 2-3 years. Once you start getting more sales, you can then increase your growth price and after a while, you can finally set your targeting price. As you can see, pricing your product requires to take a few steps alongside doing research on how will your product perform after six months, a year and two years. It's all about understanding the long term pricing strategy.
Of course, you must be always aware of what your competitors are – every now and then new ones will appear, you'll see new strategies and tactics so in order not to fall back, keep a good track on your competition. You can investigate your competitors based on their product life cycle, researching their marketing strategies and products. Do not forget – your competition depends on your own product's life cycle! So when targeting a competitor, target more "low hanging fruits", meaning lower feedback and higher price. It's easier to take sales from such competition.
Also, building a brand on Amazon nowadays has become a trend, meaning now you are selling not only your products but your brand as well. It's an essential part of building your business – the more aware people are about your brand, the more successful your long-term strategy will be.
Advertising expectations
Set realistic goals for your PPC campaign. If you are selling 5 products a day, you won't be able to sell 50 products a day just by doing PPC. In this scenario, you'll probably end up selling 7-8 products which is a realistic way of thinking. Besides that, as discussed before, you really need to understand your product life cycle since it's inevitably connected to increasing prices and targeting different competitors. Finally, know your ACoS – sellers tend to target 20-10% when they're launching a new product. The problem is they cannot get into this type of target ACoS because it takes time for Amazon to know your product. In this case, PPC helps you to grow your organic sales, it leads to more reviews, better ranking, and then more impressions. This is how this magic cycle works! Assaf advises not to focus on your ACoS and instead try to look at a total average cost of sales (TACoS) – how much have you generated not only with one PPC campaign but in general from your advertising activities.
More about PPC Winner tool
PPCwinner is a machine learning tool built by Amazon sellers for Amazon sellers, which is why they take care of everything for you – from doing keyword research and adjusting the budget to optimizing your PPC campaigns. The tool will perform keyword research and build your PPC Campaigns, all in a 24/7 optimization cycle. With this tool, you don't really need to understand advertising nor how to operate an advertising system in order to increase your organic sales.

SPECIAL OFFER: Register for PPC Winner using a coupon code OKNEWPRODUCT to get 50% off the price for 3 months and advertising expert call to discuss your product's campaign!
All the above is provided directly by the PPC Winner. If the coupon code is expired, you can always use DEMOMONDAYS to get 15% off your PPC Winner subscription by clicking here!
Also, find a full demo on how to start using PPC Winner in our Demo Mondays series!