It's already holiday season which is one of the most intense periods for Amazon sellers. What to do to beat the competition and increase sales? How to improve PPC and become more visible? Today Assaf Vigdor from PPC Winner shares some tips and hacks that will help you to master Amazon sponsored ads.
No coupons found.
Common advertising mistakes
In order to know how to implement the best tactics to your PPC activities, first you need to be aware of the most common advertising mistakes:
Your listing is not PPC ready. Be sure your listing has high-quality images, relevant keywords, the right description and bullet points where customers can find all important information about the product.
Having less than 5 five-star reviews. It's better not to launch a PPC campaign with less than that – a product with no positive reviews does not look reliable. People buying behavior is strongly based on others' experiences.
Wrong pricing strategy. Your pricing strategy MUST be in-line with your product's life cycle so you can price it accordingly. Also, understand your competition – it's strongly connected to your product's life cycle.
Focusing on the less converting products. If you have product variations, you need to choose the one that actually converts the most.
Making decisions based on wrong advertising data. If you focus on ACoS and how much do you spend, you don't see the full cycle. When analyzing your reports, always remember that there is a 3-day delay in receiving Amazon sales data. Also, if you think some keywords cost too much, check where they are ranking before taking them off.
Product targeting
The first tactic that Assaf shares is product targeting. By doing the right product targeting, you are increasing the chances for your product to appear in sponsored product ads on your competitors' listings. There are three types of targeting: 1) Product targeting based on category, 2) on competitor's ASINs, 3) and ASINs that your product sells on. For example, if your product has a 4-star rating, you choose to target competitors that have a maximum of 3-star ratings. Then customers will see your product in the sponsored ads with higher ratings compared to your competitors. Another smart move is to target more expensive products. This way your product will be more attractive to customers.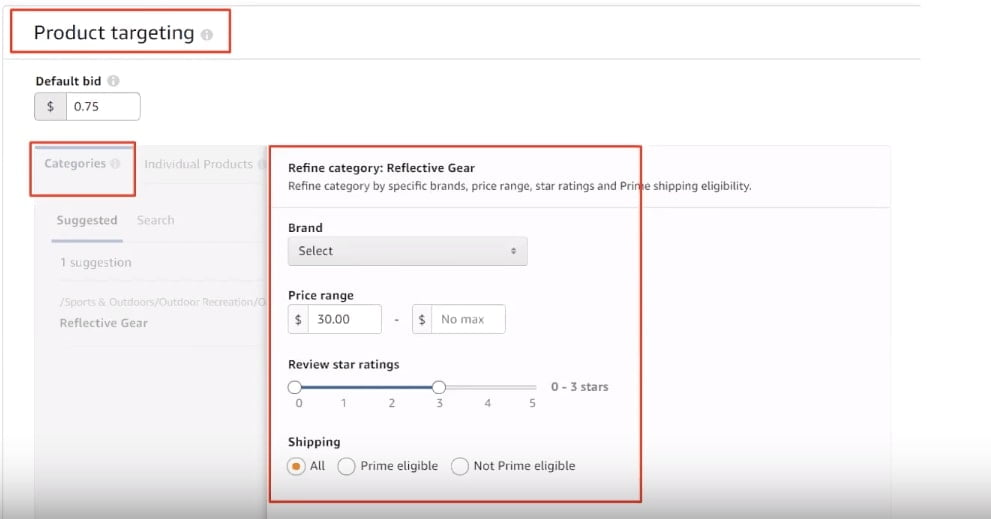 You can target your competitors based on their ASINs. Simply go to product targeting, click on individual products and Amazon will give you some product suggestions that are competing with you or you can search and enter your own list by analyzing your advertising report and identifying which of your products are being sold on your competitor ASINs.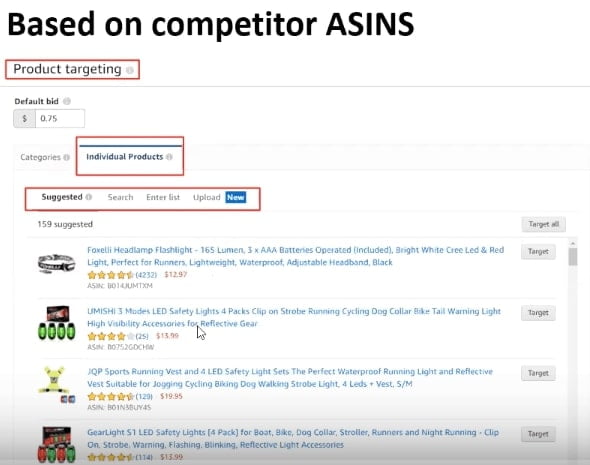 Recommended strategies:
Utilizing your advantages over your competitors (price, review, differentiation, rating, FBA)
Competitors ASINs that your product sells on
Advertise on other ASINs that you own
Exclude competitors' ASINs that are low-performing
Advertise on ASINs that deliver traffic using low bid
Here are some examples of how this type of targeting looks on Amazon: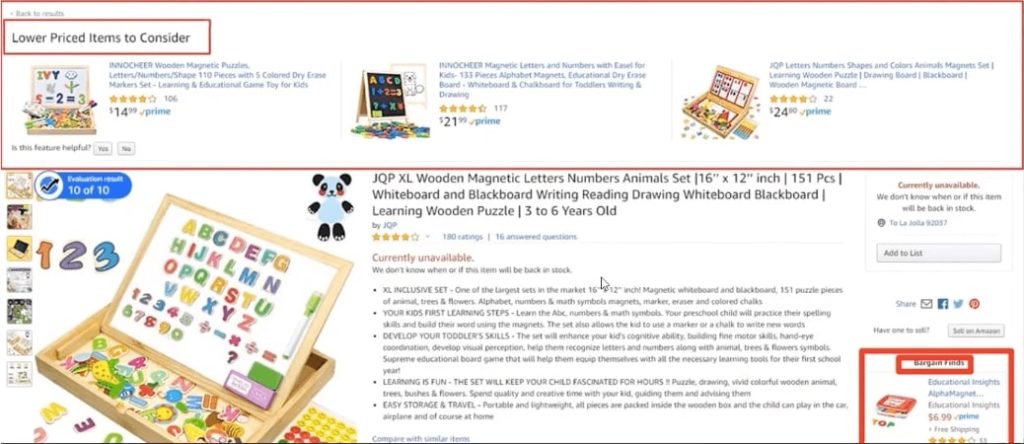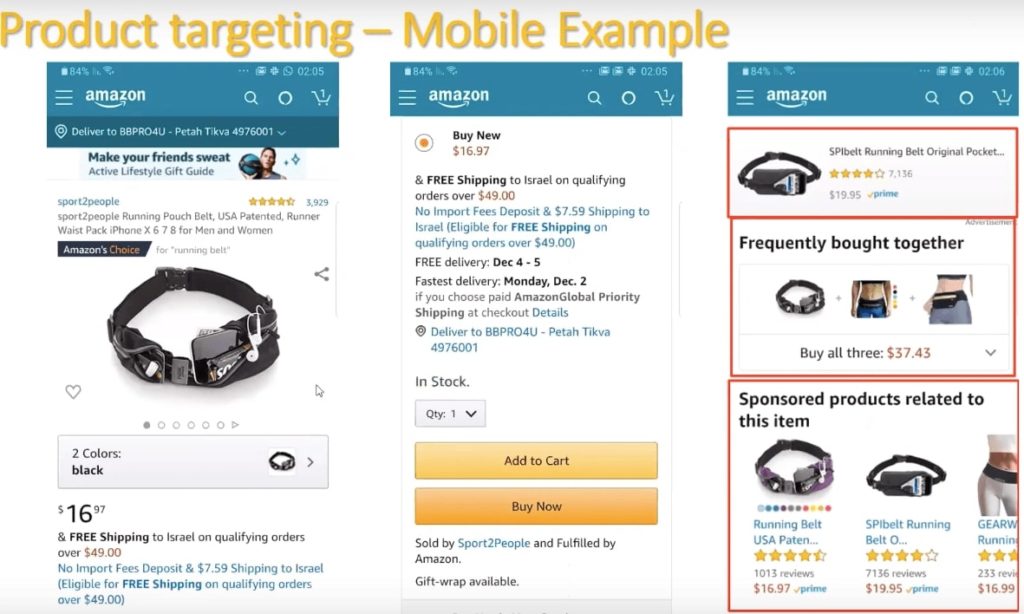 Things to know about product targeting
Product targeting is one of the most effective advertising strategies.
Most suitable when launching a new product.
Utilize data collected on other campaigns to improve your product targeting.
Identifying competitors can be easily done using software like Helium 10.
Effective on the holiday season.
40% of the total sales arrive from product targeting.
Improving organic ranking
To improve your organic ranking, first of all, you should search your product ASIN on Helium 10 or Cerebro tool. Then, filter the search volume to a minimum of 500 searches and check the phrases listed on the organic rank on page 2-3 and which keywords convert the best – you can now take these keywords and set up a manual campaign so they can be promoted to page 1. Start with low bids (0.7 – 0.8 per bid). All these things will help you to improve your organic sales and impressions.
Another thing to keep in mind is promoting your converting keywords. To do so, first, you need to download Amazon keyword reports and identify converting keywords and focus on 1-2 keywords with high search volume. Then create a campaign based on these keywords. Some tips on how to do that:
Setting the bids to 30 cents USD (min. daily budget of $20 – $30 USD)
Allowing auto bid increase 300% up to 900%
Slightly increase the bid if necessary
More about PPC Winner tool
PPCwinner is a machine learning tool built by Amazon sellers for Amazon sellers, which is why they take care of everything for you – from doing keyword research and adjusting the budget to optimizing your PPC campaigns. The tool will perform keyword research and build your PPC Campaigns, all in a 24/7 optimization cycle. With this tool, you don't really need to understand advertising nor how to operate an advertising system in order to increase your organic sales.

HOLIDAY OFFER: Register for PPC Winner GOLD PACKAGE using a coupon code ORANGEKLIK to get:
PPC Winner: 2-month subscription for only $74.50 ($99.80 value)
Helium 10: 3-month subscription for FREE ($291 value)
Product targeting campaign ($150 value)
Total savings value: $466.30
All the above is provided directly by the PPC Winner. If the coupon code is expired, you can always use DEMOMONDAYS to get 15% off your PPC Winner subscription by clicking here!
Also, find a full demo on how to start using PPC Winner in our Demo Mondays series!