Are you still struggling to make your Amazon product listing to be more visible and rank higher on the Amazon search results page?
Amazon SEO uses an entirely different algorithm that is solely based on Amazon data. It is constantly changing every day which means the keywords that you use in your product listing today may not be effectively directing traffic to your listing next week.
Therefore, you need to keep up with these changes by staying ahead of the competitors and leveling up your keyword research game every week. To get the most bang out for your buck, it is best to invest in keyword research to ensure you are optimizing for relevant and high search volume keywords and fill your Amazon product listing content that can satisfy your target market and Amazon search engine.
In this blog post, you will learn how to do Helium 10 Amazon keyword research using Cerebro and Magnet tools. These 2 powerful keyword research tools from Helium 10 will help you gather strong performing and highly searched keywords that can increase your click-through rate and conversion.
What is keyword research and why is it important for your Amazon FBA business success?
Keyword research is a process of discovering search terms that your target market uses to search for a certain product or service, and analyze its performance through search volume, keyword ranking, CPC, and level of competition.
Proper keyword research will:
Help improve your Amazon SEO strategy
Rank higher or get indexed on keywords that have low competition
Help you discover new competitive keywords
Drive down Cost-per-click costs- by ranking on less competitive keywords that are still effective in driving impressions to your listing.
Optimizing your product listing for an effective Amazon PPC ad campaign and better organic sales ranking.
Now that we know how well-thought keyword research can help you improve your product ranking, let's move on to actionable steps on how to do it.
Helium 10 Amazon keyword research step-by-step
To begin with our keyword research, we will use the Cerebro tool which allows you to narrow your search for the most relevant data on a product's keyword such as search volume, historical search data, ranking data, and the number of competitors ranking on those keywords.
Magnet tool is another keyword research tool that can help you accurately examine the keywords used by your top competitors. By knowing your competitors' keyword strategy, you will be able to discover search terms and keywords that can help improve Amazon product listing visibility.
We are going to continue and pick the product that we chose for our previous product research strategy, which is the "coffee kettle gooseneck".
After typing this keyword phrase on the Amazon search engine, you will then have to use the Xray tool from the Helium 10 chrome extension to know who are your competitors on this type of product.
Xray for harvesting keyword data
Our basic keyword research begins with harvesting the data we can find on our top competitors with the highest sales and highest reviews.
To get the ASIN of the top competitor with the highest sales, you have to sort the SALES from highest to lowest in the Xray tool. You can only get the top 1 competitor or the top 5 competitors. The more ASINS you include, the greater the opportunity is to discover new keywords: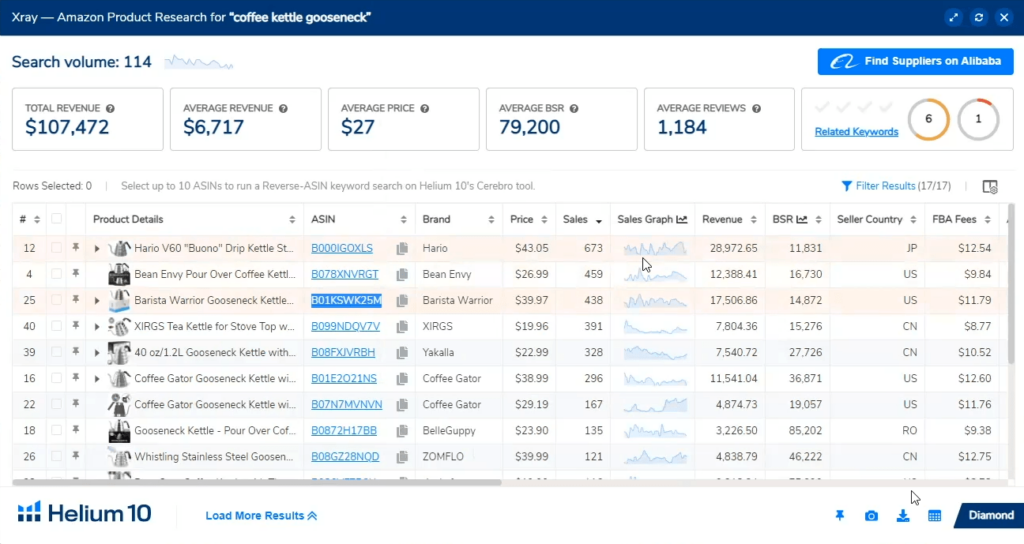 To get the ASIN of the top competitor with the highest reviews, you will do the same on the Xray tool but this time sort the REVIEWS from highest to lowest: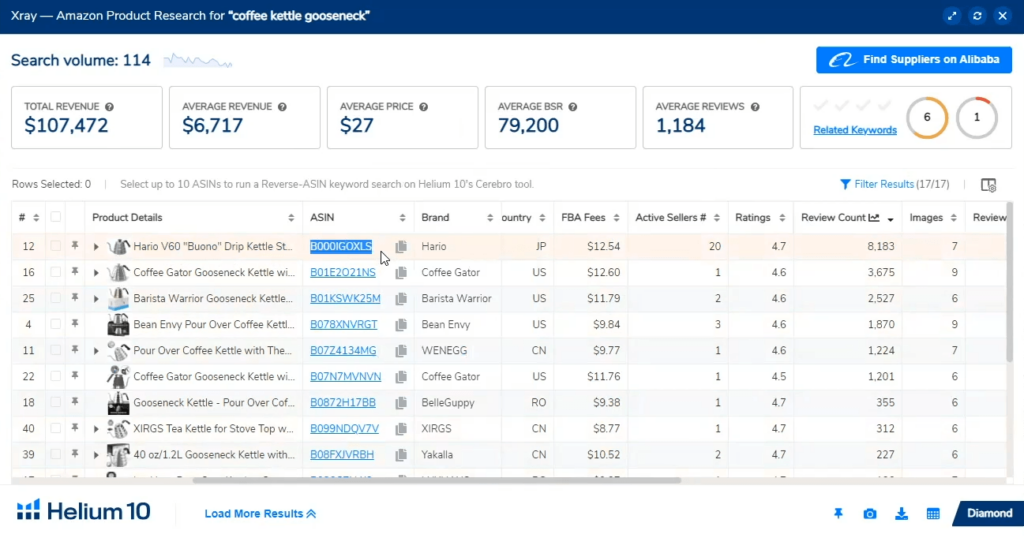 We have prepared a Keyword Bank Google sheet template here for you to be able to input the keywords you will harvest from the Cerebro tool.
Cerebro tool for reverse ASIN lookup
Inside the Cerebro tool, you will do 2 batches of reverse ASIN keyword lookup. First, the ASIN of the top competitor with the highest sales and second, the ASIN of the top competitor with the highest review.
These are the advanced filter settings to ensure that you will just gather the most relevant keywords from your top competitor.
This is the list of filters to set inside the tool:
Exclude Variations
Word Count: minimum of 2
Search volume: 500
Match type: Organic ranking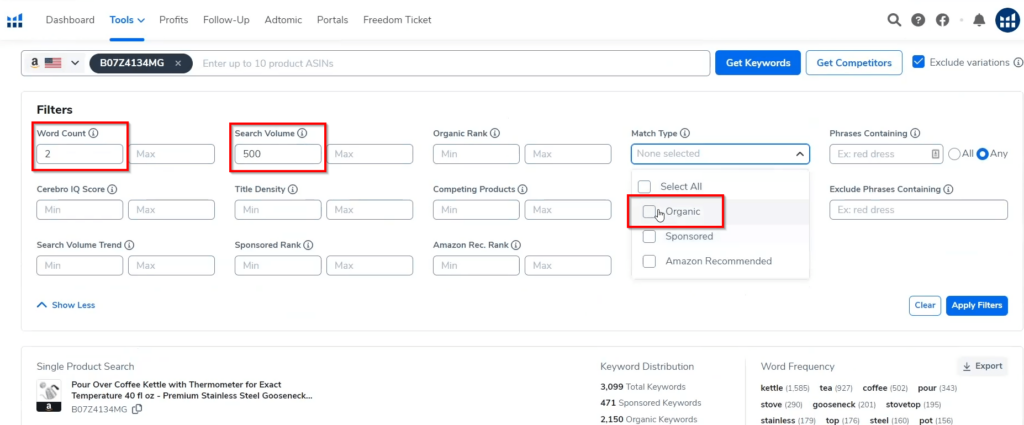 From 3,099 initial keywords that were pulled out from Cerebro coming from top competitors with the highest sales, we were able to filter down to 165 keywords using our filters.
Filter keywords from highest to lowest search volume
The next step is to sort the search volume of the keywords from highest to lowest. From here you will see those highly searched keywords that are also relevant to the product we are trying to sell such as "pour over coffee maker", "gooseneck kettle", "coffee kettle" and more.
The same process goes with doing a reverse ASIN search on Cerebro using the ASIN of the top competitor with the highest review. From 1,496 initial keywords, we refined it to 57 keywords.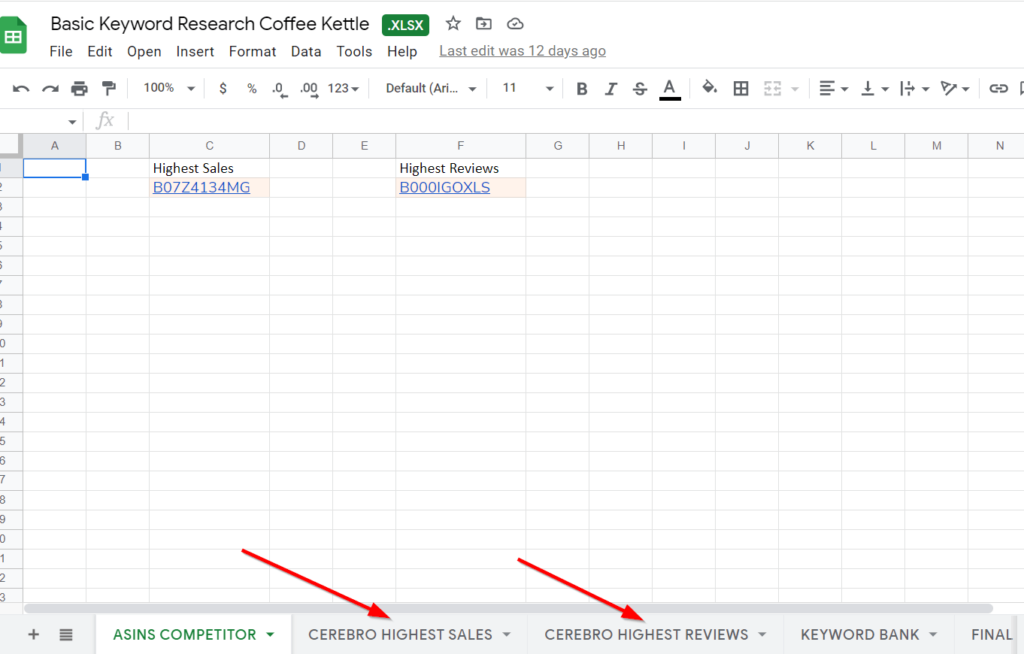 Then, export both Cerebro results in CSV format. Copy and paste the keywords list for each ASIN on their designated tab here. We will only include the columns: search volume, sponsored ASINS, competing products, and keyword ranking.
Next is to copy and paste only the keywords list and search volume columns from both of the top competitors with the highest sales and review to this sheet.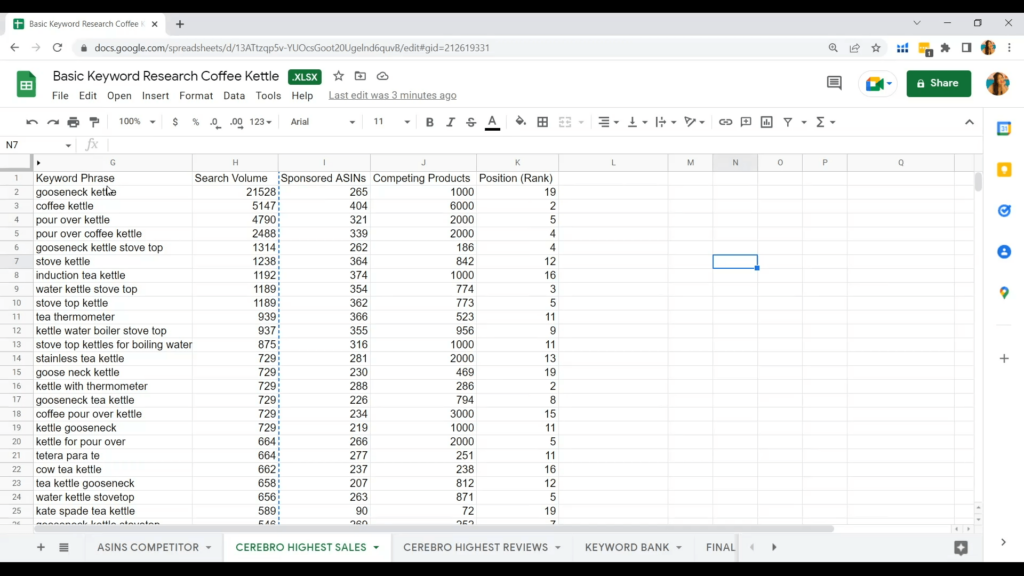 Frankenstein for keyword processing
To prepare these lists of keywords for further processing on the Frankenstein tool, you will have to combine the keywords from top competitor 1 and top 5 competitors in one column. The total number of keywords combined before Frankenstein processing is 125. Frankenstein will remove brand names that we missed and duplicate words.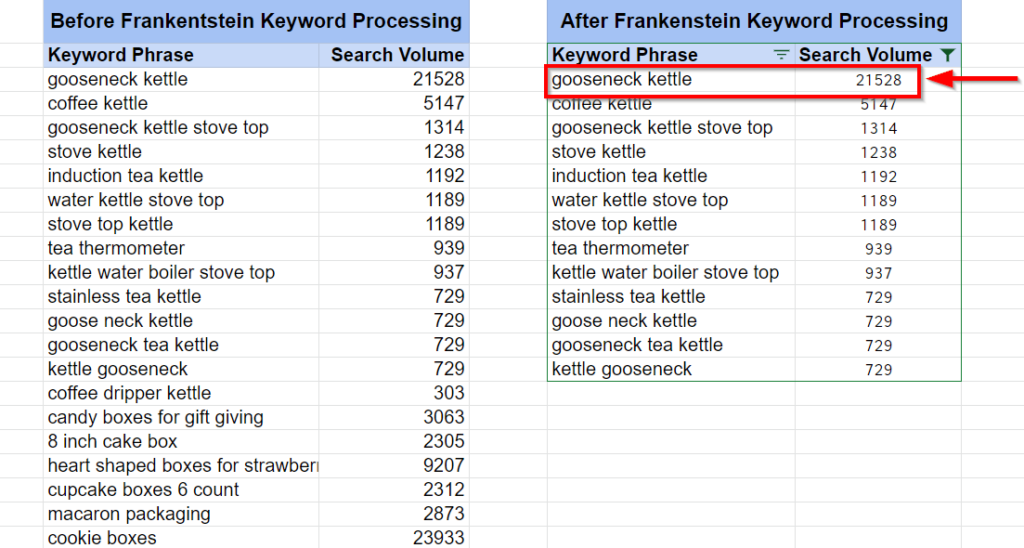 Now, after the keywords have been processed on Frankenstein, we have 13 refined and more highly relevant keywords that will become our final keyword bank to use and optimize on our product listing: title, bullet points, product descriptions, and misspelled words will be included in the back end search terms and subject matter.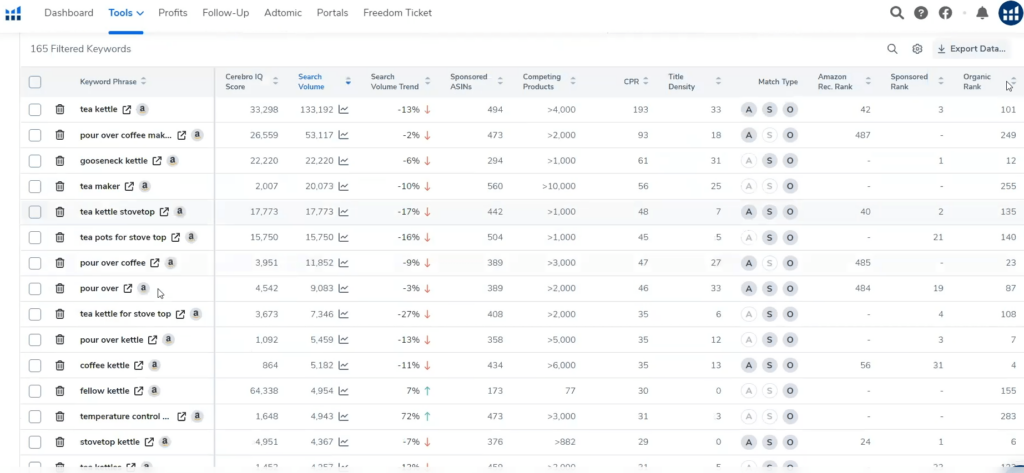 Helium 10 Magnet tool for finding relevant long-tail keywords
Once you have your main keyword phrase, you can also run Magnet keyword research to find even more related long-term keywords.
The main keyword phrase that we are going to use for the Magnet tool will be the keyword with the highest search volume on our final keyword bank which is the "gooseneck kettle":

Magnet was able to pull out relative keywords that were used by all of the competitors with a total search volume of 22,220. With more data about how this keyword is being distributed according to organic keywords, smart complete and Amazon recommended.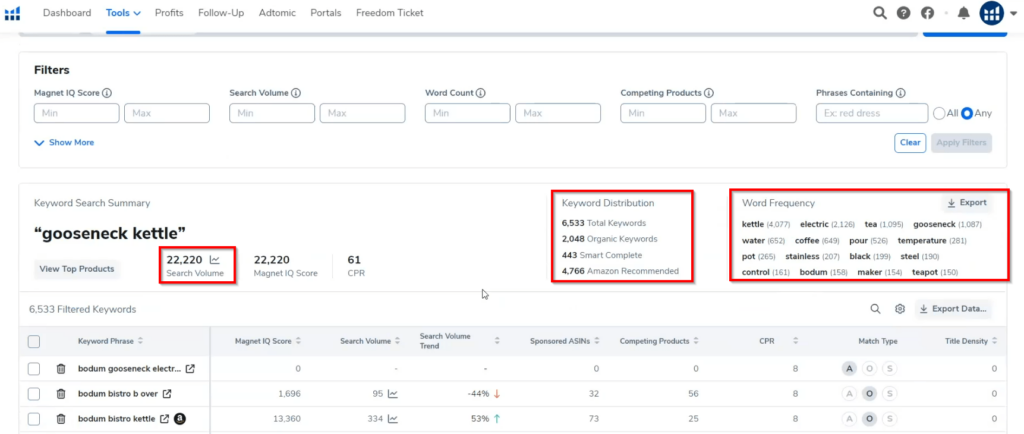 You can also find out how frequently this keyword is being used on a listing as it also should be adapted when writing your listing copy: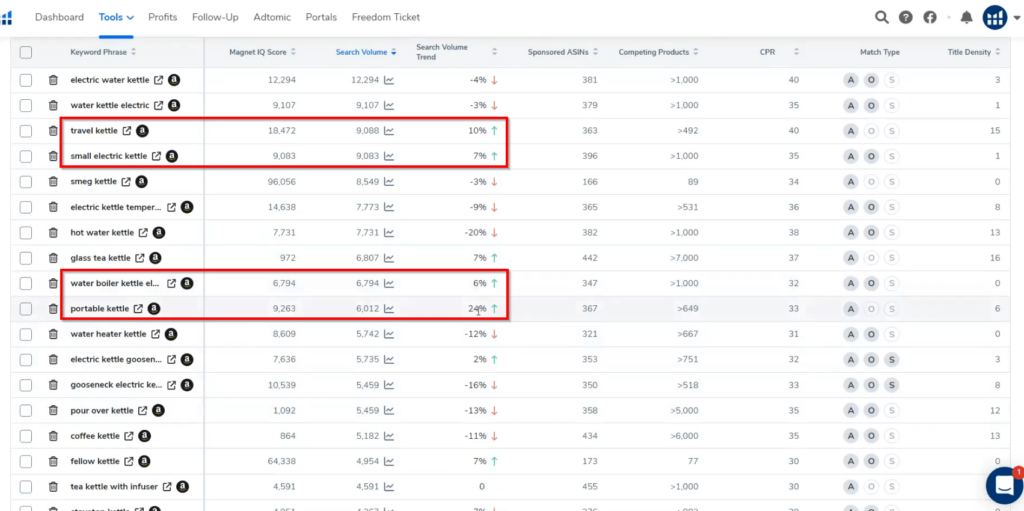 One way to find relevant keywords from Helium 10 Magnet tool is to look for those keywords that have a rising trend and include those on your backend search terms.
Another benefit of running your main keyword on the Magnet tool is to discover long-tail keywords that we don't usually think will be relevant to the product we are trying to sell.
Now that we see more keyword options with corresponding search volume and competitors trying to rank for it, we can definitely include this on our product feature or search terms.
In conclusion, using Helium 10 tools for keyword research will help you to:
Outsmart the competition
Become more visible to your customers
Increase sales as a result of an increase in impressions
Optimize on other relevant keywords that will also help boost your product listing visibility and get indexed and rank on these keywords.
Next steps
For starters, you can try Helium 10 for free – their free trial also includes access to both tools. Even though it's limited, it's still enough to get a glimpse of what each of them has to offer.
If you eventually decide to sign up for Helium 10, use these coupon codes to save some money:
ORANGE10 for 10% off any plan lifetime
ORANGE6M20 for 20% off the first 6 months
Apply any of these at the checkout when signing up.
Also, here you will find more information about different Helium 10 tools and how they can help in your Amazon business.