Helium 10 software suite contains over 20 tools that help Amazon sellers to find profitable products, identify powerful keywords, launch products, optimize listings, track keywords, monitor hijackers, locate reimbursements from Amazon and more – to save time and increase sales on Amazon.
In this blog post, you will find different Helium 10 features explained, including Cerebro and Magnet for keyword research, Black Box for finding the best-selling products, Scribbles for listing optimization, and many more.
Find out more about Helium 10 ELITE (Former Illuminati Mastermind) here.
Helium 10 discount coupon codes
Helium 10 is one of the most popular software tools among Amazon sellers. Whether you are a beginner or a bit more advanced seller, you might find it quite useful since the tool covers a wide range of features.
In order to get the best Helium 10 deal, we offer to use these discount coupon codes below.
Use a discount coupon code ORANGE10 to get 10% off any Helium 10 plan lifetime or ORANGE6M20 which gives you a 20% discount for the first 6 months.
What is Helium 10 and who can use it?
Helium 10 is a software platform that has over 20 tools for Amazon sellers and it covers just about every pain point that you would have as an Amazon seller — whether it's product research, keyword research, tracking your keywords, or even getting money back from Amazon.
Every Amazon FBA seller can relate to the fact that using different tools is often the biggest struggle. For this reason, Helium 10 created a tool suite where all the tools are connected to each other.
For example, you can do your keyword research and move it right into listing optimization. It just makes it easier for the average seller to make money and save time.
A new seller — somebody who is brand new — is gonna probably be looking for products. So if you're looking for product research, Helium 10 has two awesome product research tools.
If you're an advanced seller and been selling for a couple of years, you might not even know that Amazon owes you money from lost or damaged inventory. Helium 10 has refund tools where you can automate the whole process of downloading your reports with the information that you need to send to Amazon to get refunds.

There are sellers who have gotten back over $100,000 just from that one tool. And that tool is included in the suite of tools. And for advanced sellers, Helium 10 also has a launching strategy.
It gives you the number of products you should give away per day based on the keywords that you're going to be using and the URL structures you want to use and all that.
So it just depends where you're at in your Amazon journey as to which tool you want to use.
Helium 10 covers all major marketplaces. Their product research tools and all of other tools work on ".com", and, luckily, a lot of sellers, even if they're outside the US, are also selling on ".com", so our tools are specifically geared for that. That's our main target.
They do also sellers people in UK, Germany, Italy, Spain that can use specific tools for those markets. And then they have other tools that will work for everybody, despite of which market you operate in.
Helium 10 features and tools
So the first step is to actually create an account at Helium10.com. Once you do that, what's going to happen, for example, you can go to Helium10.com and find all their tools in the same place.
So product research is at the top with Black Box and Trendster. Keyword research with Magnet and Cerebro. We've got keyword enhancement and manipulation in Frankenstein and Scribbles is for listing optimization.
Of course, you would want to check your indexing with Index Checker to see if you're indexed with Amazon. Then once everything's live and everything looks good, start tracking all your keywords with Keyword Tracker.
Find out if you were being hijacked, you've got Hijacker Alert. And then, if you're doing launches and you're giving away products at discounts, you want to protect your inventory and make sure that people don't take all of your inventory with one coupon code or coupon stacking.
Refund Genie is for getting money back from Amazon and then, Misspellinator is for fighting the misspellings.
And that's not all – Helium 10 has also "Xray", "ASIN Grabber", "Inventory Level" and "Review Downloader" tools that kind of explain themselves.
The newest feature by Helium 10 is Alibaba Supplier Finder tool that let's you find a product and its supplier at the same time.
Helium 10 Chrome extension
With Helium 10 Chrome extension, you can see everything what's happening on page one. It gives an overview of the estimated sales, search volume, and revenue. Even more, the Chrome extension has a new button called "Source on Alibaba.com" that allows to quickly overview the sourcing options for a specific product without opening a new tab. This one is explained below in the blog post.
The extension is made of 6 different tools: Xray, ASIN Grabber, Profitability Calculator, Inventory Levels, and Review Insights that lets you find out what words people are using when writing reviews for a specific product.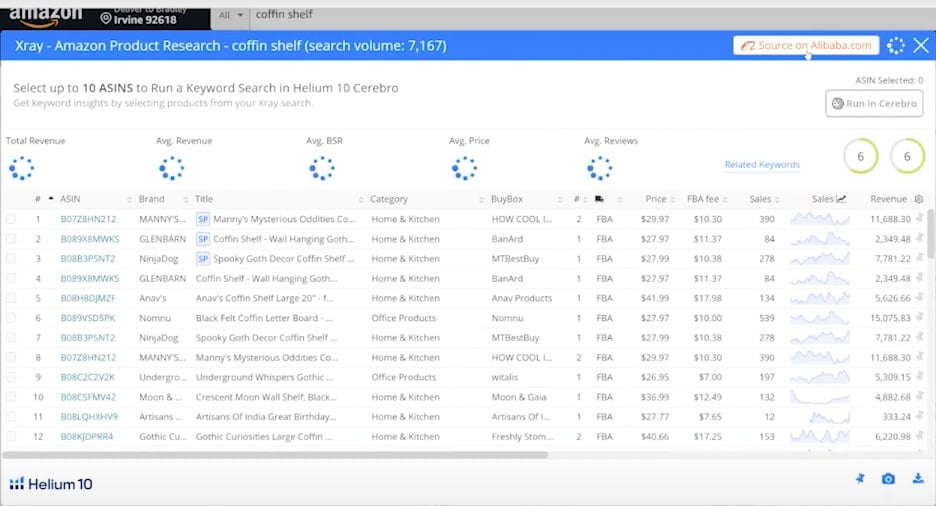 By a few clicks, you can also turn on Profitability Calculator that shows how much profit you can make by selling a product that interests you. And by ASIN Grabber you can even look back at the product history.
This is especially beneficial when you're about to sell a seasonal product – you can capture which products were the best-performing on Christmas and then look back once you are about to sell similar product the next year.
Alibaba Supplier Finder
Alibaba Supplier Finder simplifies your Amazon FBA product and supplier research. Using Helium 10's Chrome extension, you can enable Alibaba supplier search and do product research as well as finding out the costs of manufacturing the product at the same time, without needing to jump between different product pages.
Usually, when you start with your product research, you might start looking for it on Amazon first and wonder how much would it cost to manufacture any of these items.
To find it out, you need to open Helium 10 Chrome extension and click on a new button called "Source on Alibaba.com".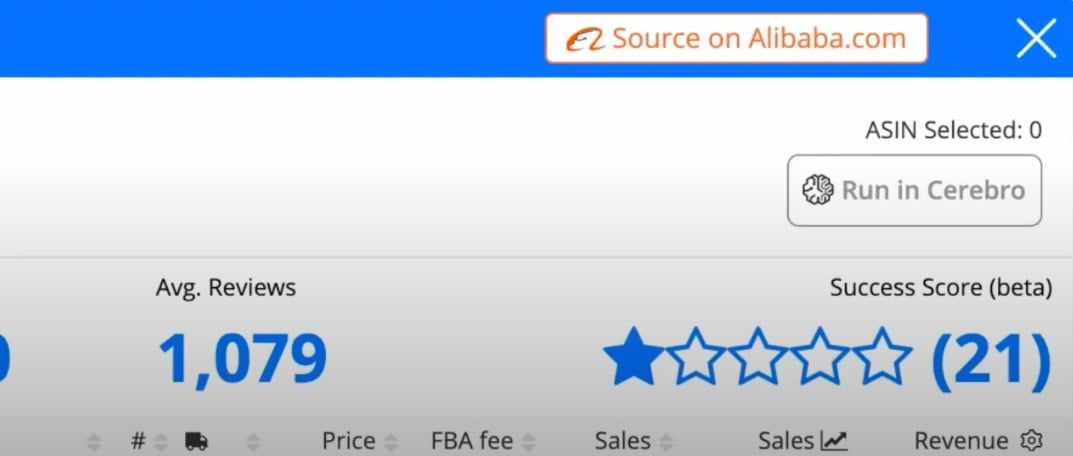 You can filter out the results based on the price, Minimum Order Quantity (MOQ), vendor rating and type, country, age of the account. You might want to choose only from those suppliers whose account is more than 3 years old.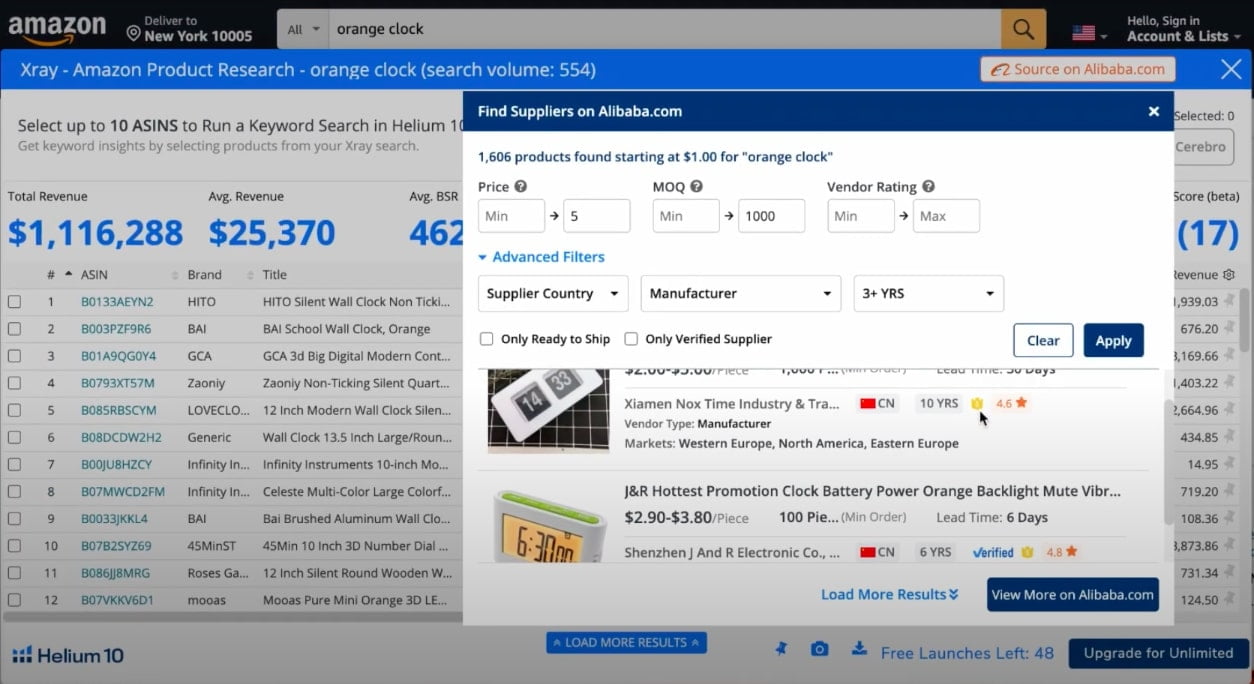 All of the products in the list is clickable – once you click on it, you'll be redirected to alibaba.com product page.
Once you have chosen your product, we recommend to open profitability calculator on the Helium 10's Chrome extension to see exactly whether or not this product will be profitable to source.
ASIN Grabber
So the other thing that you can try is the ASIN Grabber. There are sellers that have Vendor Express or are using Headline Ads and Display Ads, things like that. A lot of people know that you can use ASINs with a pipe. You can delimit them with pipes.
What does it mean? If you hit ASIN Grabber, it will actually go through all the top 106 or 110 ASINs. It'll grab all these ASINs for you and shows your BSR.
You can export this to a CSV and then paste these all into AMS and start having ads of your products show up on all of these products right below their "Buy" button.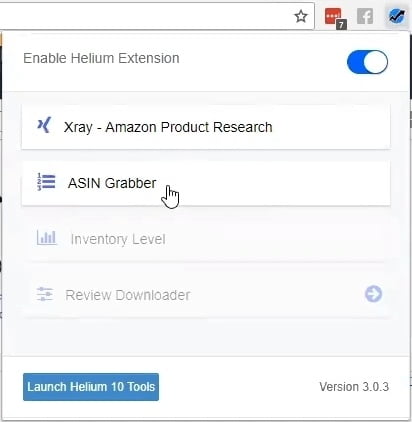 Xray
Xray tool goes through all products and scans how many sales, how much revenue it's generating per month. It gives you graphs and ratings. It also has a "Success Score" up here that tells you whether this is a good product to get into.
As you see from this graph, it tells you that these products combined generate about almost a million dollars, $845,000 per month. If you need more in-depth data, you can click on the graphs and see how many sales this product does on a daily basis. So you don't necessarily just have to have the monthly revenue, you can have the daily.
Black Box
Let's just say you're a new seller and you don't know what product you want to sell. Well, that's why Helium 10 has "Black Box". Black Box is an Amazon product research tool that stores all the data of 450 million ASINs – more than any other tool in the marketplace (see Helium 10 vs ZonGuru review).
For example, you can do your product research based on category, review count and rating, monthly sales, shipping tiers, number of sellers, price point, etc.

Once you find a potential product to sell, you can then go into Xray and dive in a little bit deeper. Also, you can find out which products are shown in a Frequently Bought Together so you don't need to guess which products you need to target and what people would likely to buy. Now you have all the data that you can check on the Black Box just by adding an ASIN.
If you don't know what you want to sell, try to use Black Box. And then, once you've narrowed it down to something that's pretty cool, you can go into Xray and do some further analysis.
Helium 10 Ads Tool
To optimize your Amazon PPC campaigns, Helium 10 offers the Ads Tool that helps you to analyze your PPC reports that you download from your Seller Central account.
When you download the Excel sheet with all your sponsored PPC data, you will see what phrases your customers used to find your product as well as which keywords Amazon targeted for these searches.
Inside the Ads Tool, you can sort out this information by campaign level, ad group, or search term. The latter is the best option to easily optimize your PPC campaigns.
The data gives you a clear overview of how much each keyword from a certain search term spends. Of course, many sellers would filter the data by ACoS, that you can also easily do by clicking the "ACoS" column at the top of the table.
You can also add the low-performing keywords to negative keywords by clicking the loop icon next to it. Using the tool to organize your sponsored Amazon PPC data is way more efficient than processing it manually in your Excel sheets from Seller Central.
So what's the difference between creating a campaign using the Ad Manager versus inside Amazon Advertising?

When creating your Amazon PPC campaigns inside Ad Manager, you are able to create an Auto Campaign, Research Campaign, and Proven Campaign at the same time. You can implement rules that will guide the tool to suggests you new keyword rules over time.
For example, from your auto campaign, the tool would look for search terms that converted well for you that you might want to target as a manual keyword. It then will make a suggestion to move it into research campaign.
The main goal of this overall structure is to find a well converting keywords and move it to a proven PPC campaign.
Magnet
Once you figure that out, then you've got keywords. "Magnet" is a keyword tool that is the fastest and has the largest database of keywords in the market.
When you type in a keyword, it usually takes just a couple seconds depending on the speed of your connection. The first thing that it does, it tells us what is the exact search volume of this keyword on Amazon per month.
And this changes over time because people will be searching for certain things more often in a specific month than another month. It may be seasonal, like stuff during Christmas, for example, it goes way up.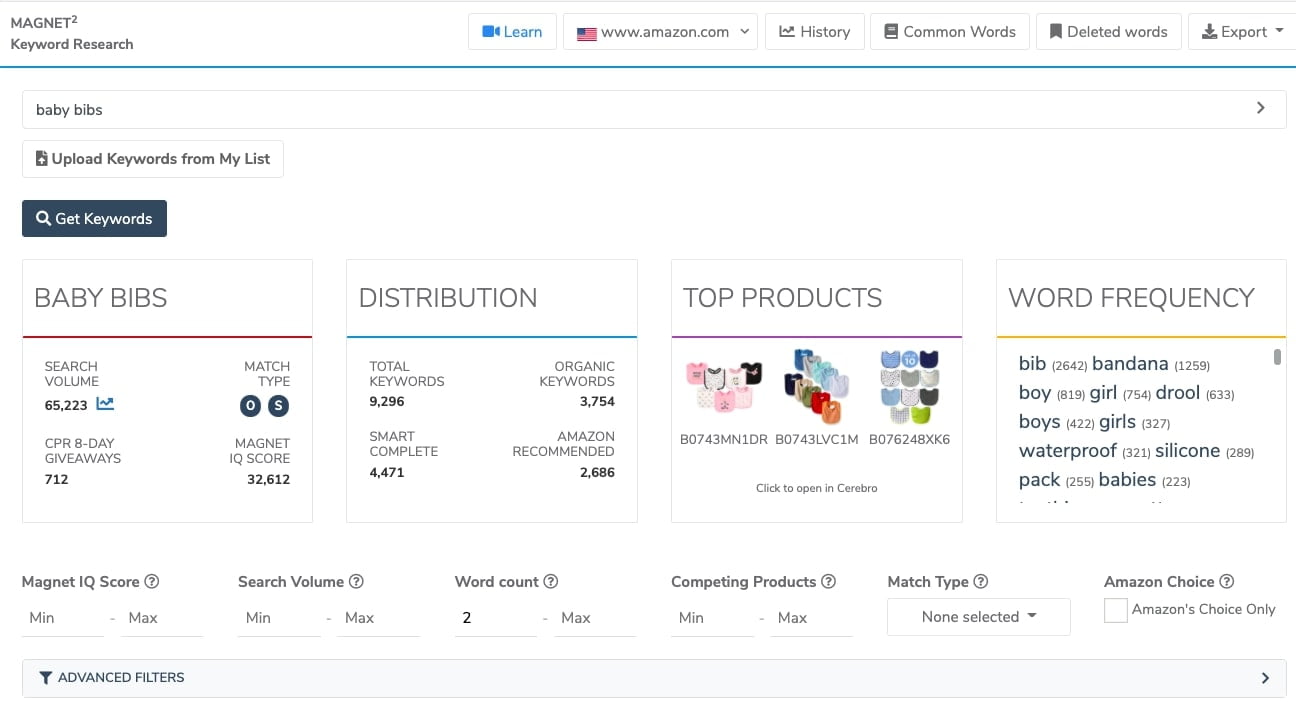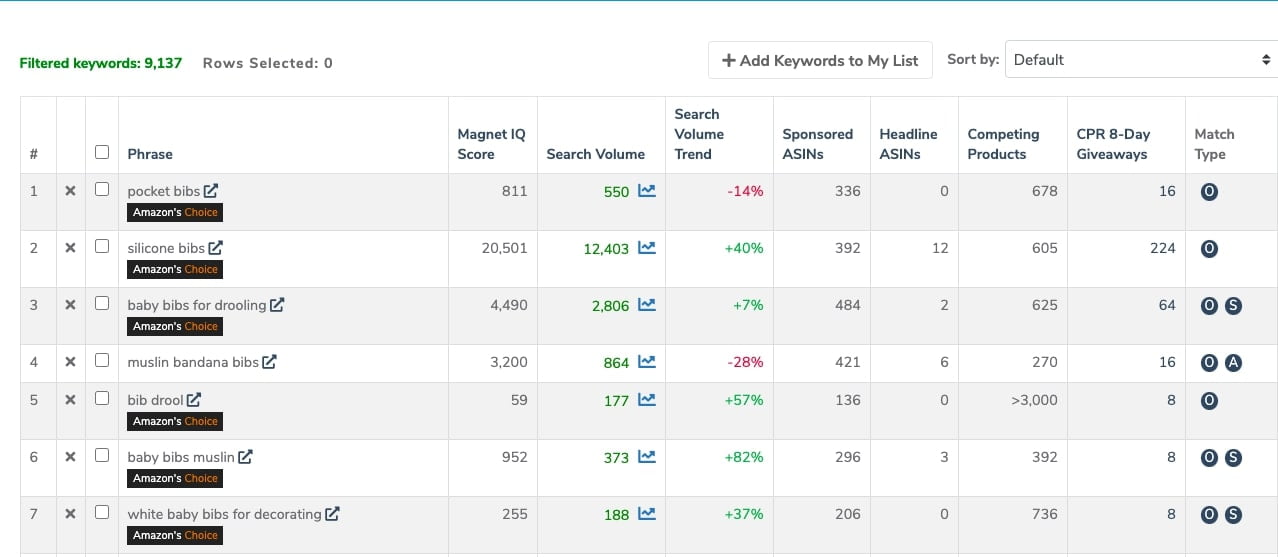 This isn't a search engine like Google or Bing's data. This is coming from Amazon. This is Amazon data, so you can base a lot of your product launches and your strategies around this. Here's what every column means:
Phrase – results shown based on your search preferences
Magnet IQ score – the relationship between the number of competing products and search volume. A higher score means there's a good ratio of low competition to high search volume. The more competition there is for the keyword phrase, the lower the score.
Search volume – how many times people search for this exact keyword phrase.
Sponsored ASINs – the number of products that are advertised via sponsored ads when searching for this keyword phrase.
Headline ASINs – Number of ASINs detected appearing in Headline ads (these are just above all search results).
Competing products – the number of products that are directly related and competing to your product.
CPR 8-Day Giveaways – the number that you have to do a giveaway with a highly discounted price that sends traffic to a certain search, using maybe 2-step URL, in order to give you the best chance of getting to page 1 for this keyword.
Match type – the type for which keyword is shown in search results. It can be either S (smart complete), A (Amazon's choice), or O (organic search). There can be keywords that match all 3 types at once.
Cerebro
Cerebro tool is the "brain" behind keyword research. Why do you want to use Cerebro if you already have Magnet?
Well, with Magnet, you have to start with a keyword. You have to know, "Hey, I want 'baby bibs.'" But now, this is going to give you keywords that this "baby bib" is actually ranking for.
So it might come up with keywords that Magnet doesn't come up with because somebody was smart and came up with some weird things. So you got "plastic bibs" and "pocket bibs".
And you have to decide, "Do I want to go after a word that only gets a 100 or a keyword phrase that only gets 108 searches per month?" Maybe you do. You could rank that with like one sale a week or something like that probably. So it just gives you additional keywords.
In a nutshell, Magnet is a keyword tool — it will find everything; and Cerebro is more of a competition spy — it will go out there and spy on your competition's product and tell you the keywords that they're ranking for.
Frankenstein
Now, when you have all keywords ready to be exported, you can go to "Export" and bring these into a CSV file or Excel. Or you can just bring it right into Frankenstein – the tool that will help you with further processing the keywords.
You can start processing them here. You can do things like separating those keywords by choosing "Add commas, no spaces." If you hit "Process", it's going to take all of these keywords, individual keywords, and it's going to remove the duplicates and it puts each keyword in here with a comma. Now nothing is duplicated here.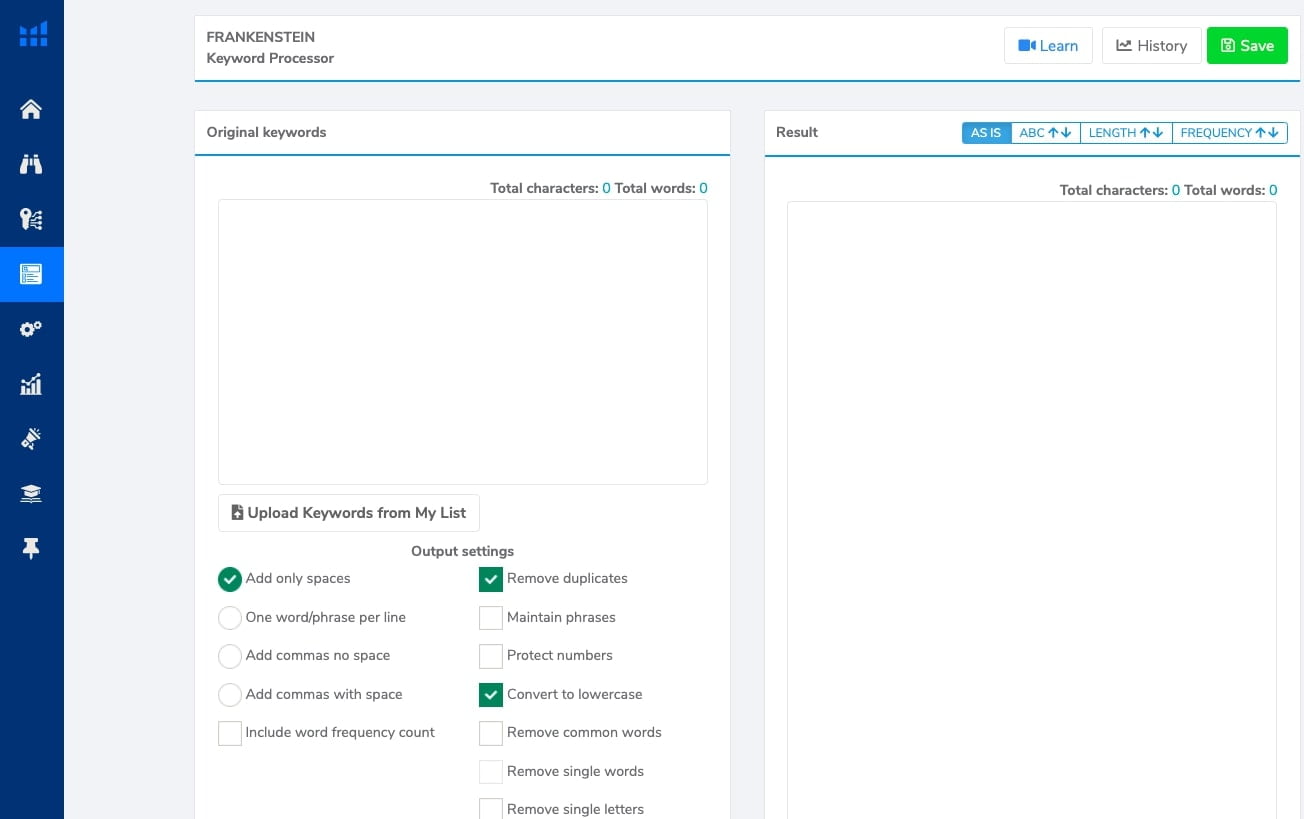 You can also search for Exact Phrase in here. It's going to show each of the keywords in their full form with commas. Or maybe, you want to add commas with space, or whatever – there are lots of things you can do here. And you can add keywords before everything and add "best" at the beginning of every word.
And now, it's going to add the word "best" in front of all of these keywords. It makes everything super fast. You can modify these keywords however you want.
Scribbles
When you have all your keywords prepared, next step is to implement those into your listings.
Here's when Scribbles listing optimization tool comes into action. Over here, we got Scribbles. Let's say, you want to use every single one of these phrases in your listing. With Scribbles, you can add it right away and start typing in the title, the description, put keywords, and bullet points. Also, don't forget to put relevant keywords to your Amazon A+ content.
To better understand, what your customers are looking for, what do they like or dislike about a product, you first need to do review analysis. For this, use Helium 10 Chrome extension. Inside of it, you'll find a "Review insights" feature that will automatically extract all reviews of your chosen product and highlight the phrases that customers use to describe it.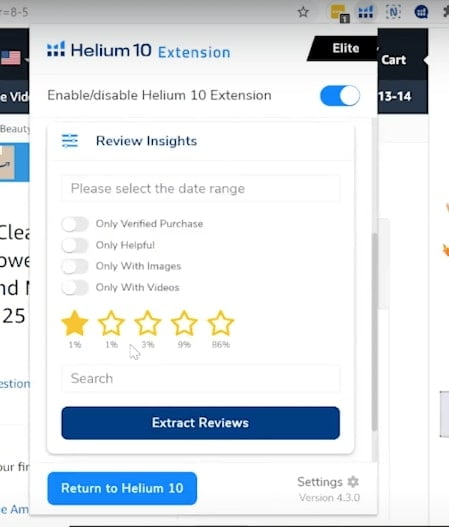 Then you can automatically pull out this data into Scribbles and start creating your own listing based on the best-selling ASIN. You can import your own keywords to see how many times and where these keywords were used in this particular listing.
You might be wondering, why your keywords are in different colors? Well, it actually indicates the search volume. Your red keyword phrases are with the highest search volume.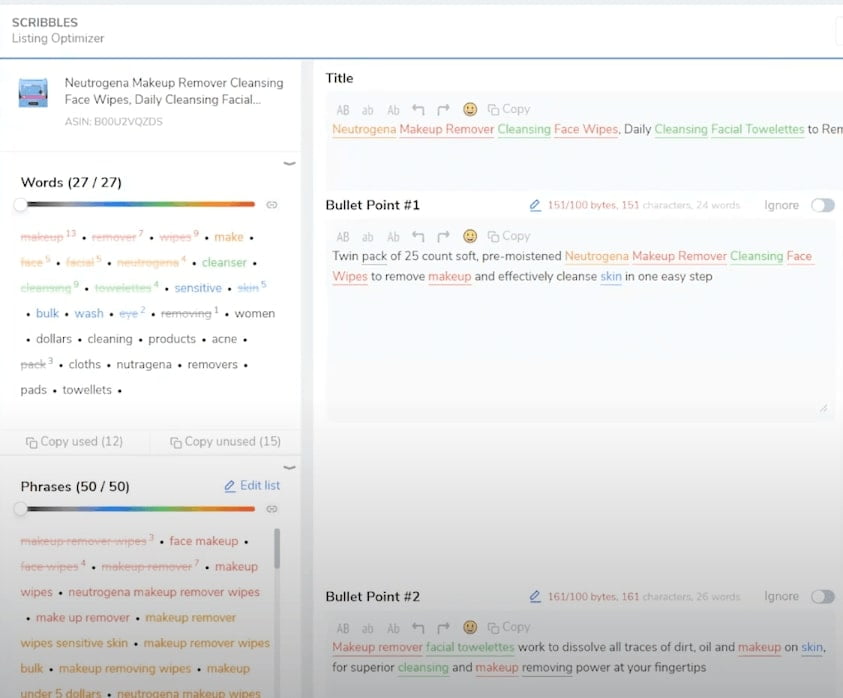 Do not get confused, but it's a bit of a different situation when it comes to the words section. Here different colors indicate how many times these words were used in your keyword phrases.
As you type these keywords in your Amazon product listing, it will be automatically removed from the list of keywords so you know you're already used it. It's very useful if you have a big list of keywords and want to make sure that all of these keywords are used.
The other thing a lot of people want to do is, let's say, you have a LED flashlight. This is actually a keyword. Let's say "led flashlight – great for night viewing". You can click "All Caps" and it makes everything all caps. Or you can make only the "First Letter Caps". So it just makes editing everything very easy.
The tool automatically saves your work, so there are no worries you will lose your progress.
Watch the video below for a quick and comprehensive Scribbles tutorial.
Keyword Tracker
You can track your keywords and their performance using Keyword Tracker. You can also label them, add colors, so that you can see what they mean, i.e. Facebook campaigns are keywords that are yellow. It helps you to easily identify what each of these keywords mean.
You can label your keywords for different purposes. Like, you'll see your ranking spike up so you can add notes and do things like that. You can, of course, sort by any of these columns as well.
Keyword Tracker will let you know your organic ranking and compare it to your competitors in one graph. The same applies to sponsored ranking as well.
Market Tracker
Market Tracker lets you track how the entire market of a product is doing and what percentage of this market share you have. It also answers questions, like "Where my competitors outrank me?" or "What are the new players in this product?". It really gives you a clear overview of how you are doing compared to others. Besides, it's always good to know how's the market you are selling in is doing.

Hijacker Alert
And then we've got Hijacker Alert. For those of you that don't know what hijackers are, it's when somebody jumps on your listing and, most of the time, they're selling counterfeit products. And if people are buying these counterfeit products and they leave reviews, it goes on the listing, and then it hurts you.
To set hijackers alert, you just put your ASINs in here, and then, you can determine how you want to be alerted. When you're setting this up under "Settings", you can go tell exactly why and when you want to be alerted. Is there a new seller on your listing? You can find out when they've left, when you've lost the Buy Box.
Inventory Protector
We've heard the horror stories where somebody creates coupon codes, they do a launch on some service, but they forget to set limits, and somebody goes in and adds a coupon code and they go, "Oh, I can get this product for $1 — it's normally $30. I wonder if I can add 900 of these to my cart".
People can steal all your products that way. So the Inventory Protector will keep you from that. If you go into Inventory Protector, you can add your ASINs and limit things to one per person.
Restock Suggestions
That's an inventory management tool that gives not only the overview of which products need to be restocked but also allows to create Amazon shipments inside the tool so you don't need to go to your Seller Central account. Another great feature is your local warehouse management – right now as we are switching more to a third-party warehouses, you can track all your orders here.

Refund Genie
Refund Genie allows you to get money back from Amazon. It takes just a couple of minutes to actually process everything, and then it takes five minutes for your virtual assistant to contact Amazon through the Support page and submit the documents.
You'll be surprised of how much money you can get back from Amazon. Actually, you can get enough money back to pay for your Helium 10 plan for years and years.
To use Refund Genie, Hijacker Alert, and Inventory Protector, you'd need to connect once and then you can use any tool that would require connection to your account.
Follow Up Emails
In case you want to send automated Review Requests emails to your clients, you can do it with a Follow Up feature inside Helium 10. Easily set up the flows and then it will be sent out automatically, without needing to check it once every day.
Plans and Pricing
Around 95 percent of Helium 10 clients have the Platinum plan, which gives you all of the tools, everything that we just covered. And then you have some limitations on some of the other thing: Keyword Tracker, for example, you can have 2,500 keywords that you can track. And Hijacker Alert, you can track up to 300 different ASINs to see if you're being hijacked.
This is by far more than enough for the majority of sellers unless you're some kind of power seller that has 3000 ASINs. This works for everybody. They have a bigger plan here that just gives you a little bit more usage for some of the tools.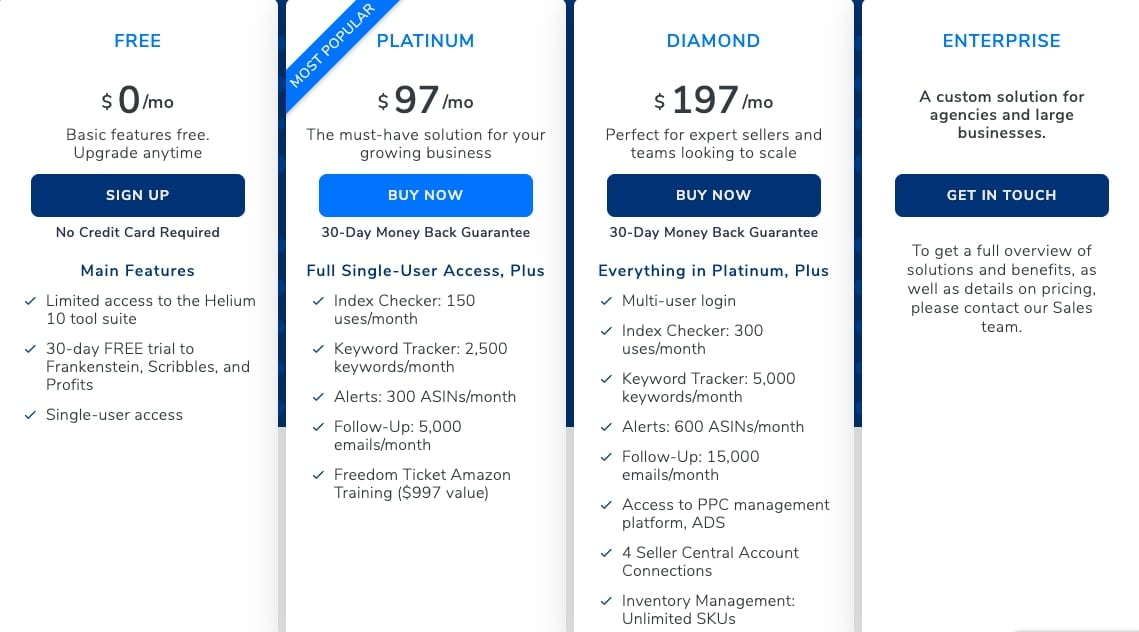 You can start using Helium 10 for free – their Free plan also includes a 30-day trial to Frankenstein, Scribbles, and Profits.
Much more advanced sellers would choose the Diamond plan that includes 5000 keywords, 600 ASINs, and 15000 emails. It costs $197/month and lets you to have more than 1 user as well as 4 Seller Central accounts connected and access to PPC management platform.
The Enterprise is everything that you would ever want from Helium 10, meaning you'll have access to private workshops, Facebook group, live online trainings with Amazon experts… Shortly, besides all features mentioned before, by getting this plan, you'll be joining the community of Helium 10.
More Helium 10 tutorials
On Orange Klik Youtube channel, we have a bunch of video tutorials on how to use various Helium 10 features and tools on listing optimization, keyword research, product validation, and more.
Below you will find a complete playlist of all video tutorials.
Product Research and Validation – Workshop Part 1/6
International Keyword Research – Workshop Part 2/6
Advanced Amazon Keyword Research – Workshop Part 3/6
Amazon Product Listing Optimization – Workshop Part 4/6
Amazon Product Launches, First Reviews, Keyword Tracker – Workshop Part 5/6
Product Targeting Ads, Listing Maintenance, Profit Calculation – Workshop Part 6/6