Unlike many other eCommerce platforms, Amazon likes a specific way of how product descriptions are written. The reason? Product search on Amazon works like Google's, so they need to advise the sellers on how to make it easier for their search algorithm to find products. Here's a complete collection of recommendations on how to make your product descriptions optimized for Amazon to score more sales.
Most product descriptions on Amazon are simply awful. The other day, I was browsing "today's" smartphone deals. There were a bunch of nice smartphones on sale, so a lot of people were looking.
They were also asking questions. Many questions. Like this one:

And this one:

The second part got me thinking.
"Amazon always leaves out the most important information."
Why would anyone leave out such important details like a zoom feature and memory in product descriptions?
Online customers spend less than 19 seconds to purchase, so you have to give them all information they need to make a good decision.
They won't buy from a business that sends them to other places to get more info about a product or service.
On top of that, the competition is crazy.
The product description area might be the last chance to turn a browsing visitor into a customer. That's why you need to use it wisely.
In this article:
Why product description is important on Amazon

descriptions help to research products
descriptions attract the attention of new customers
descriptions improve Amazon SEO


How to write Amazon product description that converts

be smart about the length
list the features first
describe product features as benefits
give answers to "So what?"
try product storytelling.
The first step to write impactful Amazon product descriptions is to do your homework: understand how they help with making more sales.
Why Product Description is Important on Amazon
Why do you need to learn how to write a product description?
The two main reasons are:
help customers with their product research
stand out from the competition.
These sound simple, but they're really important.
Here's what you need to know.
A Product Description is a Must for Product Research
Many Amazon sellers – and eCommerce sellers, for that matter – fail to write decent product descriptions because they think that no one really reads them.
Is this true?
We know for a fact that many customers often skim content. Does it make it unnecessary to invest a lot of time and effort into writing the description?
No, it doesn't. Detailed and engaging product descriptions matter.
There's a lot of evidence to back this up (source: OneSpace):
87 percent of online customers say that product content is important for them to make a good buying decision
50 percent of customers say they have returned a product they have purchased online because it didn't match the product description
76 percent of customers agree that product specifications are most important when making a purchase on a website or mobile app.
This makes a ton of sense.
Selling a product without giving enough information about it is a sure-fire way to lose sales. Plus it's totally unreasonable after all you went through to launch an Amazon product.
People are used to researching products online, and, even though they tend to move rapidly through content, they still need it to make decisions.
If they didn't, not so many people would ask questions on Amazon like those about zoom features and memory.
In fact, the majority of shoppers – 87 percent – start product searches online.
So, no, product descriptions shouldn't be a last-minute thing because they matter for customers.
A Product Description Attracts Attention of New Customers
Another reason why product descriptions are so important for Amazon sellers is the competition.
As of June 2020, there were over 8 million sellers on the platform. You don't have to compete with every one of them, but there's still a lot of competition in your niche.
Amazon does its part by bringing the traffic. But you need to grab the attention of those browsing product lists.
By writing a description with the information the customer needs to decide, you can attract their attention and make them want to read more.
If they like what they read, the chance of clicking that "Add to Cart" button will be higher.
In this sense, a product description is even more powerful than price. Customers no longer base their loyalty on price, but on the experience they have while buying something/interacting with a business.
So, the bottom line here is: Amazon product descriptions can make or break your sales.
Product Descriptions Benefit Amazon SEO
Let me be absolutely clear here: the product description on Amazon doesn't directly impact ranking like other things such as the product title.
But, the platform's search engine still indexes descriptions. It means they're used to define the visibility of the product's page.
So, if you're wondering how to write a product description that benefits SEO, throw some keywords in there.
Finding simple, basic keywords is easy.
One way is to start typing the title of your product in Amazon's search bar to generate ideas: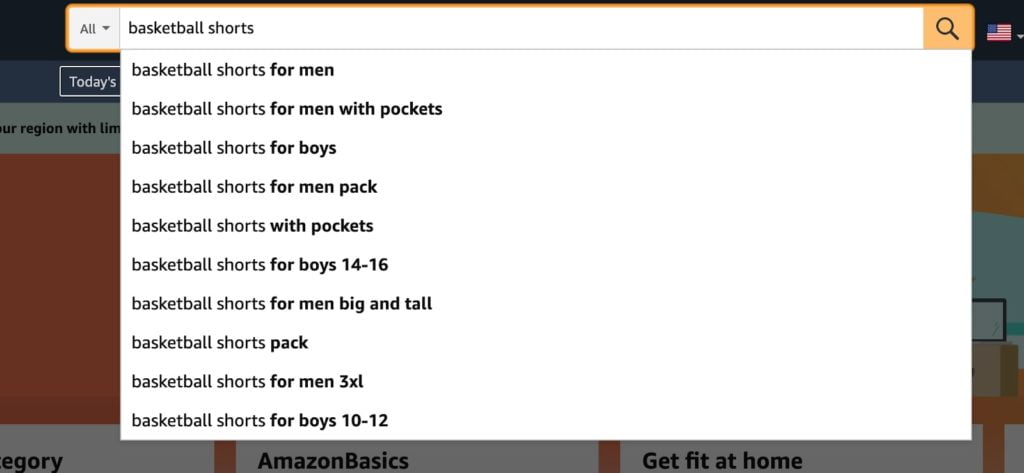 The keywords will definitely have a positive effect on your product pages' ability to be picked up by A9, Amazon's ranking algorithm.
How to Write Amazon Product Description That Converts
Here's how to write a product description for Amazon that can increase conversions, attract attention, and provide nice info for product research.
1. Be Smart About the Length
There's a bit of confusion about the perfect length of an Amazon product description.
The problem is that the platform itself makes a few suggestions, and no one is really sure which one is the best.
Most of the sellers say it allows around 2,000 characters to describe a product. That's about 275 words, or one double-spaced page of text.
Now, you might have heard many fellow Amazon sellers saying that the less text you have in the description, the better.
That's not entirely true. The best answer to this question is tricky:
as much as you need to keep all essentials and keep it interesting.
For some products, 50 words might be just enough; others may need 250 or more.
So, 50, 100, or 250? I totally understand that this answer may not work for you.
Read the next few sections and you'll have a much better idea on the ideal length for your Amazon product descriptions.
2. Describe the Features First
As mentioned, many online shoppers tend to move quickly through the content. This means they won't read the entire description, so you need to get to the point asap.
So, how to write Amazon product description that converts?
Start with the product's features.
Like here, the description goes straight into the bullet point with the product's features: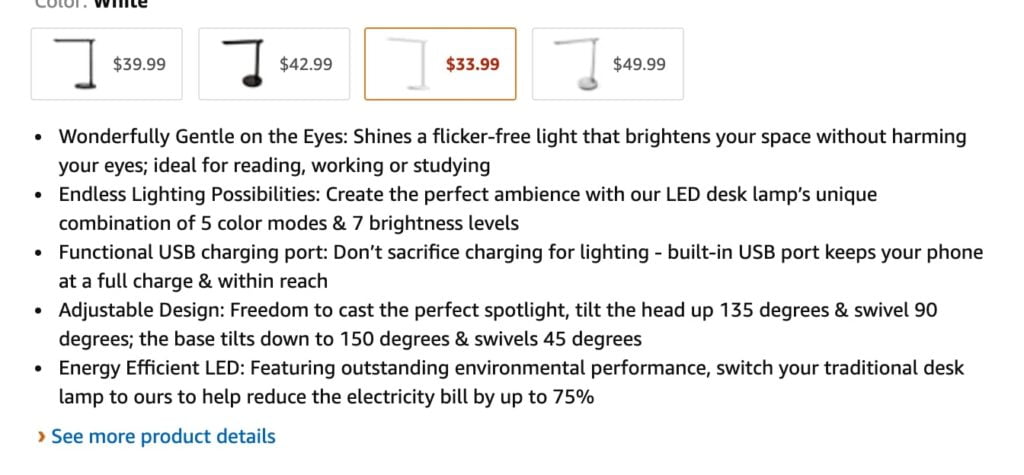 So, try to experiment with similar descriptions.
Don't include an introduction like you normally would and start listing the features right away.
Like below, the seller differentiates large sections with brackets and special symbols: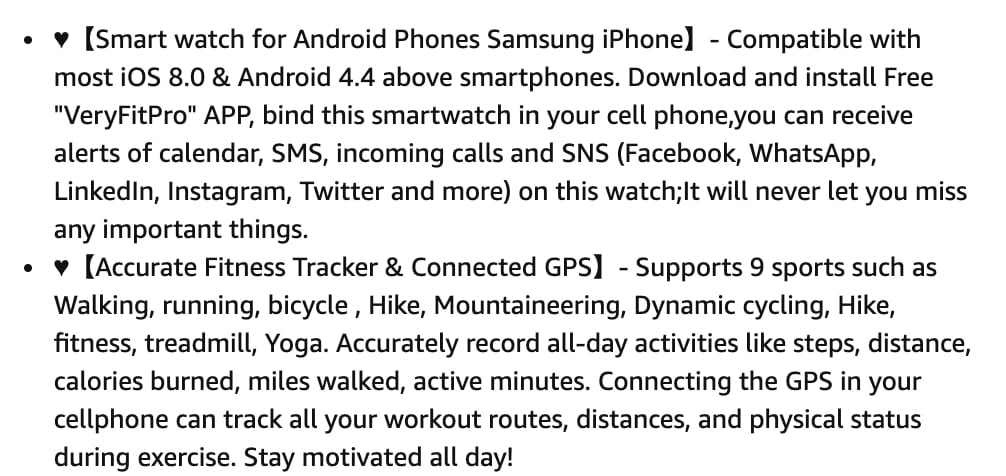 Another way is to turn the first words in headings by writing them in caps lock. While caps lock gets a lot of bad rap – and rightfully so – in this case, it could be quite useful: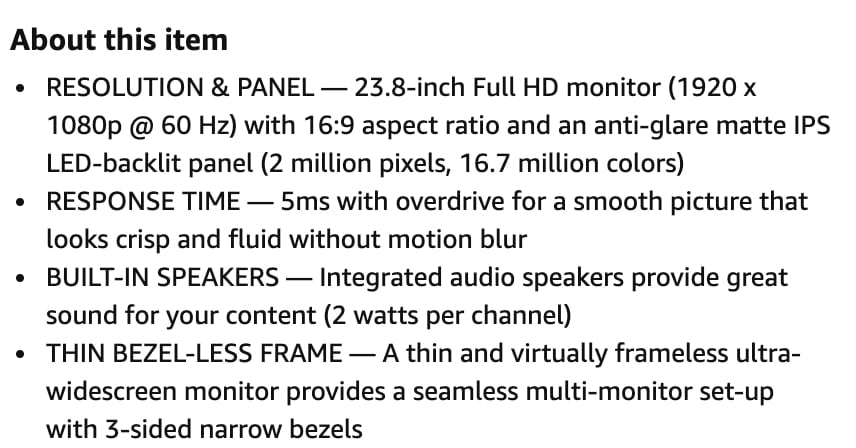 If you're wondering how many bullet points to write, just put yourself in the shoes of your customers.
The most important features are a must, but ask yourself what they would like to know first and go from there.
3. Describe Product Features as Benefits for Customers
Customer-centric businesses are 60 percent more profitable than product-centric ones for a reason: people aren't interested in specifications and features.
People aren't looking for products, but solutions to their problems. These solutions should be easy to use, functional, and helpful.
That's why you need to approach Amazon product description writing from the perspective of the customer.
This means you might have to do research to understand what may appeal to your customers and turn the findings into a compelling copy.
Now, let's see how other Amazon copywriters did it.
Here's how one Amazon seller describes the features of a LED desk lamp:

A description like this has a better chance to make a customer interested.
For example, instead of describing the features of the USB port – like data transmission speed, the "plug and play" functionality, etc. – the description says:
"Don't sacrifice charging for lighting – built-in USB port keeps your phone at a full charge & within reach."
The same goes for the other feature. Instead of talking about brightness levels and color models, the text talks about how they can create "the perfect ambiance."
This description considers the typical needs of the customer. This makes it relevant and interesting, so it's a great way to attract attention and influence their buying decision.
Here's how to turn a feature into a benefit, once again:
| | |
| --- | --- |
| Feature | Benefit |
| Different color & brightness levels | Creating a perfect ambiance in the room |
| USB charging port | Keep your smartphone fully charged and within reach |
Use this simple approach and you'll know how to write Amazon product description that can really sell.
4. Give Answers to "So What?"
Customers on Amazon read a countless number of product descriptions every day.
This means they're used to seeing common phrases like "high quality," "excellent product," and so on.
If they find something like this in your product description, they will be less likely to be interested in buying (unless what you're selling is gold for a super cheap price).
They'd be reading and thinking,
"Yeah, sure, excellent product, bla bla bla, so what? Everybody describes their products this way."
If the customer doesn't see anything that answers the "So what?" question, they'll leave.
The best way to give that answer is to:
describe specific benefits of the product
use simple, conversational language.
The goal is to stay focused on the experience of the customer and find a way to work your product into it.
This way, you can make it easy for them to imagine having the product and using it to their benefit.
Here's a good example of how each bullet point in the description answers the "why" question.
This a description of a cooking book for beginners:

120 easy, 5-ingredient recipes, so what? – you can try them as a beginner.
Cooking skills guide, so what? – so you know the safety rules and the basic stuff like distinguishing between caramelizing and braising food.
Kitchen tips, so what? – so you know which appliances to buy and keep to cook regularly.
The next thing: conversational, simple language.
A product description that's hard to read won't engage most of those reading it, let alone help to imagine having the product.
5. Try Product Storytelling
In a brick-and-mortar store, a customer can hold a product in their hands and imagine themselves having it at home.
With Amazon, it's clearly a different experience, but there's something you can do about it.
Enter storytelling, the technique of using a story to describe a product.
Stories are remembered up to 22 times better than figures and facts. So, you can try them to convince your customers that yes, they do need your product, because it can improve their life.
One way to approach storytelling is to describe the product as a part of a customer's life.
For example, this one starts by saying that keeping balanced meals can be difficult for a busy person, so they need recipes that can be made quickly with minimum ingredients.
Then, it goes straights to say that this book is a collection of 5-ingredient recipes that can be prepared in just 30 minutes.

So, the description starts with a bit of storytelling, which serves as a nice introduction to the product.
Other important points to keep in mind about storytelling:
storytelling isn't a universal formula. Although considered a powerful method for attracting attention, storytelling might not work for all products. For example, it could be appropriate for products like cooking books but not so much for computers, monitors, and gift cards
get to the point quickly. The product description on Amazon is limited by 2,000 characters, so begin the story right away (e.g. the first or the second sentence)
don't make it too long. Stories are great, but customers need to find products. So, don't spend the entire description limit on a story and try to keep it within 100-150 words.
So, be careful when using storytelling and make your stories consistent with your brand style.
Writing Amazon Product Descriptions: Final Thoughts
Don't ever hesitate to invest in writing Amazon product descriptions.
They matter for many of your customers, so if you do it right, they can make a big difference for your sales.
So, know what your customer want and need from the descriptions. Turn that knowledge into an easy-to-read, compelling text and share.
Eventually, this will ensure a strong focus on the needs of your customers, which is something that will get you far.