When it comes to product research for Amazon FBA, there are a few tools that sellers choose right away, including widely known Helium 10. However, the demand for tools is growing and now we have new competitive tools to choose from, one of them being ZonGuru. In this Helium 10 vs. ZonGuru review, you will learn about both of them from the perspective of an Amazon seller and find out which one is the best choice to do your Amazon product and keyword research.
General overview
Both of the tools have a variety of features to offer for sellers. However, it would take a long time and research to compare all possible features, so in this blog post, we will only review product and keyword research features of both of the tools and make a side-by-side comparison, showing how the tools differ from each other and evaluate in which case you would find one or another feature more useful.
We highly recommend trying out both of the tools so you can make sure yourself which one suits your needs the best!
Special offers for Helium 10 and ZonGuru
Before diving into comparison, there are several coupon codes you can apply when starting Helium 10 and ZonGuru. Both tools offer discounts listed below.
---
ZonGuru offer
ZonGuru by default – that's a good way to try the tool and see if it fits you. If you are considering sticking to it for longer, here's what they have to offer:
Whether you use one of the offers, you get a 7-day trial when registering for the tool.
---
Helium 10 coupon codes
Among paid plans, the tool offers a free plan with basic features that you can upgrade anytime depending on your needs. If you want to get one of their paid plans, you can use the following codes (additionally, you'll get 2 months for free):
Use coupon code ORANGE10 to get 10% off the annual plan – claim here
Use ORANGE6M20 to get 20% off the first 6 months – claim here
Helium 10 Black Box research tool
Amazon is built based on a keyword database – people go to Amazon, search for products by specific keywords and based on this information, Amazon will show different product listings relevant to the keyword so the customer makes a purchase. This is the reason why product research tools must be also keyword-focused.
Chris, who is a 7-figure Amazon seller, explains there are 2 main data points when it comes to Helium 10 Black Box product research: volume search, that shows the product demand, and review count, showing how competitive a product is. Chris also suggests the monthly search volume for a product should be at least 5000 and a review count of max. 400 so when you start off with a brand new listing, you don't compete with those having thousands of reviews: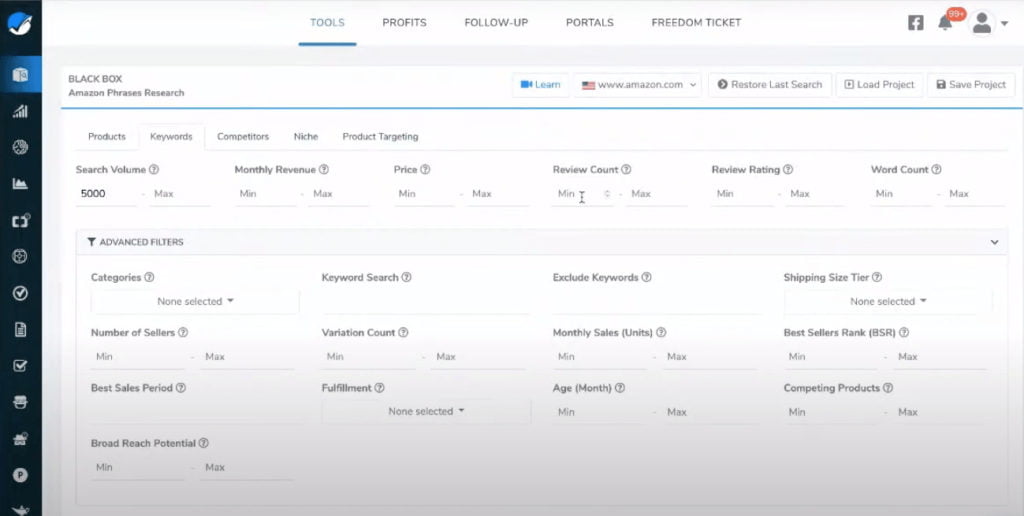 Below you can choose a category of your product. In this case, Chris chose "Home & Kitchen" and "Kitchen & Dining" categories and come to these results: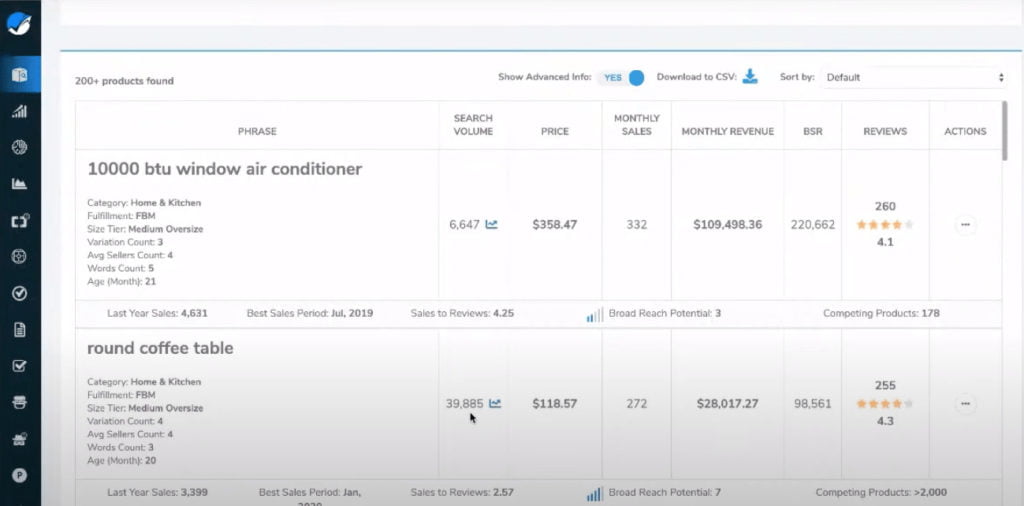 However, for some of the sellers, including Chris, it doesn't give as much information as it could – he explains that when searching for a product to sell on Amazon, he wants the tool to give him exact data whether or not a product is worthwhile looking into.
ZonGuru Niche Finder
Meanwhie, ZonGuru Niche Finder tool gives a score of every product. By using "Easy Starter" mode, you can search for products that are easy to launch and don't require much capital.
Chris himself uses advanced mode for his own product research – by selecting the same categories and filters as previously, he also can choose a Niche Score of a product. From his experience, anything above 50 is going to be a pretty good choice to consider: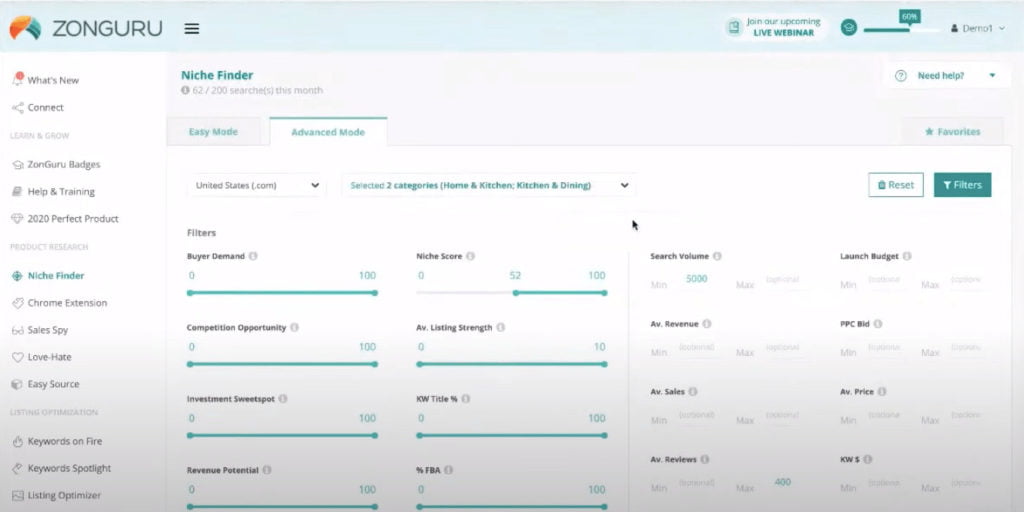 So the biggest difference between Helium 10 Black Box and ZonGuru Niche Finder is that the latter provides you with a list of products that you can click on and get some thorough data.
This is a list of product keywords that you initially get: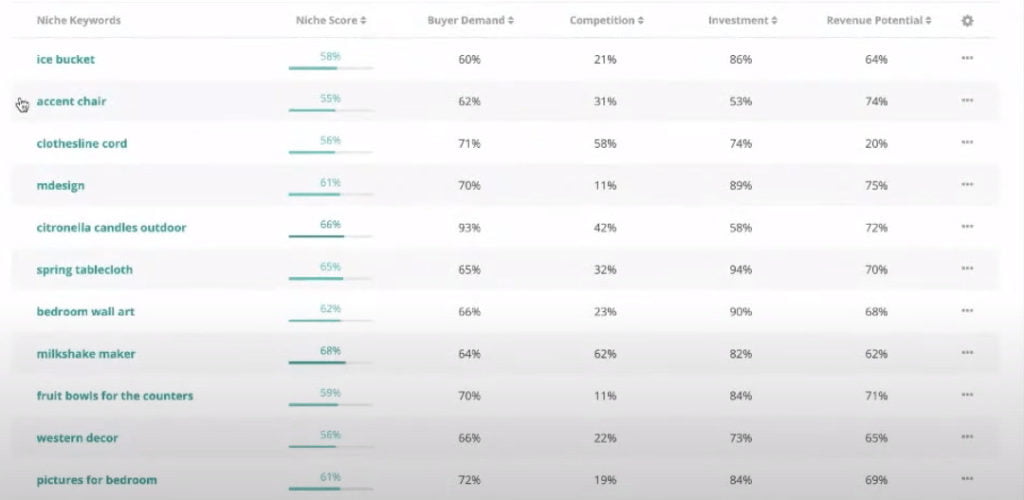 And this is what data you gather by clicking a particular keyword on the list – here you can see how does page 1 of the particular product (in this case, it's an ice bucket) look like as well as analyze more data points at one glance, compared to Helium 10: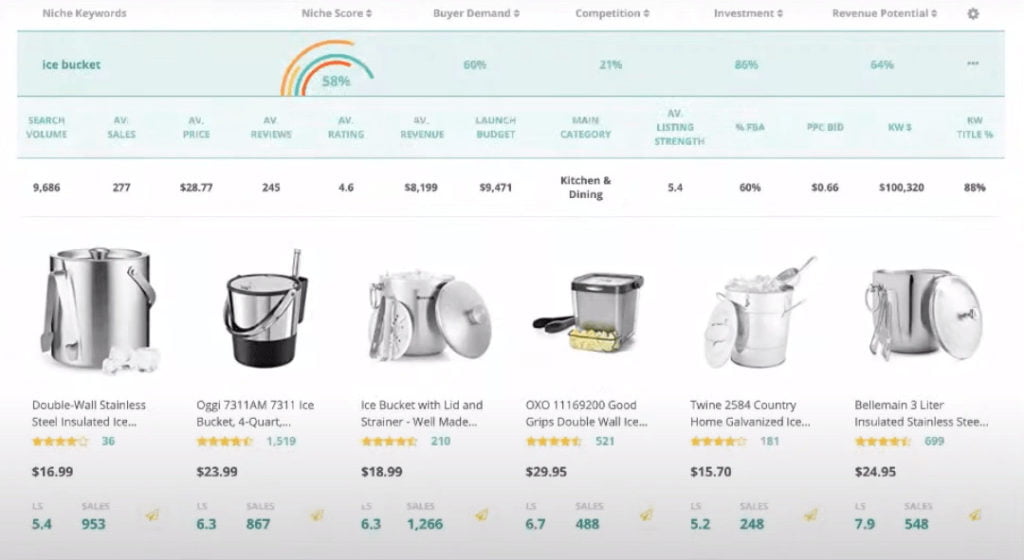 The idea of a niche score is to find out if a product has an actual demand, what's the competition opportunity, and profitability. On the other hand, Helium 10 Xray Chrome extension also provides scores, but it's a bit of a different interface, and has review velocity which makes the tool unique. ZonGuru is more focused to give you as much visual information as possible that you can find on the same window.
Keyword research: Helium 10 Magnet and ZonGuru Keywords on Fire
If you want to do quick keyword research, Helium 10 Magnet tool does it perfectly. By typing in a particular keyword, you get a list of keyword variations along with search volume and Magnet score based on its own algorithm:

One of the most important data points here is "CPR (stands for Cerebro Product Rank) 8-Day giveaways" that shows how many units you need to sell in 8 days to rank at the top for that particular keyword. For example, if you want to rank for "yoga mat" keyword, you need to sell more than 5000 units which is a huge number.
ZonGuru also has a similar feature, called "ZonGuru Launch" where it shows how many units you need to sell in order to appear on page 1 (not necessarily aiming at being on the 1st position of page 1). This feature, according to Chris, is more accurate than Helium 10's. However, whichever you choose, it's very important to keep in mind that number – it determines how many units you need to have in stock beforehand in order to rank on page 1.
When it comes to ZonGuru Niche Finder, looking for keywords takes longer. The reason behind is that when the tool does keyword research, it completes 3 main stages: 1) Reverse lookup across all the products, 2) Putting actual customer search data around the products that you put in and 3) Filter out the data. This way, ZonGuru kind of merges Helium 10 Cerebro and Magnet features into one.
When considering between these tools, it depends how deep you want to dive into each and every keyword you look for. Here is a comparison between Helium 10 and ZonGuru keyword research results – here is what data does ZonGuru show: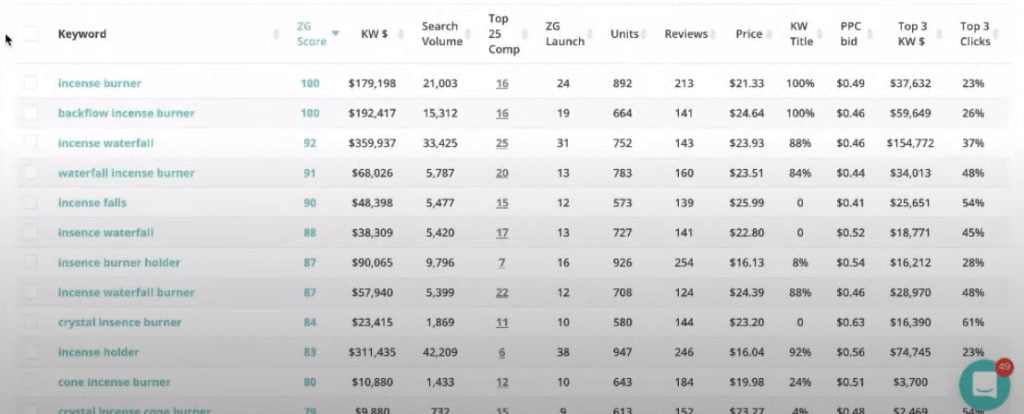 And this is what you get from Helium 10:

Chris highlights the importance of TOP 3 information that ZonGuru gives. By looking at the data from these columns, you can see how heavy and competitive a category or a keyword might be. If the percentage of "Top 3 clicks" and "Top 3 conversions" is extraordinary high, you know it's too hard to beat 3 top listings that are dominating the space: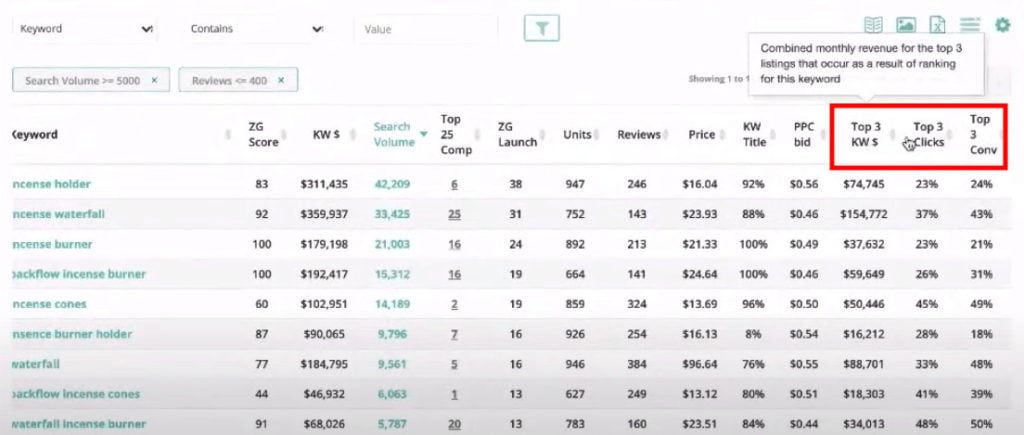 It's worth mentioning that ZonGuru is now in partnership with Alibaba.com which means you can now find a proper and trustworthy supplier to source products from. The idea behind is to match the right suppliers with private label sellers – all the data you see below is coming directly from Alibaba database: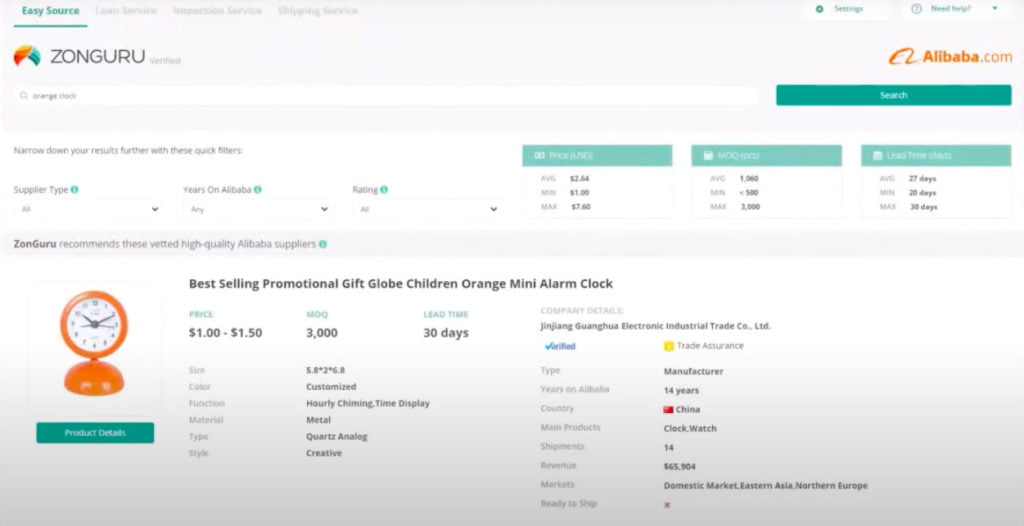 It gives you information about where a supplier is located, their revenue, what marketplaces they are working on, etc. There are some filters in case you are looking for something in particular to match your criteria. To find out how does this feature work, watch a thorough tutorial video that you can find in the ZonGuru Niche Finder blog post.
Helium 10 and ZonGuru pricing
Both Helium 10 and ZonGuru allows you to customize your plan based on your needs by additionally adding only the necessary features. The price varies based on what you need but the starting price point of ZonGuru is $39/month whereas Helium 10 starts from $97/month after 2 months of a free trial.
Both tools offer many benefits in addition to the most necessary features. For example, Helium 10 takes it to the next level by offering a free Amazon training ticket (with any paid plan) and access to a private community (when registering for the most expensive Elite plan):
Whereas ZonGuru offers weekly live academy sessions and recordings, case studies, product research materials. When it comes to pricing, they are keeping it very simple – if you're about to sell your 1st product, you might want to choose a Starter plan. In case you are more advanced and selling 1-10 products or more on Amazon, go with a Business plan or even upgrade to the Plus one:
Useful resources:
6 part workshop series with Helium 10:
List of topics covered in the ZonGuru vs Helium 10 video:

01:30 About ZonGuru
09:41 Helium 10 Black Box product research tool
13:22 ZonGuru Niche Finder product research tool
22:43 Does ZonGuru show review velocity?
23:50 Niche Score metrics breakdown
28:01 Helium 10 Magnet keyword research tool
30:42 ZonGuru Keywords on Fire keyword research tool
34:35 Difference between ZonGuru and Helium 10 keyword research results
38:58 Helium 10 CPR score vs. ZonGuru Launch score
44:38 Does ZonGuru show "Amazon Choice" product?
47:34 ZonGuru pricing
50:21 ZonGuru vs. Helium 10 Chrome extensions
51:14 ZonGuru and Alibaba partnership
54:09 Real data comparison between ZonGuru vs Helium 10
01:01:47 Tips for a product giveaway and how to rank
01:04:09 Does ZonGuru provide training for beginners?

---