When starting to sell on Amazon, the first challenge you need to overcome is finding the best product to sell – for this, you might want to look for niche products. But what data to actually use when doing your initial Amazon product research?
At this stage, you are most likely to look at various tools to help you with it. ZonGuru tool is one of the options when it comes to managing your Amazon business, from product research to business automation. Today Jon Tilley, the CEO of ZonGuru, will tell you more about their newest Niche Finder keyword database to find product ideas and Easy Source in a world's first collaboration with alibaba.com to find great suppliers.
ZonGuru is an all-in-one tool suite for every phase of the Amazon journey. From product research to business automation, ZonGuru has all the tools a seller needs to manage and scale your business. ZonGuru is a tool built by sellers for sellers, and they are passionate about helping our users create financial freedom.
Learn more on how to use the tool in this Demo Mondays episode.
List of topics covered in the video:
01:00 About ZonGuru
06:05 What is the niche finder tool
19:30 Things to consider when choosing a product on niche finder
21:42 Finding a supplier on Alibaba.com
23:27 How to use specific settings to find the most suitable supplier
25:30 How to analyze which product is the best to sell?
43:40 How to find out what reviews the product has?
49:11 Special offer

Find a niche product
Jon says that the products you should focus on are the ones with high demand and low competition, in other words, they need to be very specific. Finding a unique niche, where the competition is not as high, can literally build a successful Amazon business. Don't try to compete selling common goods with well-known eCommerce brands that have huge traffic and advertising budgets.
Of course, it's not so simple to find a niche product without having certain data. As one of the options, Jon suggests looking at some new features that ZonGuru released which will give you viable product options just by clicking a few buttons, meaning you don't need to spend time typing different products and finding it out by yourself.
Jon highlights that it's certainly not a new feature – many other Amazon software already has product databases. However, the problem with existing databases is that they are product-driven, meaning not every product is suitable for Amazon private label sellers. Meanwhile, ZonGuru offers a keyword-driven solution where they focus on what keywords people s are actually typing on Amazon to find products. This way, you can get the most recent up-to-date data on which you can make your decision. Even more, it now allows you to connect with the right supplier to create your product. For this, ZonGuru started a partnership with alibaba.com. So right now you can actually find a product and connect with a supplier at the same time.
Steps to find your Amazon niche product
Here Jon shows how to use niche finder for finding the best product to sell. As you can see, there are two modes that are based on the advance level – one for beginners (easy mode) and another for more advanced sellers (advanced mode):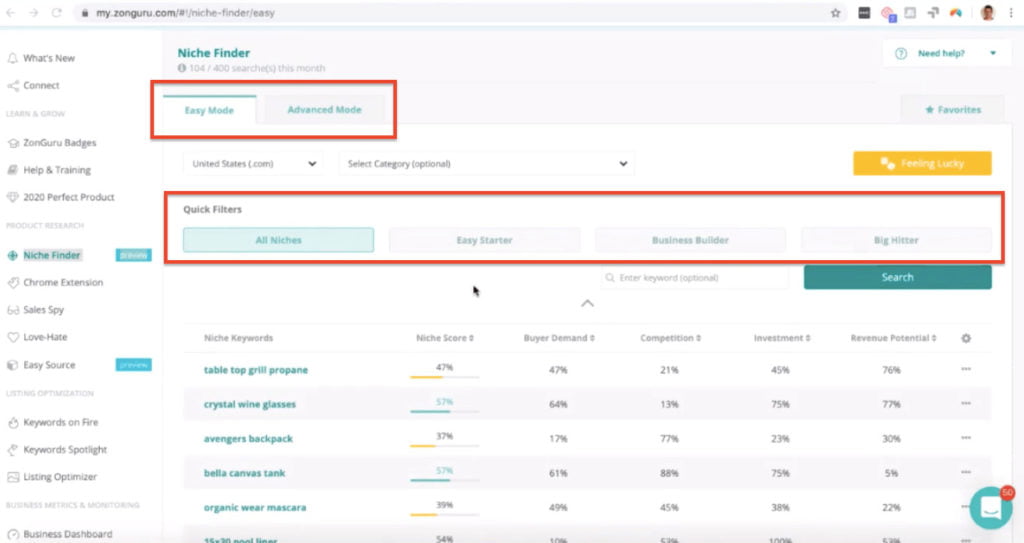 In the easy modes, you have separate categories based on which you can filter the keywords:
Easy starter – for those who just begin selling on Amazon and don't want to invest too much money on the first product.
Business builder – for those looking for a long-term product and considering building a business around it.
Big hitter – for advanced sellers who can invest more in a product with high-return potential and compete with other bigger competitors in the space.
If we look at the advanced mode, things look a bit more complicated here: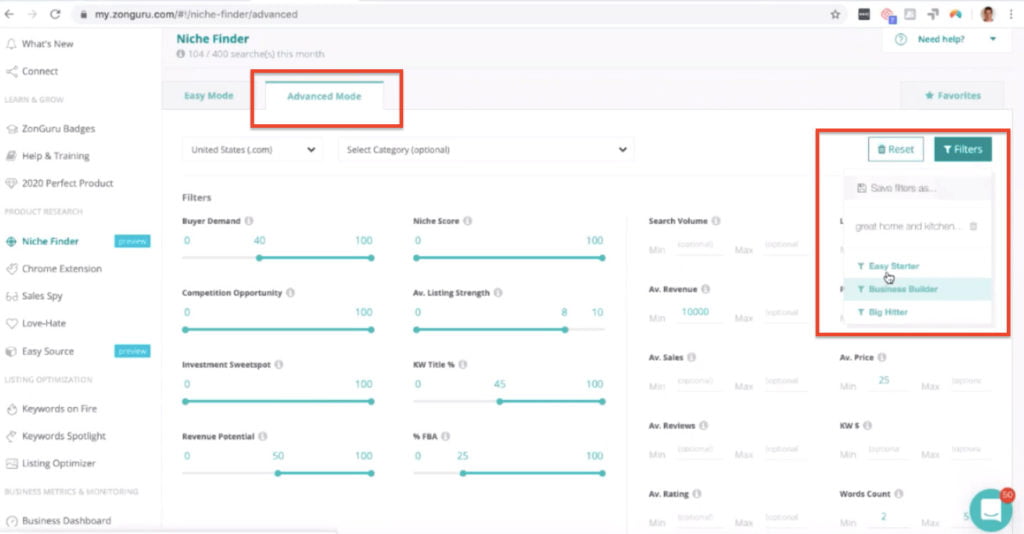 Here you can filter the keywords based on:
Buyer demand
Competition opportunity
Niche score
Average revenue
Average price
Search volume
Average reviews and ratings
Etc.
As in the previous easy mode, the advanced mode also allows you to choose between easy starter, business builder and big hitter, based on your goals.
It's worth mentioning that this tool calculates how much money you should have in order to rank on page one. The filter "Investment Sweetspot" shows how much capital you need upfront to have enough stock to sell at the average monthly sales to be on page one. So they actually look at the monthly sales and give you an overview of how much money you need to invest, plus 2 months' worth of stock.
This is how the results look like. Here you can find actual numbers on the product's demand, rating scores, and etc.: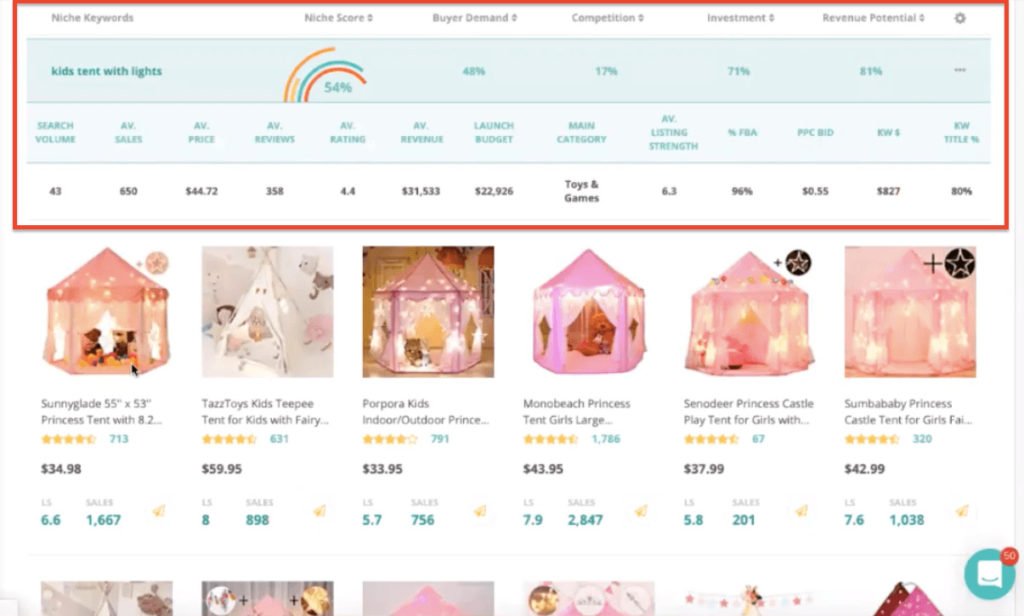 The most important information here to consider is niche score which consists of you is there an actual demand for the product, competition, investment, and revenue potential. Doing the Amazon niche product research, another thing to take a look at is reviews and the monthly revenue this product can make if it ranks on page one. So considering these numbers, the children's tents shown in the example might be a pretty good product to launch for someone just starting selling on Amazon. Keep in mind that anything that scores above 65% is worth considering.
After finding these out, the next step is to open a chrome extension

to see how the product actually looks like: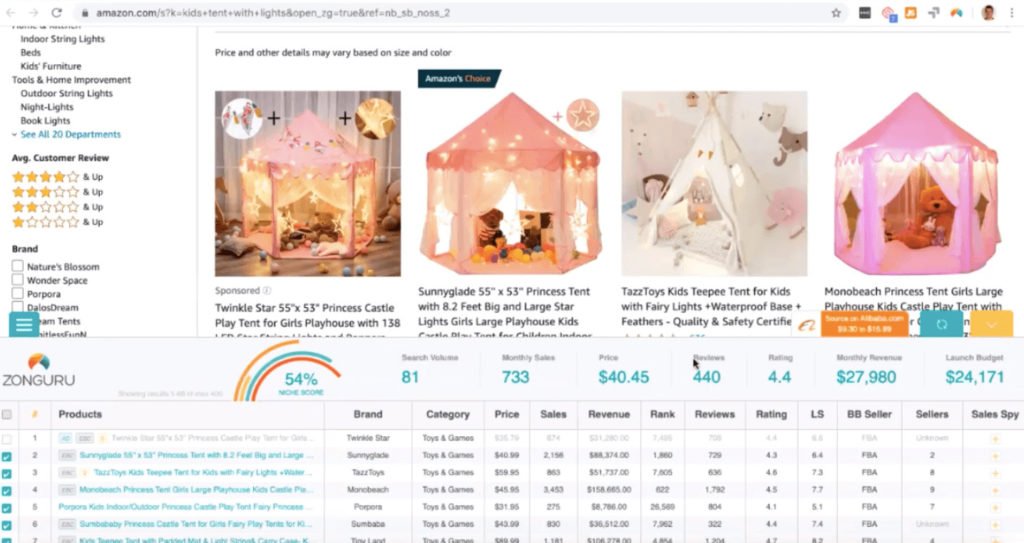 By having this information, you can easily see what are the chances to compete – on the lower column on the left, you see what sellers are getting the most clicks and conversions. At this point, you can also find out what supplier would be best for you on alibaba.com as well as the country they are in, type of company and price range: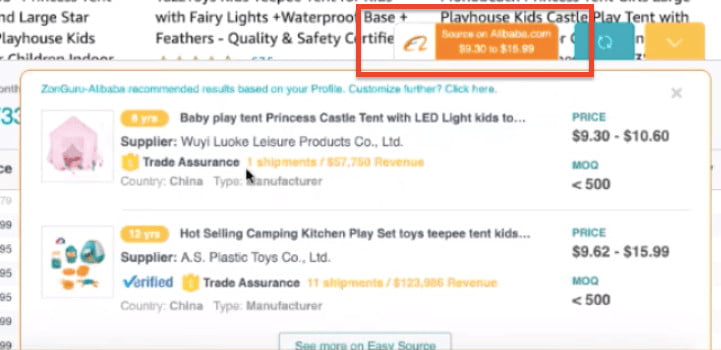 The information is gathered through API that ZonGuru has built where they use alibaba.com database and adjust it only for Amazon private label sellers.
While you are searching for this one special product, always think of how you can differentiate from other sellers – this is one of the key factors to be successful on Amazon. For example, you can use the "Love or Hate" feature in this tool by which you will find out what reviews the product has and what specific features people do or don't like about it. Basically, it's a huge help in order to know which parts of the product need to be improved.
If you want to try ZonGuru and the features mentioned in the blog post, sign up for ZonGuru and get a 7-day free trial + 20% off any plan only. Claim through this affiliate link.