This is a session from the European Private Label Summit 2017 – the online conference for Amazon FBA sellers in European marketplaces.
I have challenged Greg Mercer, the founder of Jungle Scout, to demonstrate how to find a product in the marketplace without knowing the language. Greg does not speak a word of German, but using the JungleScout tools he managed to identify a potential product idea.

Tactics for finding private label products in Europe in 2017
Focus in EXISTING demand
Focus on quality
Focus on adding value and differentiation
Focus on low competition
Criterias for European Product Ideas
Existing Niche Demand: greater than 1000 sales/month
Low Competition: listings in top 10 with less than 20 reviews
Less than perfect reviews: selling well with less than 4-star rating
Price Point: 18€-60€ (less competition at higher price points, greater margin per sale)
Do not select products that:
Need to be licensed
Are patented
Cannot be sold on Amazon
High liability or risk
Who is GREG MERCER?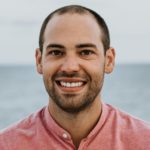 Greg is a serial entrepreneur, heavily involved in all things Amazon. He currently does multi-millions in annual sales with his physical product brands on Amazon. He's the founder of the industry leader in Amazon product research software – Jungle Scout. He is also the creator of Jump Send: powerful email automation and Fetcher: simple profit analytics for Amazon sellers. Greg's a lifelong learner, caffeine enthusiast and digital nomad.