We started 2020 with huge ambitions to facilitate 8 in-person business conferences for Amazon sellers and make the best out of organizing events. But little did we know our plans are about to change. In this blog post, we will share an overview of what happened to us in 2020 and how it changed our goals and directions, how we managed to organize the last in-person conference right before the global lockdown, and what new team members have joined Orange Klik.
Topics we talk in this 2020 overview video:
General mood throughout the year
The biggest highlight
Growing Youtube channel
Events we did in 2020
Orange Klik team
Other things we achieved in 2020
Outro
End
The first, the only, and the last event in the Amazon industry
At the beginning of 2020, we were mainly focused on organizing European Seller Conference in Prague. This event is our flagship event we are the proudest of. So you can only imagine how much effort we put into organizing it.
Everyone who knows us from before also knows that Prague's conference for us is the most important event of the year. It has officially become our flagship event after the first successful conference in 2019. By the way, it was also our first in-person conference which makes it even more significant. So there's no need to mention how much we were looking forward to it.
Preparation
Traditionally, the event takes place in Prague, the Czech Republic. Since we already had the venue for the event from the previous year, we were quite relaxed when it came to organizing the event. We started working on the main designs and merchandise just 3 months before, in December.
At that time, my assistant Ieva and I were also looking for a new addition to our team – an event manager. Previously, it was mostly me who organized all events but then I reached the point when I had 8 events coming up next year so right then my goal was to have a long-term, in-house event manager who can help me to reach this goal.
The initial idea was to find someone without experience so we can "shape" this person to work in the same style as we were used to.
During the process, we learned many lessons, one of them being that hiring a professional event manager is totally worth it. Although we didn't end up with the cheapest option, we surely saved up in terms of our time and energy.
However, this decision to hire a professional wasn't the first one we settled with. A few months before we tried to work with a couple of inexperienced freelancers but, as you might guess, it didn't work out. But there's always a bright side of things – now we have our event manager that we can definitely rely on and be sure that every tiny detail in the contract will be inspected thoroughly before signing.
The first 2 months of 2020 were going smoothly – we were working on this event at the full capacity and planned to make it the best experience for all – for attendees, speakers, and ourselves.
European Seller Conference 2020
As it was planned, the event was supposed to take place on March 12-13, 2020. One week before the event, we started to receive a bunch of emails, showing concerns about the growing number of Covid-19 cases in Europe.
Even though we were getting stressed, our team kept the positive mindset that everything is going to be alright. Looking back at that time, maybe it was the main reason why we didn't give up? Well, who knows. The one thing we were sure of was that there was no way back.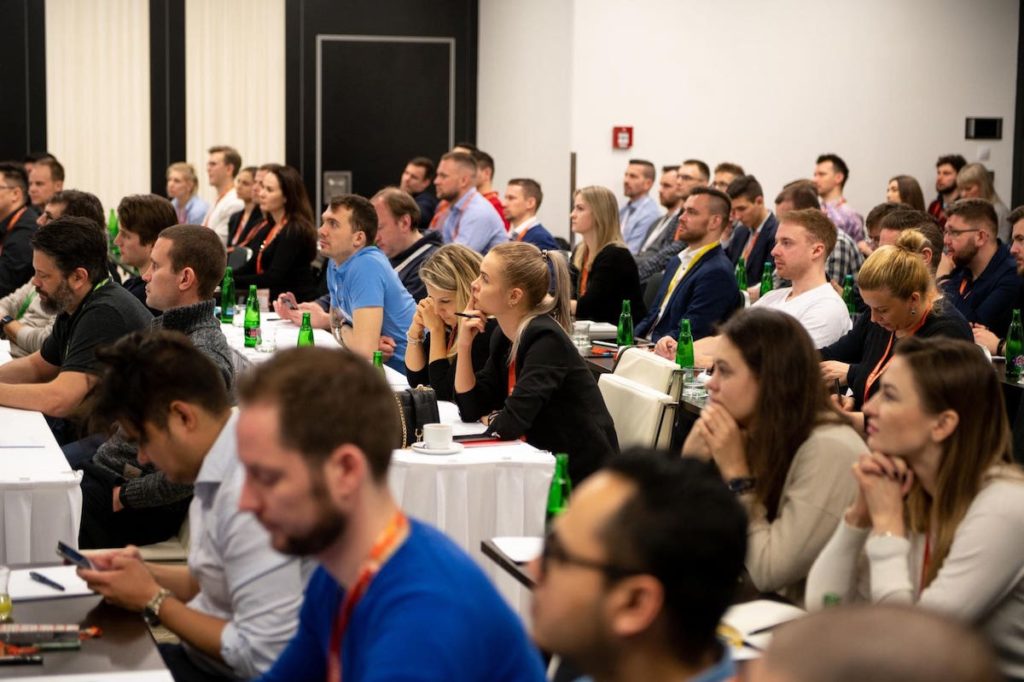 It wasn't too long until the first restrictions came into place on Day 1. We got a message that Friday morning, March 13th, the government was about to ban all events with up to 30 people (meanwhile we had 100+ attendees). Well, this is where things got serious.
So with a high risk of the event being canceled on Day 2, we somehow managed to merge the 2-day conference into one day. That means we had 17 speaker presentations going on until midnight and then networking night until 4 am the next morning. Definitely one of the longest days of our lives!
On Day 2, we had small mastermind groups (up to 30 people) divided into separate rooms. It seemed like everything was already in the past and we were happy we managed to adjust to the regulations. Eventually, it was now time for us to consider our options to get back home and get ready to stay in quarantine for the next 14 days.
Right now looking back at the whole situation makes us realize how much we have experienced throughout the year. At the beginning of 2020, no one knew how to properly deal with the situation. Should people keep a safe distance when sitting in the rooms? How should they behave during coffee breaks? If we needed to deal with such a situation right now, everyone would already know how to react and behave under such circumstances.
Seller Fest Online 2020
With no possible in-person events on the horizon, we decided to launch a virtual summit. For a while, we've been hesitating to do an online event since we thought everyone is already tired of sitting at home and watching various webinars that have been popping up one after another.
Right now we feel we should've jumped into this boat during the first lockdown… However, what we did with Seller Fest Online 2020 went far beyond our expectations.
The event took place on September 22-30, but August was the most intense period in terms of interview recordings. Overall, we recorded 49 expert sessions! A huge contribution was made by our new co-host Lisett. But more about it later.
This online event attracted more than 3000 attendees and, because it was so successful the first time, we decided to did an encore event on November, right before the Black Friday.
Thanks to our great speakers, we enjoyed every moment of recording the interviews. Here you can watch some of the best bloopers of Seller Fest Online 2020:
Youtube channel
From in-person events to the growth of the Orange Klik's Youtube channel – that's how we switched our main focus in 2020.
We started 2020 with 2.3k subscribers and ended the year with 3 times more! As for now, we have more than 6k Youtube fans and this number continue to grow daily.

We published 104 videos on our channel, including Demo Mondays episodes, live webinars, expert Q&A sessions. Apparently, this year our watchers were mostly interested in Amazon A+ (EBC) content that generated more than 7k views!
Here's the top #1 viewed video published in 2020:
Other top videos:
Your views, number of subscribers, and likes are the best motivation for us when it comes to creating content for the channel. So whenever you catch yourself watching one of our videos, hit that subscribe button! 🙂
Orange Klik Team
2020 has definitely brought some great people to the Orange Klik team. One of those people you have already met on our Youtube channel.
Co-host Lisett
I met Lisett Lees during an Amazon seller meetup in Malaga, Spain. At that time, Lisett was on vacation in Spain which, "thanks" to the lockdown, turned out to be a temporary place to live.
Considering her knowledge about Amazon, I couldn't resist but to offer her to join the Orange Klik team as a new co-host for our Youtube channel. Even though that was an unexpected offer, we're all glad to see the positive outcome out of this decision.
Lisett has recorded over 60 hours worth of interviews and has massively contributed to the growth of our channel.
By the way, in a couple of videos, you can find Lisett sharing her own knowledge about virtual assistants for Amazon FBA and Amazon posts.
Event manager Austė
Another very important addition to the team was our in-house event manager Austė who we already have mentioned in the short overview of European Seller Conference 2020 at the top of this blog post.
Even though we had a chance to work with Austė only once during 2020, we do hope in 2021 there will be many more in-person events to work together for!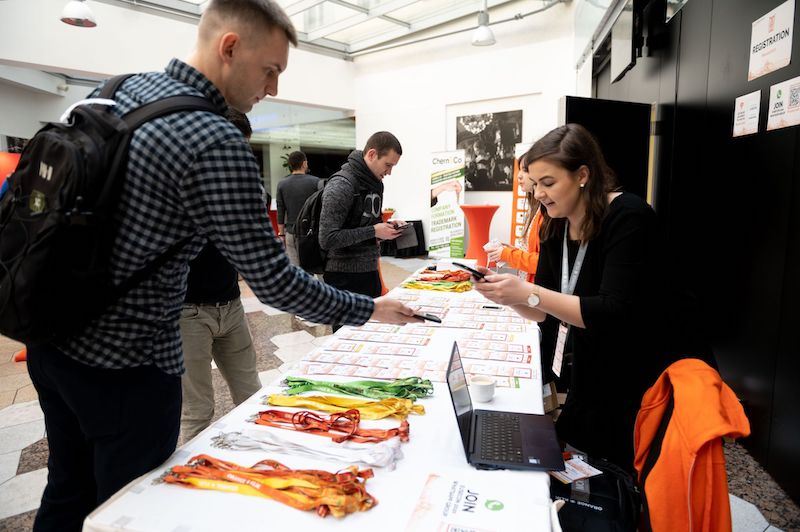 Video editor Valentas
How we ended up working with Valentas is another story about how we tried to look for a beginner video editor but ended up with an experienced one. Well, I guess there's no way around it!
Valentas has edited around 70-80 videos for Orange Klik's Youtube channel and Seller Fest Online as well as the 2020 overview video that has accidentally become one of the biggest recent projects.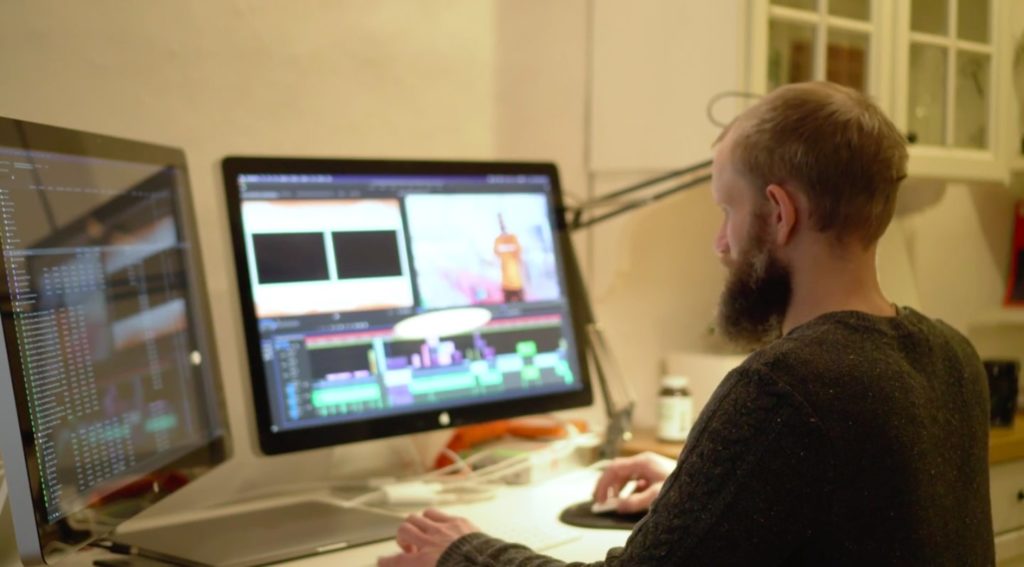 Assistant Ieva
The only time you might have met Ieva is if you attended one of the Orange Klik's events. All the time she's working behind the scenes so the content of our blog, Youtube, and social media channels would be updated constantly.
And even though she's joined Orange Klik way before 2020 (we already told about it in our year 2019 overview), this unusual year wouldn't have been the same without her input.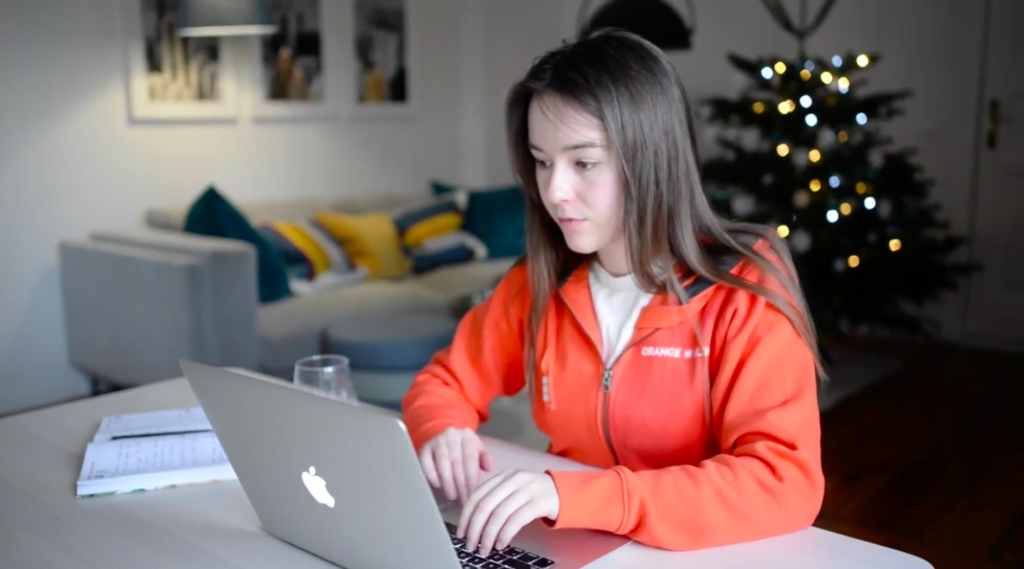 Other things we achieved
There are smaller projects and daily life things that we are happy to have achieved in 2020.
Orange Klik appearances
This year we were featured in 16 podcasts, more than ever! Some of them includes Just One Dime with Seth Kniep, Kenji ROI with Danny Carlson, Maximizing Ecommerce with Kevin Sanderson, Wizards of Amazon with Carlos Alvarez…
Obviously, the main topic that we love to talk about on different podcasts is organizing events for Amazon sellers and creating a seller communities in Europe. Something, that you wouldn't usually hear us talking on Orange Klik channels.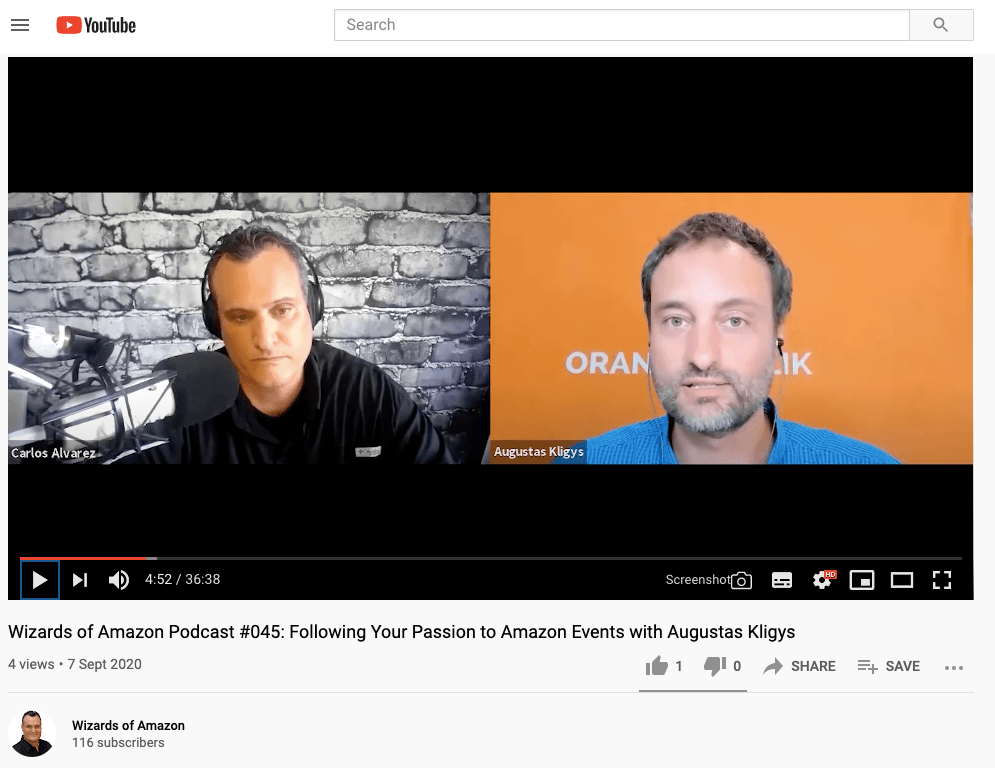 The full list of Orange Klik's appearances in 2020 you can find on our "About" page.
Slack club

Where do Amazon sellers connect?
Facebook groups? Yes, most of the time this is the case. We tried to think out of the box and create a new space for Amazon sellers to chat and help each other with whatever questions they have at the moment.
It's not that Facebook groups don't work. They do! But, after all, Facebook is a social media channel – a bit noisy, distractive and a time-consuming place to be. We bet you often catch yourself unconsciously scrolling down the newsfeed when the main reason you opened your Facebook app was to see the newest notification on a Facebook group.
As an alternative, we created a Slack channel called "Orange Klik Club" where more than 300 members communicate daily.
If you are interested to experience a different way to connect with other Amazon FBA sellers, visit Orange Klik Club's page for more information and instruction on how to join it.
Website
Finally, one of the last things we are happy to have completed is the Orange Klik's website updates.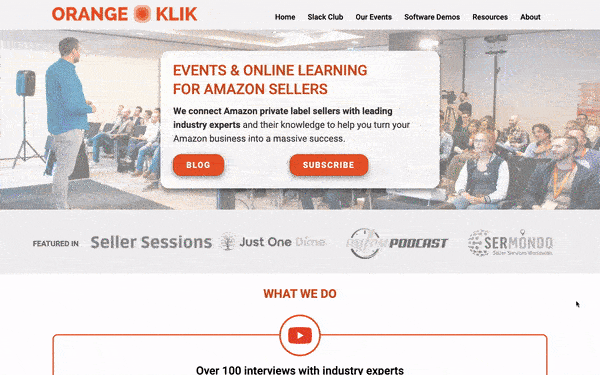 Now there are so many things you can find on our website, including collaboration options for service providers as well as Amazon experts and speakers, the newest discount coupon codes page with lots of special offers to start using various tools for your Amazon business, information about upcoming events, and much more.
Final thoughts
All in all, the unusual 2020 wasn't so bad. During the first lockdown, we all had some spare time to spend with our families, reflect on what we want to do next and what are the ways to achieve it.
Although we had to change our plans to have 8 in-person events and got stuck at home with a bunch of social restrictions going on, we spend this time doing things that brought us closer to bigger goals.
And even if we started 2021 still being in the middle of the lockdown, let's hope we will soon meet in one of our in-person events. We promise to put all our efforts into organizing the best post-lockdown event for Amazon sellers in 2021! 🙂