MerchantSpring helps online retailers and sellers to turn e-commerce marketplaces, such as Amazon, eBay, Etsy, Walmart, Lazada, Zalora, Newegg, TheMarket, Google Shopping and any of the other hundreds in this category into viable sales channels.
MerchantSpring provides a SaaS-based Marketplace Management Platform (Marketplace Manager™) and supplementary services to alleviate these distinct pain points for sellers. The MMP application is a self-service multi-marketplace platform that helps sellers increase their sales by providing sales analytics, performance insights, marketing and content recommendations, coaching and alerts.
Suggestions generated by the platform are seller-specific and based on the seller's performance diagnostic, peer benchmarks, and MerchantSpring's marketplace know-how.
To put it simply, MerchantSpring helps you to understand your sales performance globally, domestically from any marketplace on one dashboard. It covers over 100 marketplaces around the world. So no need to mention it covers every Amazon and eBay marketplaces as well.
On top of that, MerchantSpring also connects to Walmart Canada, Mexico, and the US as well as the number of fashion marketplaces under the global fashion group business.
In this article, you will learn how you can track your sales from all these channels in one dashboard.
List of features covered in this video:
01:02 About MerchantSpring
01:29 What marketplaces does MerchantSpring connect?
03:46 Who is it for?
04:28 MerchantSpring dashboard overview
07:09 Amazon store overview
10:27 Buy Box metrics
11:20 Things you can customize
12:12 Does MerchantSpring calculate Amazon VAT and other taxes?
13:02 eBay store overview
17:24 Notifications feature
18:32 Marketplaces
20:19 Pricing
23:02 Upcoming features
25:40 Support

---
What is MerchantSpring and how does it help Amazon sellers?
MerchantSpring covers all marketplaces you can think of and that's one of the reasons why it's more suitable for advanced sellers. For example, more experienced Amazon FBA sellers would sell on Walmart or Shopify as well. So the perfect customer for this tool is a seller who is selling cross-border and cross-platform.

For this kind of sellers, MerchantSpring simplifies the process of tracking daily sales without having to log in into several different platforms.
MerchantSpring review
Dashboard
One you log in, you'll immediately see the main dashboard. This is what you call an overview screen – it's made up of number of different widgets. In this particular example, we have 6 different marketplaces connected: Amazon US, eBay US, eBay UK, Amazon UK, Amazon Australia, and finally eBay Australia.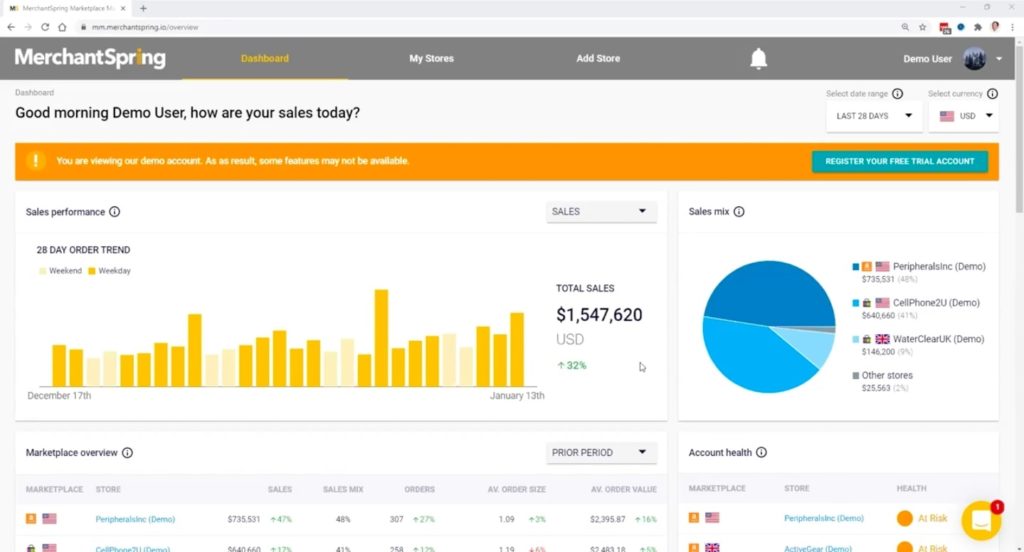 So in this overview, the software gives you a real-time snapshot of regularly updated metrics and different components of your store: Sales performance breakdown, marketplace overview, account health, average sales per day, overdue orders, top performing products, sales trend, inventory, and more metrics that you want to keep an eye on.


The tool can also drill down to each one of the stores (by the way, speaking of a number of stores you can add, there is no limit – there are sellers who have connected more than 200 stores to MerchantSpring).
Amazon store
Whenever you choose to analyze one specific store more closely, it will customize the metrics based on it. In this case, we opened an Amazon US store so you can see the metrics are geared towards Amazon.
So you know, MerchantSpring collects the data from Amazon API – all you need to no to sync the data is to login to your Amazon Seller Account inside MerchantSpring and you're good to go.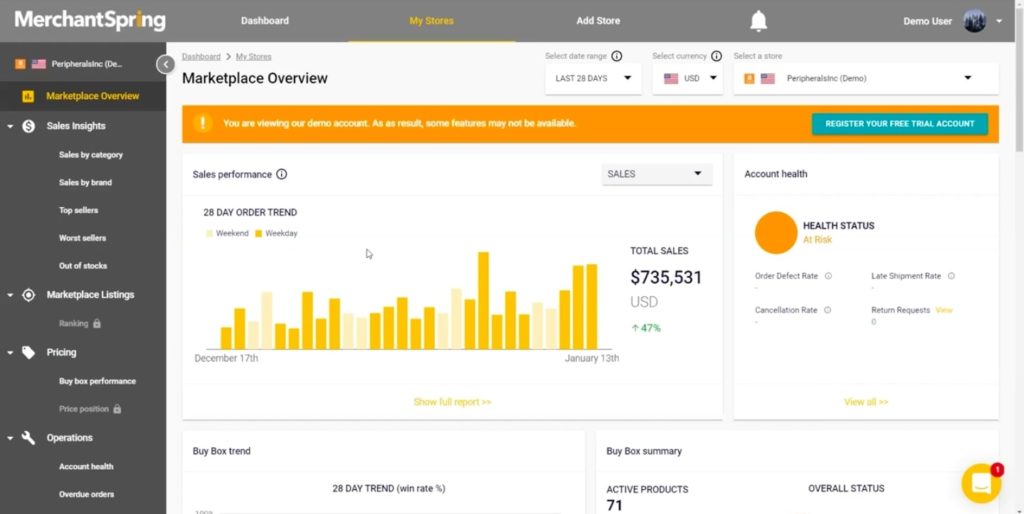 Of course, first and most importantly, you see sales performance. On the side, there's also an account health metric that indicates the status by showing a certain color (i.e. here you see the account is "orange", which means "at risk").
Scrolling down, there's a Buy Box trends and summary in which you see what products you are winning or losing. Down below it gets even more detailed, giving you the information on sales category, dispatch status, top performing products, etc.
You can also track your sales by brand if you are selling under more than 1 Amazon brand.

Sales insights also includes:
Sales category
Sales by brand
Top sellers
Worst sellers
Out of stocks
When analyzing these results, you can change the currency and set a specific period.
Soon MerchantSpring will release Amazon PPC functionality as well. Talking about other upcoming features, they will release some financial functionalities as well, so you can track European VAT, Australian GST, and have other financial information.
As you can see, you can quickly and easily overview all your e-commerce stores in one place which is very intuitive to navigate around.
eBay store
eBay store is slightly different than the Amazon one that we just overviewed. At first sight, everything looks the same – changing the time period, currency, sales performance chart at the very top.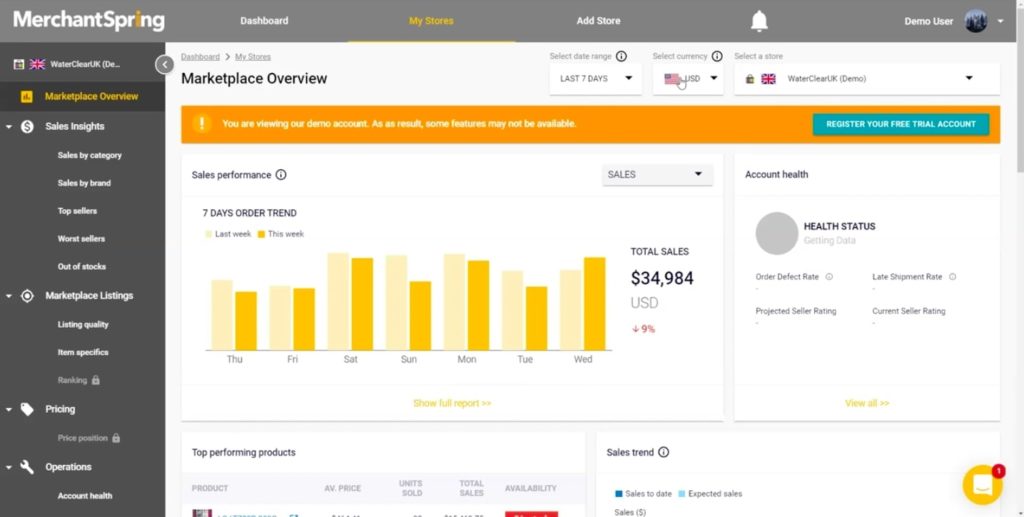 It differs when it comes to your listings content quality. Since eBay is very SEO-driven, your listing quality matters even more.

In this case, the tool gives a 63% overall score which is based on:
Title length
Description
Item specifics
Images
Free shipping
HTTPS compliant
Click & Collect
Guaranteed deliver
On the side, you'll see your top listings so you can focus more on how improving them. There are simple metrics that sellers need to be aware of.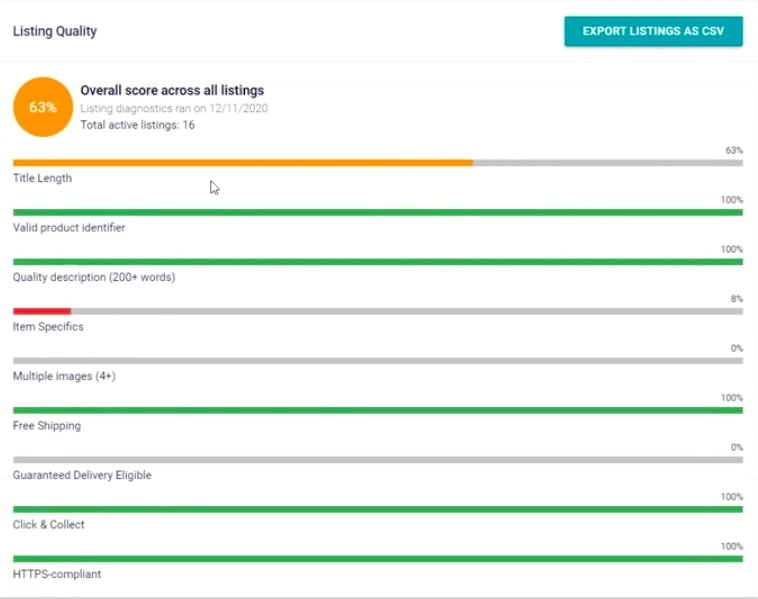 After analyzing what needs to be improved, you go to item specifics where you can actually optimize your product attributes.
Notifications
MerchantSpring sends you notifications to keep you updated on what's been happening in your store – for example, where most of your customers come from, when a new sales report is available, changes in conversion rates, on which day you sell the most, and so on.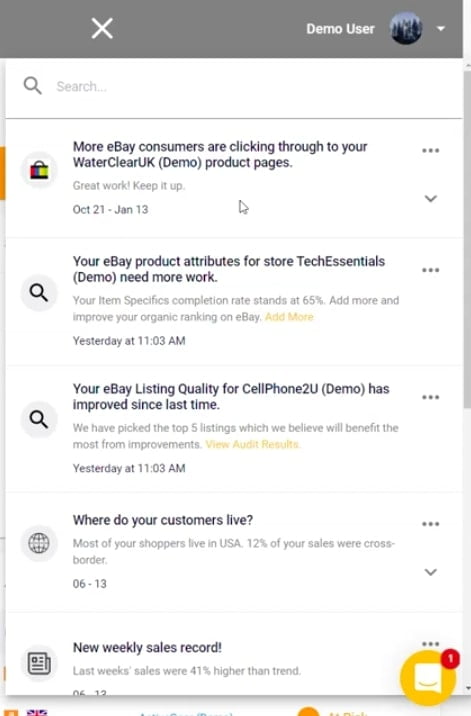 It can strongly contribute to making decisions on your advertising strategies and maybe even to the overall business strategy as well. For example, if you see that most of your customers are coming from the US, maybe you want to attract buyers from other countries as well or customize your listing to the US audience even more?
Pricing
MerchantSpring pricing is broken into a couple of components – basic standard enterprise and agency levels.
Despite of what plan you choose, you'll have access to basically all MerchantSpring's features. The main difference between the plans is the amount of stores you can connect.
So the more stores you connect, the more it will cost for you. An by saying store, we mean one Seller Central account, one eBay account, or one Walmart account.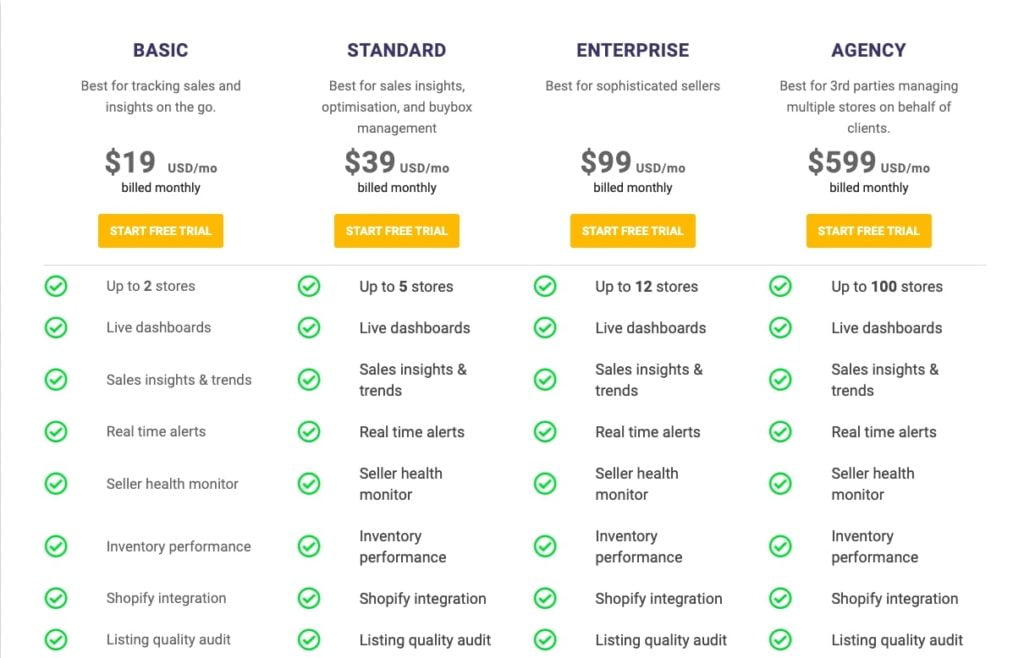 Upcoming features
As mentioned, MerchantSpring plans to release a profit tool as well as metrics for tracking Amazon PPC performance. The latter is being tested at full capacity right now by pilot users so this new feature will be released first.
MerchantSpring also plans to add a couple more connectors, such as Lazada and Shoppi that are well-known marketplaces in the Southeast Asia.
On top of all that, the solution will be optimized even more for Amazon sellers. Since many sellers are interested on how their Amazon A+ content does in terms of conversions, how good are the bullet points and product descriptions, MerchantSpring wants to give their customers the overview of such metrics as well.
Get 50% off any MerchantSpring plan for the first 3 months here.