2019 was an incredible year for Orange Klik Company. Today we share with you wins and failures we've done in the last 12 months: creating 4 international conferences for Amazon sellers, gaining over 1300 subscribers, winning the best YouTube channel award in the Amazon industry, and exploring new countries, as well as learning from simple yet important mistakes and struggling with work-life balance. You will find it all!
If you enjoy following up on how Orange Klik is growing over the years, take a look at our year 2020 overview as well!
Biggest highlights we are proud of
There were many ups and downs throughout the year but it's always more pleasant to start from the things we are really proud of.
We organized 4 international conferences in 4 different countries
Orange Klik's mission has always been to help Amazon sellers succeed and we feel we are doing so by creating events where sellers meet experts, network and learn from each other. In these events, we had over 50 different speakers and Amazon experts from 17 countries sharing the stage. We had 600 attendees from over 40 countries. These events are:
European Seller Conference
European Seller Conference was our first in-person event ever (people still often don't believe it's true :). The event attracted lots of attention from European Amazon sellers, 200 attendees came from 40 different countries, and we had well-known industry experts as speakers and now we are working on the second edition. Hopefully, we will repeat this first-time success.
If you are interested, watch this highlights video from the European Seller Conference 2019 and see how much fun we had! And, of course, join us for the next European Seller Conference on March 12-13, 2020 in Prague – find more information on the official event's website.
Seller Fest Israel
It was indeed a very interesting experience to host Seller Fest Israel event. Cultural differences and different environments created some challenges. Gladly, we successfully overcame everything that crossed our way. Are we going to host another Seller Fest Israel? Well, who knows what 2020 holds for us!
Seller Fest Lithuania
Seller Fest Lithuania is designed to cover a wide range of topics and provide valuable knowledge for Amazon sellers of any marketplace location.
Throughout the event, there were sessions with Amazon industry experts from all over the world, including Germany, the USA, Canada, Serbia, Ukraine, UK, Israel, Latvia, Poland, and Romania. And, as you can see, there was a lot of networking too – the main component of all our events!
You can see what happened during the event in this Seller Fest Lithuania aftermovie!
PPC Congress
PPC Congress 2019 in Amsterdam was a great success – we received so much positive feedback from both experts and attendees who spent 2 days together learning and sharing the best Amazon PPC strategies. This event is the first and the only one focused only on Amazon PPC where Amazon sellers, PPC consultants, agencies and PPC software companies get together to discuss the newest trends.
We were lucky enough to have such well-known names in the Amazon industry, such as Brian R. Johnson, Casey Gauss, Danny McMillan, Stefano Starkel, and many more.
It was truly a great event – you can see it yourself in the highlights video!
We grew our YouTube channel
We started 2019 with less than 900 subscribers – after 12 months, we doubled this number and at the end of 2019 our YouTube channel has more than 2.2K subscribers!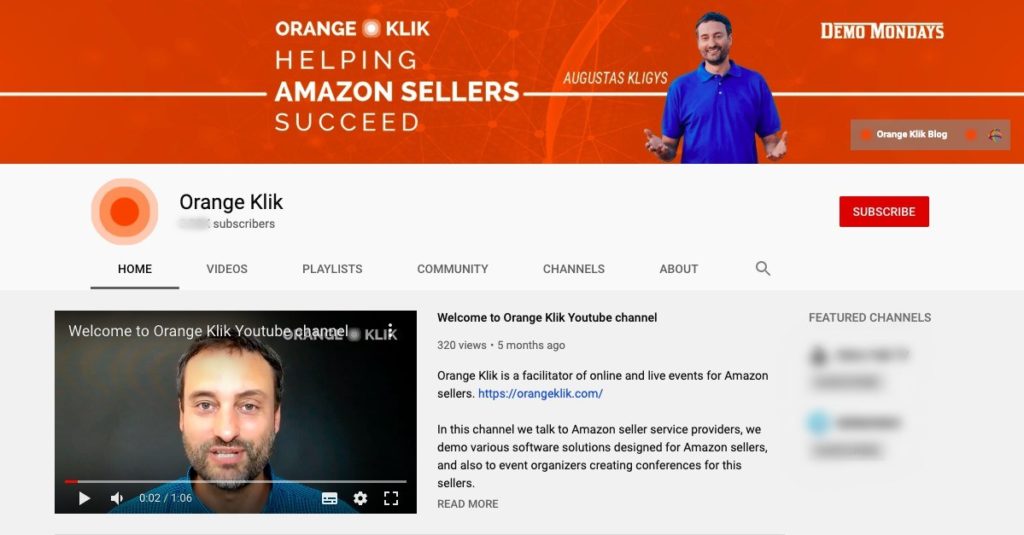 This summer was a total blast when it comes to content creation. We managed to upload more than 100 videos to our channel, most of them filmed during the summer while still working on 2 other in-person conferences. It was worth the struggle – recently our YouTube channel was officially announced to be the best one in the Amazon community awards Sellerpoll 2019. You can watch our reaction once we received the award in this unboxing video.
It wouldn't have been possible without the Orange Klik team – during the last 6 months, we made a huge step and hired one full-time assistant and found a video editor who strongly contributed to our channel growth.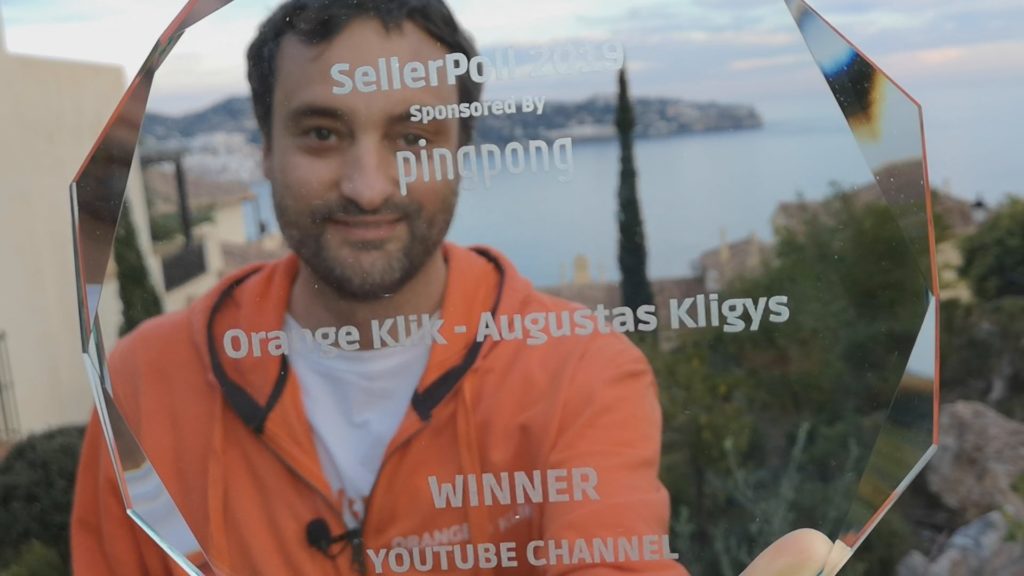 Lots of traveling
One of the biggest advantages of organizing events in different parts of the world is traveling. We had a chance to organize the event in Israel (who would've thought we will end up there – crazy!) and had a pleasure to visit Jungle Scout's office in Austin, Texas, and meet the legendary Greg Mercer in person.
Failures that we learned from
Forgetting to turn on the mic while interviewing people
There are no gains without failures, that's for sure. Throughout the year, we had many ups and downs, some of them being funnier while the others taught us lessons that we still try to figure out. For example, in recent months we attended the White Label World Expo in London where we had a stand and represented Orange Klik's events. During the event, we thought it would be interesting to interview a few people and show people what this expo is about. Well, as you can see from this Facebook live video we did a silly mistake and forgot to turn on the mic when talking to people (watch it from 17:49). Well, lesson learned – in the future, we need to test new equipment more carefully and read the instruction part.
Having the worst internet connection while filming a webinar
Sometimes when you feel like you are fully prepared and nothing bad can happen, life gives you the challenge to deal with. In our case, it was a very bad internet connection while filming a webinar with Sebastian Castaneda from ZonRush. You can clearly see something wrong is going here: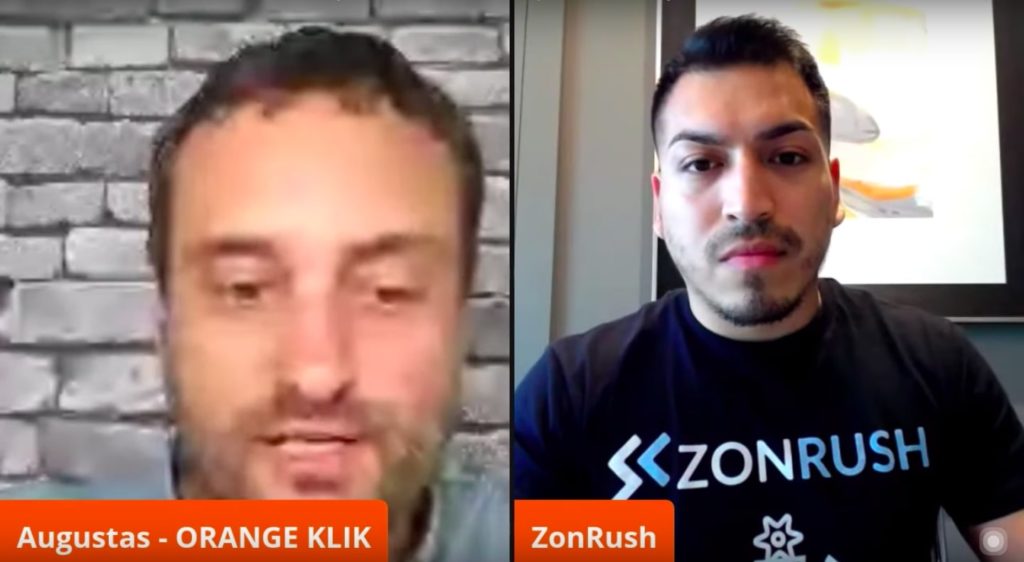 And the funny thing is – it happened twice! Actually, we met Sebastian in Austin in November – we had a beautiful conversation for several hours. Hopefully, sometime in the future, we will collaborate once again, only this time with a proper internet connection!
If you want to check out these webinars (we highly recommend to do so – there are lots of great tips on how to launch your product), find the links below:
Other failures in our events
Well, when you unexpectedly organize 4 international conferences in different countries within half a year, it is inevitable to experience stressful moments. Right now we can smile looking back and remembering moments, for example:
That time when 12 hours before the event our camera/audio crew were still on their 900km way to the event.
Or when we forgot to record attendees' testimonials of our very first (!) event.
One time we had 2 sponsors who didn't get their promotional banners on time (for those, who don't know how does it work – basically, without a promotional banner, a sponsor cannot properly build the stand and represent a company).
Another time, we tried to cut our event costs and ended up having a bad photographer – no need to tell you how important it is to share photos from the event afterward. How else you are supposed to show how successful your event was?! Moral of the story – if you want professional service, you need to pay for it.
A viral video that never gone viral
The last one from this list – a viral video that didn't go viral at all – is one of the most creative video ideas that we have ever come up with. The idea behind this was to spread the word about our first conference. Every Youtuber dreams of such video, right? Check it out below. 🙂
Struggling with work-life balance
That's the biggest struggle we are facing constantly – when you have a bunch of ideas you want to realize but a very limited amount of time, you really need to balance between two. That's the inevitable struggle every entrepreneur is facing and it's almost impossible to have it all.
Talking about failures – in the last few years we've learned that only by taking action one can achieve something, and when you take action you will make mistakes, which will be invaluable lessons. It is important to be brave to face the failures and learn from them.
A few words of appreciation
All the speakers coming and speaking at Orange Klik events.
Special thanks to Danny McMillan who is always supporting my work no matter what!
Special thanks to industry "big stars" who traveled from far away to speak at Orange Klik conferences.
Shoutout to Alex Chernenko – who MCed 2 of Orange Klik events! Great moderator. Great entrepreneur. Thanks.
All sellers who attended events.
All who watched YouTube videos – we had 11.3k hours watch time in 2019! Don't forget to subscribe and keep up with our content!