If you want to start selling on Amazon the right way or maybe launch a new successful product, first you need to focus on proper product research.
And it doesn't mean going to Alibaba and scrolling through the bunch of products or looking at the best sellers on Amazon to guess which one you could sell successfully.
First, you need to have the data that a product is worth selling and will potentially bring you lots of profits. And to get such data, you need the right tools.
One of the options is Xray by Helium 10. It's an Amazon product analysis tool that also can be added as a Chrome extension to your browser which makes it even easier to use.
In this blog post, we will explain how can you benefit from this tool and how to use it.
What is Helium 10 Xray?
Basically, Helium 10 Xray pulls the most important data you need to have about a product – its rankings, price, reviews, estimated sales, even FBA fees, and much more. Even more, if you combine this tool with the Black Box tool and Trendster, you will have the most comprehensive analysis of the product you can wish to launch next.
In a nutshell, Xray does 3 important things in the product research process:
Finds a potential product to sell
Analyzes product demand
Finds product suppliers
Is Helium 10 Xray accurate?
When using a tool for product research, you want to be confident that the numbers are reliable.
Xray is one of the most reliable tools when it comes to product research. First of all, it pulls information from 450 million ASINs. Second, it gives you estimates within 22 units with 10% accuracy.
Having this in mind and knowing that Helium 10 gets its data directly from Amazon's API, it makes Xray a reliable tool.
When to use Helium 10 Xray tool?
Once you start your product research and already have an idea what you would like to sell, you can start using Xray right away to see if a product has potential.
With Xray, you will be able to identify what products have brought the most profit to your competitors and start from there.
So, for example, if your idea is to sell yoga mats, Xray will show you what is the average revenue for that product, what search volume on Amazon it has, and its average price.
Here is one example of data you will get from Xray:
| | |
| --- | --- |
| Keyword "yoga mat" | Numbers |
| Search volume | 450,000 |
| Average revenue | $83,000 |
| Total revenue | $3,800,0000 |
| Average price | $35 |
| Average reviews | 7,400 |
How to set up Xray?
It's very easy to set up and start using Xray. Here are the steps you need to take:
Go to the Chrome Web Store and search for the Xray plugin.
Install the plugin to your browser.
Open Amazon in Google Chrome and sign in to your Helium 10 account.
Click the Settings button after selecting the Helium 10 icon from the extensions toolbar to manage your settings.
Choose your options for what you wish to be displayed in the Settings window.
You can now go to Amazon, type in a keyword for any product you want to look into and in the search search results page, you will see plenty of products. Then Xray will pull data about each of these products (price, sales, revenue, BSR, FBA fees, etc.) as well as the search term volume, total revenue, average price, reviews, and more).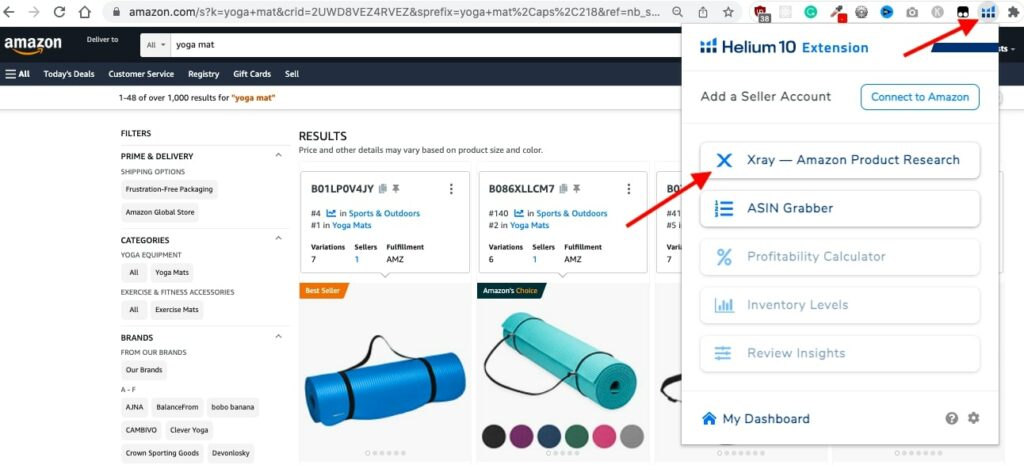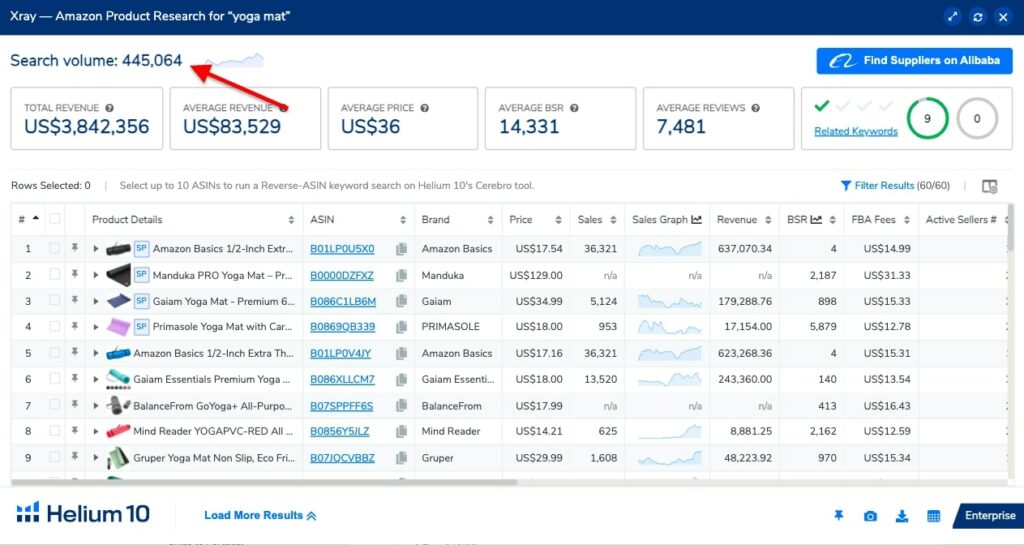 How to use Xray tool?
In order to get full usage of the tool, you need to know how to interpret the data you receive. Here is a quick guide on Xray features and what the given data means for your product research.
Search Volume
This metric will show you how often people have searched for certain products. For example, "toothpicks" has a search volume of 6,000, while "yoga mat" has 450,000. High search volume means there is high demand for that product, but it also means there is even higher competition. The best is to find a product with a search volume that is not too low but yet not too high.
Reviews
This is similar to search volume – if the product has a lot of reviews, you can be sure that it has high demand and strong competition. The golden rule is to go with a product that doesn't have more than 200 reviews. Believe it or not, "toothpicks" has over 7,238 reviews, which is a higher number than the search volume.
Related Keywords
If you don't have time to study the Amazon SEO guide and see how to make optimized product listings, you can use this tool to see the keywords your competition is using. It is like using Cerebro inside Xray. With this feature, you will get to see all the related keywords for your product and their scores.
Next to the keyword, you will see whether there are high or low demand and competition. This can help you when writing your listings keyword to rank better on Amazon.
Product Details and More
This metric will show you an average price, FBA fees, BSR, number of sellers, and revenue this product made in total or on average. There is also a filter option where you can adjust your search using different kinds of filters. Another option you can find on Xray is to find suppliers on Alibaba. When you click on this option, a pop-up window will appear with filter options. So you will have a smaller search inside search. Here you can put the price range and Vendor Rating range to get vendors that fit your budget.
Success Score
The Success Score is one of the data points in Xray, and it can be seen in the upper right of the window after the tool has been used on an Amazon search. The meaning of the Multi-factor and Two-factor scores, as well as how to switch between these two types, are explained in this article.
The Multi-factor score, which was the initial success score, was created several years ago based on the standards early top Amazon sellers used to assess new products to sell. It evaluates several product data points and generates a score based on those standards.
It's critical to realize that the Success Score does not assess which products are suitable for sourcing and selling. The score offers sellers information they can utilize in their own research of a product or market in relation to their own business strategies, just like the other data offered by Xray. For a seller with diverse goals, a score that may be significant to one seller may not be significant to another seller.
Why do you need good product research?
There are thousands of sellers and products available on Amazon. If you wish to be successful in your business, you need to do good research on the market, and product research is where that process begins. Simply selling products that everybody has will not make you profit – you need to find a unique thing, something nobody has or has in smaller amounts. With Xray tool, you will be able to see how big demand and competition is for the product you wish to sell.
Also, this tool will help you to see how much money you will be making on average and how many sellers are there on Amazon selling this product. But first and foremost, keep in mind that you need to interpret data correctly. If you find a product that combines a small number of sellers and a low search volume, it probably means people are not that interested in buying it.
Next steps
Helium 10 Xray Chrome extension is free, the only thing you need to do is to sign up for Helium 10 so you have an active account. So for starters, you can try Helium 10 for free.
If you eventually decide to sign up for a paid Helium 10 plan, use these coupon codes to save some money:
ORANGE10 for 10% off any plan lifetime
ORANGE6M20 for 20% off the first 6 months
Apply any of these at the checkout when signing up.
Also, here you will find more information about different Helium 10 tools and how they can help in your Amazon business.