As an Amazon seller, should you sell evergreen or seasonal products?
How to find out a product's sales history so you know exactly how is it selling during certain periods of the year?
Or maybe you just want to make sure a product you're going to sell if definitely not a seasonal one?
We have a short answer to all of these questions – the Helium 10 Trendster tool allows you to check a product's seasonality so you can evaluate more precisely how much stock you would need and when.
For example, looking for Christmas products just a few weeks before Christmas is already too late. In the best-case scenario, you would need to start looking for such products in the summer. That's how selling seasonal products work like.
In this blog post, you will learn all about the Trendster tool – how to use it to spot seasonal products and how to analyze Amazon product trends so you can predict future sales and plan your inventory smarter.
By the way, if you enjoy reading this blog post, check out more Helium 10 tutorials here.
What exactly is Helium 10 Trendster?
Helium 10 Trendster checks a product's seasonality and gives a clear overview of sales trends. It helps identify those products that are selling the best during a certain period of time, for example, the most obvious seasonal product would be Christmas tree decorations or any other kind of holiday decoration.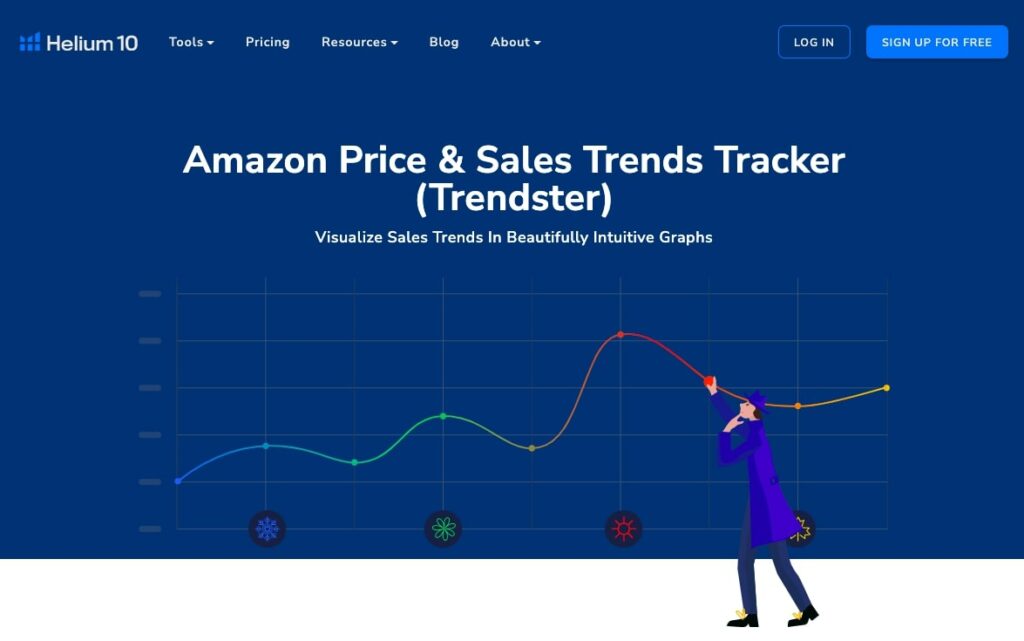 Looking at the sales history data, you can actually determine a product's seasonality. That helps to know how much stock you need during a certain season.
Also, by finding out the sales history, you can predict if a product is going to sell at the same time this year, even though it's not an actual seasonal product.
But in case you are actually checking the sales trends of a seasonal product because you are going to sell one, just keep in mind that it might take about a year to develop and bring a product to the market. So in case you started working on your, let's say, Christmas decoration product, make sure you start developing it at least in the summer.
So let's get into Trendster now.
How to use Helium 10 Trendster
Log in to your Helium 10 account and select the Trendster tool from the top menu: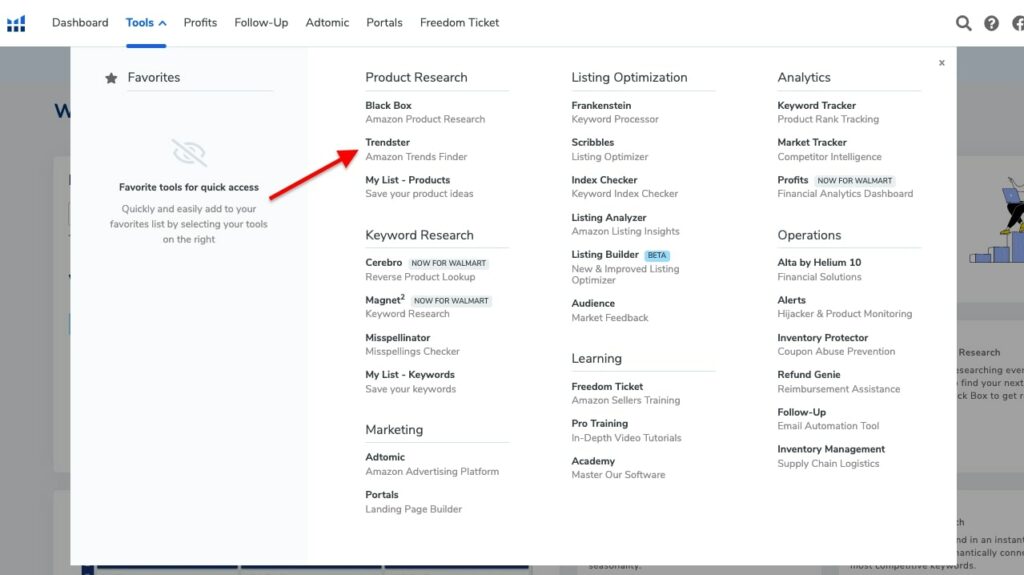 Here you can enter up to 4 ASINs and up to 4 keywords for these ASINs, meaning you can compare 4 products at the same time.
In addition, what makes the tool even more interesting, is the ability to choose a timeframe

Also, you can select which marketplace you want to look into. The tool covers all Amazon FBA marketplaces, including the USA, Canada, Germany, Spain, France, UK, India, Japan, and the rest.
This time, we are going to select the Amazon Germany marketplace.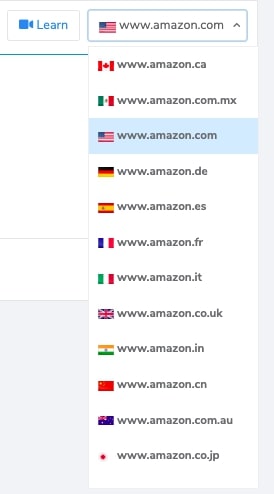 Let's say you decided to start selling picnic blankets. That's great! However, this is a product that might be potentially a seasonal product.
But these are just assumptions – let's look at what Trendster says:

Actually, the sales throughout the year are pretty steady and the sales rank is quite good (remember – the lower the sales rank is, the better a product is selling!)
The sales rank starts going down in May, meaning the picnic blankets are selling faster just before summer and in the mid-summer, it slows down.
In the next year, we see the same picnic blankets started to sell a bit better than usual in March.
Although the sales fluctuate a couple of times per year, we wouldn't consider it as a seasonal product.

The tool also compares the sales data with Google trends so you can actually see when people search for a product on Google. This data shows the popularity of a keyword you have provided just before running this trend research.
Growing trends on Google also mean a better chance to sell a product because most people end up searching for a product on Amazon.

Our advice would be to set the 1-year timeframe so you can see how the trends have been doing until now.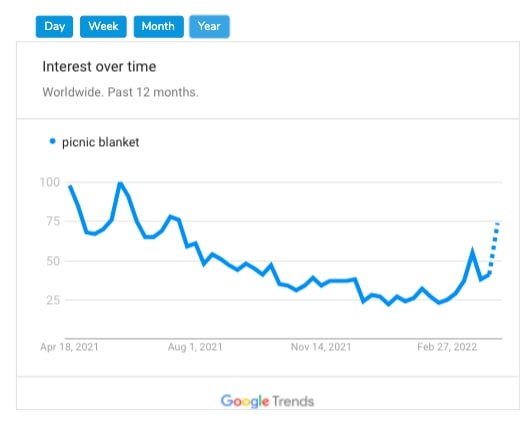 Amazon product trend analysis
Of course, once you get a sales history graph in front of you, everything is self-explanatory. You can clearly see the lines going up and down and make conclusions based on that.
Once again, remember – the higher the spikes are, the less product sells. Sales rank works in a way where the lower number indicates better sales.
Going back to the metrics inside Trendster – what you might miss is the product price. Take a closer look at how the price changes depending on the season.

Here you can see the price dropped at the end of July and sales increased as a result.
However, in March 2022, even though the price was increased, the sales didn't drop, meaning that the picnic blankets start to sell better because of the Spring season.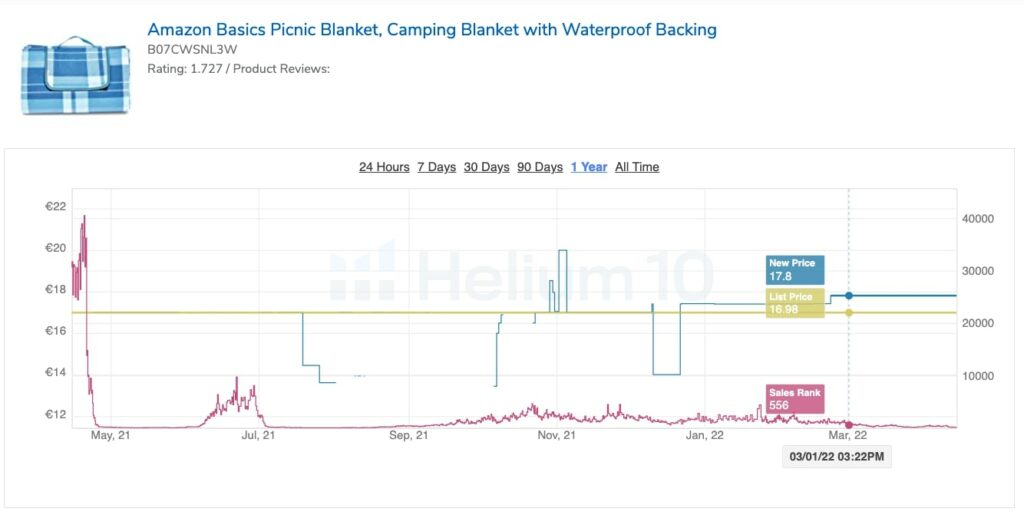 How to spot seasonal products?
When running an Amazon product trend analysis on Trendster, you will easily notice high fluctuations in the graph.
Also, here's another comparison between a Christmas sweater and a regular blender.
For a Christmas sweater, we see the sales are happening only between November and January: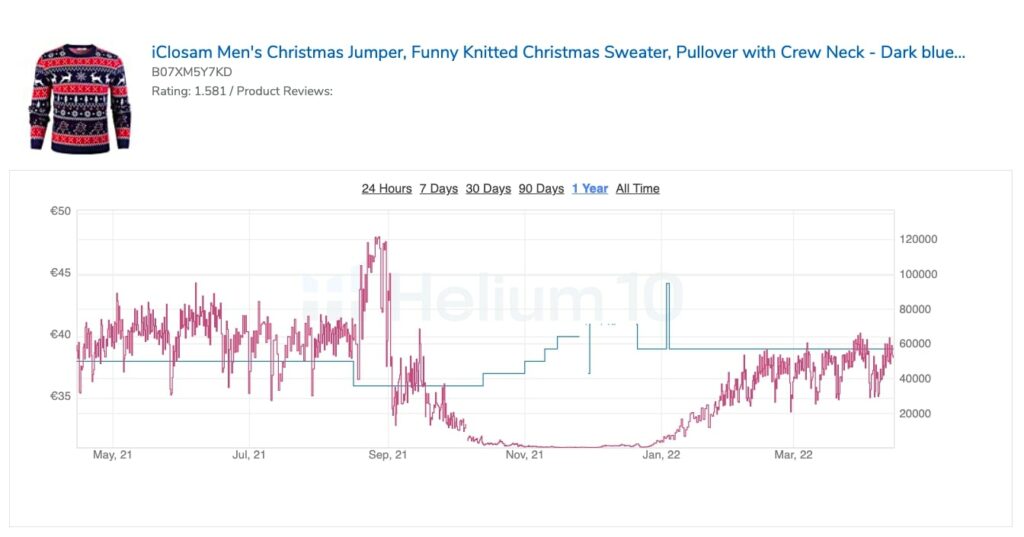 And for this blender, the sales are steady, except for one spike that was caused by the increased price: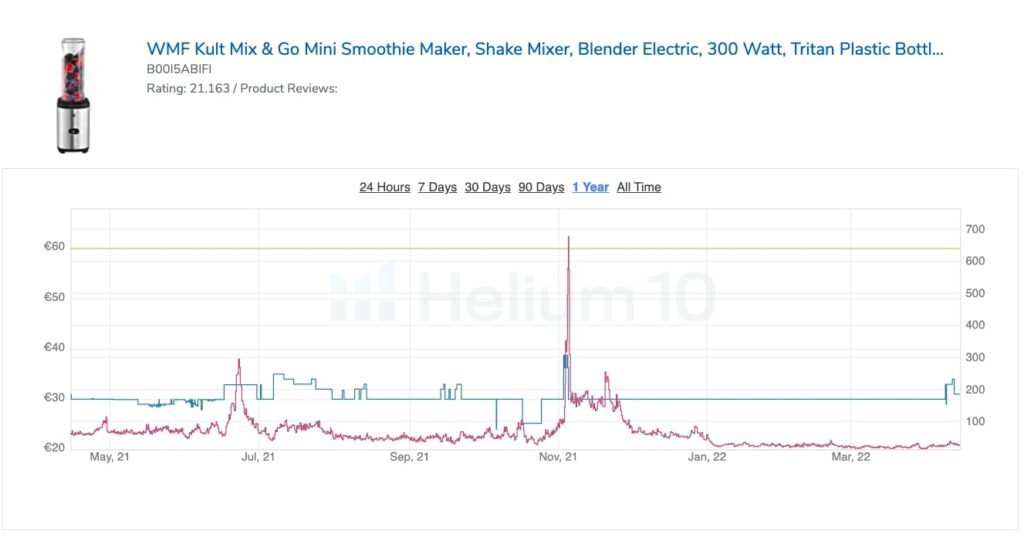 So this comparison shows how visually different seasonal and non-seasonal products are. With any seasonal product, there will be a brief period in a year when it's selling and the sales rank drops.
How is Trendster different from Google trends?
If you think you don't need Trendster to check a product's trends and just use Google trends for it, you might be wrong.
Trendster pulls out the data about a product directly from Amazon whereas Google shows only the data from, well, Google. Simple as that.
Meaning that with Google trends, you won't be able to check any Amazon-related metrics, such as the product price or sales rank changes.
Also, if you want to explore more potential product trends, we recommend checking out Helium 10's Pinterest feature.
Helium 10 coupon codes
Once again, here are the discount coupon codes for Helium 10:
10% discount for any Helium 10 plan lifetime with a coupon code ORANGE10
20% discount for the first 6 months of Helium 10 with the coupon code ORANGE6M20
Apply any of these two at the checkout when you sign up for Helium 10.