Most Amazon sellers are aware of the excellent features and tools Helium 10 has to offer. However, if you are just starting your business and haven't used this software before, we recommend checking the free Helium 10 version.
This way, you can get to know all the tools and see how they can help you grow your business before subscribing to any plan.
In this blog post, you will find some tricks on how to try this software completely for free.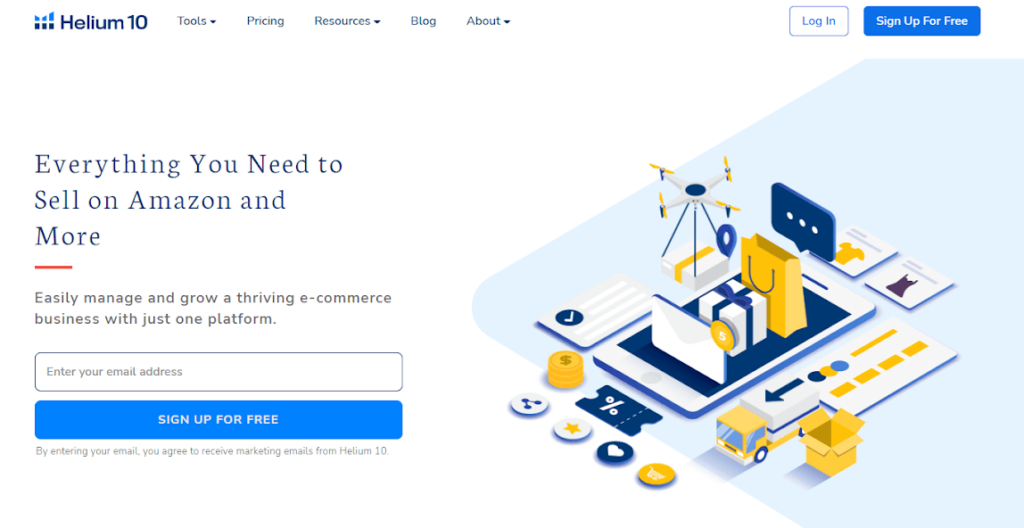 Is Helium 10 available for free?
Helium 10 free trial offers some tools with limited access, however, it's more than enough to get a glimpse of what it can offer you. Some features and tools will only be available for a certain amount of time or use. For example, the Helium 10 Black Box tool can only be used 5 times in the free trial version.
Also, important to mention, the some tools will not be available after 30 days. So if you want to make the best out of it, it's recommended to do so within the first month after you start using it.
Even with those limitations, the free trial version can be still an excellent way to get to know all the features Helium 10 has to offer and eventually pick the subscription plan that fits your needs the best.
Before you use one of the coupon codes to get a discount on your subscription, let's take a look at Helium 10 plans and their prices:
| | |
| --- | --- |
| Plan | Price per month / Price per year |
| Starter | $39 / $339 |
| Platinum | $99 / $999 |
| Diamond | $249 / $2,499 |
| Elite | $399 / N/A |
Product research tools available in the free version
If you're a new seller who is still in the product research phase, you probably don't want to spend money on expensive tools to help you out.
And Helium 10 did a very smart thing by offering their Black Box tool for free. Overall, their product research tools are the most popular and most-used ones so there are high chance people trying the Black Box will eventually go for a paid plan.
The Black Box tool allows you to search among millions of products in one second. In the Helium 10 free trial version, you can use Black Box only five times.
The second tool that allows you to see the product's sales trends and demand is called Helium 10 Trendster, and in the free version, you can only use this for 30 days. While this might not seem too long, it is enough time to see how using this tool can help you have better revenue and sales.
Other tools that are available for only 20 launches are Helium 10 Xray, both for Amazon and Walmart. With these tools, you can identify the most profitable products on Amazon, all with transparent information, price, sales trends, and estimated revenue.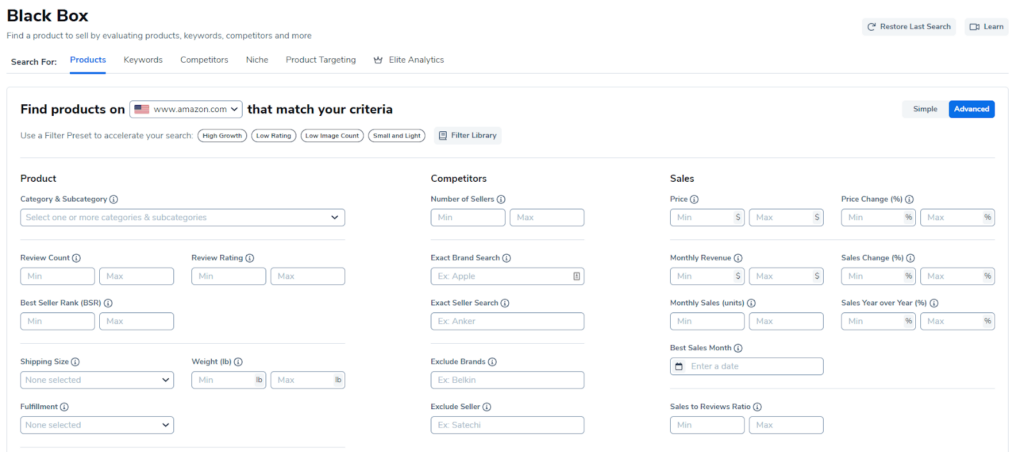 Listing optimization tools in the trial version
When placing a certain product on Amazon, it is crucial that your product is described correctly and optimized for search engines. This is one of the key steps if you wish for your products to have the visibility you prefer. With Helium 10 listing optimization tools, you can easily create high-quality listings, among other things.
The first tool you will use is Helium 10 Frankenstein which is a keyword processor that will quickly and efficiently organize your keywords in ready-to-use listings. This tool is available for 30 days in a free and starter plan, while an unlimited option is available in Diamond and Platinum.
The tool that can help you track all the keywords you need to place in your listings is called Scribbles and is also available for 30 days.
Index Checker is a tool you will need to ensure the keywords you have used are indexed correctly in the system, so when someone is searching for products using certain keywords, your products will appear.
This is an important step in every product listing, and with the trial version, you will have six uses of this tool.
Setting up your listings correctly is not the only thing you should do – you will have to keep track of your listings constantly. This is done both to see your listing's performance and the performance of the competition. Luckily, Helium 10 has excellent tools that can analyze this and give you an insight into what must be changed. The tool that does that is called Listing Analyzer, and you only have two uses in the free version.

Keyword research in Helium 10 free version
Before you list any product on Amazon, you need to do in-depth keyword research to ensure the listing has a chance to rank. Helium 10 has several tools that can help you in your keyword search. Let's go over some of them and their main usage:
Cerebro and Cerebro for Walmart – it is an ASIN lookup tool with which you can analyze product listings of your competitors through their keywords. Once you pull out the keywords, you can add them to your listings.
Magnet and Magnet for Walmart – this tool will search the keywords for you. It has an excellent keyword database so you will most certainly get keywords that will drive traffic to your products.
Misspellinator – this is an excellent tool that can write pull out keywords, written in an incorrect way – exactly in the way people most often type them when searching for products.
In the free version, all of these tools are only available as the Demo version, except Misspellinator, which you can use up to 20 times.

Operation tools available in Helium 10 free plan
Once your business starts to grow, you will see how quickly your once-simple business can get complicated. Here is where you can use Helium 10 operation tools. These tools will help you run a smooth business and have the best customer satisfaction.
Although most of the products are not available in the free version, you can easily upgrade to some of the plans once you have a need for that.
From available operation tools, you can use Inventory Management for 30 days, Alerts for two 2 ASINs, and Refund Genie for a limited time. Inventory Protector, which prevents coupon abuse, is available for free.
Check this video for more info on how Helium 10 tools can help you with your Amazon products listings:
How to sign up for Helium 10 free trial
As you can see, for a limited amount of time or access, there are plenty of tools you can use for free on Helium 10, just enough to get you started with your business.
Later on, you can upgrade to some of the plans that fit your needs and budget in the best way.
On that note, here is a step-by-step guide on how to sign up for a free trial of Helium 10: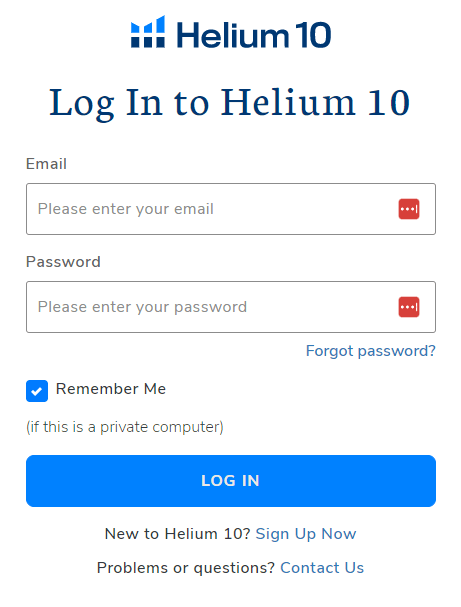 Step 1

Go to Helium 10 website and click on the sign-up button in the top right corner of the homepage. Then fill out the form and click sign up.
Step 2

Once you have signed up for Helium 10, the new page will appear. On this page, you will have to add a Chrome extension.
Step 3

Click on an add to chrome button on the right corner of the page and install the extension to your Chrome.
Step 4

Finish setting up your Helium 10. Follow the steps and instructions on your dashboard.
Is Helium 10 worth it?
You probably wonder why anybody would need so many tools only to set up an Amazon business. Well, this couldn't be farther from the truth, as nowadays, the competition on Amazon is enormous. If you don't know how to position your products in the best possible way, you will only lose money.
You can use various other tools to help you optimize and keep track of your products, but with Helium 10, you will have the whole package. It is no wonder why it is used by so many Amazon sellers. It is comprehensive software that can give you tools for various different goals you as an entrepreneur may have.
It also has an A La Carte membership that is available on a monthly basis, where you can pick the tools you need individually.
Next steps
For starters, sign up and try out the free version of this all-in-one suite. It doesn't cost you any money, and you can practice using these tools before deciding which plan is best for you.
If you eventually decide to sign up for Helium 10, use these coupon codes to save some money:
ORANGE10 for 10% off any plan lifetime
ORANGE6M20 for 20% off the first 6 months
Apply any of these at the checkout when signing up.
Also, here you will find more information about different Helium 10 tools and how they can help in your Amazon business.