When looking for a tool to help you run your Amazon FBA business, you want the best value for the best price. One obvious choice to consider is Helium 10.
But is it the best fit for your unique case? Let us help you with our Helium 10 review to figure this out.
In this blog post, you will find an overview of what Helium 10 is and what different tools it has to offer.
What is Helium 10?
Helium 10 is the leading Amazon FBA software tool on the market that has helped countless sellers grow their own Amazon FBA business.
If you asked any Amazon seller about this tool, they would definitely say it's one of the most-talked-about tools in the market. And there's a reason for it – Helium 10 is the ultimate solution that automates all the tasks needed to launch and scale your Amazon business.
Who is Helium 10 for?
Helium 10 is used by professional FBA users since it almost removes all of the research and guesswork involved in choosing and expanding an Amazon business. It's designed for Amazon FBA (Fulfillment by Amazon) and Walmart.com sellers.
Everything a new or experienced Amazon seller needs to boost sales, profit margins, and product rankings is included in Helium 10. It incorporates all the features you require into a single piece of software, eliminating the need to pay for multiple separate subscriptions.
Helium 10 for Amazon product research
If you need to find a product to sell on Amazon, Helium 10 has tools available just for it (check out the discount coupon codes before signing up). The tool is going to show you not only the potential products with the highest profits but also their sales trends, search volume, number of reviews, and competitors who are selling the same product. This data lets you evaluate if a product is worth your consideration.
The best thing about doing product research using Helium 10 is its simplicity. The overall process is very straightforward and easy to comprehend. Moreover, after doing an initial evaluation of a product, you can start looking for a supplier with just one click – Helium 10 has integration with Alibaba.com, so you don't need to switch tabs during the process.
Helium 10 Chrome Extension for Amazon product research
You can actually use Helium 10 for free to find your next Amazon product! Their Chrome Extension provides access to information about a specific product that is not available within the original web browser. This information includes the product's reviews, ASINs, product dimensions, product titles, and more. The ASIN Grabber tool provides the option to quickly input the product's ASIN and have the results displayed in the original web browser. The Review Downloader tool allows users to access and download all available reviews for the product.
Sales Estimator lets you determine if your product is profitable by estimating the monthly sales volume. But that wouldn't be enough without comparing it with your competitors. That's why the tool also provides information about your competitors' estimated monthly sales and compares it to your own estimate.
Next, you have the Profitability Calculator. This calculator helps you estimate how much it will cost to get your product into the hands of potential customers. It's a simple tool that can give you a good idea of how much it will cost you to sell your product, but there are many factors that will influence your costs, like storage fees, shipping and manufacturing rates, and the profit margin of your product.
There is also the Review Insights option that helps analyze product reviews and identify the weaknesses and strengths of a product.
Black Box For finding product opportunities
Helium 10 Black Box can be a great tool for new sellers as it's designed to help you find profitable products to sell on Amazon. The difference between Helium 10's paid tools and the Chrome extension has advanced filters.
For example, with Black Box, you can set different filters to find only relevant products for you, a specific category, sales and price changes over time, and even the correlation between sales and reviews. These are just a few filters, but it gives you a better understanding of how in-depth the tool can analyze each product.
Xray for identifying profitable products
When scrolling down through Amazon search page results, it would be great to have a quick glance at how products ranking at the top of page 1 are doing, right? In that case, you could analyze a few things about the product at the same time – are sales growing right now, how much sales and revenue does a product generate daily, how many reviews it has, what's the rating and BSR (Best Seller Ranking).
Helium 10 Xray pulls out all of this data that is available in just one click. The tool is part of a free Google Chrome extension and can be used when searching for products on Amazon.
Trendster for analyzing product trends
Helium 10 Trendster helps you collect and analyze data about Amazon product trends. It not only allows you to gather product information, analyze trends over time, and plan for future sales but also helps to find unforeseen product trends. You can see which products are the most trending during a specific season and use that information to prepare beforehand, for example, for the next Q4.
This simple yet powerful tool also allows the addition of keywords to the overall research and pulls out the data on whether or not people are using a certain keyword to find a product, either on Amazon or Google.
To put it shortly, Trendster lets you efficiently review past sales of various products on the market and helps you predict future sales.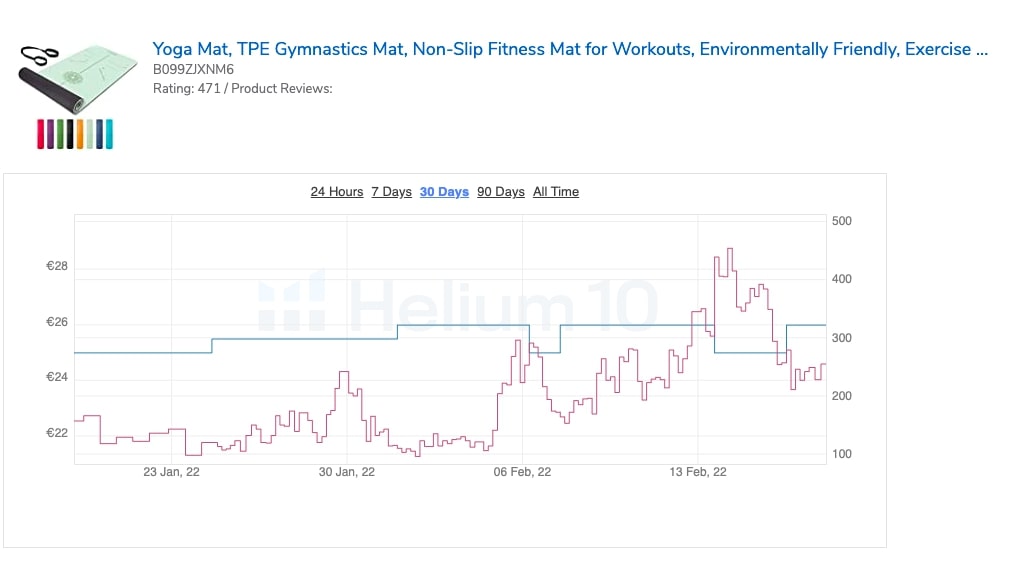 Pinterest for exploring product ideas
There are different ways to brainstorm your next Amazon product idea. Knowing that sellers often use Etsy, Google, or social media, the Helium 10 team has integrated an option inside their dashboard to quickly search for recent trends on Pinterest. So, again, you don't need to switch to different tabs, scroll through Pinterest posts, and search for potential keywords that people might use for searching similar products on Amazon.
Helium 10 for keyword research
One of the things that determine your product ranking on Amazon is keywords. Finding keywords that are not too competitive but have good search volume at the same time can be frustrating. Helium 10 offers 3 tools to help sellers identify the best keywords for Amazon products.
Cerebro for analyzing competitors' keywords
Helium 10 Cerebro is an ASIN lookup tool that lets you analyze a specific product listing by pulling out its keywords. You can either use it to discover well-performing keywords that your competitors are ranking for and add them to your own product listing or explore new opportunities by estimating the keyword's potential to rank on page 1.
Cerebro is one of the tools that you should regularly use to keep track of new keywords your competitors are ranking and optimize your listing accordingly.
Magnet for keyword research
Amazon is a search engine, just like Google, meaning you need to boost your product listing with relevant keywords to rank organically.
Helium 10's Magnet keyword research tool has the biggest database of keywords, so you don't need to guess anymore if the keywords you added to your listing will actually drive traffic. Plus, it has quite a few advanced filters to narrow down the best keyword opportunities.
Misspelinator for targeting misspelled keywords
What to do if buyers keep misspelling a search term when looking for your product?
Actually, one of the best ways to boost your sales is to include misspelled search terms in your keyword list. Hundreds of search phrases are commonly misspelled, and Misspellinator instantly finds the most popular variations for any keyword in just a moment. It will save you the trouble of having to sort through random misspellings.
With the help of this tool, you can then find these variations of your keywords and add them to the backend of your listing. That's a trick to boost your sales organically.
Helium 10 for listing optimization
There are two parts to listing optimization. One, make sure your product descriptions are thorough and accurate, and two, make sure your listings are optimized for the search engines.
And listing optimization is a tough task. There are many variables when it comes to your listing optimization – you need to make sure you have product images that are of the highest quality possible, videos to spice things up, product descriptions, and bullets that capture buyers' attention yet provide the essential information about a product, A+ content that builds the trust of your brand by telling its story… And don't forget keywords! They need to be everywhere – in your title, sales copy, and backend.
You can't skip on any of those parts, otherwise, your listing is going to lose sales. Proper listing optimization means better conversion rates, better rankings on search results, and even more efficient PPC.
Helium 10 has 6 different tools just for that.
Frankenstein for keyword processing
After doing your keyword research, you might end up with a pile of keywords that need to be cleaned up as there might be duplicates, special characters, unnecessary words, and so on. Frankenstein does all of that, and, on top of it, it can also sort the keywords by popularity so you know which keywords are better-performing ones that should be added to your product listing right away.
Simply put, it saves you tons of manual work, meaning you can focus on more essential parts of your business.
Scribbles for keyword optimization
Once you have a list of hand-picked keywords ready to be implemented in your product description, it's time actually to start updating your listing. But the problem is – by adding everything by yourself, you might accidentally miss some of the most important keywords. It's easy to get lost during the process and keep track of keywords that you have already used.
Scribbles was designed to help you write product descriptions for Amazon by giving you a clear overview of which keywords you should use and where meaning the tool keeps track of the keywords that you use and helps to ensure that those are not omitted from both your product description and backend.
Index Checker for indexing keywords
Sometimes your product won't appear in the search results for your main keyword because your keywords are not indexed.
When selling on Amazon, it's important to ensure that your product is indexed. This means that it is listed in the search results when buyers use certain keywords to find your product. If your product is indexed for a certain keyword, it means that it's in the system, and those products are associated with these keywords. So when someone does a search using these keywords, your product will appear.
With Index Checker, you can actually find the best-performing search terms that your competitors are not ranking for and use them for your own benefit.
Listing Analyzer for product listing evaluation
Regularly checking your product listing's overall health is a must. Amazon is too competitive right now just to sit back and not care about what others are doing – you need to keep an eye on both your own listing performance and your competitors.
If you're not sure how well or badly your listing is performing or if there is anything to be improved, Helium 10's Listing Analyzer can evaluate your listing and give it a score within a few minutes. It breaks down the information to the level where you can check if your bullets start with capitalized letters. That's how much in detail the tool goes into.
With Helium 10's Listing Analyzer, you get an overview of your product market as well as your competitors. You can check all the same metrics for your competitors' listings as well and compare them side-by-side.
Audience for market feedback
Not sure which product image has more potential or can't decide on your brand name? Instead of making a hard decision yourself, you better ask the same questions to your audience and get market-based answers to actually make changes to your product listing that people prefer.
Gathering feedback is simple – just create a simple poll regarding any question you may have. There are 2 options for the polls that you can create – it's either open-ended feedback on one item or voting between two or more items with written explanations of why people choose one or another. Either way, you choose, the tool then gathers feedback from the target audience in just a few hours.
Listing Builder for creating a listing from scratch
Yes, you heard it right – Helium 10 now enables you to build your product listing from scratch by giving you step-by-step instructions on where to add your keywords, where to write your product title, description, bullets, where to upload images, and so on.
When crafting your listing, it's important to understand certain limits, and Listing Builder will let you know once you're about to reach the character limit, for example, when writing your product title. Moreover, it gives you guidance and recommendation on how to tweak your listing content.
In case you already have a completed listing, and there's no point in creating a new one, you can still get the most out of this tool by utilizing it for editing an existing one. The tool will save all of the old versions of your product listing so you can get back and compare the changes made. Or just run the Listing Analyzer for each of them and see which one scores the best.
Helium 10 Operations for managing daily tasks
Surprise, surprise – finding the right keywords and crafting a perfect product listing is not enough to run a successful Amazon business. That's where the "fun" part begins – maintaining and monitoring your business.
Inventory Management for restocking
Whether you're a new seller or a mature brand, inventory management is a complex task to manage. And running out of stock is every seller's nightmare. Not only do you need to keep track of your inventory levels but also to foresee when you need to restock in order to avoid it. And there is no way you can do so without the help of any tool.
With Helium 10 Inventory Management, you can create dynamic forecasts for all your SKUs, and stay up to date with Restock Suggestions, so you can gain deeper insights into how much inventory to reorder at the necessary time. You can also create purchase orders and FBA shipments all within the Profits suite.
Refund Genie for FBA reimbursements
Do you know Amazon potentially owes you money? There are many reasons why this might happen – it can be either lost or damaged inventory, customer return issues, order quantity issues, or FBA fee errors. As a seller, you must be aware of it, otherwise, you are losing money big time.
You can always claim FBA reimbursements manually, but the process requires time… and patience. If you want to reduce the hassle and save time, then Helium 10 Refund Genie is for you.
The tool will check all 4 reasons for FBA reimbursements and will let you know whether you are eligible to claim them. If so, you need to simply copy-paste a message crafted by the tool and send it along with your reimbursement request. Then the tool will also let you know the total amount owed and create the necessary reports (it can create reports for different marketplaces at the same time).
Alerts for protecting your listing
Hijackers are extremely difficult to detect and almost impossible to stop without the use of a tool that can monitor any suspicious activity in a product listing 24/7.
Helium 10 Alerts will continuously monitor your ASINs and instantly alert you when a hijacker attempts to sell counterfeits of your products or jeopardize your brand authority.
Inventory Protector for keeping your products safe
Hijackers are not the only ones that put your product listing and inventory in danger. There are also competitors and "discount stalkers" who might attempt to wipe out all of your discounted inventory so they can resell it for a higher price.
Helium 10's Inventory Protector is an excellent tool for protecting inventory and business against competitor arbitrage. By using the tool, you can set the maximum order quantity or set the limitation for maximum purchase, so your product doesn't get oversold.
Follow-Up for email automation
We bet you've already heard a million times that your emails must be compliant with Amazon TOS (Terms of Service). You can't ask your clients for reviews, Although there's a very thin line between sending follow-up emails to your buyers and violating TOS. The only solution is to rely on the tools created carefully so sellers don't need to worry about being suspended.
Helium 10 Follow-Up does exactly what the name says – it automates follow-up emails that you can send after purchase. Automated follow-up messages are triggered to be sent at a certain time after a purchase is made. Also, the tool enables you to respond to any customers' concerns or issues right away. Overall, the tool helps you to get positive reviews as well as build connections and trust with your buyers.
Helium 10 Mobile App
If you're always on the go, you still want to keep your business right next to you, maybe even in your pocket. The Helium 10 mobile app sends push notifications about your product to your smartphone, so you always have the most important information with you.
Inside the app, you can check some of the essential product metrics, such as profits or how many units you have sold today. If something goes wrong with your product listing, the app will send you alerts so you can make important decisions right away.
Seller Assistant for review requests
There's no secret that getting as many positive reviews as possible is a strategy that helps to rank higher on Amazon. If you're not getting reviews, you don't have many chances to outrank your competitors on the first page.
Lucky us, there is an easy way to send review requests to your customers. And the good thing is those review requests are completely within Amazon TOS. All of this is done by Helium 10 Seller Assistant.
All you need to do is to install the Chrome Extension and use it every time you're on your Amazon Seller Central Account.
Helium 10 Analytics for measuring profitability
Helium 10 Analytics is a toolset that calculates your business profitability by analyzing your profits, market, and keywords.
Profits is a comprehensive data analysis platform built for Amazon and Walmart Marketplace sellers. It is designed to show you your most accurate pulse on your financial health across all of your product listings. By taking all money-making as well as money-taking activities into account, you can make effective decisions on what is profitable and what is not.
You can view your gross revenue from sales and net profit after estimated costs for today, yesterday, the last 7 days, or any custom range of time.
The Profits tool uses data from yesterday and the day before to determine which products are performing and which ones, on the contrary, are underperforming. From this information, you can quickly identify which products are making you money and which are costing you money to take appropriate action.
Market Tracker for tracking the big picture
You don't run your business in a vacuum, and that's why it's important to have a good overview of what's happening around you. When it comes to Amazon, things can change daily, so you need to know exactly how the market you are selling changes over time. And, most importantly, how do other sellers adjust to such changes?
Helium 10 Market Tracker provides you with information about your performance in the market. Among other data, it gives you an overview of market shares, market participants (new and existing ones), ratings, competitive data, product sales, and prices. This data is updated daily, so you're always on top of what's happening.
Keyword Tracker for monitoring product rankings
How to find out what keywords bring the most sales to each product? You can either monitor your own keywords or your competitors', which is something you're supposed to do in order to boost your product listing with the best-ranking keywords that your competitors use. And try to outrank them.
You can also utilize the tool to track target keywords and see how they've been performing. The tool pulls out information on each keyword's ranking position, percentage changes, ranking trends over time, estimated monthly searches, and more.
Helium 10 Marketing for driving traffic
Your Amazon marketing strategy determines your business success. You can have the best product with a perfectly crafted listing, but if you don't drive traffic to your listing, it's a dead cause. There are 2 types of marketing – you can either do it on Amazon with Amazon sponsored ads or drive external traffic, for example, from social media or Google Ads.
Amazon loves traffic and you need to give Amazon what it wants.
Adtomic for maximizing ROI
Amazon PPC (Pay-Per-Click) is the hottest topic among sellers. It's complicated, nobody likes it but can't live without either. And the truth is – you simply can't survive on Amazon without it, and it's inevitable to start learning and, eventually, mastering PPC.
With Helium 10 Adtomic, you'll get clear visibility into your Amazon PPC data and include high-level organic markers like Total Advertising Cost of Sales (TACoS). This is an essential addition to Helium 10's data-rich tools to give you a big-picture view that allows you to make data-based decisions.
This tool will allow you to see your organic and paid sales and help you decide what kind of changes to make to maximize your sales.
Adtomic also lets you bid on specific words or phrases, giving you more control over the keywords that show up in your search results. It gives you the confidence to know exactly what to bid on each keyword.
Plus, Helium 10 offers access to their PPC Academy for those who want to learn how to run successful Amazon PPC campaigns.
Portals for creating product landing pages
If you're looking for a solution to help you increase conversions for your product listings on Amazon, then Helium 10's Portals is the right solution for you. The tool will create landing pages that will help you get new traffic and conversions from other websites.
To ensure that you retain your customers and nurture them, so they make repeat purchases, the tool allows you to create opt-in emails, thank you pages, and other sales tactics that are available to help you grow your business.
Helium 10 Finance for controlling your money
Another great feature of Helium 10 arrives with the Alta tool. Alta gives you more control over your finances. With this tool, you have the ability to receive Amazon rewards daily rather than only every two weeks.
Additionally, you can indicate the currency in which you want to be paid. This service is currently available in the UK and the US. However, Helium 10 is already attempting to make this option available in additional nations.
Cash flow is one of the most common problems for sellers, as it's hard to estimate your profits and then distribute those profits to grow your business.
Helium 10 Alta is a financial solution that helps sellers to manage their cash flow easier by receiving daily payments and managing business expenses on the spot.
If you are in need of some money to invest in your business, with this finance tool, you are eligible to get a certain amount of money in capital and withdraw the funds only when you need them. But what makes this tool really handy is the ability to accept payments directly to your Digital Wallet, meaning you can receive payments from countries where you don't have your business entity or transfer money to over 200 countries. Obviously, you can convert currencies using the tool as well – it now holds over 37 currencies.
Helium 10 Alta is designed to take care of everything related to VAT and GST, from initial registration to secure payments. This makes it easy to expand your business to other European and Canadian marketplaces.
How to use Helium 10 for free?
Helium 10 is not free for use, but there are certain things that are available for all to use. The majority of Helium 10's tools are available in a limited, free version, but generally, if you want to get full access to these tools, you need to register for one of their paid plans (depending on how extensively you are going to use it).
The good news to those who are not going to invest in Helium 10 (yet!) – you can sign up for Helium 10's Free trial, which lets you access some of their tools, however, with limitations.
These are the tools available with their free trial:
Black Box
Trendster
Xray
Cerebro
Magnet
Misspellinator
Scribbles
Index Checker
Alerts
Refund Genie
Keyword Tracker
Inventory Protector
Market Tracker
Profits
Helium 10 free trial
Helium 10 offers some of the best features for any Amazon seller. Even though it is a paid tool, it does have its free options. There is a free trial available for anyone who wishes to try out the tool before buying.
Even though you won't get access to all of Helium 10's features, you can browse the data from the Amazon marketplace to get a good notion of what it can do for your business. The 30-day Helium 10 free trial is immediately granted when you register.
If you choose the fully paid version and are unsatisfied with the services, you may also get your money back.
What tools are available in the Helium 10 free trial?
if you found this section here, you must be really interested in the free tools that Helium 10 has to offer. While the trial period is in effect, you can use the majority of the services offered by Helium 10 despite the fact that different plans have varying pricing options. Let's examine a few Helium 10 tools and the limitations during the free trial.
Amazon keyword research
Although it's a bit too limited, you can still do basic keyword research without paying any money for other keyword research tools. By running this keyword research, you are going to get information about search volume and the number of competing products.
PPC Audit for knowing your advertising numbers
Tracking your Amazon advertising numbers can get very overwhelming. Reading all the reports from Seller Central and trying to get to the bottom of it sometimes feels quite impossible. That's where you're in need of a tool that could do everything for you. And do it fast.
With the Helium 10 PPC Audit tool, you just need to upload your Search Term report from Seller Central and enter your target ACoS. That's it – the tool will then analyze your report and give you the score, so you know how close you are to your target ACoS. Or if you're accidentally bidding against your keywords, or whether or not you're wasting your money on advertising that doesn't work.
URL Builder / Generator
Is there a method to help lead any potential customers from other sources directly to the listings you want? That is the question everybody asks. Luckily, the solution is Helium 10 Gems, a comprehensive collection of cutting-edge tools. You can access one of these free tools by selecting Tools > Free Tools > URL Builder.
Helium 10 Gems can assist you by providing everything that you might need to maintain an Amazon listing, including generating unique Amazon URLs for the product pages. Depending on where you want your customer to end up, you can generate six different sorts of marketplace-specific URLs:
Canonical – this option sends customers directly to the product listing on the appropriate Amazon marketplace.
Add To Cart – this option sends customers to the cart page.
Buy Together – this option combines two or even more of the products you choose automatically and takes the consumer directly to the Add to Cart page.
Targeted ASIN Search – this option builds an Amazon product search page using items matching the Amazon Standard Identification Numbers (ASINs) you enter.
Walmart 2-Step Via Brand – this option replicates the search term for the targeted brand and keyword and allows the customer to select a particular product listing by clicking when directed to Walmart search results.
Walmart 2-Step Via Seller – this option replicates the search term for the targeted brand and seller and allows the customer to select a particular product listing by clicking when directed to Walmart search results.
It's important to be aware that certain websites may discuss creating 2-Step through Field-ASIN URLs, Brand, and Hidden Keywords for Amazon because they were previously on the top of the Helium 10's list. The Gems tool has been changed so that it no longer generates these URLs.
QR code generator
Amazon sellers that use Helium 10 have access to a number of tools that simplify Amazon optimization, and the QR code generator is one of them. When creating a QR code with Helium 10, all you need is an URL for your landing page. The main purpose of QR codes is to increase traffic to your website or an Amazon Store.
You can discover essential information about the reach of your QR codes by integrating them with Helium 10 software. As a result, you can improve your strategy and eventually reach more customers. You'll discover, for instance, what devices people use to scan your QR code. You can edit in real-time, which is another feature that stands out as being extremely novel. Additionally, you are free to select any color and include your website in the additional information. Your first QR code at Helium 10 is absolutely free.
Amazon anomaly tracking
An Amazon anomaly is a rare occurrence where your normally ranking product keyword(s) suddenly begins to fall in rank and, in some situations, vanish entirely. It is regarded as an anomaly when the dramatic disparities in data cannot be explained by chance, although fluctuations do occur and typically work themselves out. So, where does Helium 10 come in?
Helium 10's Amazon Anomaly Tracker was created to find the anomalies that may have an impact on your indexing abilities using the unique database and algorithms. The tool's goal is to help sellers recognize the "typical behavior" of fussy search results and where these baselines are located in order to utilize them to recognize when something is actually out of the ordinary.
The best thing is that you can access this without having an account. However, be sure to enter your email and select "receive updates" if you already have an account. For now, this option is accessible just in the US market. Presets for time ranges include:
7 days ago
30 days ago
90 days ago
180 days ago
Full-year
The graph also contains three separate color zones:
Green – Anomalies that fall within the "anticipated variance" range are described. Simply put, regular variations.
Yellow – Indicates irregularities that could interrupt the index. This is the time frame in which you may wish to keep a close check on your listing.
Red – Anomalies with extremely odd behavior are described. Probably a search error.
How can I test Helium 10 tools for free?
Generally speaking, Helium 10 is not free, but it does have a free trial with its tools available for a limited time or number of uses. So, how do you activate the Helium 10 free trial?
It's really simple to register for Helium 10's free trial. Just go to the website's sign-up page and start the process. You will need to enter your information – name, email, and password. Do not forget to check that you accept the website's Terms of Use and Privacy Policy, after which you will be able to select the "Sign Up" button.
After signing up for the free subscription, you will need to install the Chrome extension. Go to the Chrome Web Store's listing for the Helium 10 Chrome Extension. Whenever you use the Chrome browser, a button for the extension will now appear on the right side of the search field.
To use the extension after installing it for the first time, you might need to sign in to the account you created. Simply right-click the extension's button and then follow the on-screen instructions. The Helium 10's website has some pretty thorough instructions for using the plugin in case you need any help with it.
Helium 10 pros and cons
Is there a recommended sequence for using Helium 10's tools?
The tools in Helium 10 can be broadly divided into groups that assist you in completing particular activities. You may manage your continuous advertising, customer interaction, products, and sales. Some tools are solely used to assist you in studying the products you want to offer.
However, there is no sequence that is needed for using Helium 10 and all its tools and features.
Which tools are supported in which markets?
The Chrome Extension tool from Helium 10 is typically the gateway tool for Amazon sellers. Helium 10's tools were primarily made for the US market but have spread to other continents. People from entire North America, Australia, most of Europe, Asia, and South America have access to their market-specific data. While the US market has all the tools available, some of the tools are not available in all supported markets. Let's take a detailed look into which market has which tools are available for use.
Amazon marketplaces
Helium 10 was created for Amazon merchants that demand precise analytics and hard data. This collection of tools can assist you in creating a sales strategy and tracking its effectiveness.
The cornerstone of Amazon's platform is usability and accessibility. The powerful search engine and simple checkout procedure are appreciated by customers.
Even novice sellers can create an Amazon account and begin selling their goods for a profit. Selling on Amazon is a straightforward four-step procedure:
Set up an account.
Pick a strategy for executing the orders.
Add product descriptions.
Promote your products.
However, it can be difficult to expand a business above that early stage due to the intense competition in this sector.
So, where does Helium 10 come in? With a comprehensive collection of user-friendly tools, Helium 10 assists Amazon merchants in coming up with fresh product ideas and identifying efficient methods of reaching customers. With Helium 10, you can access all the Amazon marketplaces with any subscription plan.
North American users from the US and Canada can explore detailed marketplace data, and so can users from Australia, Mexico, Brasil, Japan, Singapore, China, and India. The Middle Eastern and African markets are only available for the United Emirates, Saudi Arabia, and Egypt. European users looking to sell in the UK, France, Germany, Italy, Spain, Sweden, Turkey, Netherlands, and Poland have data from Amazon markets in their country, along with some of Helium 10 tools.
Helium 10 for Australia
Due to the excellent tools and services it offers that elevate eCommerce sites, Helium 10 has experienced tremendous growth in the Australian industry. The functionality of the tool in Australia is the same as in the United States. The features are only different in that they have been tailored for Australian markets. For instance, the results of using the keyword research tool will present pertinent terms based on an Australian readership. As a result, you could successfully target Australian audiences with your advertising and listings.
Helium 10 for Europe
Even though Helium 10 was at first available for the US market only, it has since spread to European countries. Seeing as it was made for the US market, the tool will, by default, show US data. All you have to do is choose the desired marketplace when you click on any of the tools before starting any work. You can choose between the UK, France, Germany, Italy, Spain, Sweden, Turkey, Netherlands, and Poland markets. But which tools are supported for which country?
Let's take a look here:
Helium 10 for the US
Helium 10 was first launched for the US market before expanding to other countries and continents, which means that you have all the necessary tools at your disposal.
The Helium 10 tools are designed to help businesses find and optimize lucrative keywords, track product rankings, and identify profitable opportunities. The Keyword Research tool can help you identify the keywords that are most relevant to your business, while the FBA Calculator can help you determine whether selling on Amazon is a viable option for you. With its suite of tools, including the Amazon Keyword Research tool and the FBA Calculator, Helium 10 can help you identify and capitalize on opportunities in the US market. Here is the set of tools available for the US market.
Helium 10 for Walmart
In order to help customers grow their e-commerce business, Helium 10 has extended to providing merchants on the Walmart marketplace with resources. Selling on Walmart can be a profitable component of your business with the help of its features and data. Helium 10 has improved several of its effective features to operate with Walmart's marketplace in order to help sellers take advantage of it.
It offers complete information on the Walmart marketplace and product IDs, as well as access to the top-ranking product keywords. It does this with the help of its services in Keyword Research, Product Research, Financial Analytics, Reverse Walmart Product ID Search, and Chrome Extension. It also provides information on how well your Walmart listings are performing.
In order to sell on Walmart, you'll need to create a listing for each of your products. You can do this on their website or through their mobile app. Each listing will include information about your product, pricing, and shipping. Once your listings are live, customers will be able to purchase your products through Walmart.
Product research for Walmart
Product research is the key to starting any business for both Amazon and Walmart sellers. They can't just pick a random idea and hope you can successfully sell it. The market is filled with different products and sellers trying to sell the same thing. So how do you find a profitable product idea that is not saturated and has a high enough demand to produce revenue for you? Your fastest way to product research is with Helium 10. Whether it's your first or a hundredth product, Helium 10 can assist you in finding your next product to sell on Walmart.
Sellers can research items and keywords on Walmart using the Helium 10 Chrome Extension for Walmart. All subscribers now have access to the software's beta version. While Platinum, Starter, and Free plan users can launch Xray up to 50 times on Walmart during the free trial period, Diamond and Elite have unlimited access to the current extension tools. Users must upgrade to the Diamond plan if they want to use the product for more than 50 searches.
Selling on Walmart is the way to go if you want to increase the audience for your products because Walmart Marketplace receives 410 million unique monthly visits. Walmart only charges referral fees on items sold, has no monthly subscription costs and gives you complete control over your business's inventory, pricing, fulfillment, and customer service. If you have the necessary information on hand, the application process to request to sell on Walmart Marketplace should just take 10 to 15 minutes.
Helium 10 Xray for Walmart
With the Xray tool, which is free to use with the Helium 10 Extension, Walmart sellers can perform various tasks, like comparing Walmart's data to that of other online retailers like Amazon, finding fresh chances by identifying profitable keywords associated with a listing and even look for manufacturers and suppliers of products.
With Xray, you can accomplish a huge variety of tasks. This tool can help you stay ahead of the competition by doing everything from looking at keyword potential to finding the perfect source for your next product concept.
Usually, a search on Walmart's Xray produces up to 500 results. For the most efficient research analysis, it is best for sellers to concentrate on the products ranking inside the first 160 positions.
Helium 10 pricing
There are 5 distinct subscription tiers for Helium 10 with the option to pay either monthly or yearly. Additionally, if you pay yearly, you'll receive two months free.
The Starter Plan, which includes the majority of features at a basic level, is ideal if you're a new seller looking to try Helium 10 before fully committing to a more expensive package. There is also a free 30-day trial, but with very limited access to some key features if you just want to get started for free. The Diamond Plan encompasses everything, whereas the Platinum Plan is more substantial. For a staggering $400 per month, Helium 10 also provides an Elite Plan for seasoned sellers, which includes extras like the Adtomic PPC tool (also included in Diamond), live training sessions, and in-person workshops.
Helium 10 plans
As an all-in-one tool for Amazon FBA selling, Helium 10 has a plan for every stage of the seller's journey:
Free
Starter
Platinum
Diamond
Enterprise
Let's take a look at all of them individually.
Free Plan
Helium 10 has all features that are completely free to use, but only in a small number of them. It is a perfect plan for individuals who wish to test it out or are just getting started with their business.
Starter Plan
The Starter plan contains all the tools available but with restrictions. It is a plan made for individuals looking to start off strong, and it is available for $39 per month or $29 per month when billed yearly.
Platinum Plan
The Platinum plan gives complete access to all the tools and features. This plan is best used for expanding enterprises, and it costs $99 per month or $84 per month when billed yearly.
Diamond Plan
The Diamond plan provides access to all features along with the option to have multiple user accounts and some extra features lower plans do not possess. The plan costs $249 per month or $209 per month when billed yearly.
Elite Plan
The Enterprise plan comes with everything that is included in the Diamond plan, along with access to live training, workshops, and free use of Adtomic. The plan costs $399 per month.
Custom Plan
Helium 10 also has an option to create a custom plan for your business. You can contact them to get a quote.
Which Helium 10 plan is the right one for me?
When it comes to which plan will work best for you, the answer depends on the stage that your company is in. You can get the Starter plan if you're just getting started, then work your way up. If you're a seasoned Amazon seller, the Platinum plan, which provides you access to both basic and some advanced capabilities, is the best option.
Helium 10 coupon codes
Helium 10 is a tool that helps Amazon sellers increase their sales and profits. It offers a suite of tools to help sellers find the right keywords, track their rankings, and optimize their listings. It also offers a variety of coupon codes that can help sellers save money on their subscriptions.
For example, you can get 10% off any Helium 10 monthly plans using coupon code ORANGE10 or 20% off the first 6 months using the ORANGE6M20 code.
Helium 10 Freedom Ticket
Being a successful Amazon FBA seller is not an easy task, and many fail with their businesses. To be able to earn significant returns on investments through Amazon FBA, it needs a lot of meticulous preparation and decision-making, as well as typically some losses along the road. But what if there is a course that could teach you how to run a profitable Amazon business instead of being a way for the course's creator to make money?
The only course you need to successfully launch and run your own Amazon FBA business without squandering your hard-earned money on trial and error is Freedom Ticket Course 2.0. The Freedom Ticket Course 2.0 contains everything you need to know to start and maintain an Amazon FBA business. Kevin King, a seasoned professional in the field who has made millions of dollars from selling on Amazon and continues to do so today, developed this course.
For Amazon merchants, Helium 10 offers an all-in-one software solution. Due to their collaboration with Freedom Course, Platinum and higher level members of Helium 10 enjoy free access to the Freedom Ticket Course. Helium 10 and Freedom Ticket stand out from the competition because of their data-driven strategy.
There are two ways to get the course. The first possibility is to purchase your Freedom Ticket access separately for $997 or in three payments of $397 each. This is only to access the course, and nothing else is included. The other way to get access to Freedom Ticket is to subscribe to Helium 10.
Conclusion
Helium 10 undoubtedly offers a wide range of capabilities, especially given that it was only introduced a few years ago. As a result, it has rapidly advanced to being one of the key players in the field of online selling.
It gives Amazon merchants a wide range of tools for quick development. Everything you require to conduct effective product research, keep up with the competition, and promote to your target market is provided by the software. 
Helium 10 can help businesses make the right decisions for their Amazon sales by helping them with keyword research, inventory management, product research, review analysis, product pricing, improving operational efficiency, and much more.
It has the power to fundamentally transform and streamline Amazon sales processes. It checks most of the boxes with its first-rate customer service, thoughtful designs, and amazing educational resources. However, like with everything, there is an opportunity for improvement. Some of the features it offers can be combined into one, improving its usability by streamlining the necessary processes.
But, Helium 10 is, without a question, one of the best and most effective software applications for Amazon sellers. In order to enhance your sales and conversions, it may truly help you uncover the top-ranking keywords, spot trends, keep tabs on your competition, and optimize the product listing. 
Whether you're already selling on Amazon or want to start, now is the time to get this powerful toolkit because it is one of the best sets of tools available and can help you save a ton of time while also assisting you in increasing sales and conversions. Helium 10 is for anyone looking to grow their Amazon business, yet it may not be suitable for people on a tight budget or anyone who only wants a tool for product research.
You can test Helium 10 during the free trial to get a sense of its fundamental features in case you're unsure if it is the right option for you.
Next steps
If you eventually decide to sign up for Helium 10, use these coupon codes to save some money:
ORANGE10 for 10% off any plan lifetime
ORANGE6M20 for 20% off the first 6 months
Apply any of these at the checkout when signing up.