The first step every beginner seller needs to take in order to finally start selling on Amazon is to find a product that sells. For this, you need to evaluate the market, find out what people are looking for, and, most importantly, what they need.
There are many factors you need to consider before choosing a product – the competition, profit margins, selling fees, product demand, and so on. But before all of that, the hardest part is to come up with an actual product idea.
So where to begin looking for a product that's trending right now?
There are different ways to do that. For example, doing your own research on Google, Etsy, Pinterest or other social media channels might be one of the options.
But here's the problem – by exploring product ideas this way, you can't actually know if people are looking for these things on Amazon.
Or at least you couldn't do that until now as Helium 10 has introduced a new feature for finding trends on Pinterest and checking them out on Amazon at the same time.
By the way, if you enjoy reading this blog post, check out more Helium 10 tutorials here.
How does the Helium 10 Pinterest feature work?
This feature was created to make Amazon FBA product research more effective. Just think about it – you scroll down on Pinterest for some home decor ideas and notice a beautiful wall poster. Where are you going to buy it? Probably you will end up searching for it on Amazon.
So by using the Pinterest feature, you can find what's been trending recently and potentially use this trend to come up with your next Amazon product.
Step 1 – Checking Pinterest trends
Once you enter the Helium 10 dashboard, you will see the newest Pinterest addition right away, at the top of the page: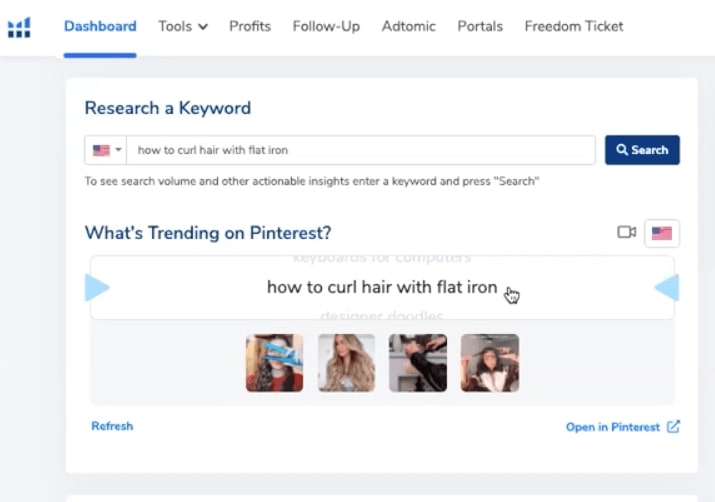 It's made in a very interactive and intuitive way – here you just need to click on the keyword phrase for it to refresh.
There will be some things that won't make sense, such as cooking recipes (well, maybe sometimes that might be an option if you're going to sell kitchenware) or celebrities. Just keep refreshing until you find something that interests you.
Once you have it, then you can check how it's been trending on Pinterest over the last few months.
In this case, let's see what the search term "how to curl hair with flat iron" has for us: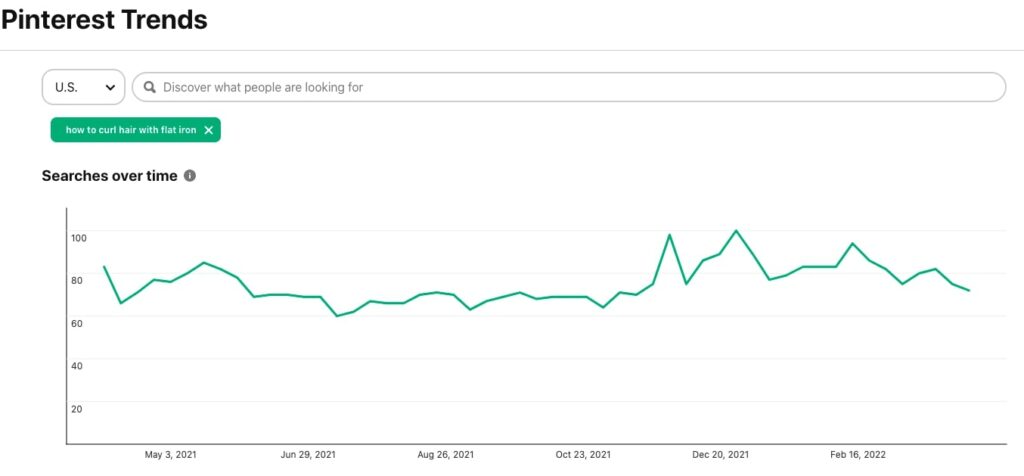 Step 2 – Demand Analyzer
After you check the trends, you can then continue your research by running the Demand Analyzer on Helium 10 Chrome Extension to see what search terms people type in when searching for something related to this Pinterest trend.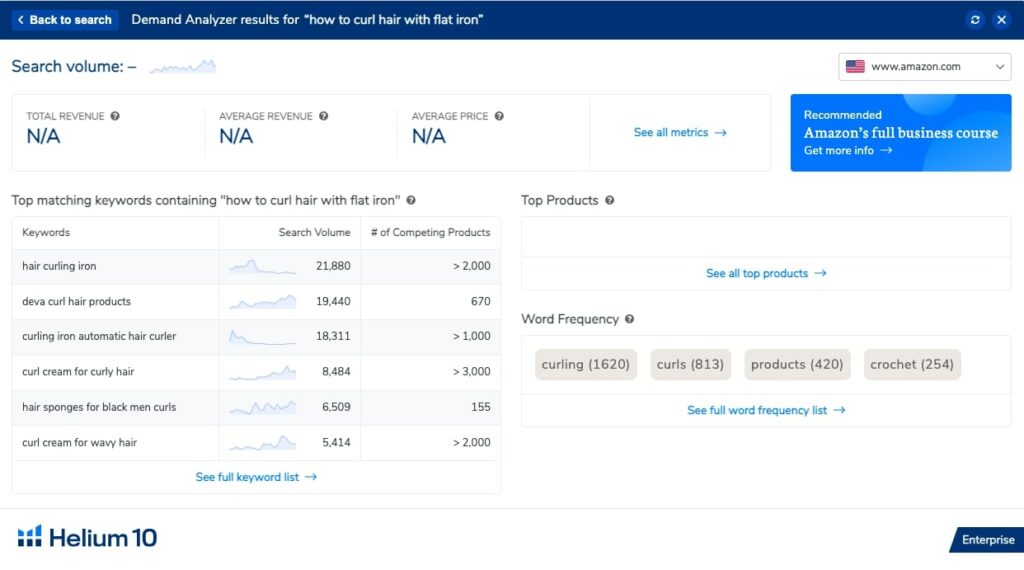 As you can see, this exact phrase has no search volume, however, there are some related search terms with pretty decent search volume, such as "hair curling iron" or "curling iron automatic hair curler".
Step 3 – Magnet
The next step would be checking out if there are any well-performing keywords related to this search term.
For this, you can run Helium 10's Magnet keyword research to dive deeper into the keywords.
Just go back to the Helium 10's dashboard and, below the Pinterest trend section, you will see an option "Click to dive deeper in Magnet²":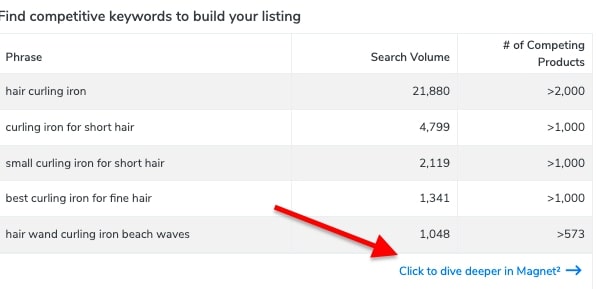 First of all, you might want to filter these keywords out by search volume and also by search volume trend. So we want to look only at these phrases that are getting popular right now.

Also, here you might want to look at more niche keywords, for example, "curling iron short hair". If you click on any of these keywords, it will take you directly to Amazon so you can see the products ranking for this specific keyword.
Step 4 – Xray
Once you have these products in front of you on the Amazon search result page, let's look at how they are performing using the Xray tool (which is a part of Helium 10's Chrome extension).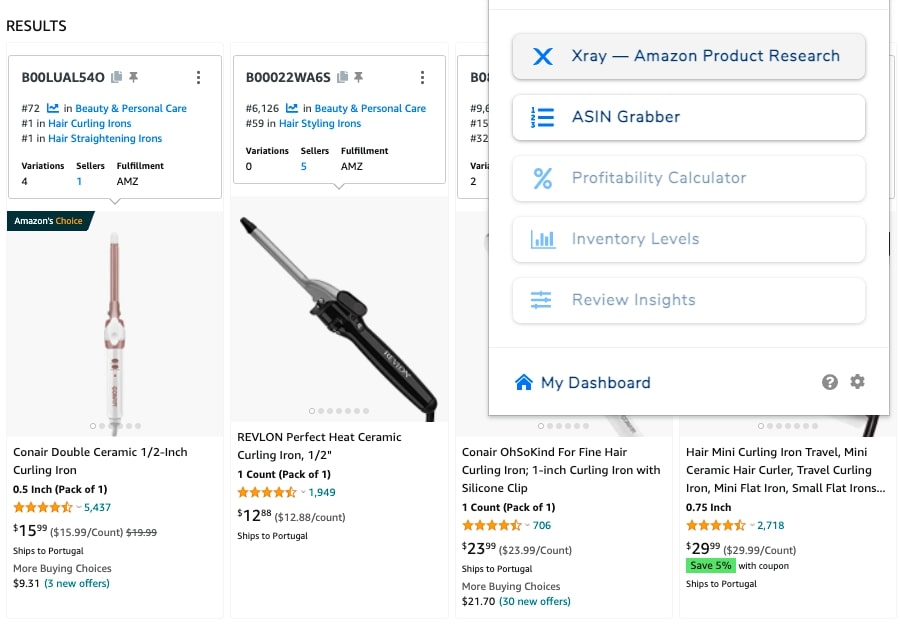 When you click on the Chrome Extension in your browser and select "Xray – Amazon Product Research", you will see this data popping up: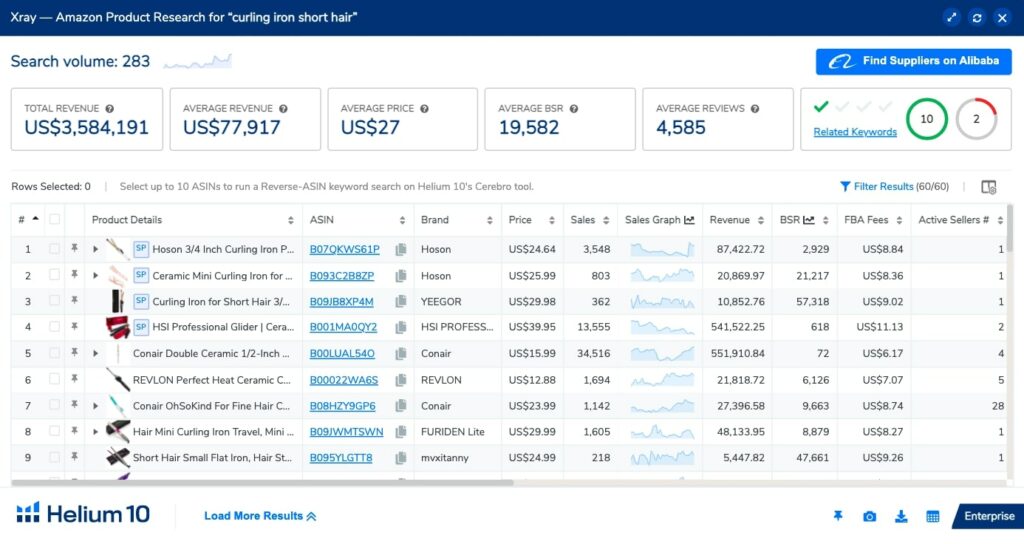 Here pay attention to the sales graph to see if the sales have been growing recently. Here you can also check the BSR, revenue, how many active sellers there are in the field (very important!!) and, of course, what's the price of the product. So you can compare this data between the products at one glance.
Step 5 – Cerebro
The last step is to choose one of these products and run Cerebro reverse ASIN lookup on it to see which keywords score the best and probably bring most of the sales to the product.
For this, select one of the ASINs while you're still on Xray and click "Keyword research":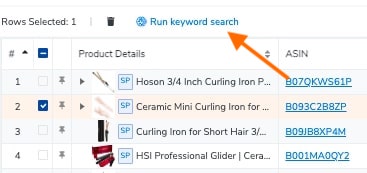 Here's what you are going to get:

Here you can check the Cerebro score which makes it easier to evaluate each of these keywords if you are not sure about the other metrics provided here (p.s. the higher the number, the better). Pay attention to how many competing products there are for each one of the keyword phrases and look for the ones with the lower number.
Final thoughts
Having all of this data – performing keywords, best ranking products, the number of competitors, search volume and so much more – you can now validate your product idea. Or come up with plenty of new ideas! Maybe you will find a hidden gem while going through the keywords that will lead you to your next best-seller?
The process of analyzing Pinterest trends using Helium 10's tools might seem a bit complicated at first but once you understand what each step of the process means and what information you need to pay attention to, it all starts to make sense.
Hopefully, this blog post helped you to understand what steps to take in order to go from the initial product idea that we found on Pinterest to finally making a data-based decision on whether or not a product has potential.