Are you worried about how much money you are going to make when selling on Amazon FBA? How to price your product so you get healthy profit margins?
When you first start looking at potential products, there is no way you can precisely predict how much profit you're going to make out of this product.
First, you need to find a supplier on Alibaba.com and request a quote. Once you have it, you can then use Helium 10 Profitability Calculator to calculate exactly how much you're going to make.
In this blog post, we are going to explain how to calculate your Amazon product profit margin by taking into account different Amazon FBA fees that can easily eat up the profit without you even noticing it.
By the way, if you enjoy reading this blog post, check out more Helium 10 tutorials here.
What are Amazon FBA fees that you need to consider before launching a product?
The first thing that you will pay when ordering your first Amazon FBA shipment is manufacturing costs. This is the cost that you are going to pay your supplier to manufacture your product. Simple as that. The costs, in this case, depend on the quote you are going to get from a supplier.
One of the factors you definitely need to calculate precisely is your shipping costs. However, many sellers tend to forget there are customs taxes when shipping goods to different countries.
Let's say you want to sell on Amazon US. There are many fees associated with shipping costs and if you haven't imported a product before, we would recommend reaching out to a specialist who can take care of it instead of you.
Also, the amount you need to pay for customs also depends on the product category you are selling in. For example, textile products will cost less than electronics.
In another case – if you are importing supplements, Amazon knows the expiration date of these and therefore they will dispose them for you once it reaches the expiration date. Then, of course, they will charge for it.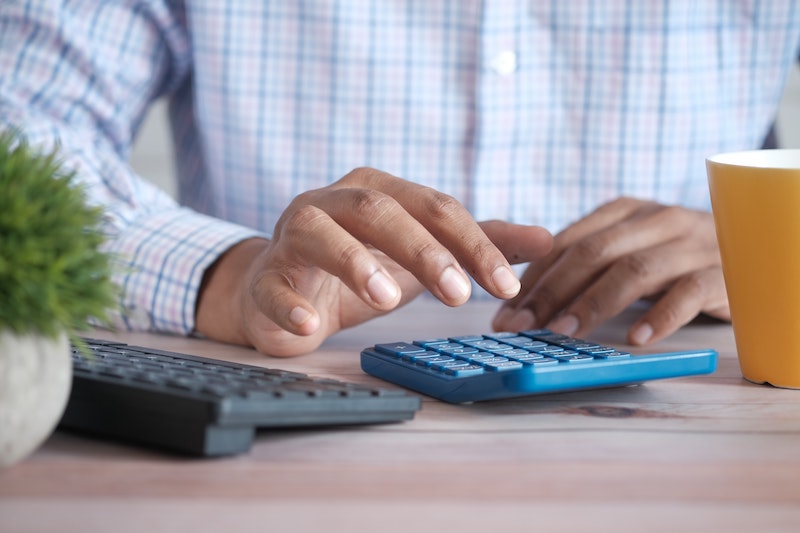 When it comes to dimensions and product weight, it's very important to think about how big your product package is going to be as you will need to pay a storage fee based on it.
Fulfillment and storage fees are related to product dimensions and weight since Amazon is going to charge you for a period of time you are storing goods in their fulfillment centers.
Referral fees. Amazon is going to charge you for selling your product (per item). Most referral fees are between 8% and 15%.
Other Amazon fees will include labeling fees, returns processing, and even product preparation fees, meaning if you fail to prepare your product following Amazon rules, they will charge you.
What is Helium 10 Profitability Calculator?
Alternatively to Amazon Revenue Calculator, Helium 10's Profitability Calculator is more accurate and easy to navigate. It's part of the free Helium 10 Chrome extension.
It provides you with the essential data, such as:
Automatically populates Amazon FBA product's data when it comes to all relevant logistics fees, including dimensions, storage fees, freight costs, etc.
Estimates revenue, profit, ROI. That's basically everything you need to know before starting selling your product.
Enables you to customize different fields inside the calculator so you know how different scenarios change your profit margins.
You can also check out this video below where Barcus Patty from Helium 10 explains different Amazon FBA fees as well as shows how does Profitability calculator helps sellers to stay on top of their fees.
How to access and use Helium 10 Profitability Calculator?
Since the calculator is a part of the Chrome extension, you just need to go to an Amazon product's listing, click on the extension in your browser and choose the Profitability Calculator: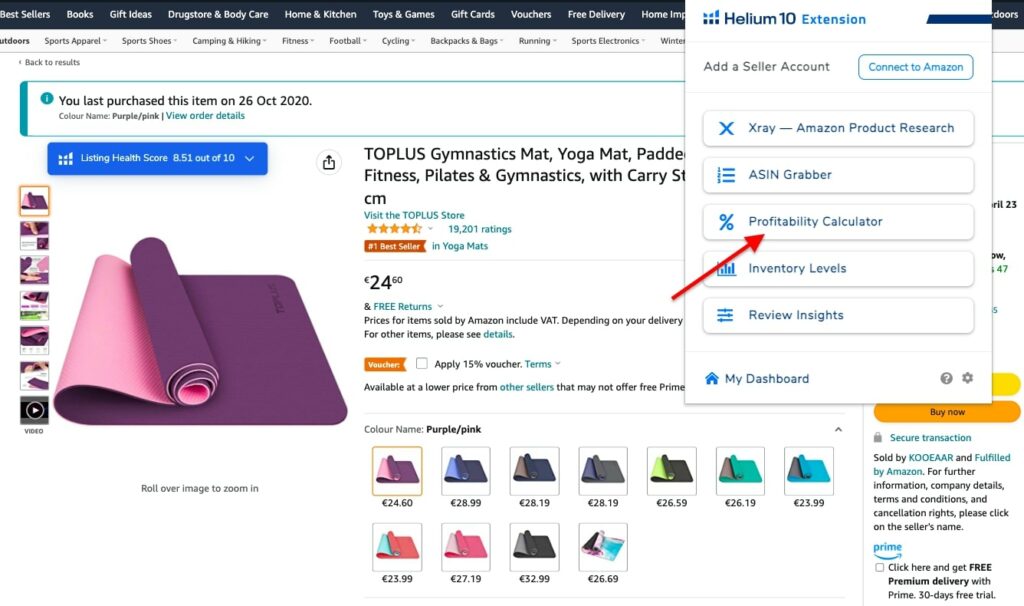 Then it immediately populates product specs as well as manufacturing and fulfillment costs.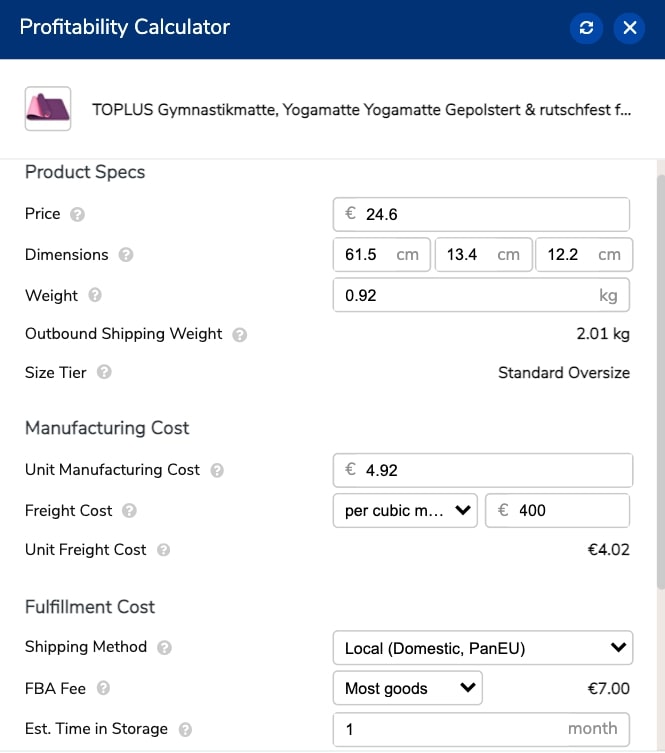 Then the tool takes everything into account and at the very bottom calculates your potential net profit, margins, and ROI.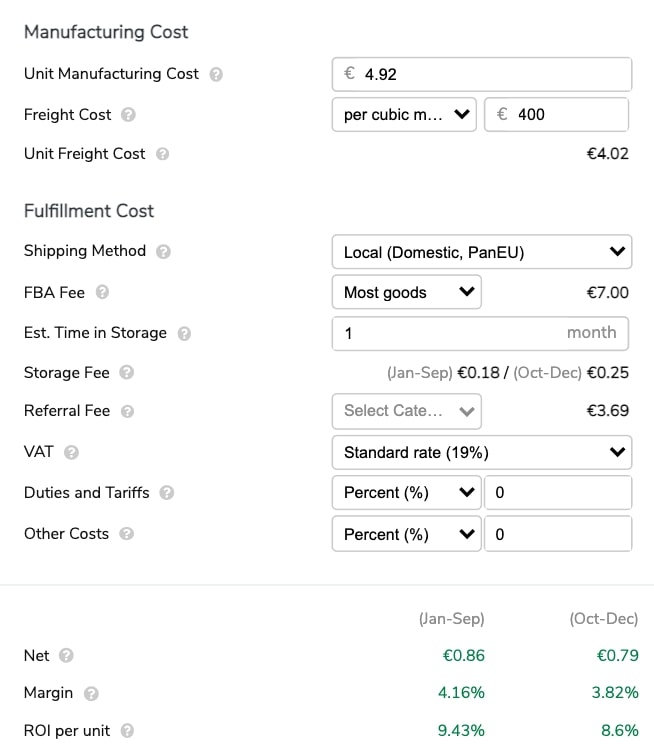 Let's say you also decide to sell yoga mats on Amazon. In this case, you can go to this product listing and just play around with different numbers to find out the real-life costs of selling such a product.
For example, if your manufacturer on Alibaba provided you with different quotes and your product manufacturing cost is 6.92€ instead of 4.92€, you can edit the field and change the number. Same with the rest of the numbers inside the calculator.
For this particular yoga mat, the profit margin is not that great – it's around 4%, whereas you might want to have at least around 10%.
And note, that these are not estimates – these are real numbers pulled out from Amazon itself.
Which fields you should edit?
These are the numbers that, most probably, will differ from a listing you're looking at and your own product:
Unit manufacturing cost – this is basically what manufacturing price your supplier has provided you.
Estimated time in storage – that means how often you are going to keep your goods stored in the Amazon fulfillment center.
Freight cost – it stands for the total costs that take to ship your product from a manufacturer to an Amazon fulfillment center.
Other costs – sellers might have different additional costs, for example, paying a percentage of their gross sales to a business partner, etc. Here you can easily put it together with other numbers.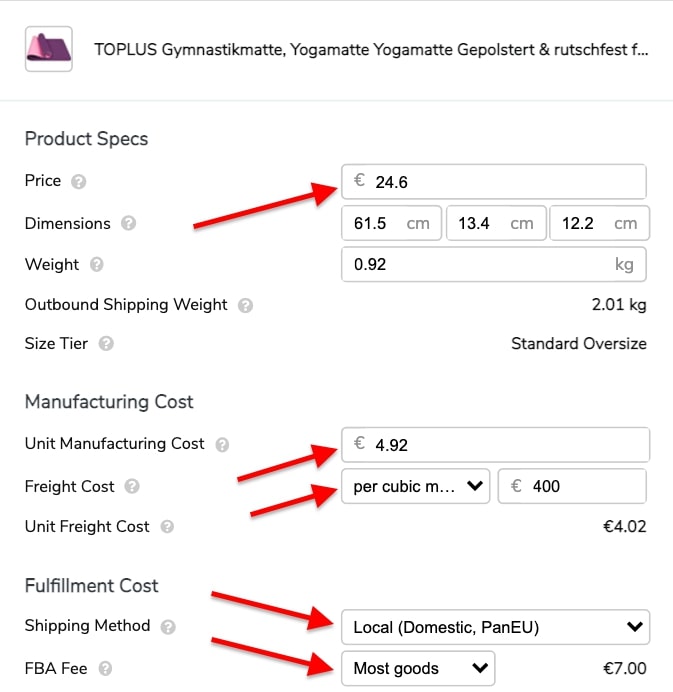 Based on this information, the calculator shows you the unit freight cost, storage fee, FBA fees, and referral fees.
Which Amazon fees you can optimize the easiest?
Obviously, the first thing you can optimize in your product is its size. When you're contacting your suppliers, find out the dimensions of the final package and the exact weight. Make sure that you're staying within the right size limits so you don't accidentally end up selling a product in a different sizing tier which will cost you more.
So for the package, make sure you discuss the ways how to minimize it – even a couple of inches can make a huge difference in your profit margins!
How to evaluate if a product is profitable?
When you get the numbers for the estimated revenue, margins and ROI, you can then see if a product is going to be profitable based on the data you filled out.
Basically, if these numbers are in green – congratulations, that means your product is going to be a profitable one. But the question is – how much profitable, though?
Profit margin
Net profit margin is a percentage of profitability you make for each product unit sold. For example, if your profit margin is 25% and the product price is 100€, you make 25€ for each unit sold. This is your profit margin.
What is a good profit margin number? The minimum target should be at least 10%, however, the typical profit margin varies between 16-50%. So use it as a reference when calculating your margins.
Return of Investment (ROI)
In simple words, ROI indicates how much money you have generated in relation to the initial investment. Let's say, you invest 300€ to sell a product on Amazon, then Amazon sells all the units that generate 600€ in total. That means you are getting back your initial investment of 300€ (this is 100% ROI) as well as making 300€ in profits.
A good ROI is considered 100% and above.
Helium 10 coupon codes
Once again, here are the discount coupon codes for Helium 10:
10% discount for any Helium 10 plan lifetime with a coupon code ORANGE10
20% discount for the first 6 months of Helium 10 with the coupon code ORANGE6M20
Apply any of these two at the checkout when you sign up for Helium 10.