Amazon is a search engine, just like Google, meaning you need to boost your product listing with relevant keywords to rank organically.
Helium 10's Magnet keyword research tool has the biggest database of keywords so you don't need to guess anymore if the keywords you added to your listing will actually drive traffic. Plus, it has quite a few advanced filters to narrow down the best keyword opportunities.
In this blog post, you will learn how to use Magnet to improve your visibility on Amazon.
By the way, if you enjoy reading this blog post, check out more Helium 10 tutorials here.
When to use Helium 10 Magnet?
To make the most out of Magnet, first, you should already have a product idea. The best and yet the easiest way to explore product opportunities is by using Helium 10 Black Box.
Once you find a product, we recommend running a Cerebro research to find the main (seed) keyword for your product.
Now, you can use Helium 10 Magnet. This is suited for:
Getting related keywords for your seed keyword
Filtering out keywords with the highest search volume
Finding the most clickable keywords
Analyzing competing products ranking for the same keywords
Basically, Magnet is used for finding more high-volume keywords. It might be that some keywords won't even include your seed keyword but still be relevant to your listing.
Helium 10 supports all Amazon marketplaces as well as Walmart
How to use Helium 10 Magnet?
To use the tool, enter your main keyword in the field above, as shown in the screenshot below:

Then set different filters based on what are you looking for.
Magnet IQ score – it's a ratio between estimated search volume and competing products. The higher the score is, the better.
Search volume – for this, you might want to put a minimum of 500 searches per month.
Word count – usually, people use a minimum of 2 words to search for a product on Amazon so here you should specify that the keywords you are looking for contain at least 2 words.
Competing products – obviously, you don't want to compete with thousands of products that rank for the same keyword as you. The fewer this number is, the better.
Phrase containing – shows only the keywords that contain your seed keyword.
Title density – how many products there are on page 1 containing the keyword in their titles.
For the match type, you can either choose organic, smart complete or Amazon recommended. These are the sources from which you get your search results.
Search volume trend – do not confuse this metric with search volume. The trends show the most trending keywords over the last 30 days.
Exclude phrases containing – similarly like "phrase containing" filter, you can filter out the keywords, except this time without certain phrases in it.
Just below the filters section, you will get a keyword search summary, distribution, and word frequency, meaning you can see the words that are repeating in the keyword phrases the most.

How to analyze the results?
First, we would recommend filtering out the results by search volume trend – then you will see the keywords that are growing in popularity now.

Then, look at the search volume and the Magnet score – aim at those keywords with the highest numbers.
Then, don't forget to check the number of competing products as, if there are too many, it would be too hard and too expensive to compete with a bunch of competing products.
What is the Magnet IQ score in Helium 10?
If you find it hard to understand the keyword research results yourself, just look at the Magnet IQ score. This metric helps you to get a quick evaluation of each keyword in the list.
The Magnet IQ Score rating is determined by calculating the Exact Phrase Search Volume of Amazon keywords displayed and the number of Competing Products that are also targeting each keyword.
Helium 10 Magnet for Walmart
Walmart.com sellers are also able to use most of the Helium 10 tools, including Magnet.
To use it for Walmart, sellers need to choose this marketplace next to the keyword search field.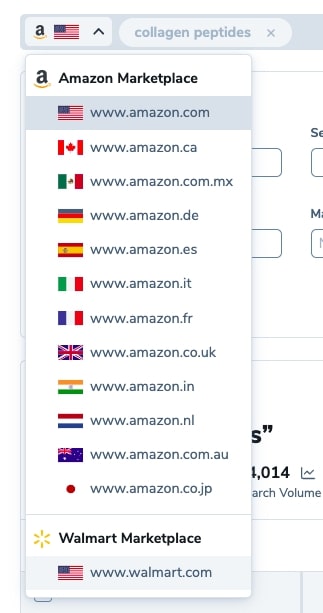 You will notice that the search results interface is a bit different – you get the search volume data for Walmart and Amazon so you can compare. You also get to know how many competing products there are and how many of them are running sponsored ads.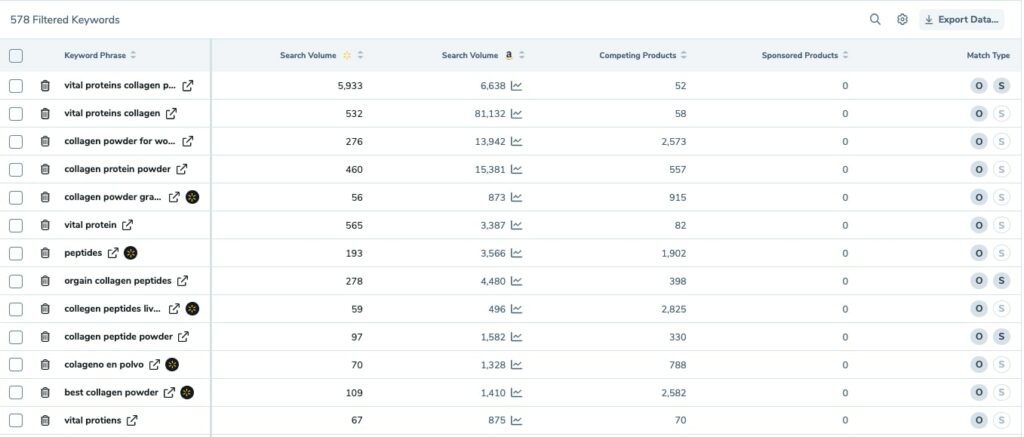 Helium 10 coupon codes
Once again, here are the discount coupon codes for Helium 10:
10% discount for any Helium 10 plan lifetime with a coupon code ORANGE10
20% discount for the first 6 months of Helium 10 with the coupon code ORANGE6M20
Apply any of these two at the checkout when you sign up for Helium 10.