Zero to Hero by Profit Whales is a PPC campaign creator with relevant keywords and proper structure that helps to launch new, instantly optimized (prepared) Amazon ad campaigns for your products at scale in a few easy steps.
Zero to Hero is presented by Vitalii Khyzhniak.
List of features covered in this video:
03:30 Creating sponsored product campaigns
05:37 Knowledge base and explanations of creating campaigns
06:49 Campaign setup example
10:36 Step-by-step guide to finding relevant keywords
12:02 Bid strategies and bid adjustments
12:52 Negative keywords
14:32 Why does the process takes some time?
16:30 Overview of the final campaigns
19:30 Pricing
21:03 Other features and future plans
22:26 Special offer – 50% off coupon code DEMOMONDAYS50

Building a structure for PPC campaigns
Before setting up your PPC campaigns, you need to have a clear structure of what keywords and negatives to use as well as other factors, like analyzing competitors' ASINs and so on.
Zero to Hero solution was created exactly for this purpose – it offers a unique, flexible and time-tested Amazon PPC campaign structure that will give you a competitive edge. For now, it's only available for the US marketplace.

To put it shortly, the tool helps to find relevant keywords, different strategies for long-tail keywords, divide them into different campaigns and set a list of negative keywords so you drive only relevant traffic to your listing. So basically, Zero to Hero is suitable for all sellers, dealing with Amazon PPC.
Firstly, you can choose your campaign type, either it's sponsored products, sponsored brands or sponsored display. However, for now, only the sponsored products campaign is available and the rest is coming soon.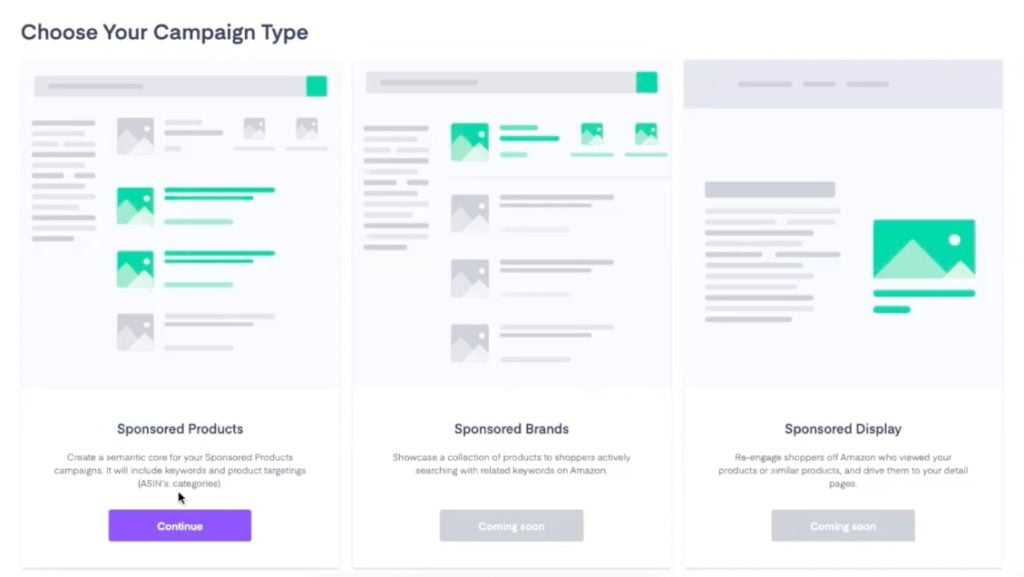 Structure for sponsored products campaign
In this case, when you want to set up a sponsored products campaign, Zero to Hero provides you with data for every potential keyword. First of all, you need to choose a product for which you want to create a campaign:

Then the next step is to write down up to 5 keywords that people use to find your products on Amazon. Completing this step is crucial for further process of creating a successful campaign, so choose your seed keywords wisely.
The purpose of this is to build a semantic core for the product:

Apart from writing down keywords, there are more settings you can configure, such as portfolio settings, daily campaign budget, your brand name and names of your competitors, default bid, etc.
All these settings have a short explanation on the right side so you know exactly why you need to specify one or another setting: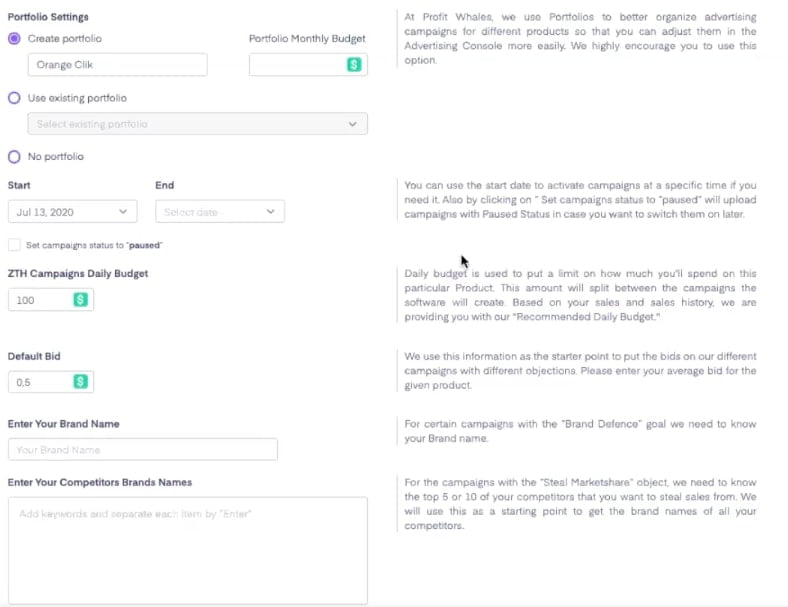 Even more, if these explanations are not enough for you, you can use a step-by-step guide on the right top corner.
When you set up a sponsored product campaign on Amazon, you can choose one of the three bidding strategies: dynamic bids (down only), dynamic bids (up and down) and fixed bids.
Zero to Hero tool lets you to easily specify your bid strategy and although this setting is optional, it is recommended to not skip on this one: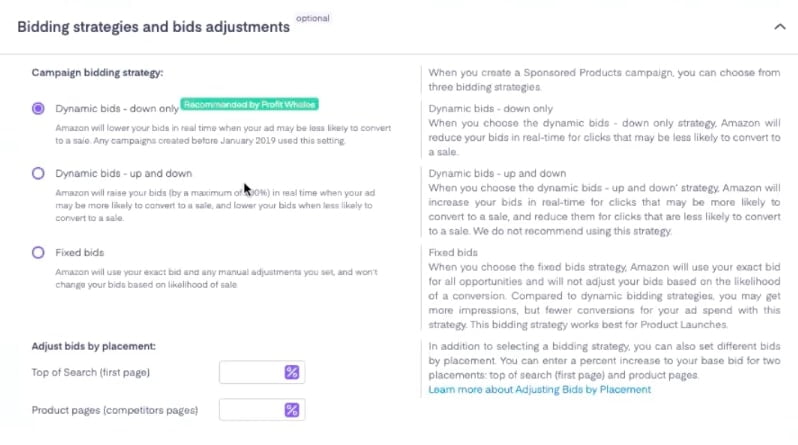 Other optional settings are adding more relevant keywords and negative keywords. This data enables the tool to generate more accurate results and create a more specific campaign structure: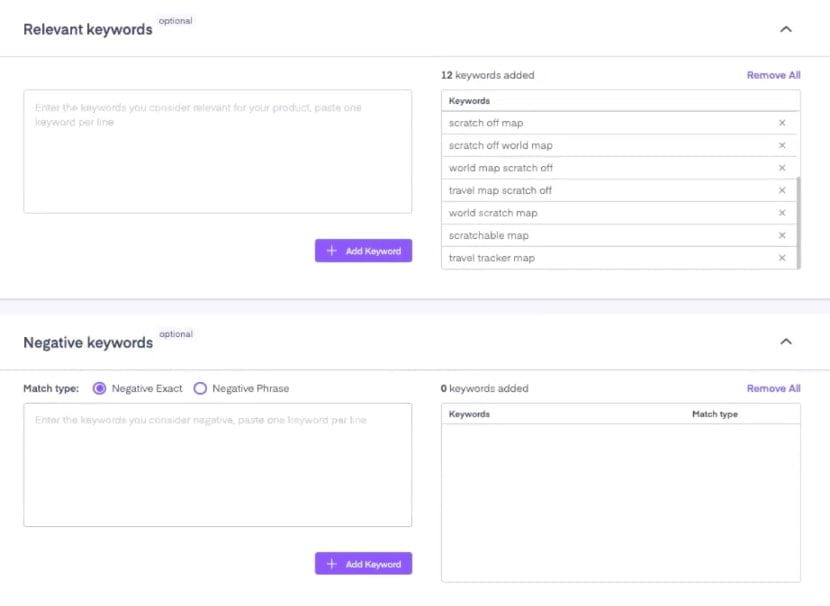 It takes a 10-15 for campaigns to be created. The reason behind it is Zero to Hero analyzes all seed keywords you have provided, also your listing and keywords that you have inside that might be relevant. So basically the tool analyzes a lot of data and then automatically uploads it to your seller account so you don't need to deal Excel files.
This is how the final process looks like: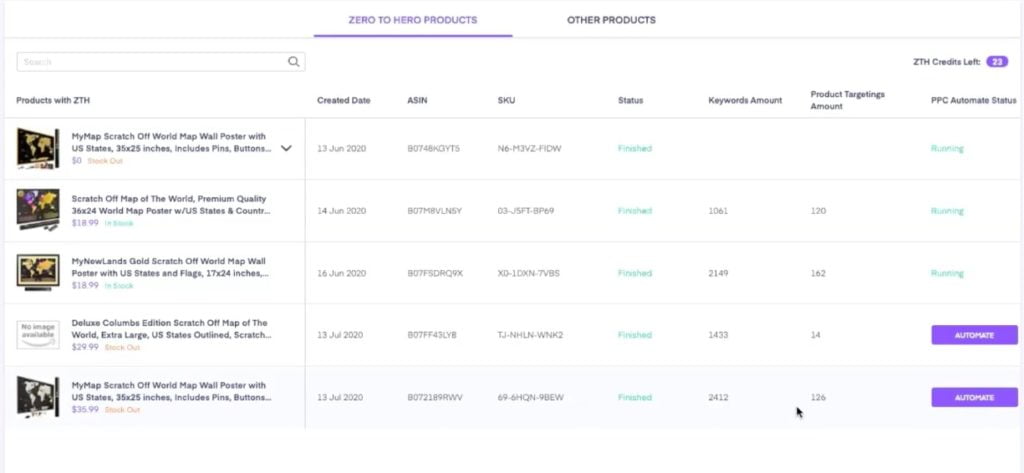 It immediately shows how many keywords were found as well as product targetings.
And that's it – at this point your campaigns are running and Zero to Hero tool takes care of daily budget so you're not losing any money on PPC.