FeedbackWhiz automates, manages, and monitors feedback, orders, and product reviews. See all order data metrics such as repeat customers, shipping tracking information, promotions, and get the most of the newest features, such as profit and loss dashboard as well as "Review and Request" feature. View all your product reviews and detailed metrics on one screen.
What is FeedbackWhiz?
Initially, FeedbackWhiz was created to help Amazon sellers build a brand reputation through email automation. By using the tool, sellers can customize emails and get more reviews for products. It's a very comprehensive platform to grow an Amazon brand.
Some of the features include notifications for feedback, product reviews, email autoresponder to help send out high-volume, effective emails. Their product review manager basically grabs all your reviews from Amazon and then you can get notifications when you get negative reviews.
Also, they offer a "Buyer Review Matching" where they actually find out who wrote your product review. And, of course, besides all these features, FeedbackWhiz offers a lot of data analytics.
What separates FeedbackWhiz from other email automation tools is that they put a lot of thought and effort into some of the little features to really help sellers try to get more organic product reviews, especially through email automation.
For example, they have orders and by-reports where people can download all their information, run custom audience campaigns on Facebook or look-alike audience. A lot of people use ManyChat these days to try to get more traffic outside of Amazon, especially for new products they want to launch.
The tool is suitable for any type of Amazon sellers and covers all 13 marketplaces.
New FeedbackWhiz features
Recently, there have been several new features released that sellers might find extremely useful when it comes to email automation that complies with Amazon TOS (Terms of Service). Besides, FeedbackWhiz announced a new profit tool that differs from any other profit dashboard by one key feature that will be explained in the blog post.
Profit and loss tracking tool
The most recent update from FeedbackWhiz is a profit and loss tool that allows you to know your real Amazon FBA numbers, such as your profit, revenue, how much fees do you pay, and more.
The goal of the tool is to aggregate your data from any marketplace. For example, if you're selling in both the EU marketplaces and the US, you can have all of the different data in one platform. Even more, you can select exactly what data you want to look at and compare it between specific products or marketplaces.
There are a few ways of how you can customize each filter in this dashboard: You can choose the currency you're selling in and a time period for which you want to view your numbers.
To quickly overview all the details for each line, you can simply just hover over each of them and you'll get a thorough breakdown.
Just below the main dashboard, there's a Quick Overview section. It gives you more details within different categories, like units sold, taxes, number of orders, refunds, etc. You can export this data directly to a .csv file.
In the Product Labels section below where you can map together products of your choice to track their performance over a different period of time.
For example, if you're selling in different categories, let's say electronics, home or fashion, you can compare all the information here to track what categories are selling the best or worst.
However, if you want to compare the same data by a product, you just go to the Top Products tab to see what products are performing the best over the different time periods and spot what kind of buying trends are going right now.
Besides all of it, there's an option to keep a track of your expenses, such as travel expenses, wages, utilities, store fees, and anything else. This feature helps you to calculate your profit and loss report more accurately.
In the COGS Manager (Costs of Goods Sold), you find the expenses that are tied directly to your inventory costs – things like packaging, shipping costs, item cost, etc.
And finally, the Reports section, gives you the aggregated data of your sales, that you can filter out by day so you can see how your products performing each day.
In the Product Manager, you'll find detailed financial information based on ASINs. Actually, everything in this ASIN table is customizable, for example, you can choose what ASINs you want to be displayed here and what data you want to analyze in each column.
You can try this new tool for free here.
And here's a quick tutorial on how to use the newest FeedbackWhiz Profit and loss tracking tool.
Amazon "Review Request" option
Lots of Amazon sellers struggle with email automation as they don't know how many emails they should send to their customers and what phrases to avoid so you comply with Amazon TOS.
Even more, to automate the whole email campaign process, you don't need any external tools, such as browser extension. FeedbackWhiz gathers all the data, including which products have refunds, returns, which of them got negative feedback so you only need to customize email templates and set the time when you want it to be sent.
How does "Review Request" button work?
It allows you to automate Amazon's "Review Request" button so it triggers Amazon to send automated emails to your orders requesting a review. You can send it between 5 to 30 days after the delivery whereas with follow-up emails you can send it anytime you want after the shipment is completed. So keep in mind this 5 to 30 days window when using the "Review Request" option.
Amazon now only allows you to send 1 review request per order. So you can use either email automation or "Review Request" button, you can't use it both.
Amazon "Review and Feedback Request" Campaign
Even though you can request a review once, you still can customize when exactly you want this email to reach your customer. Unfortunately, by choosing this option, you can't really know the open rate because Amazon does not disclose these numbers.
The benefit of setting this up is that you can exclude certain orders – you wouldn't want to send a review request to people who weren't happy with your product and ask for a review.
Also, you can choose specific ASINs for which you want to ask for a review.
Just remember – there are new guidelines on Amazon buyer-seller messaging that come into effect on November 3rd, 2020, so make sure you are compliant with these new changes!
FeedbackWhiz profits tool
Profits tool is a brand new tool within FeedbackWhiz. The goal of this tool is to accumulate as much data from Amazon API as possible so sellers can track it in one screen: Sales, Revenue, Taxes, and so on.
The best thing about this new profit tool is that you can combine the sales data from all marketplaces that you are selling in. This is a huge benefit since lots of sellers were lacking this kind of option.
Below the profit dashboard, you find a quick overview of your profit margins, number of units sold, promotions you are using, different expenses and a thorough beakdown of what fees you need to pay.
Another great feature is product labels. If you are selling 5 different categories, you can either see general data or the data for the specific ASIN, you couldn't group this information in a way you'd like.
For example, you can combine several products into one group and see its profit on the dashboard. For example, Henson puts together 2 products into a "Games" label:

Then goes to the profit dashboard, filters it by labels and the tool shows the data for specific labels. You can also choose a timeframe for which you want to see the results:
Within the same profit dashboard, you can also track your expenses, cost of goods and get a full profit/loss report:
Within a Product Manager, you have the ability to monitor listing alerts for reviews, hijackers, buy-box, title, description, and so on.
Let's say you change your product price and do an A/B test. You can set up the alert for a specific time period to see how it impacts your overall sales.
Right now, FeedbackWhiz runs a beta testing for this new profit tool and everyone can test it out. All you need to do is to visit their website and ask them to give you access.
Other FeedbackWhiz features review
FeedbackWhiz gives you a thorough statistics on your best selling products, most frequent buyers, who left you the most reviews, your most reviewed products — and a quick summary of all the email campaigns you have running. When you first log in, you can just quickly look at any timescale you want, i.e. how your past orders differ from this week. All their charts are interactive so you can change them to however you want to see.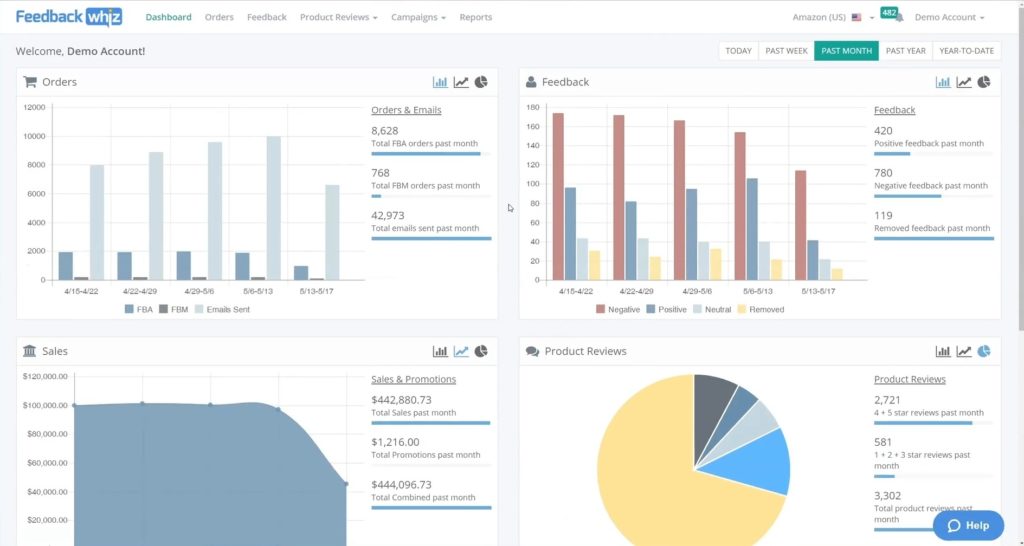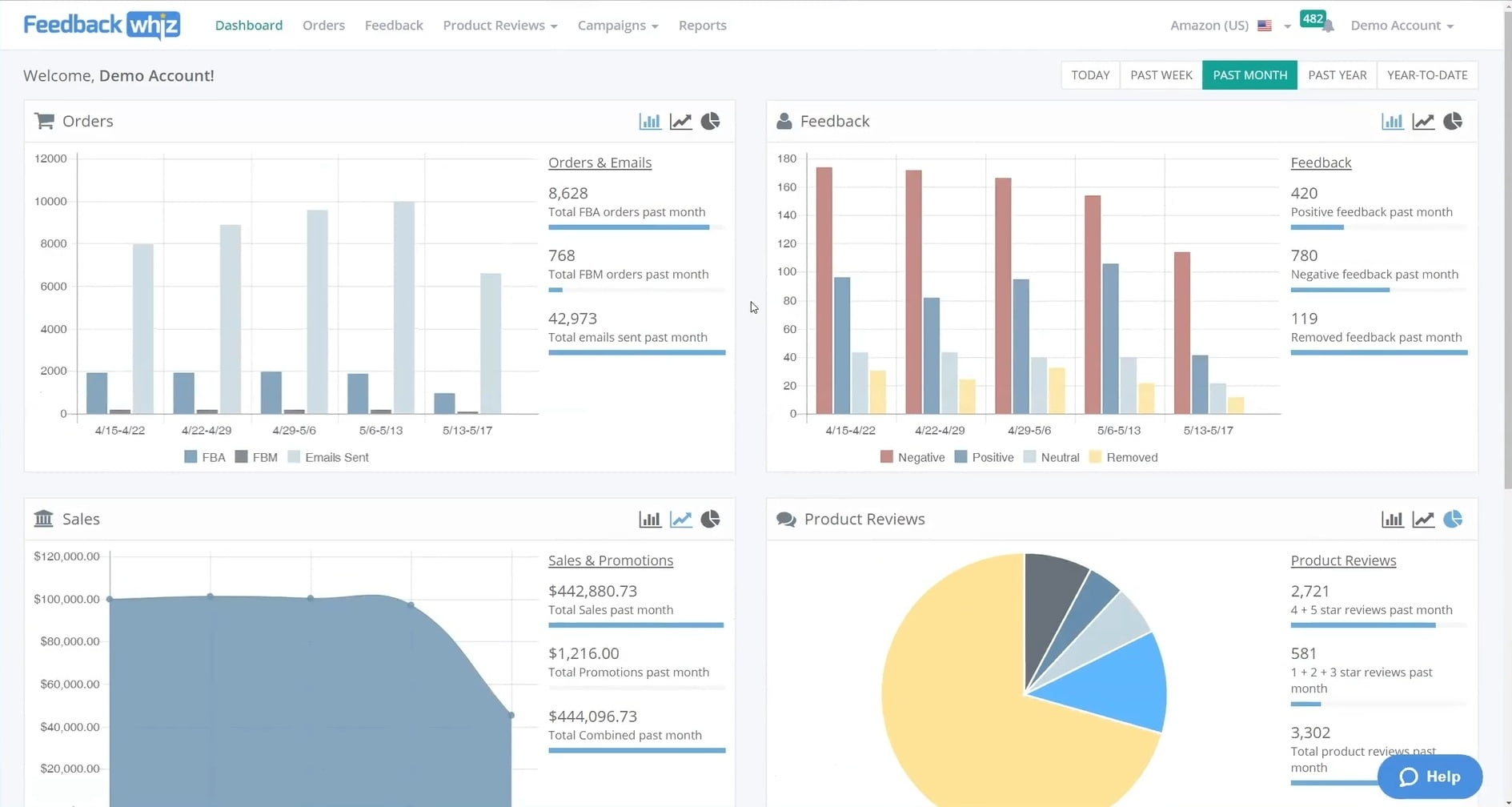 The tool has a notification system where you can see all these different things like feedback or product reviews or orders that come in.
For this, you can use the Order Manager option that grabs all your orders coming in from Amazon and integrates as much information as possible about the order into the system. So for example, someone left you feedback or a product review, you can see that this order had an item discount or shipping discount.
There we have an Email Queue system that shows you currently running campaigns and emails that are going to go out. So it's very transparent – you can see basically everything about any order you want.
Also, if you click on the person's name, you can see all the orders. If you click the shipping information, for real orders, you actually see a tracking number — it'll take you to the website — you can see all the information it has, all the customer's data. From here, you can sort by any date, you can search by Order ID, ASIN, SKU, name:
Basically, you have a whole wide range of different things you can find for your orders. You can search any time frame, which orders have promotions, which orders have feedback. Direct Match Reviewer will actually show you who left you the reviews. If you click on it, it'll take you to the Product Review Manager and be like.
A lot of people want to search for orders or get information. They want to see how many sales do they have so it's very easy to find anything through this system.
Dealing with customer feedback
If you want to directly send an email message, you can actually choose a whole bunch of different orders and customize the given template where, let's say, you want to do a feedback request.
All you need to do is to simply fill in the templates within the FeedbackWhiz tool and send yourself a test email. Then, if you want to send it out to your customers, just hit "Continue" — it will tell you what is going out — and then you press "Send", it goes out right away. It's a really easy platform to use:
If someone has left you a 1-star review, you can click on it and see it right away. Amazon Seller Central doesn't integrate anything together so sometimes it's really hard to piece things together.
That's why the FeedbackWhiz team tries to piece all the information together for you so you can quickly find out any data you want about any of the orders you have.
If you want to see positive feedback, the Order Manager will tell you the positive feedback. You can also see how many emails you sent for the person – maybe you sent out a feedback request and they left you with negative feedback.
Most of the time, as most sellers know, for FBA orders you can actually get these feedback removed since Amazon is the one that's responsible for the shipping and handling.
So if it has anything to do with that, go to "Contact Amazon Support" and it'll take you directly to the page. It's very quickly automated these days, so you can actually get it removed right away.
However, if you have the FBM order where the feedback is relevant based on your performance, then you can contact the customer, and then, again, you can pick a template. You can create a specific template to remove negative feedback by saying: "Hey, I'm sorry. Please see what we can do for you." So just in a few clicks, you can manage your negative feedback.
For managing customer feedback, you can use "Feedback Manager" feature. FeedbackWhiz created a platform where you can create all types of templates, whatever you want to do — you can sort it and can label them.
Preparing follow-up emails
They have some prebuilt templates that you can load, but most people like to create their own custom templates. Here's their main email editor here:
Basically, you type in your name, put a variable for the subject line. Variables are prefilled information based on the order. You could throw in an emoji and label it for your own purpose, like, just a reminder of what kind of template this is for.
What's really cool about this system is a live email preview. So as you type, you can see exactly what your email is gonna look like on the right side. It's really easy for you to visualize what your final email will look like:
It's very easy to insert all these email variables that the tool has. You can just copy it or insert it directly or even just type it in, put it anywhere inside. For links, you can change the text, you can even throw in the pictures. When it comes to text, instead of "Leave product review", you can say, "Please leave product review" and it'll show up right away. Just a quick summary on showing all the different variables we have.
All these variables would change based on the order you select. So if you're selling a shoe or you're selling a wireless pod, you can visualize right away what you're doing.
You can also add GIFs, emojis — it's full HTML. You can copy-paste from anywhere, just paste it directly and it'll show up. Remember, you can always preview your emails and send yourself a test email to see exactly what it looks like. I also want to quickly talk about this.
These are really nice examples where, most of the time, the customer, depending on your audience, are more likely to read or click rather than just a simple, generic email that most people get.
You can actually tell a whole story using pictures. For example, you can have an order that says, "Hi Joanie, I personally wanted to say thank you for your recent purchase of your item. Hopefully, it's making you feel like dancing. Would you mind clicking below, leave us a product review?" and then insert a "dancing"gif. It's just funny, so these kinds of emails will really just brighten up someone's day.
A lot of FeedbackWhiz customers get really high conversions, some product reviews, and getting rid of negative product reviews just because they send something more interesting, funnier, more engaging. These are things that are all possible using the tool.
Best-converting subject lines
As Henson Wu from FeedbackWhiz says, most of their customer's open rates are pretty high. They're like between 30 % to 50% percent because you can actually test different subject lines.
There's an A/B Split Testing tool so, within each campaign, you can actually split it up and send an equal amount of emails based on how many splits you want to do.
So for example, I want to test 5 different subject lines with 5 different email content. You can test to see which subject lines are actually effective, which one is your customer is actually opening.
After a certain amount of time, you can see maybe this subject line is doing a lot better than the other one so you can see what works better.
It's a really nice tool for people that want to test their subject line. You're not just blindly sending out emails without knowing if customers are opening them.
Notifications
When using FeedbackWhiz, you can easily choose your marketplace. On the main dashboard, you have your "Marketplace Settings", your "Profile", "Notifications."
Right now, you have the ability to add up to five different emails for notifications. Basically, you can have one master user and manage 10, 20 accounts if you want.
You can choose what kind of notification you want, for example, if you don't want to get Negative Product Reviews coming to your email, all you got to do is just clicking "Update.
In case you have another email address or you have a VA (Virtual Assistant) or something that wants to get only a negative product review notifications, then you can update it, and then, this email address will get only negative product review notifications.
Product review manager
Another cool thing about FeedbackWhiz is they also offer Product Review managing. You can basically monitor any ASIN you want on Amazon – they grab all your ASINs from your inventory and list them.
If you want to import all of your ASIN lists that are not in your inventory, let's say, you want to see your competitors' product reviews, you can just import it and save it. It tells you the number of competitors you have here.
You can filter out product reviews by Verified Purchase, Direct Match Reviewed it, any of the star ratings. You can add sent emails and add your own notes so you know which customers you already contacted.
Instead of trying to see all your reviews coming in at ones, you can group them together. You can see all the reviews for each product in the system right away. It's really easy to read, you don't have to go through multiple pages.
For example, you want to see all 1-star rating reviews. It would take you forever to read them on Amazon, but from here, you can actually just read them all at once:
Data reports
In case you want to export all the important data, you can easily do so using "Reports" feature. There are reports that you can actually download based on your orders, buyers, feedback, reviews – this is information that people use. So once you download it, it goes into a CSV file or Excel file:
Here's a basic CSV file that has all your information for orders, reviews. You can actually upload this to Facebook and run custom audience campaigns or look-alike campaigns and retarget your customers.
Let's say, you're selling a pencil case and maybe now you're selling a different type of it and want your previous customers to buy from you again. You have their contact information all in one place. If it's FBM, it will actually have their phone numbers as well, so then it would match even better on Facebook.
Having this information, you can run ads, retarget them if you have an external website or landing page. They can come to your landing page, maybe get a promo code, and then they can buy it from you again on Amazon.
This strategy is really good for product launching. These days, there's a lot of new tools, like ManyChat, a lot of these Facebook gurus use this information and run this really sophisticated process to try to get more sales or product launching. If you are on Facebook groups, you'll see a lot of information on how to use this buyer information to generate more reviews and more sales.
FeedbackWhiz pricing
FeedbackWhiz starts at $19 / month (even though they offer a free plan, it's quite limited so we recommend going with paid plans). All plans offer the features that we covered. in the blog post, including Orders & Feedback Manager, Analytics and Statistics as well as Reports.
The main difference between the plans are the number of monthly emails and email campaigns. So based on how many emails you want to send out every month, you can choose the plan that fits the best.
Actually, with the coupon code MONDAYS50, you get 50% off your 1st month when signing up for FeedbackWhiz, plus a free 30-day trial.
Regarding their new profit tool, for now, they run beta testing so you can contact them directly for more information at info@feedbackwhiz.com or visit their website.