Sponsoreds helps Amazon sellers to hit the top in their businesses by taking their advertising management to another level. It can create Amazon PPC campaigns with little effort and take them from "Zero to Hero", as per the name of one of their tools. This suite also has the ability to automate the maintenance and optimization of your PPC thus saving eCommerce sellers a lot of time.
This week on our Demo Mondays series we get to present Sponsoreds, an AI-based set of tools that offers an all-in-one ad management platform to scale Amazon FBA businesses.
What is Sponsoreds?
Sponsoreds aims at being an all-in-one advertising platform, specifically created for and by Amazon sellers and PPC specialists.
Their experienced team consists of current Amazon business owners and PPC specialists who have gone through the issues commonly found in the world of eCommerce advertising.
Against that, they went for a software solution taking advantage of the benefits of artificial intelligence and a well-structured PPC setup.
No coupons found.
Since this suite has been created to help everyone succeed in selling on Amazon by simplifying the ad management process, it would benefit sellers with any level of experience, be it by giving a much-needed orientation to new sellers or by saving precious time for advanced sellers.
Also, they have just recently expanded their service offer from the US marketplace to the European one.
Sponsoreds Dashboard

On the welcome screen, we are shown all of the tools included in this suite: Zero to Hero, PPC Automation, Analytics, PPC Audit and Dayparting. Here we will present a light overview of each of them.
Creating a New Campaign
This first tool is the one that will create a whole PPC campaign and will only require us to input some basic information about our products.
We'll get to choose between 3 types of campaigns: sponsored products, sponsored brands and sponsored display.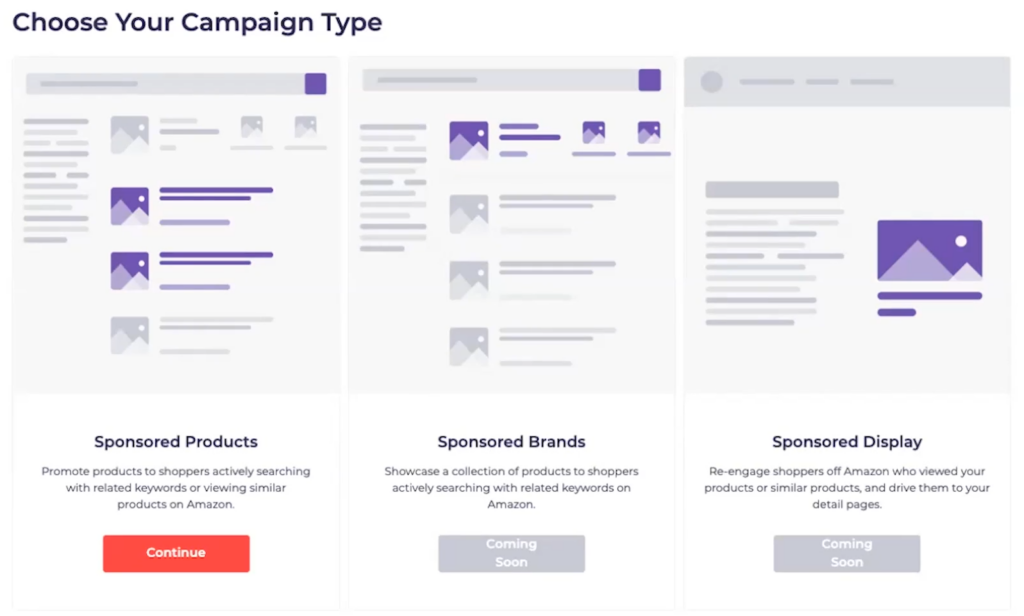 In the case of Sponsored products, we only need 4 steps to create and launch a campaign. Starting with selecting the product that will be advertised.

In the second step, we will set the ground for the semantic core by inputting some related seed keywords.
Optionally a portfolio could also be created or an already existing one could be used with this campaign.
A few more options like the start date, campaign budget and default bid can be set at this point. These are always accompanied by useful orientating tips and recommendations next to them.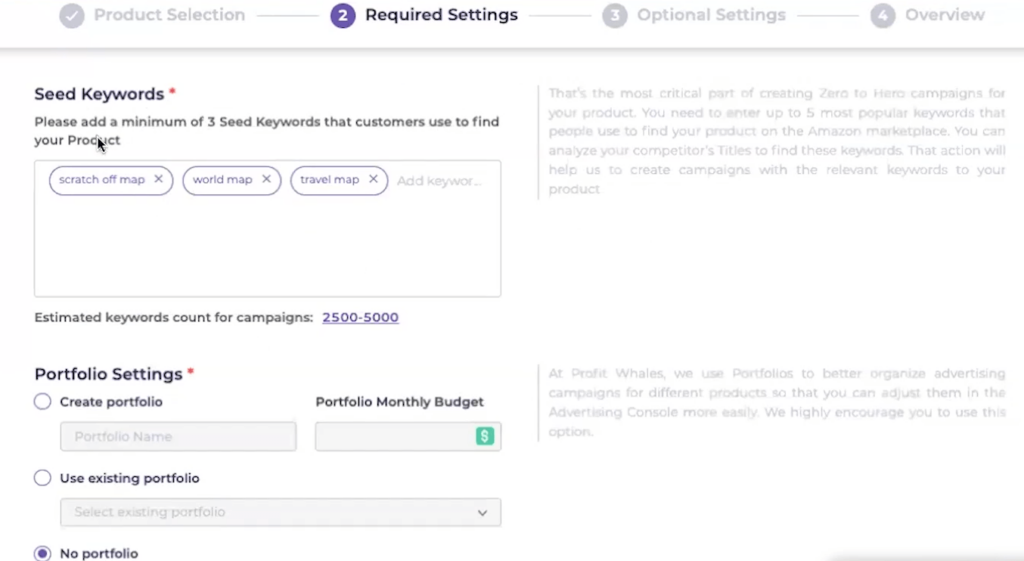 Additionally, we can define the brand settings to ensure our ads redirect buyers to our branded products instead of our competitors'.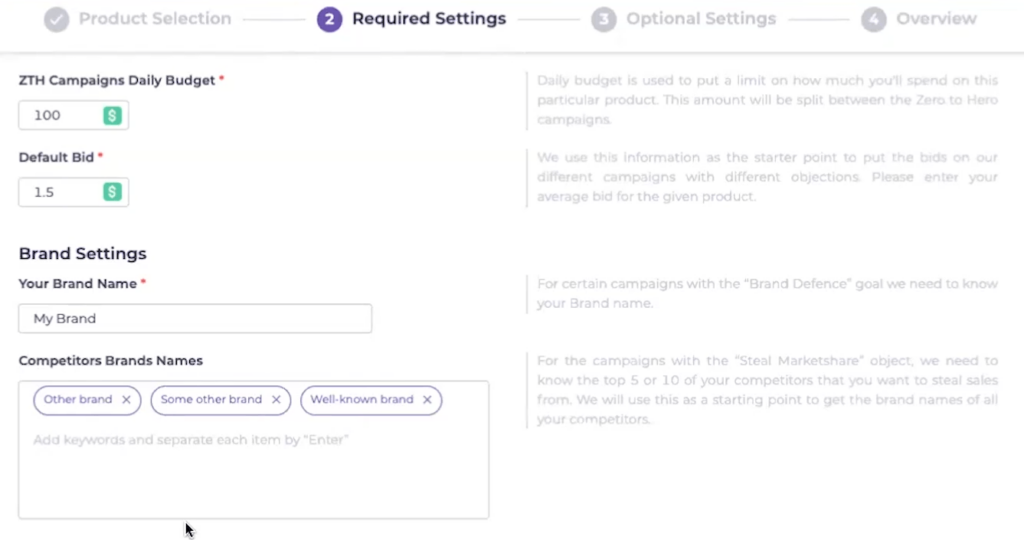 As a third step more dedicated for advanced sellers, three more options are presented where we could add relevant or negative keywords and set bidding strategies.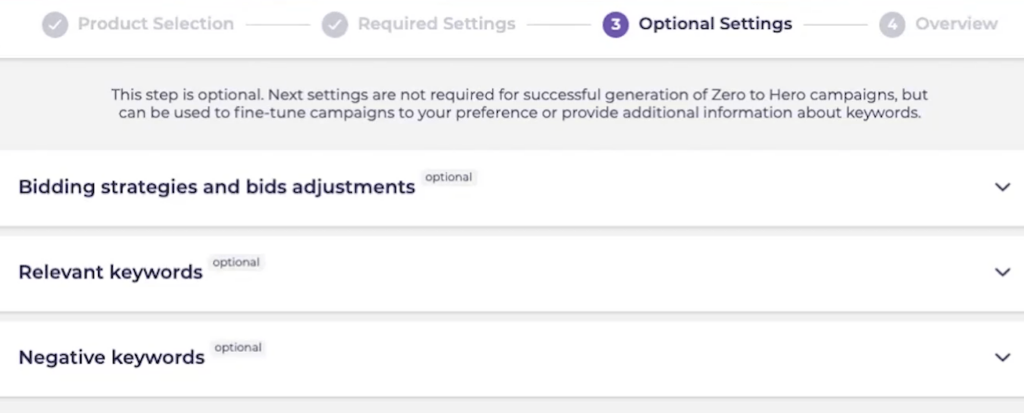 Finally, an overview is displayed with all the input data and we just need to hit the "Create" button so our campaign is uploaded to Seller Central.
Zero to Hero creates multiple different campaigns to cover all the aspects needed to build a successful ad strategy.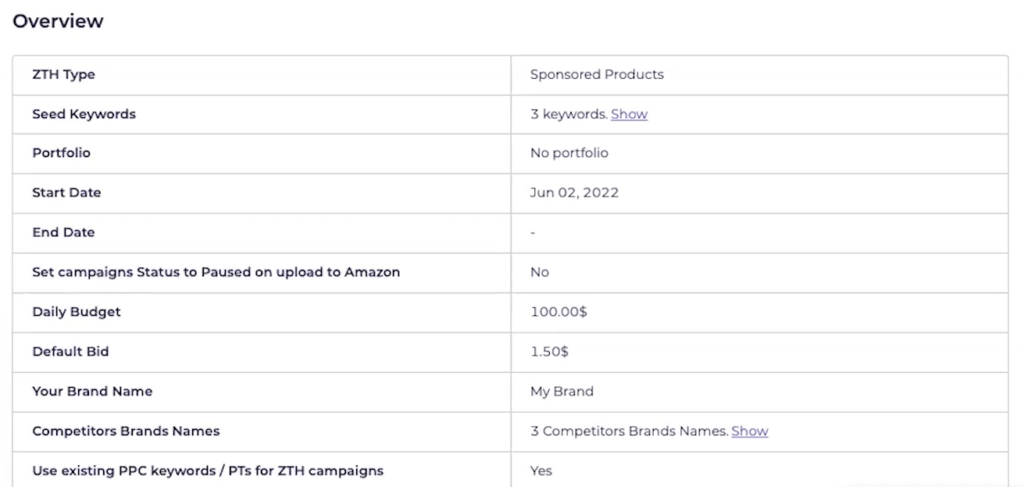 Amazon PPC Automation
And now that we have a campaign up and running, this other tool called "PPC Automation" will use AI to manage and optimize it. This algorithm continuously makes adjustments to our campaigns all by itself.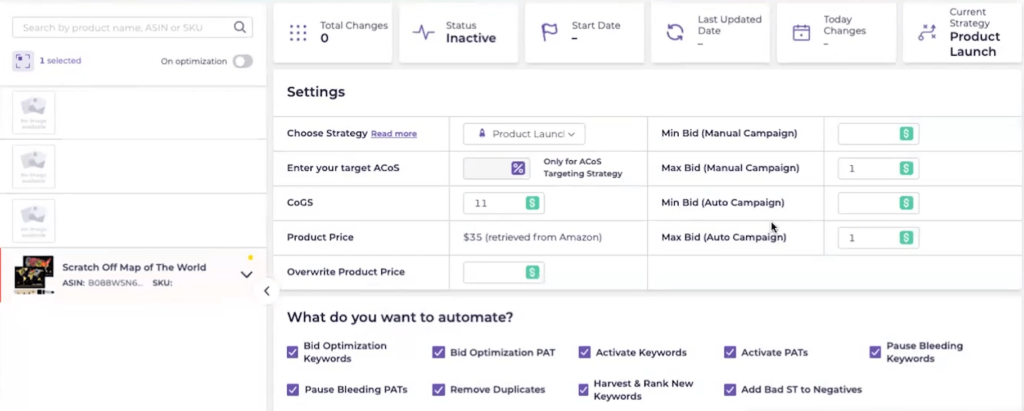 Here we can choose a type of strategy for the AI to follow and then also modify the values of our prefered min and max bids. The rest can be left as it comes by default unless there are specific goals to be reached.
In case we want to supervise or keep track of all the changes made by these automated processes we can take a look at the "All Reports" tab where we will be able to find a complete list of all the adjustments.

In another tab called "Product information", a list of all of our products can be found along with their details such as price, CoGS, Amazon fees and margins. This list can be filtered according to what listings are active or which ones are under optimization.

Analytics
This Analytics tool within Sponsoreds allows us to keep our product data well structured and organised. Since metrics can be rather confusing and complex, this tool is meant to seem as user-friendly as possible. It has got many features directed at revising the fetched information of our products, portfolios, campaigns, placements, ad groups, targetting, search terms, negative targetings and product ads.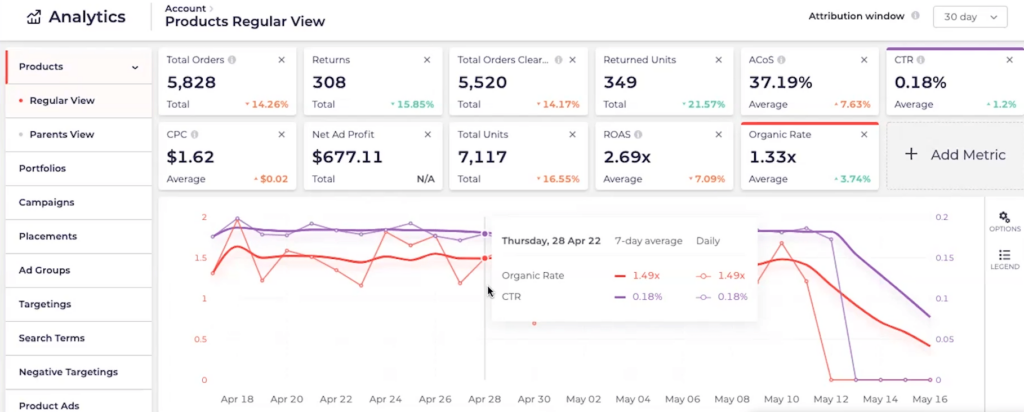 The regular products view shows the main metrics at the top, like CPC, profit, ROAS, etc, and right below them, there is a linear graph as a visual representation of them. These metrics also include the monthly variation percentage and are quite customizable given that we can add other metrics that might be more important to us to be displayed.
One of the main benefits of using this tool is that Sponsoreds stores seller data for as long as they keep requiring it within the suite, as opposed to Amazon only keeping this information for a maximum of 3 months.
Pricing
In regards to Zero to Hero, their fees go from $49 for each created campaign and also a few cents extra for added keywords.
In the case of PPC Automation and Analytics, they run a monthly-based subscription scheme which can either include one of them or both – the latter one benefiting from a discount. There is also a 14-day trial offered for these tools dubious users can capitalize on.
Upcoming Features
The Sponsoreds team have just released a new tool called "Dayparting", which could make ads run only during the time of the day when they are most productive.
They also have the intention of expanding to the rest of the marketplaces and enabling support for sponsored display and sponsored brands campaign.
Use Sponsoreds 14-day trial for FREE!