CopyMonkey is an AI Copywriter for Amazon Listing Optimization. Generate optimized listing in seconds, not in days. Evaluate existing listings with a smart AI audit. Accelerate your listings with copywriting A/B tests. Auto-generate hundreds of product descriptions for your online shop at once. Edit instead of writing from scratch. Add product data from your catalog to our product description generator. CopyMonkey will generate multiple product description options.
In this Demo Monday episode, we bring to you CopyMonkey, an artificial intelligence copywriter for Amazon product listings. With this tool, we are able to effortlessly generate bullet points and entire descriptions for our products.
What is CopyMonkey?
This AI tool creates product descriptions automatically based on the keywords we input, thus avoiding the need of hiring professional copywriters and getting great results at a great speed.
No coupons found.
It processes the content on a word-by-word basis therefore even when generating copy for similar items the output will always be different.
Their intent is not so much to replace human copywriters but to ease the workflow of people or agencies responsible for dealing with a high number of listings.
CopyMonkey dashboard

When you enter the dashboard, on the left side of the main screen, you can see the tabs for its main functionalities "Amazon Listings", "Bullet Points", "Product Description" and "Listing A/B Tests".
Generating a listing
Clicking the "Generate listing" at the top right corner of the main dashboard screen will show the sub-menu "Generate listing with AI" which will be our starting point for creating an entire product listing including a description and bullet points.

First, you will be required to enter a title for your product and once you go to the next step, you can upload a file with keywords from whichever is the prefered tool you use.
One thing to note here is that you will need to indicate the columns where the data is located.

As a result, we will be presented with every keyword included in the file and its search volume.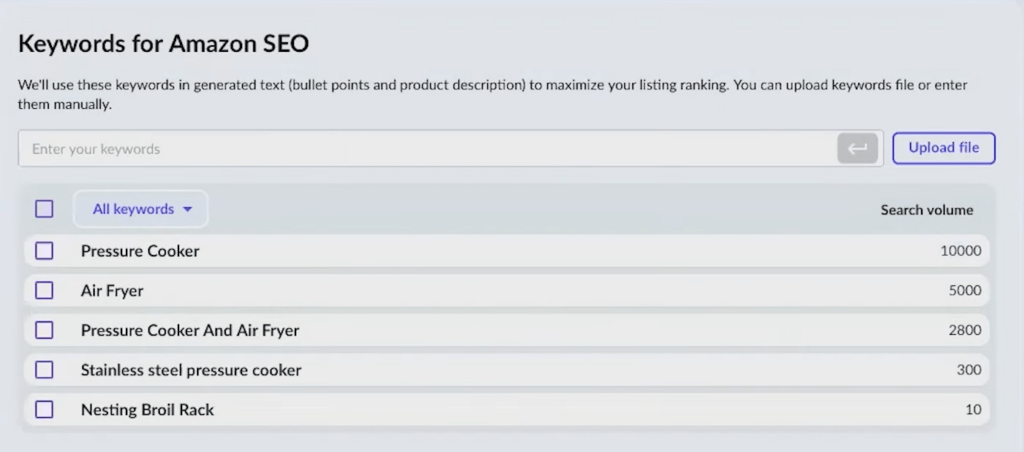 In the next step, we will have to either choose related product features from the 'Recommended' list or introduce them manually yourself.

After completing these few steps, a complete product description and bullet points will be shown to us. At this point, we can keep editing or adding bullet points in the same way we did it in the previous steps.

Generating bullet points
As a stand-alone feature, we can opt for creating only the bullet points for a product.
By populating the Product Title and Feature fields in the "Bullet Points" tab you will be instantly offered AI-generated bullet points. This tool will show different content every time you run it until you find the most suitable for your listing.

Generating a description
You could also just simply generate a product description easily. It will be a matter of seconds after you input the title and some orientating product details in the "Single Generator" tool under the "Product Description" tab for it to provide you with 3 different alternative ideas you can use to build your listing description.

Listing score
This metric given to us for every description processed is analyzed by CopyMonkey considering the best practices used for Amazon listings.
The tool will show a list of recommendations you can follow to meet these optimum criteria.

Upcoming features
For now, CopyMonkey is only available in English, but in a couple of months, it should also be presented in more languages like Spanish and Dutch.
They will also be adding A/B testing, so you can compare several of your possible listing copies and discover which one is the most ideal for your products.
Soon enough the CopyMonkey team will improve their ability to save on demand all the work done on their platform as well as enable Amazon integration.
Pricing plans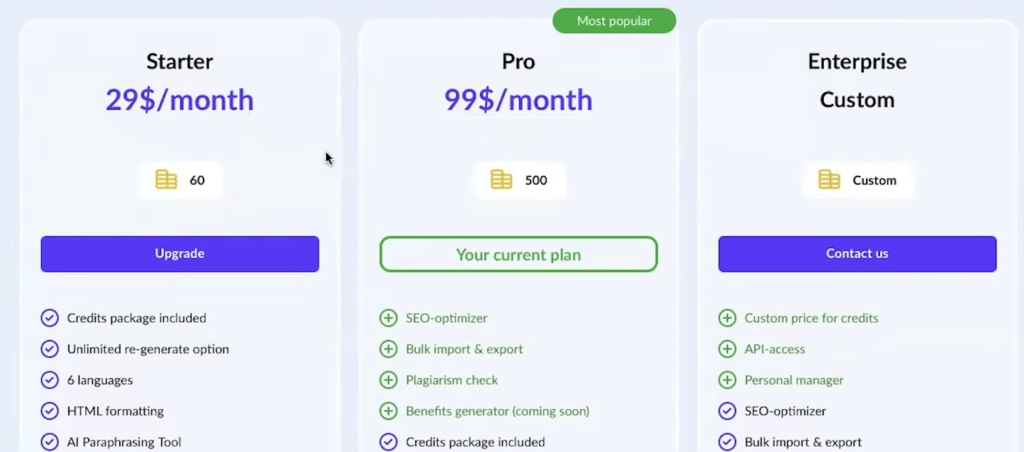 Every time we make use of one of the tools of this suite we spend credits, which we get by either subscribing to the "Starter", "Pro" or "Enterprise" plans. Each of these will get us a number of credits for us to use on generating listings, descriptions or bullet points and if we run out of credits these can be later on bought and refilled.
Each plan also comes with certain added features, such as API access and SEO-optimizer for the Pro and Enterprise plans.
Subscribe to CopyMonkey and get a 30% discount for 3 months on any plan using the coupon code ORANGEKLIK30.