The Semrush AppCenter's eCommerce category is home to multiple apps to support the growing needs of Amazon sellers, marketers, and agencies worldwide. Formerly known as Sellzone, (now a blog and resource for all topics ecommerce-related) the tools can be leveraged to maximize listing performance and visibility, improve return on investment, and build sales on the Amazon platform.
In this review, we cover 9 apps for Amazon:
Product Research
Search Insights,
PPC Optimizer,
Traffic Insights,
Keyword Wizard,
Listing Quality Check,
Listing Alerts,
and Keyword Manager.
The tools are designed to influence the visibility, traffic, and conversions of Amazon listings. Reliable data, simple analytics, and effective solutions – these apps are the perfect companions for Amazon merchants who want to accelerate sales.
In this blog post, we go through these tools for Amazon sellers, marketers, and agencies designed to improve Amazon FBA product listings. With these tools, you can check and improve the overall Amazon listing quality, monitor buy box statuses and price changes as well as get valuable traffic insights to help you boost Amazon sales.
What are Semrush e-commerce apps and how do they help Amazon sellers?
Sellzone originally was a single platform for Amazon sellers, primarily targeted at an audience who were already selling on Amazon (even better if they already have some experience as well).
Today, all those features and functionalities have been upgraded into dedicated, specialized eCommerce apps powered by Semrush on Semrush AppCenter's eCommerce hub. They focus on helping sellers with promoting their products and already existing Semrush customers who want to get more exposure on Amazon.
Talking about Amazon sellers, their target audience is described as follows:
Experienced sellers – sellers who are looking to expand their Amazon business and increase their sales. The tool helps to boost sales and outrun the competition.
Newbies – Amazon newbies, who need to build their business and analytics from scratch. It helps to build analytics, and save resources for the launch.
Sellers without resources – Sellers who don't have any resources to hire a marketer for Amazon and do it themselves. In this case, the tool levels the playing field with big companies.
Agencies and marketers – Agencies and marketers working with Amazon merchants and looking for more tools. It opens new business opportunities with a global leader.
Semrush fans – Semrush fans who asked for a dedicated marketing toolkit designed for Amazon sellers.

The Amazon-focused apps are powered by Semrush, a global leader in online visibility management, such as SEO (search engine optimization), social media, content marketing, and so on. It's a well-known tool among digital marketers that has been around for more than 12 years and has more than 7 million registered users. The app ecosystem is also supported by third-party app developers who have carved a unique niche and functionality within the world of eCommerce.
It's a very customer-driven product created by Semrush's professional developers based on Amazon sellers' experience. As for everything else, the Sellzone website is revitalized as an ultimate content resource for eCommerce sellers, focused on education and helping eCommerce sellers make the most strategic decisions.
Semrush e-commerce apps review
There are currently 9 apps, with plans for more to come to support e-commerce sellers in all matters of growing their sales. Let's explore what each of them has to offer.
Product research for Amazon
The Product Research for Amazon App is a powerful research tool that lets you home in on profitable products to sell or resell, based on freshly updated data about what's on demand.
It works by estimating the profit you'd make on each sale, with a number of filters built in, estimated sales each month, plus a built-in FBA calculator. This takes the guesswork out of product research, making it much easier to discover new products that could be a success in your Amazon store.
You can conduct product research in three different ways: by preferred category, keywords, and selling price tiers. Aside from the easy-to-use, intuitive interface, the app gives tons of suggestions and tips—making it a great tool especially if you're just starting out on Amazon.
Search insights for Amazon
As we mentioned before, Semrush leads the way as an SEO and competitive toolkit for marketers around the world. So, it's no surprise that its Search Insights for Amazon App provides best-in-class data to help you build your visibility on Amazon's SERP (search engine results page).
By focusing on keywords, the app can be leveraged to uncover your competitor's strengths and weaknesses, their keyword strategy, and help you create a stronger presence in the marketplace.
The app also forecasts traffic and search volume for competitor rankings, and shows historical trends, so you can use this intel to reach a wider audience.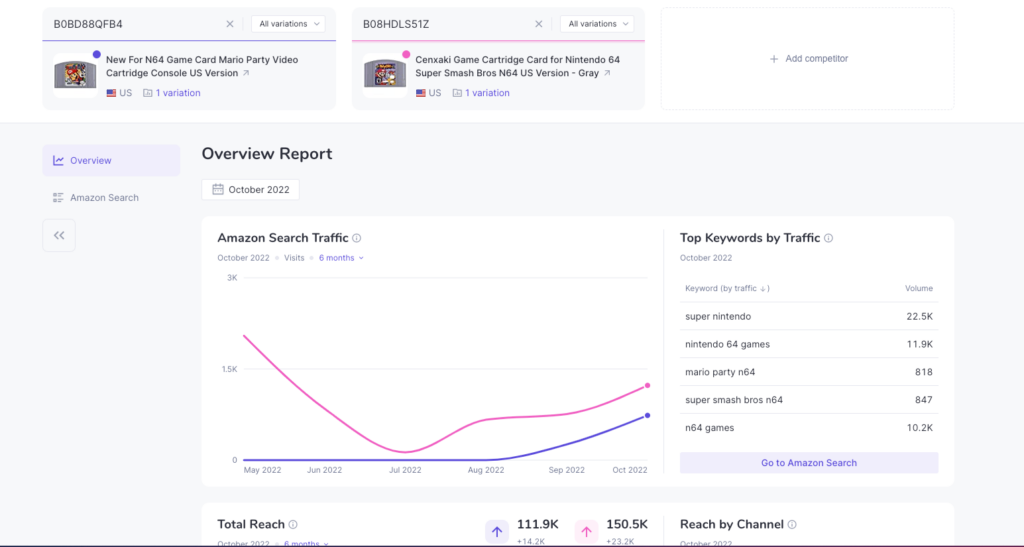 PPC optimizer for Amazon
For busy e-commerce sellers who want to streamline their operations, the PPC Optimizer for Amazon App allows you to automate campaigns in a way that maximizes your ad spend.
The biggest benefit of this app is that you can focus on your return on investment while choosing either between fully-automated ads, or manual targeting and bidding.
If you choose the fully-automated option, the app will launch four separate campaigns—and will change them dynamically with keywords, product targets, and bidding strategies.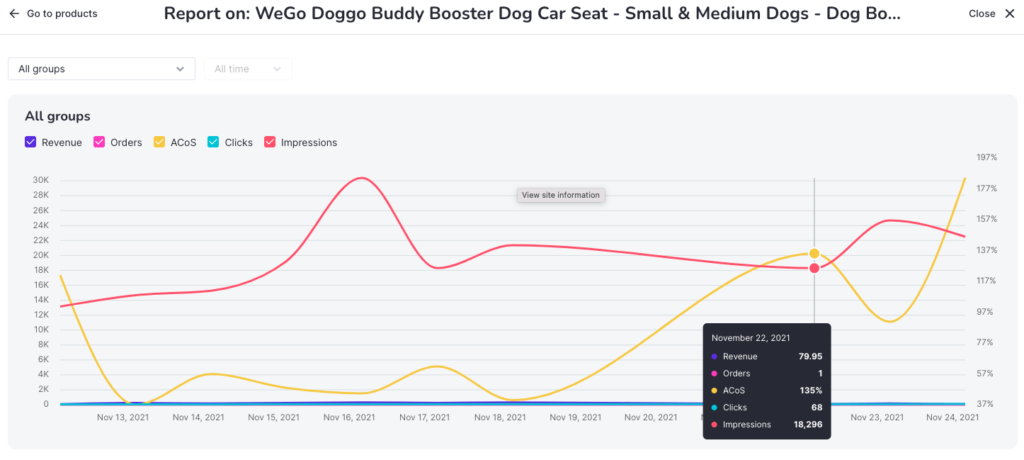 Traffic insights for Amazon
Basically, it shows how different listings are shown outside of an Amazon ecosystem, such as backlinks, referral traffic, organic traffic from Google, and Google shopping ads. The Traffic Insights for Amazon App helps to upscale your marketing strategies, uncovers growth points, competitors' marketing strategies and overall gives you an opportunity to figure out what else you can do to promote your listings outside Amazon. You can even find out your competitors' backlink profiles to see what websites have linked to these listings. In this way, you can explore promotional opportunities and reach out to the same or similar platforms to promote your own listing. It also features an ASIN product lookup, sponsored filters and reaches changes, top domains by reach, and the ability to see trends over a 12-month period.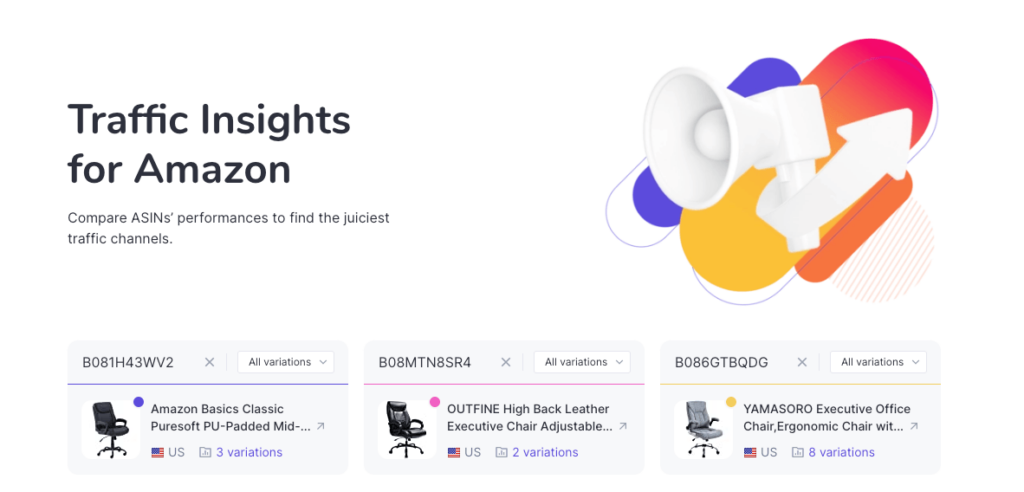 How does it work?
You enter the URLs or ASINs of any competitors' listings;
The tool gathers information about their key traffic-driving channels;
You are provided with a report to see all of this information.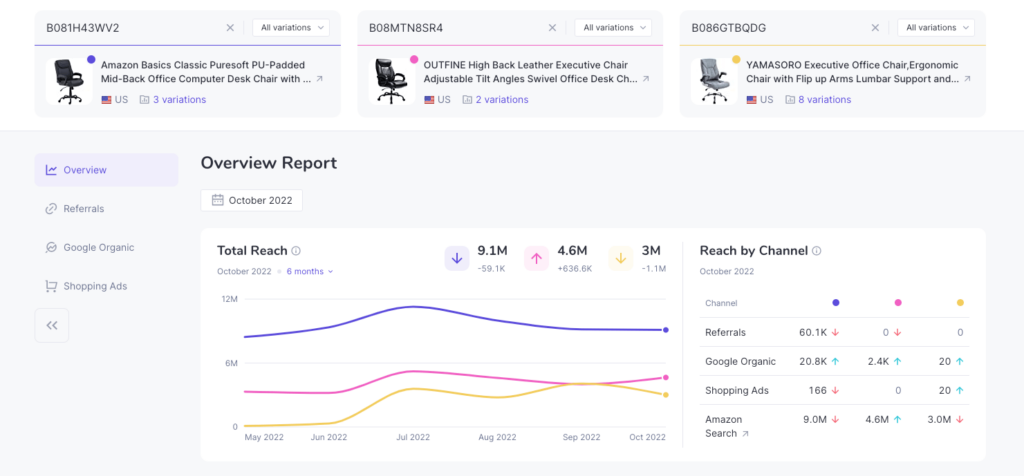 Keyword Wizard for Amazon
One of the hardest aspects of succeeding online comes down to one thing: visibility.
That's where the Keyword Wizard for Amazon App helps by finding promising keywords and search terms to improve your e-commerce presence.
What we like best about this app is that it shortcuts the time to find keywords based on high volume and low competition. It's easy to navigate with several different smart filters, allowing you to check broad, phrase, or exact matches for your keyword queries. It also has a button to send your keyword lists to the Keyword Manager for Amazon App, another e-commerce app powered by Semrush, which we'll discuss in more detail.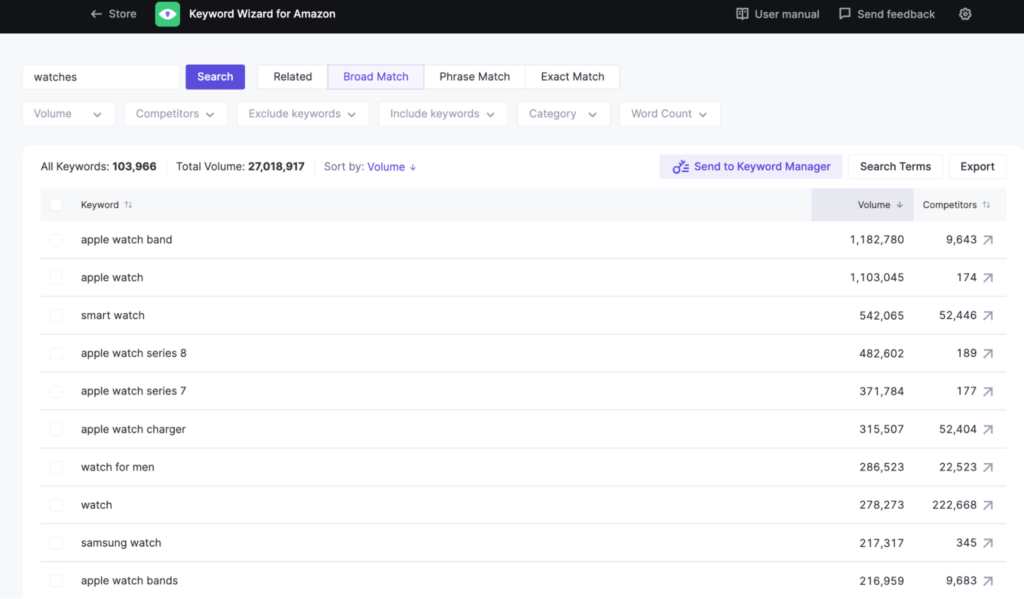 Listing quality check for Amazon
The Listing Quality Check for Amazon App scans evaluates and compares your listing with others in your category so you know what improvements you can make in order to avoid any problems or issues with your listing. And it gives you clear data-driven recommendations for listing optimization so you don't need to figure it out yourself.
How does it work?
Enter the URL or ASIN and click "Monitor"
Choose what kind of information you want to keep track of
Get automated notifications.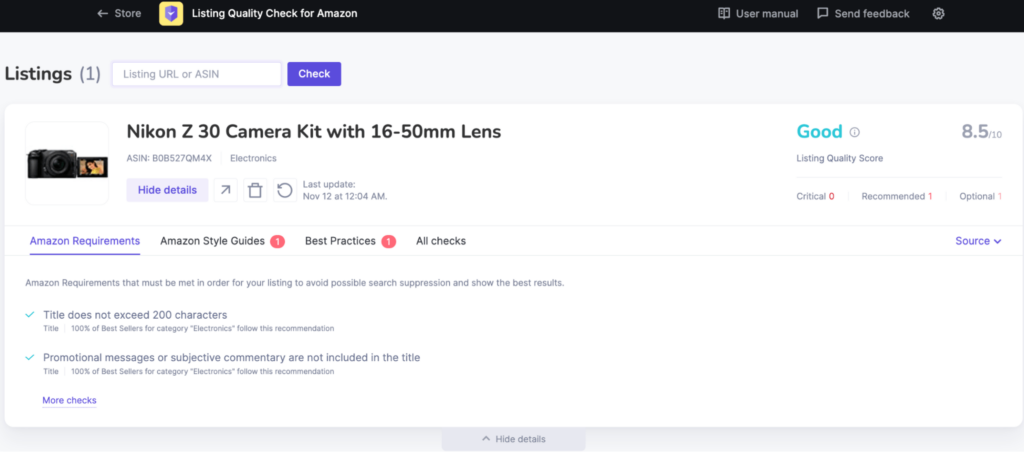 Listing alerts for Amazon
The Listing Alerts for Amazon App is an automated monitoring system that helps to keep an eye on the visibility of each Amazon listing and the rankings of specific sellers. You can choose which parameters you want to keep a track of, such as keywords, Buy Box, description, title, and images. Once you configure it, it's important to set alerts so you get notified if something goes wrong. This way you don't need to check it manually. You can opt for alerts sent to you via email or SMS.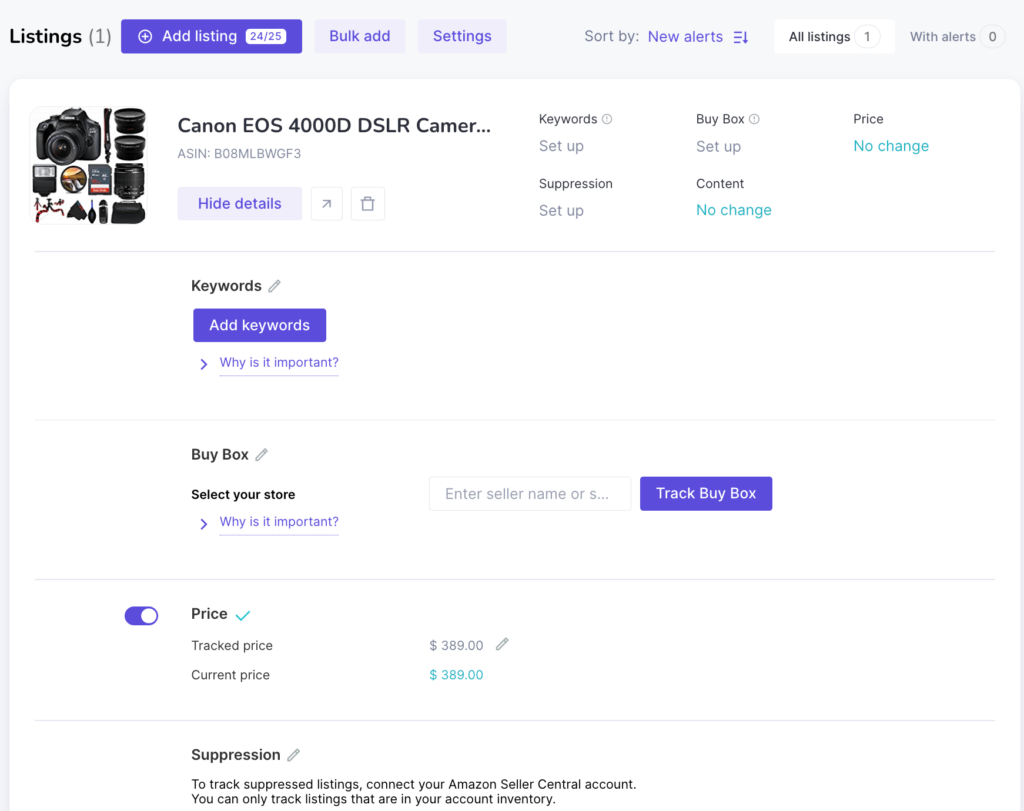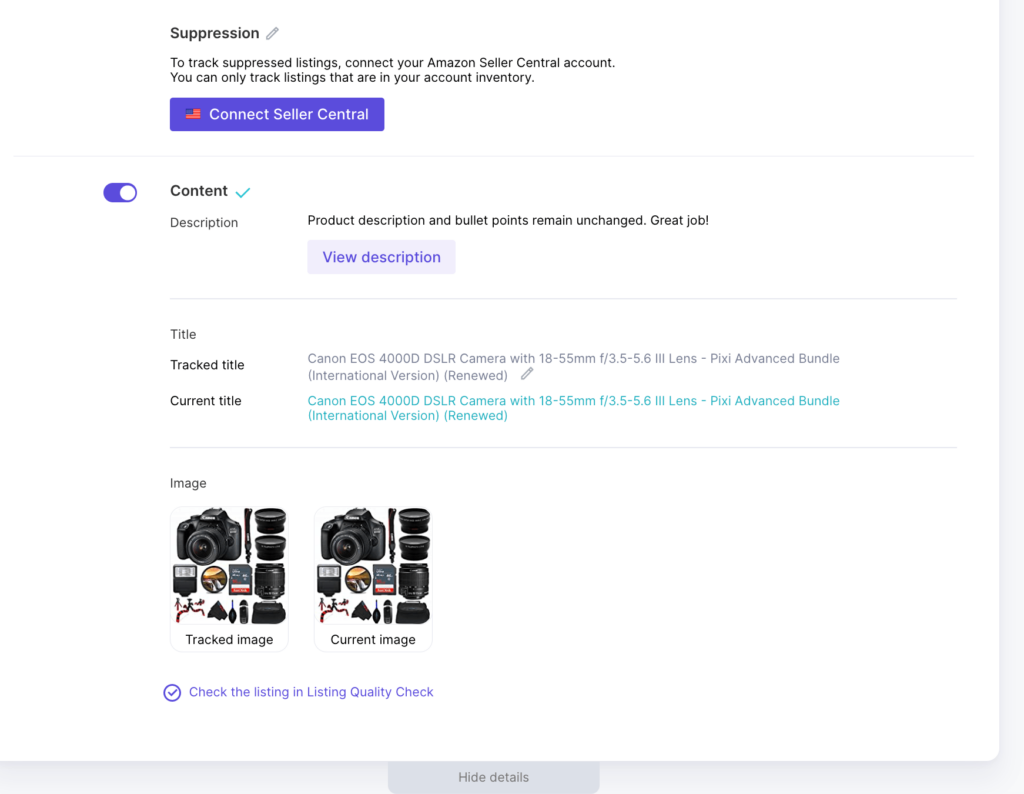 Keyword manager for Amazon
If you want to say goodbye to tracking keywords on a spreadsheet or Excel file, the Keyword Manager for Amazon App will let you part ways with that old system!
The app helps you organize your keywords in one place, allowing you to quickly reference them and keep track of important metrics.
This integrates really nicely with the Keyword Wizard for Amazon App – allowing you to export all your keywords to its partner app. You can keep up to 1,000 keywords in a single list, which makes it helpful if you're handling large keyword batches across multiple products.

Pricing
The goal of the Semrush App Center is to provide customizable solutions and tools for all its users so you get the features and functionalities that you want to pay for. The apps all range in price, so you can build your eCommerce toolkit a-la-carte to best suit your growing business.
Here is a breakdown by the app:
Product Research for Amazon – $9.99/mo
Search Insights for Amazon – $19.99/mo
PPC Optimizer for Amazon – $50/mo
Traffic Insights for Amazon – $29.99/mo
Keyword Wizard for Amazon – $14.99/mo
Listing Quality Check for Amazon – $9.99/mo
Listing Alerts for Amazon – $29.99/mo
Keyword Manager for Amazon – $9.99/mo
Upcoming features
As Semrush has a wide range of data (specifically outside of the Amazon ecosystem), they are planning to go more inside of Amazon within the next 6 months and going to improve their analytics by adding this additional data.
It's also important to underline that all of these apps – originally found in Sellzone, their former platform – have now become repurposed as a content resource for all things e-commerce-related. This shows that they're really dedicated to helping e-commerce sellers by providing as much support and resources as possible.
If you want to start using Semrush's eCommerce apps, here's a special offer for you – all Sellzone tools for 2 months with a 50% discount (2 months for $50). Claim through this affiliate link.