RebateKey is the #1 rebate and coupon marketplace for Amazon and eCommerce sellers to list their best deals and get full-priced sales on any marketplace. Using rebates to drive brand awareness and sales helps new products launch and rank quickly. In just a few minutes, you can have a full RebateKey campaign setup. No more headaches with running Facebook ads, ManyChat bots or other methods as RebateKey has almost 1 million shoppers using its platform and chrome app looking for great deals
In this blog post, we show how to create Amazon FBA product rebates using RebateKey. RebateKey is the #1 rebate and coupon marketplace for Amazon and eCommerce sellers to list their best deals and get full-priced sales on any marketplace. During the video, you will see a step-by-step process on how to set up a campaign in a few minutes, learn what's the best rebate strategy for launching a product, when you can dispute a rebate, and what are the upcoming features that RebateKey prepares for its users.
What is RebateKey and how does it help Amazon sellers?
RebateKey is an online coupon marketplace for e-commerce sellers, such as Amazon or Walmart sellers. Here sellers can list their product to drive more sales so it's especially useful when launching a new product. It is built for any type of seller so it doesn't matter if you're a beginner or advanced, want to drive more sales to an existing product or a new one, RebateKey helps to improve your product sales.
At the moment, RebateKey covers the US marketplace only, but are planning to expand to other major marketplaces soon.
No coupons found.
RebateKey review
When doing rebates on RebateKey, you don't necessarily need to do 100% cashback rebates – you can do 80%, 90% or even just 10% so it really gives you flexibility.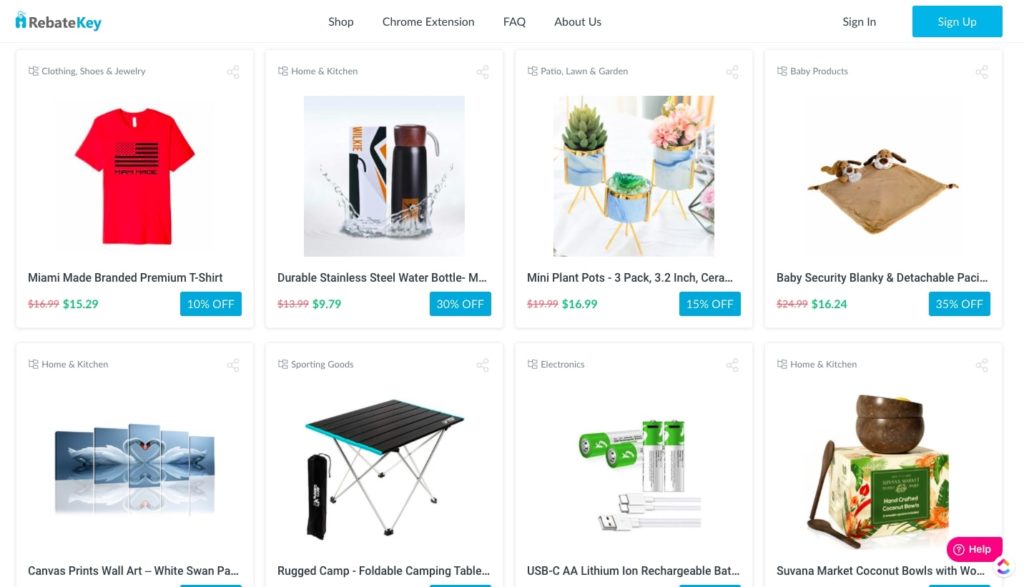 Setting up a rebate campaign
Let's say you want to run a rebate campaign on this washing mitt. The first thing you need to do is to copy product's title and paste it on a "Product name" field when creating a new campaign.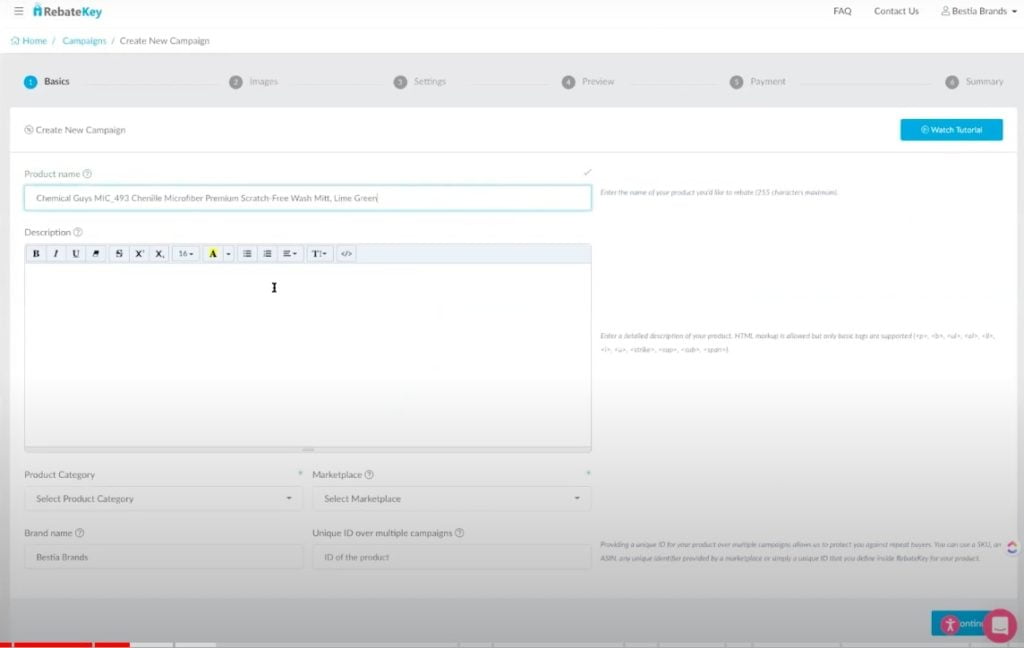 Then go and do the same thing with bulletpoints – paste it as a product description.

Then eventually select a product category, marketplace (Amazon, eBay, Walmart, Shopify, etc.), insert a product ASIN, specify the type of your Amazon account, fill in your brand name and a unique ID. The latter is for those cases when you want to do rebates on one product multiple times, so this unique ID prevents people claiming the same rebate over and over again.
When you post your campaign online, buyers are going to purchase your products on Amazon and they are going to grab their order number from Amazon (order ID) and put it into RebateKey. That's how the buyers secure the rebates from you.

The next thing your rebate campaign needs is product images. RebateKey is able to pull up images from Amazon automatically. To do so, you need to click on the "Pull images from Amazon" button on the bottom left and it will grab all images from your product listing (remember, you provided an ASIN in the previous step!) In case you want to upload different images, you can do it manually, by clicking the button next to it.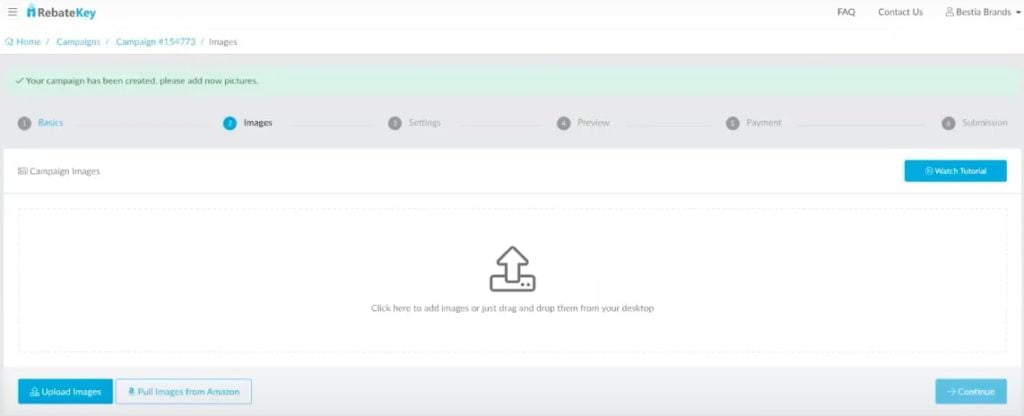 Once you have your images ready, you need to specify what your product price will be after the rebate. You can also easily set up a start and end date to your campaign. For example, if you plan to launch, you can pre-set this up so the campaign starts running whenever you are ready.
For a number of rebates, you can specify how many rebates you want to do per day, hour or whatever other frequency you want. Also, you can set a maximum number of rebates as well. It allows you to spread the rebates throughout the day.
Rebate delivery mode allows you to deliver your rebates in a normal way or enable a waterfall mode – this mode means you can automatically increase your rebates. It means you will have 3 debates on the first day, 7 rebates the day after, then 10 on the third day and so on.
To end the rebate, you can either select the date or the maximum number of rebates.
Finally, you can get a URL that you can send buyers straight to the product page. Another option, called treasure hunt, allows you to provide keywords on RebateKey so it can tell buyers how to search for your product. In this case, they will be instructed to search for a specific keyword, find your product and purchase it. You can add multiple different keywords for it.
In the next step, you get to see a preview of how your product rebate looks like: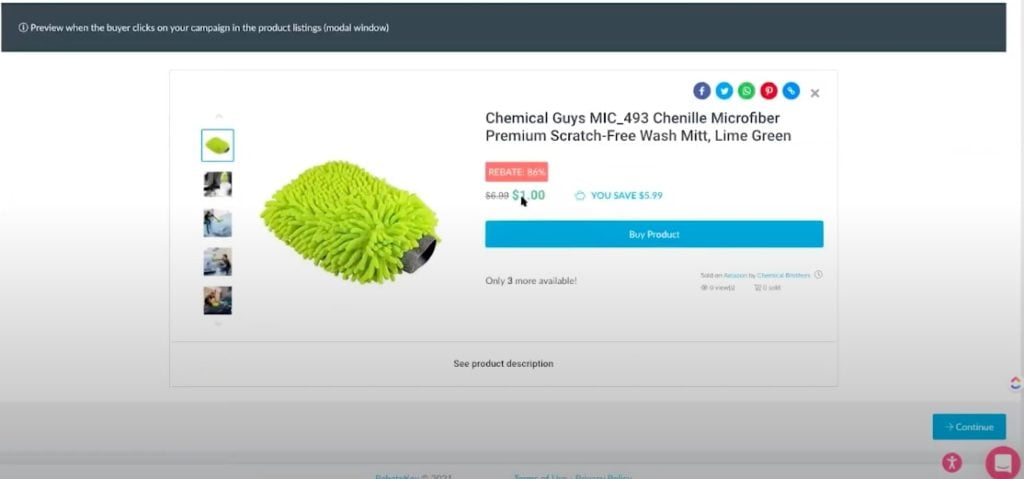 In the campaign section, you can find all your campaigns and their status. It's okay if you see your new campaign is still waiting for approval – RebateKey have people that constantly go through rebate campaigns every day and approving it so it takes some time.
To sum it up, there is one thing to know in order to run a successful rebate campaign – you need to give away enough product units. So give away more than you think – you can always turn it down but cannot turn it up. Start from 10-20% of the search volume, so if it's 10 000 search volume, give away at least 10-15 a day. Amazon cares about conversion rates so you want to make sure you're not wasting your money.

Campaign payment
To start your campaign, first you need to prepay. With RebateKey, you sign up for free and only pay for rebates that are claimed, meaning there is no cost to launch a campaign, there is no cost if nobody purchases your rebates – you only pay when a buyer actually buys the product. For each rebate, you'll be charged $2.95 USD.
When you first start, you only prepay for the first day of your rebates. Then you'll be charged every day, depending on how many keywords you make.
It's important to keep in mind that RebateKey is not a review platform so you cannot ask buyers to leave a review.
You are also able to dispute rebates 5 days before the payout. The platform pays buyers the money after 35 days – it secures sellers from being scammed. It also assures the buyers purchase only those products they really want, considering they need to wait quite a long time to get their money back.
Pricing and upcoming features
RebateKey is free for buyers and sellers. For sellers, it works in a way where you need to pay only if your product is being purchased. It costs $2.95 USD per product claimed if you use your own URL like Pixelfy and $3.95 USD if you don't have your own URL (the option is called "Treasure hunt"). So literally, you can launch your campaign for free and only pay when getting sales. It's a win-win situation.
Right now RebateKey plans to release some features, such as a mobile app for buyers. For sellers, they are adding an integration with Pixelfy and ability to launch your entire catalog, meaning you can put your entire rebate campaign for all of your products and offer some type of discount for it.
In the near future, RebateKey will release features that will help to grow your brand, surveying customers, so sellers can get information on how buyers liked their products.
If you want to start using RebateKey, get 30 Amazon product rebates for free when signing up through this affiliate link.