Sellgo is a profit finder and product tracker tool to help Amazon sellers with better catalog experience. Grow your Amazon seller businesses and scale up your market shares through data automation.
Sellgo is presented by its co-founder and CEO Richard Prasojo.
List of features covered in this video:
01:26 About Sellgo
03:25 Ways to sell on Amazon
03:56 Product research for Amazon
04:46 Product analysis, Buy Box and competitive analysis
05:59 Sellgo tutorial
07:31 Product tracker
09:19 Useful features for Amazon wholesale sellers
10:23 How to add a new product to Sellgo
15:40 Pricing

---
Sellgo overview
Sellgo's mission is to help Amazon wholesale and private label sellers to filter out millions of products they think they can sell. The tool process all the data so you don't end up selling the wrong product.
The idea behind the tool is to analyse competition on Amazon so sellers have a clear idea of a new product. Let's say most of people tend to start business based on their hobbies. As Richard gives an example, one of the hobbies might be fishing so you want to sell fishing bait. But is it so simple?
Actually, it's more complicated than it looks like. There are different approaches to find a winning product to sell. One of the ways Sellgo is working on right now is a search engine that lets you find the winning products and brands (competitors) so you can analyse it and find profitable products yourself.
Ways and strategies to sell on Amazon
There are few ways to sell on Amazon:
Private label
Dropshipping
Retail arbitrage
Wholesale
However, there are certain strategies that might be applied regardless of which of the above mentioned way you choose to start on Amazon. To put it shortly, first you need to discover products, then source it from your preferred manufacturer/supplier and actually sell it.
Discovering products (or scouting, as you will) starts from a specific product research, usually on Alibaba or Aliexpress. At this stage, you can also start analyzing other sellers to see what works and what doesn't.

Don't skip on the Buy Box – make sure you know exactly how does your competitors' buy boxes look like, i.e. fulfilment method, price, other seller metrics.
Identify competetive sellers by looking if there's Amazon Prime option available, what are the lowest and the highest price. Also, each product has a unique ranking so keep it in mind as well.
The second stage is sourcing. Obviously, once you find a potential supplier, you need to get in contact with this person and forge mutually beneficial relationship.
Finally, at this point you might think there are too much potential products to sell. Which one to choose? This is exactly where Sellgo serves Amazon sellers.
Sellgo tutorial
When using Sellgo tool, you can upload any SKU to see how well the product performs on Amazon. You can filter the results either by its price, cost, fees, margin, monthly revenue, ROI, or rank.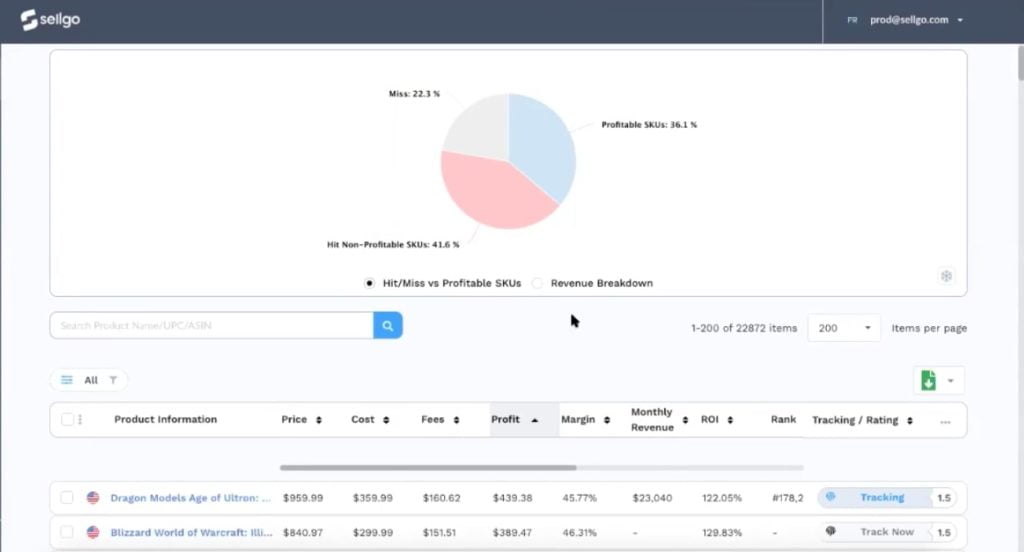 Then you can track the product – once you set it on "tracking", you will find it on the Produtc Tracker dashboard. By the way, all products are clickable here, so once you click on it, you'll be instantly redirected to the product's listing on Amazon.

So the question is – how do you add a new search? Richard explains this very easy process – once you go Product Finder, click on the "Add new search" at the top right corner: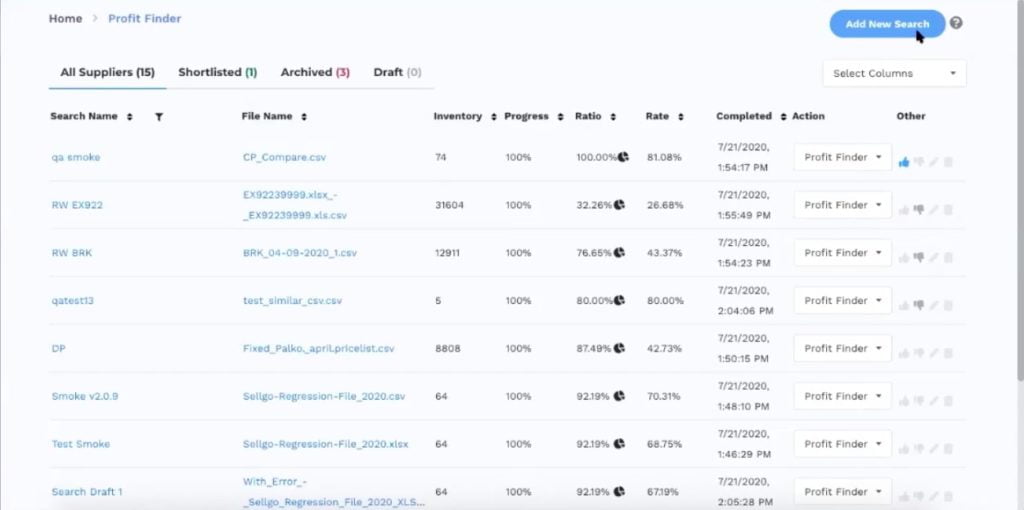 Then you will see this table where you need to put a search name and marketplace: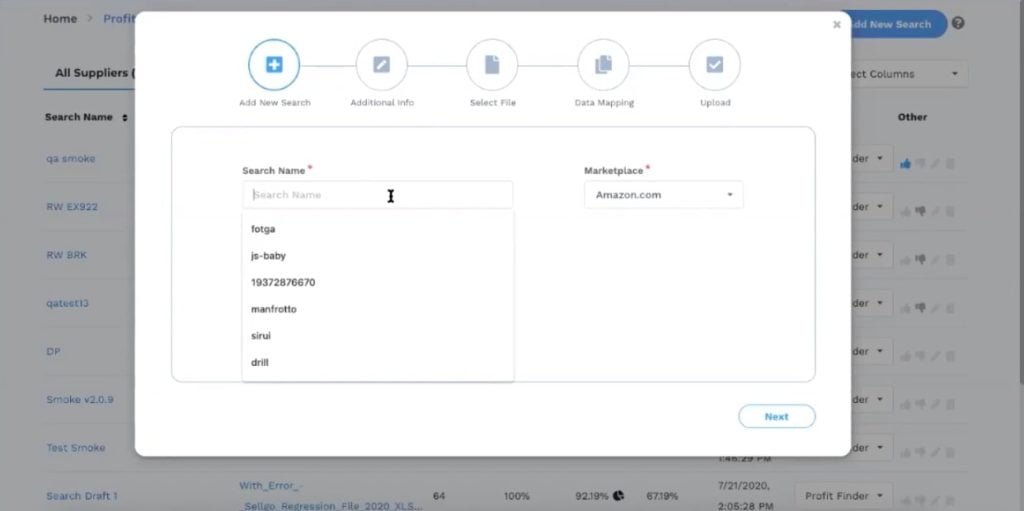 The next steps are selecting your file with the product's ID, inserting data mapping info and that's it – the upload is finalized: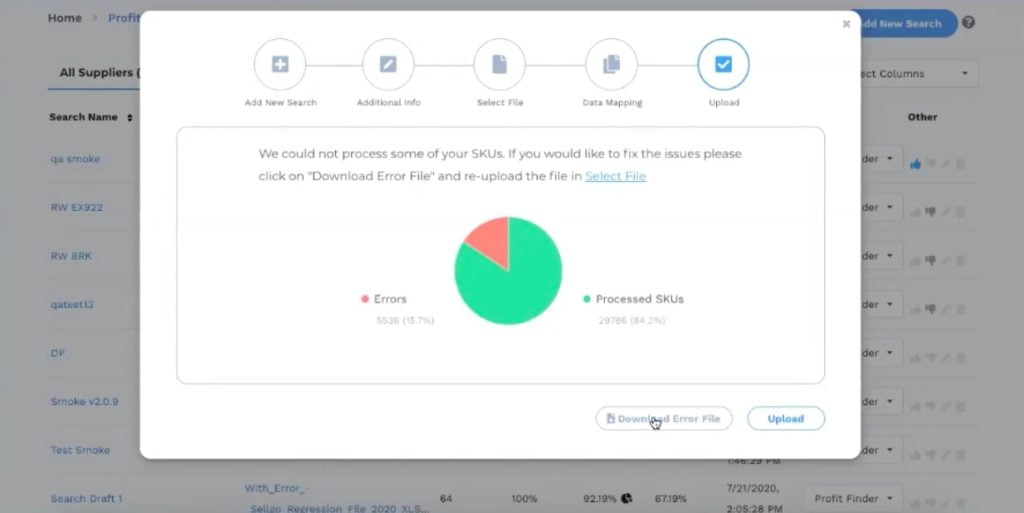 Then you will find your product running inside the Product Finder.
Another way to track a product is by copying product's ASIN and putting it in the Product Tracker's dashboard, under "All groups":

One of the feature that Richard highlights is inventory insights – by looking at this graph, you can compare different sellers and have a quick idea of what is their market share. Right now the team works on the upgrade so you can see the inventory level of different sellers and see how many competitors you have for a certain product: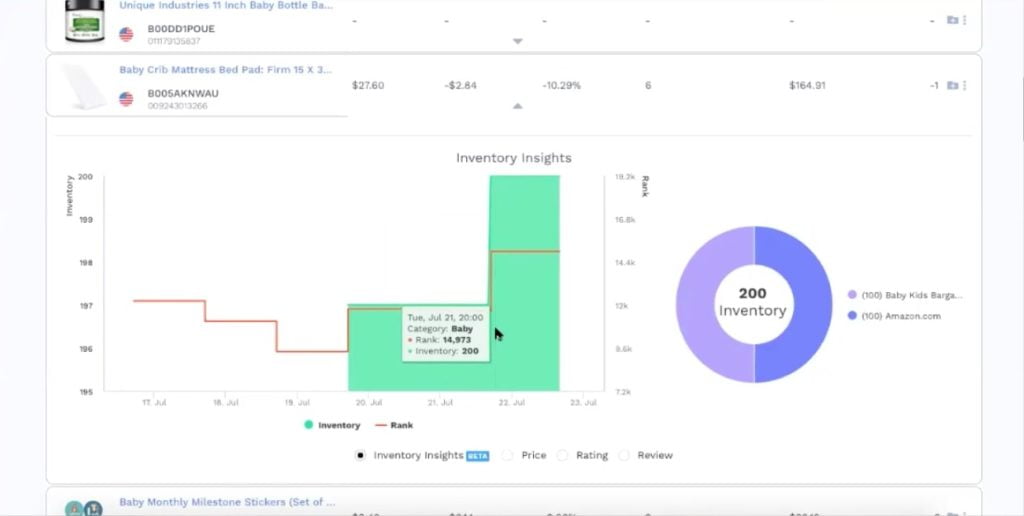 Sellgo offers a bunch of other useful features, such as advanced product filter that helps you to track your competition.
Sellgo marketplaces and pricing
Here are some key points that you might have in mind before signing up for the tool: 1) Sellgo covers only Amazon.com (but plans to expand to other marketplaces as well) 2) When it comes to pricing, they have very straightforward plans available:
Basic plan with unlimited Profit Finder and 50 Product Tracker searches
Pro plan with unlimited Profit Finder an 100 Product Tracker searches
Enterprise with custom Profit Finder and custom Product Tracker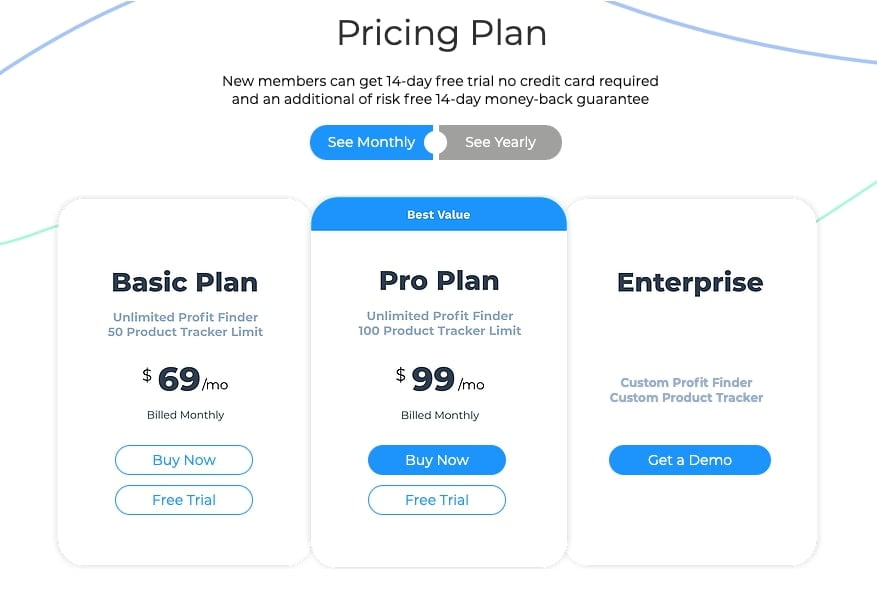 Of course, you get a free 14-day trial (no credit card required) and get constant customer support that is available on the website.