RebatePal is a rebate platform for Amazon, that allows sellers to offer promotional rebates and coupons to thousands of verified Amazon shoppers. RebatePal also integrates with ManyChat to automate the rebate fulfilment process for sellers who want to drive traffic using Facebook ads.
In this blog post, you will find a complete review of RebatePal platform and see the exact steps how to create an automated rebate using ManyChat flows and Facebook ads.
No coupons found.
List of features covered in this video:
00:42 About RebatePal
02:19 Main dashboard
04:05 Creating a rebate campaign
07:02 How long does it take to verify your campaign?
08:10 Why do you need access to the Amazon Seller Account?
09:17 Creating coupon codes
11:56 ManyChat integration
20:36 ManyChat flows
23:22 Asking for reviews
24:40 Blacklists to protect sellers from fraud
27:06 Canceling pending rebates, exporting data
32:02 Manychat Inbox
33:20 Manychat Integration Campaigns
39:30 Setup email contact information
40:22 Other security measures for RebatePal users
43:08 Pricing
43:44 Upcoming features

---
What is RebatePal and how does it help Amazon sellers?
Basically, RebatePal is all about creating automated rebates and promotional coupon campaigns for Amazon. Also, it has an integrated ManyChat feature that allows you to distribute Amazon coupons more evenly using Facebook ads.
RebatePal offers 2 types of services. One of them is a platform with 50k verified Amazon shoppers where you don't need anything about Facebook ads or run any sort of ad spend using PPC. You can take the advantage of it by listing your product on the platform and offering rebates and coupons.
Another is the ManyChat integration that will be explained further in this blog post.

As for now, RebatePal works in the UK and US marketplaces but will expand to all other bigger international marketplaces soon.
RebatePal review
Dashboard
Once you enter the main RebatePal dashboard, you get a quick overview of how your rebate campaigns are performing. You see the number of all rebates sent, your wallet balance, how many coupons have been claimed, and so on.

Creating new campaign
The first thing you need to do right before using RebatePal is to go to MWS Settings and authorize RebatePal as a "New developer" so it has access to your Amazon API.
And now you are ready to go and create your first rebate campaign.
Creating a new rebate campaign within the platform is super easy. All you need to do is to put the ASIN, product name, select a category, price and the price after rebate (discounted price). Besides, you can configure when you want to start this rebate and set the end date for it.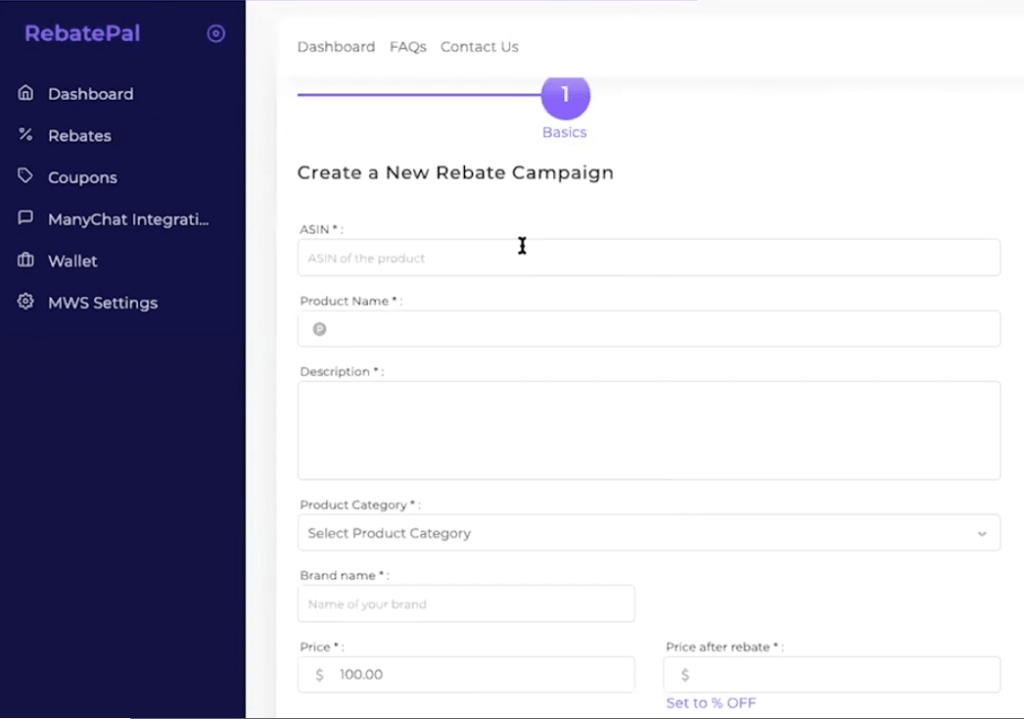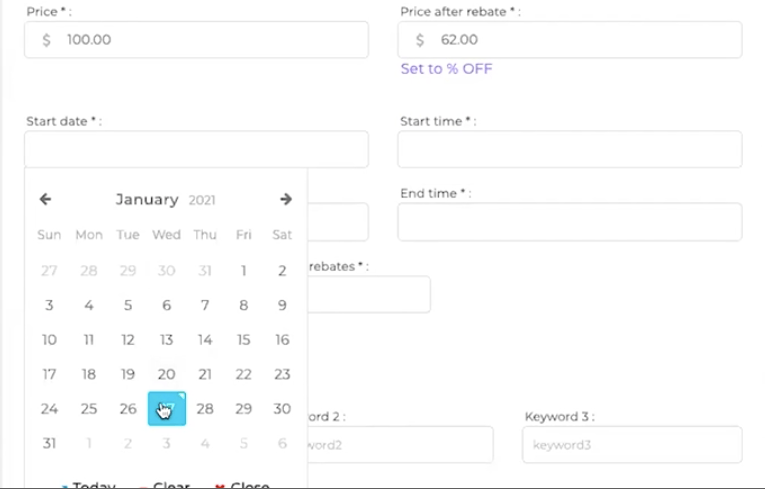 Also, you can set the maximum number of rebates per day and in total so you can control how many rebates you want to be claimed. As you can see from these settings, you have a full control of everything and setting up a campaign is pretty straight-forward.
One more important thing – just before you finish setting it up, you will be asked to choose whether your campaign is private or not. What it means is that if you want to show the rebate only to a certain group of people, for example, by running Facebook ads, and don't want to have it on the RebatePal platform, you can check this box. So basically, only those people with whom you share this URL, will be able to use this rebate.

The second step is funding your wallet. Whenever you create a campaign, you need to add funds to your wallet. To do so, simply click on "Add funds" and fill in your preferred amount. If it's your first time using RebatePal, first you'll need to add your card information.

Don't worry if once you added funds, it will be pending for another 24 hours or so. The reason behind this is RebatePal uses third-party service that verifies your credit card information. And 24 hours verification is just a standard process.
Creating coupons
Creating coupons is the same process as creating a rebate campaign. The only difference here is you need to write down single-use Amazon coupon codes. Below it, there are a couple of options when you want this coupon code to expire, i.e. 1-time use per 1 customer. It's only to protect your listing so customers cannot use one coupon code multiple times.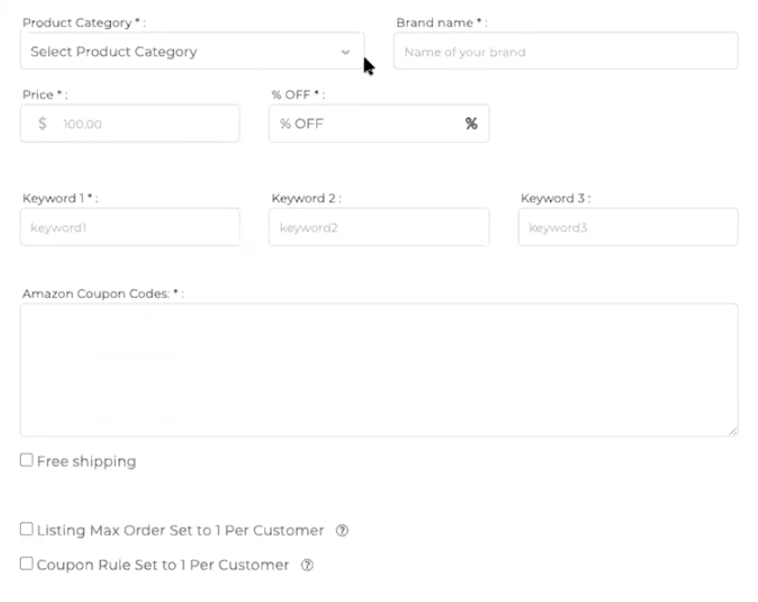 ManyChat integration
Even though you don't know a thing about ManyChat and Facebook ads but still want to take full advantage of using it, RebatePal offers you a perfect solution. It does not require any technical skills and manual work – the templates are already prepared for you to use and everything is automated.
When you go to MCI Campaigns, you can either select to go with Rebate flow or Coupon flow. Both are very simple to set up, similarly to the earlier examples, where you need to write down the ASIN, select the rebate price, total rebates, etc.
Once you filled in the necessary information and added your wallet funds, another step is to import a ManyChat template. For this, you need to have a paid ManyChat account as well.
Once you click on "Import template" button, you'll be redirected to the ManyChat's website where you will need to review the template contents, choose your Facebook page and click "Install" in the last step of the process.

Then go to "Growth tools" and select "New tool". Then search for Facebook ads JSON and click on it.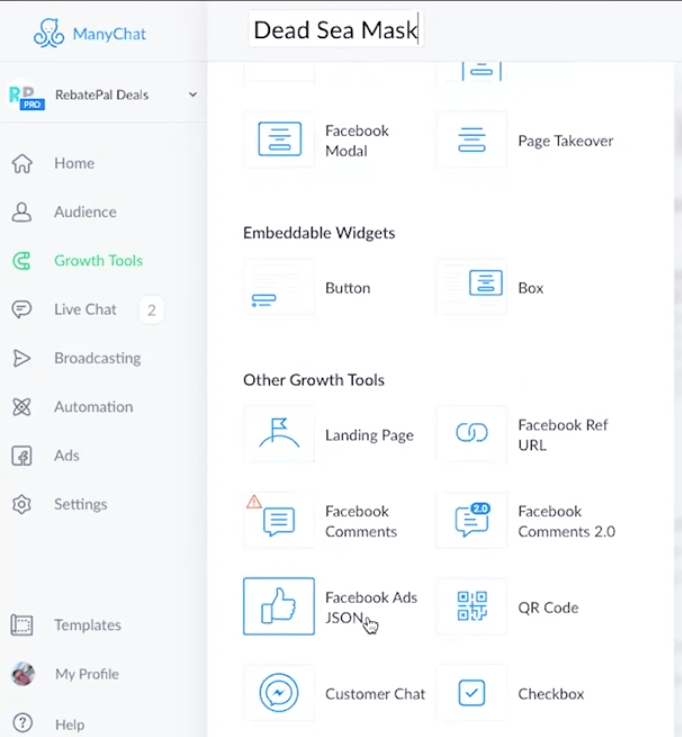 For the "Opt-in flow", click "Replace" and select a template.

So now, once you create your Facebook ads, all you need to do is to copy-paste this JSON code into your ad section.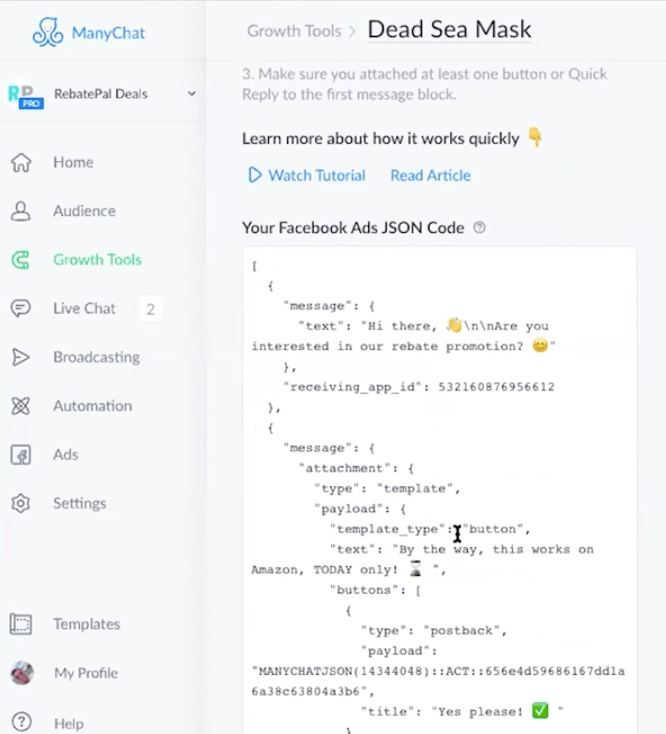 That's basically all you need to do on ManyChat platform directly – only to name your campaign and copy-paste the code. Everything else is done within the RebatePal platform.
Do I need to create a ManyChat flow myself?
No, you don't need to create a new flow from scratch. RebatePal has you covered since they have already prepared templates to use for you. The only thing you can change is the rebate price and other settings that's been already discussed within the platform.
RebatePal's generated flows are pretty standard, starting with a question "Are you interested in this promotion?", then sends the basic information on when a customer will receive a rebate and what other steps to claim it. Also, this flow has a request review message as well which is, by the way, is totally compliant with Amazon ToS.
Protection from rebate scammers
There are many examples when fraud shoppers always request for refunds after 24 hours or try to get multiple rebates. In order to protect sellers from it, RebatePal created a blacklist API that basically exclude these shoppers from the main flow.
Another option to protect yourself is to cancel a rebate before it is claimed. In the main dashboard, you can click on "Rebate sent" box and change the rebate status from "Pending" to "Cancelled" in case you noticed suspicious shoppers.
MCI inbox
It's very likely you'll get a bunch of messages from your customers wanting to learn more about the product or know your brand better. Since chatting on social media can be overwhelming and too distracting, you can answer all inquiries inside the RebatePal platform, using "MCI Inbox" feature.

Pricing
RebatePal starts at $49 USD. The cheapest BETA plan, however, does not have a ManyChat integration nor any other ManyChat-related features.
So we would recommend going with the ALPHA plan for $99 USD that has covered it all – 150 rebates, 500 coupons, unlimited ManyChat campaigns, and much more. If you want to go all-in and have unlimited number of features, you can have OMEGA plan for $299 USD/month.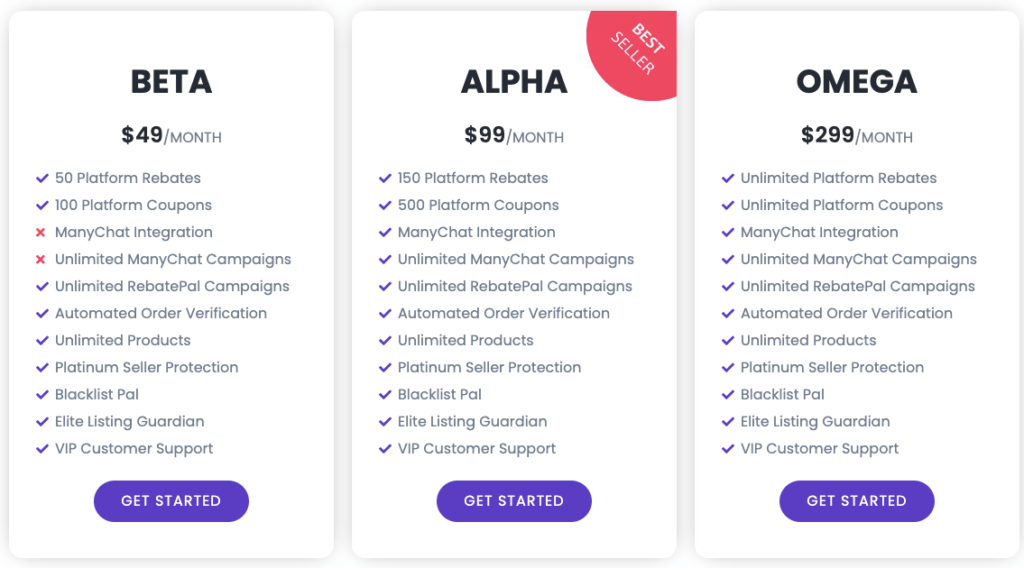 By the way, if you're not sure which plan to go with, you can start your 7-day free trial for only $1 USD. Click here to get access.