Trendle is designed, built and used by a seller community with 10+ years of Amazon selling experience and has all the features you need to grow your Amazon sales and profitability efficiently: from PPC Automation to Profitability Report, Trendle also covers FBA Reimbursements, Reverse ASIN, Split Testing, Inventory Forecasting and much more! As an official Amazon SPN partner, Trendle is the ultimate all-in-one application for Amazon sellers who want a one-stop-shop solution to save time and money.
In this blog post, we show how to use Trendle, a one-stop-shop solution for Amazon FBA sellers. By using Trendle, you have easy access to your inventory management, split testing, and even PPC automation that lets you run advertising campaigns quickly and easily. The tool also offers Amazon FBA reimbursements, reverse ASIN, and keyword ranking features – all of them are also presented in our Demo Mondays episode.
What is Trendle and how does it help Amazon sellers?
Trendle was born out of necessity to manage daily Amazon FBA business tasks that the founders of the tool were facing back in the day. Right now the tool solves the same problems that they had themselves and which are very common among other FBA sellers, such as how money you are making on Amazon, how much you spend on PPC, what products perform better than others, and so on.
Trendle helps to find all the answers to these daily questions as quickly as possible so you can spend your time focusing on your business rather than analyzing the numbers yourself.
The tool is designed only for Amazon FBA sellers and not vendors, although they are working on the integration for vendors as well. Basically, it works for every seller that has an active Seller Central account. It suits every seller's need, no matter the scale of a business. And it covers all Amazon marketplaces as well.
Trendle review
Dashboard
Once you open the dashboard, it gives a clear quick overview of some the most important metrics – new reviews, FBA reimbursements and the number of automatic email campaigns sent. On the right side, you can add your "To do" list so you don't forget your daily tasks.

Reverse ASIN
The reverse ASIN feature will give you information on what keywords your competitors are ranking organically and PPC. It's very powerful as you can find out what top-performing keywords you are missing out in your own Amazon product listing. You don't need to do any market or keyword research that can take hours – just go there and within a few clicks, you have 20-30 top ranking keywords.
Keyword ranking
Keyword ranking shows you where are you ranking for specific keywords. The results shown can clearly indicate whether you are really ranking as best as you can for this keyword or if you're losing sales because the keyword is not performing as well as you thought it would.

FBA reimbursements
Do you know Amazon potentially owes you lots of money? With Trendle, you can get a quick overview of how much money you are entitled to get back. For those, who don't know about Amazon FBA reimbursements, its basically the money that Amazon pays you if they damage or lose your products. And actually, the bigger you are, the more money Amazon owes you. So make sure you are aware of these reimbursements!
Seller feedbacks
It is kind of self-explanatory feature – once you get 1-3 star review, you get notified. You can customize how many recipients you'd like to add so they get notified daily. Once you get a notification, you can immediately start working on improving your customers' experience and learning what might be wrong with your product.
Automatic emails
With this feature, you can create a post-purchase follow up email, saying thanks to your buyers. When preparing those, make sure you comply with Amazon Terms of Services. As with any other feature, you can customize when you want these emails to be sent out, for which specific products or to which customers and so on.
Product cost
Shortly, this feature shows how profitable you can be. Here you can see a selling price for your product, VAT (if you're selling in Europe), unit cost (how much does it cost to produce your product). By having this information, Trendle calculates your estimated profit and profit margin on a specific product.
This feature is especially helpful to keep a good track on what your product price should be since Amazon are changing their fees constantly. By looking at this table, you can see whether or not your product price needs to be changed. Also, you can specify a target profit margin and the tool will tell you what target ACoS you should focus on.
Profitability
It shows how profitable you are across different marketplaces. You will see your revenue split into organic and PPC sales, a breakdown of the fees you need to pay, and, most importantly, you get to see your conversion rates – how many sessions you have and how many of them convert into buyers. It's important because the conversion rate is the most important metric of all – Amazon will rank your product mainly based on it.
Inventory
Here you get to see how your inventory is doing. The information is provided in a very visual way so you can see right away your old inventory that is selling poor. Essentially, if you see a non-green colour, you might want to take a look at what's going on in your inventory. Just hover over each of the colorized parts to see how your inventory is doing. If you have a lot of old stock left, you must decide what to do with it as it adds up to your costs.
Split testing
You must already know how much split testing is important in Amazon business. This feature by Trendle is tailored more towards advanced sellers since a product listing needs a good traction and high number of sessions. These metrics are important because once you change something in your listings, you need to see how conversion rates have changed. And if you don't have much traction going on in your listing, you won't be able to properly evaluate what works and not.
Ads performance
This section is your Amazon PPC dashboard where you can find an overview of how your PPC campaigns are performing. At the top, you instantly see revenue, ads spend, ACOS, CPC, impressions, CTR, clicks, and CR. That's your general ads performance overview worldwide, so if you want to drill down how your ads are performing in specific country, scroll down and click on any campaign listen in the table.
At the same place you can make changes to your campaigns, such as adjusting bids, putting negatives, change to exact, pause, etc. This is an effective way to make small changes to your PPC campaigns.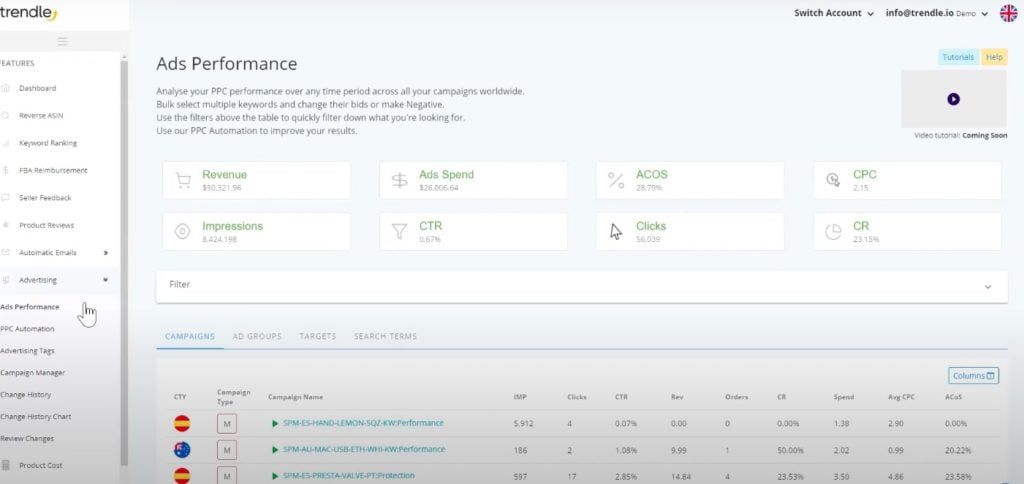 PPC automation
With Trendle's PPC automation feature, you can create automation rules group that means you can apply certain rules to the whole ad group.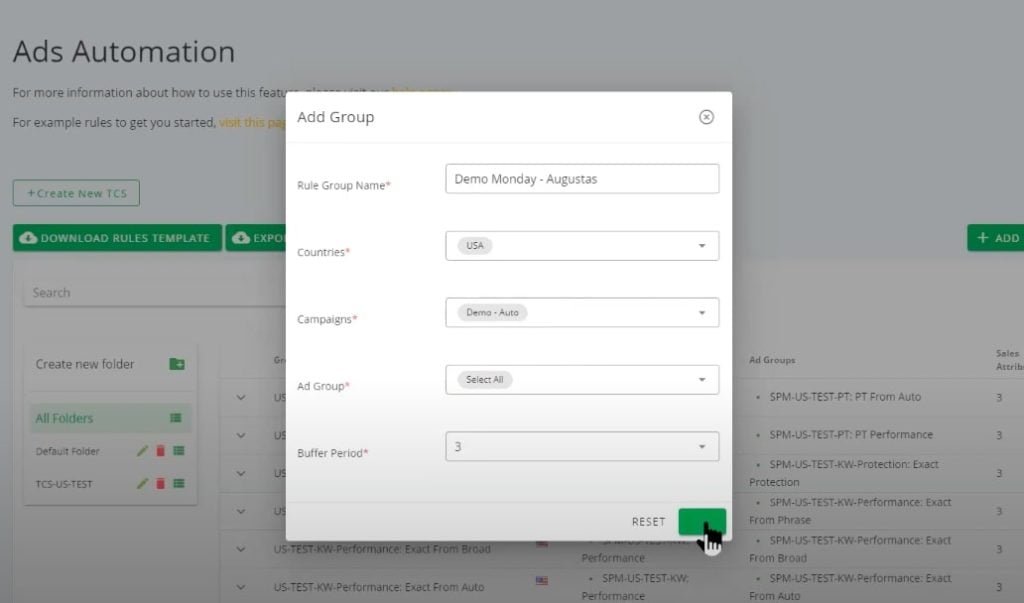 To make it work, you need to set up conditions. It really depends on what type of campaign you want to do, but as an example, let's say you set keywords as a search terms, then add keywords and make a condition that if you had 0 orders after 10 clicks, then you want to make it negative. It's just an example to show how these conditions work.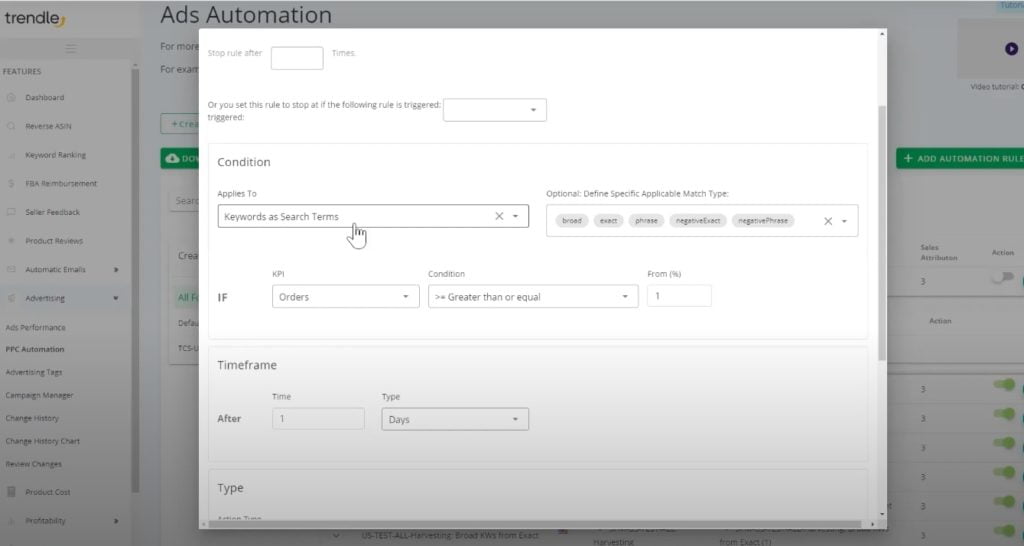 If you have an instant campaign that you want to automate, don't create a new one. Instead, use Trendle and automate your existing campaign by creating these rules. If you need help with learning what rules to set when, check out Trendle's tutorial on automation rules.
There are actually 2 main metrics that indicate how your PPC is doing – it's your margin and conversion rate. No surprise! If you understand these metrics, you can easily understand what you need to adjust in your PPC rules. Again, it's all explained on Trendle's documentation.
Once you have your campaigns ready, just click launch inside of Trendle and it will automatically activate on Amazon.
Pricing and upcoming features
Trendle has very affordable pricing plans. if you are a beginner, you can start by paying only $10/month and it will cover all features as in the pricier plans. The only difference is keyword limitation – for example, with a "Newbie" plan, you have a limited 200 keywords but that's still really plenty. Then the second plan is "Growing" that costs $50/month and "Crushing it" costs $100/month. So it depends on how many sales you have and how much you spend on PPC.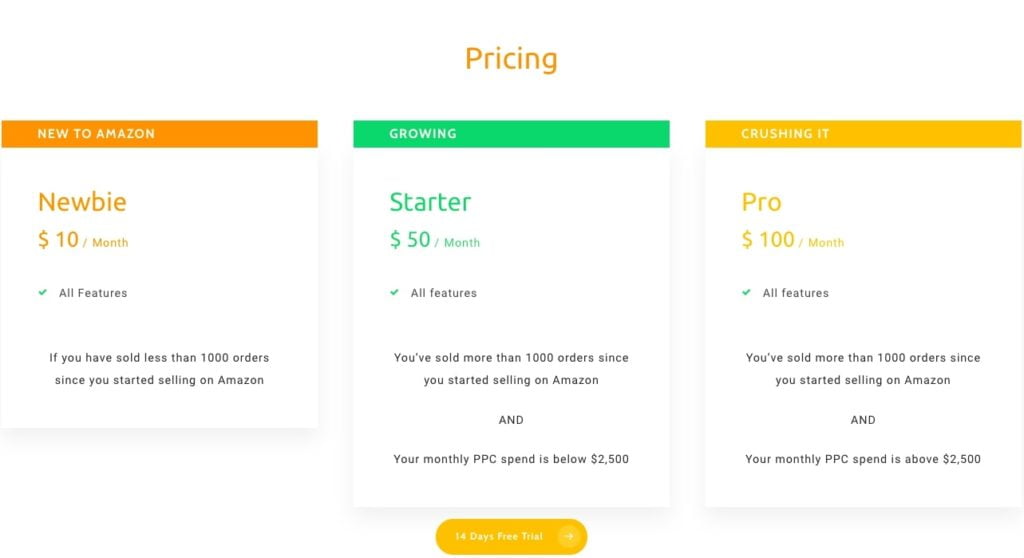 When it comes to upcoming features, Trendle is now focused on improving PPC automation, including placement performance, sponsored brands, sponsored display, sponsored products – they want to automate every aspect of Amazon ads. Another thing – profitability, so sellers can easily understand trends and seasonality, how it affects their sales and how to calculate marketing spend based on this information. What is more, Trendle's team is planning to start working on B2B solutions – on Amazon, you can either sell to customers (B2C) or to business (B2B) which now is booming. They think there's a lot of good opportunities laying for Amazon sellers to exploit this B2B channel.
If you want to start using Trendle, get 75% off 3 months of Trendle with a coupon code ORANGEKLIK. Claim through this affiliate link.