Creating Amazon sponsored brands videos for your product listing is definitely a way to differentiate yourself from competitors. It will not only generate more conversions but also increase your brand awareness.
If you think creating video ads is complicated and time-consuming, here is a solution that will change your mind – this time Joseph La Selva from Perpetua shows us how to use a new Video Creator feature to instantly create appealing and catchy video ads for Amazon listing without video editing software.
List of topics covered in the video:
01:07 Introduction
01:48 What is a sponsored brand video?
03:13 Who can use sponsored brand videos? Is it available for everyone?
04:09 How to create a sponsored brand video in a couple of minutes?
08:18 Are videos made using the Perpetua feature approved by Amazon?
09:03 Are there any testings on how different types of videos work?
10:16 How to upload a video into your listing?
10:46 Why sellers should start using Amazon sponsored brand videos?
11:50 How much does it cost?
12:10 Is the new Perpetua's feature available in European marketplaces?
12:51 A quick overview of Perpetua's website

What is a sponsored brand video?
Sponsored brand videos, formerly known as "Video in Search" is a pay-per-click ad unit offered on Amazon to advertise any of your ASINs with a corresponding video. To understand it better, Joe shows us an actual example of sponsored brand video on Amazon: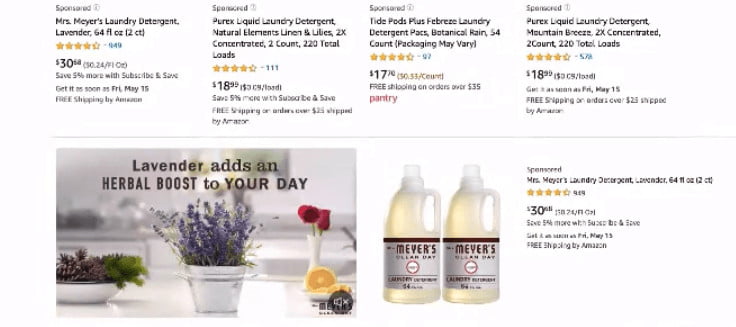 On the left there is a video representing a laundry detergent product followed by product image and description on the right as well.
It has become available to sellers only 6 months ago. However, it had a minimum ad spend attached to it so not anyone could've used this feature. Also, it was only available on mobile but right now we can see the ad placement is improving since we have ads displayed on a desktop version as well.
The only thing though you need to have in order to use video ads is a brand registry. Another important thing is, obviously, having a high-quality video. And here is where Perpetua offers a brand new feature so sellers could create video ads inside the Perpetua app. It means you don't have to be experienced in video making or have a fancy video editing software – everything is available, easy and takes just a couple of moments to have your video ad.
How to instantly create sponsored brands video
Thanks to a new Perpetua's "Sponsored Brands Video Creator" feature, you can now create and set up your video ad jus the same way you would be launching sponsored products or sponsored brand campaigns on the platform. Even if you don't have any video asset, you can still build it from scratch. So let's get into how does it work.
First of all, this is how "Video Creator" actually looks like: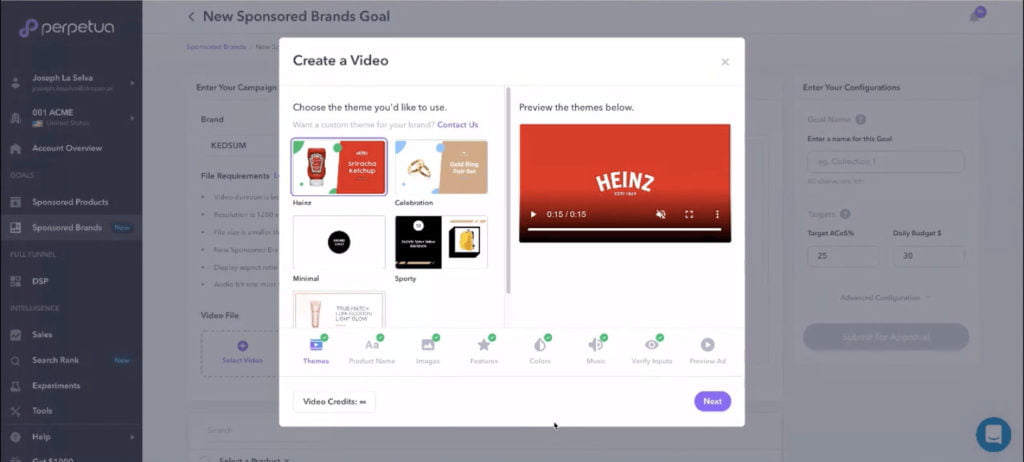 Below there are different options what content you can insert to your video: Product name, images, features, colors, music. The best thing there are already free video themes you can choose from so you don't worry about how to add different effects to your video and so on.
Going step by step, you will be guided what content to use and when it needs to be added. For example, here are some images – product image and logo – that Joe used when creating a sample video: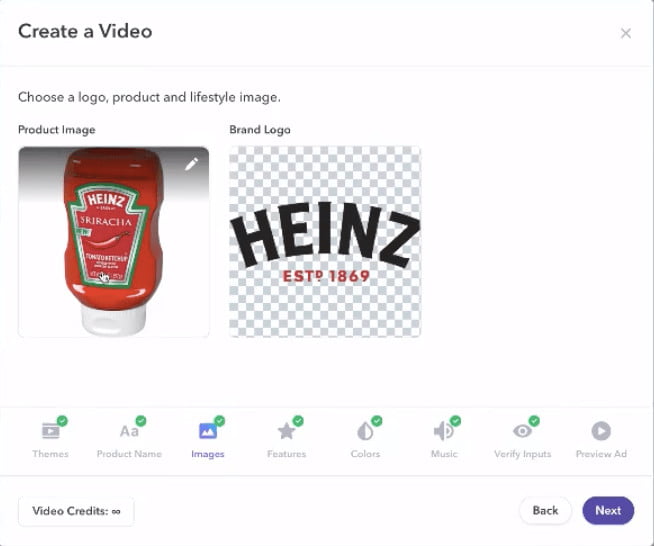 Of course, you would want your video to tell a message why your product is so special. That's why is important to add some keyphrases into "Feature" section so the video represents your product in the best way possible: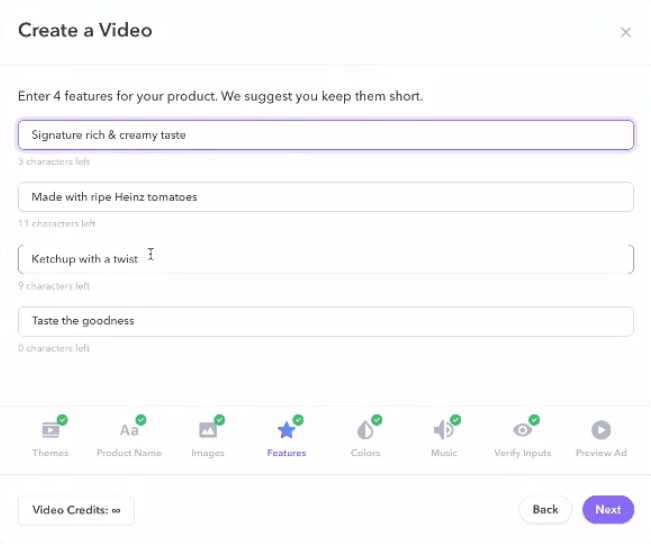 Then you choose your preferred colours, music and that's it! Your video is ready to go. This is how the final result looks like: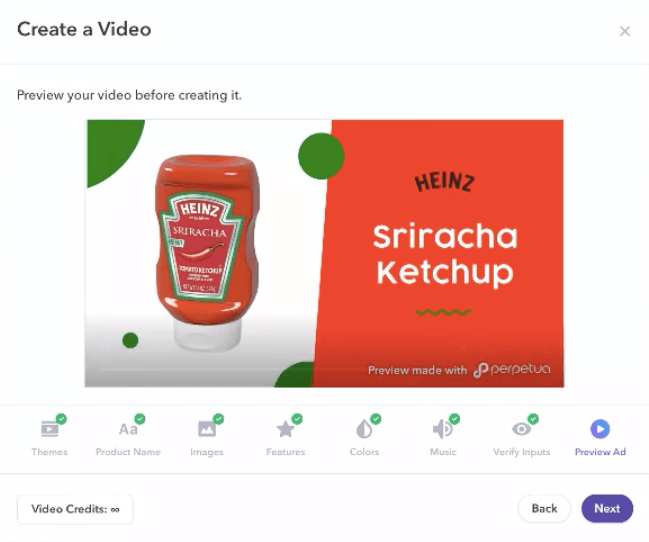 And the best thing is – you don't need to worry whether Amazon will approve or reject your video. Perpetua team made sure all the features are already approved by Amazon and so far there are no issues at all (of course, don't forget since you are using your own product images, it needs to be already approved as well).
The last step is to upload the video into your listing. You can simply do it by clicking the "Next" button. Then everything is the same as creating a regular campaign.
Why is it important to have video ads for your product?
There are few reasons why would you want to start using video ads right away. First, video is an extremely powerful tool in any kind of digital advertising. Over the last 5 years, we saw an incredible growth in video ads on the biggest social platforms, like Facebook and Instagram, and it's very likely to grow on Amazon as well. Second, CPC (cost-per-click) is now relatively low on the ad unit, so it's a perfect timing to advertise your products in different ways, experiment and see what works the best for you. Even if you are a smaller seller, you can still run sponsored brand video ads on Amazon.
Perpetua offers this feature to the US since sponsored brand video ads are only available in this marketplace. In the next few months, it might be already available in the European marketplaces as well, starting with Germany and the UK.
You can learn more in this thorough Perpetua review where we demo how does this tool work for Amazon PPC optimization.
If you want to learn more about this new "Video Creator" tool and create your first video FOR FREE, visit Perpetua website.