Quantify Ninja is an all-in-one tool that provides you with multiple features that every seller should have in order to succeed. By using the tool, you will find dashboard, profits manager, real-time notifications, orders data, RoI calculations, automated emails, keyword optimizer, and many more features to help you manage your data and increase sales.
Most importantly, the tool is suitable for everyone, either you are just a beginner or an advanced-level seller, affordable, and covers all marketplaces.
Quantify Ninja is presented by the founder Yinon Shiryan.
List of features covered in this video:
00:35 Introduction
03:21 What marketplaces does Quantify Ninja cover?
04:15 Showing the sales dashboard
06:40 New feature – profit section
15:00 Alerts to track your competitors
19:25 Setting up automated invoices
21:37 Sending automated messages
30:02 Order and blacklists
32:30 Downloading orders data
35:20 Facebook bot manager
38:05 Creating coupon codes
41:10 Adding multiple accounts inside the app
43:12 Pricing options
46:04 New feature to be released and pilot testing sellers can join


Analyzing sales data
In Amazon Seller Central, you are not able to see all your sales for a specific product – you can only split it to a category or see all products together. If you want to see how many sales you have for each of your products per day, Quantify Ninja's dashboard shows it in a very simple way – you only need to hover over each color that represents different products: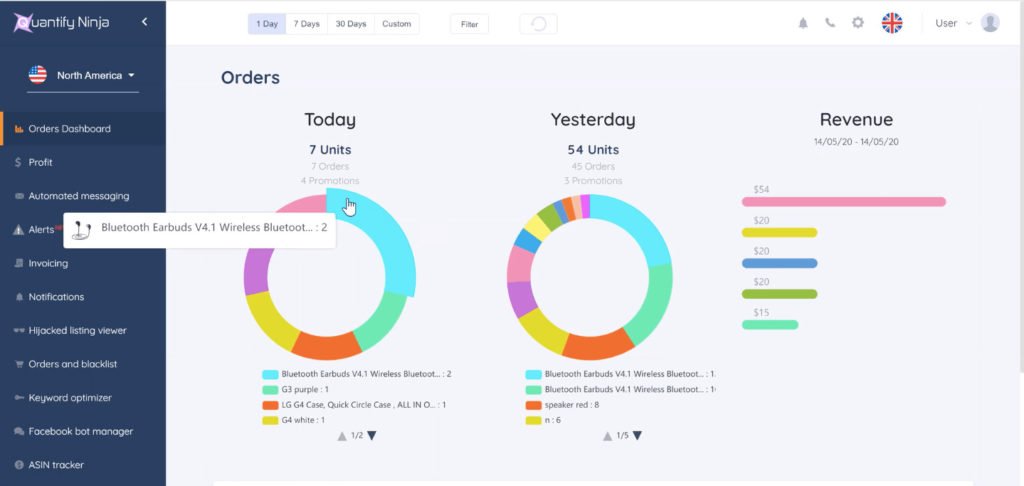 In addition, you can select a specific time period to show how many sales you generated over the last week, month, etc. You can even break your search down to a specific brand, ASIN, or a marketplace you are selling in.
Recently, Quantify Ninja added a new profit feature which allows you to deeply analyze your sales data. In this section, you see your real-time sales, estimated costs, profits, and margin as well as revenue and units sold: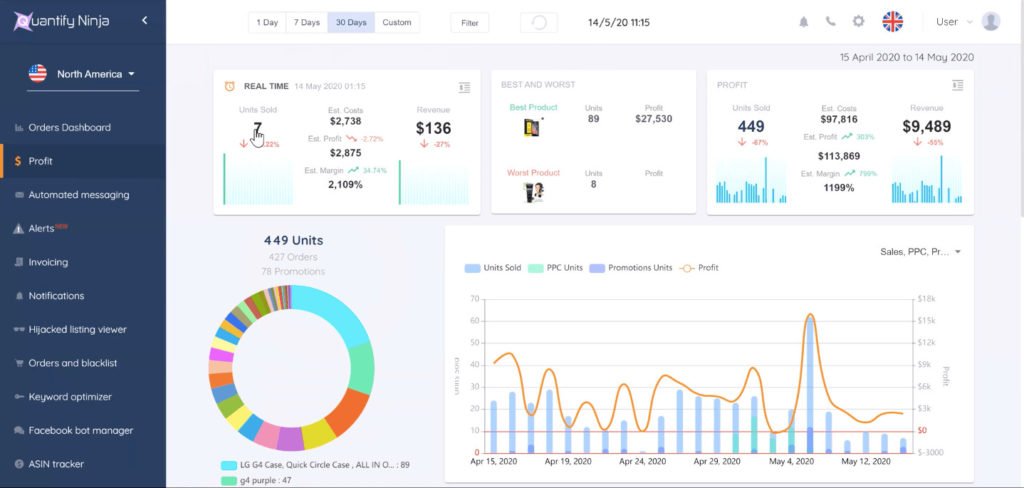 Here you can also see how your sales perform compared to the previous day and how many product units you sold during a specific time period. The most important thing in this section though is a profit breakdown that you can find by clicking the right upper corner of the "Profit" box: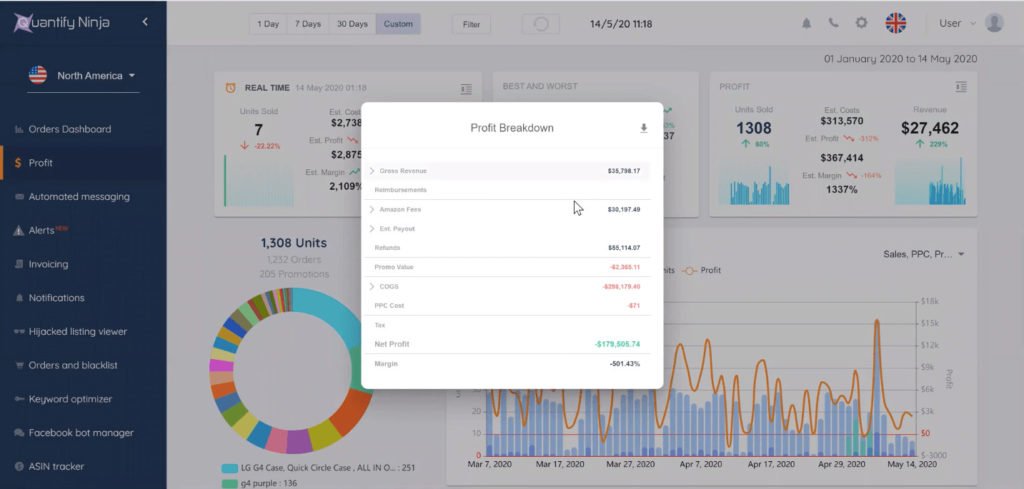 All the information on how the profit is calculated is shown here – gross revenue, reimbursements, Amazon fees, PPC costs, etc. gives you an overview of how your net profit is calculated. You can even break down the information of separate products and see how each of them performed in regards to PPC expenses, sales, revenue, cost, profit, margin and ROI: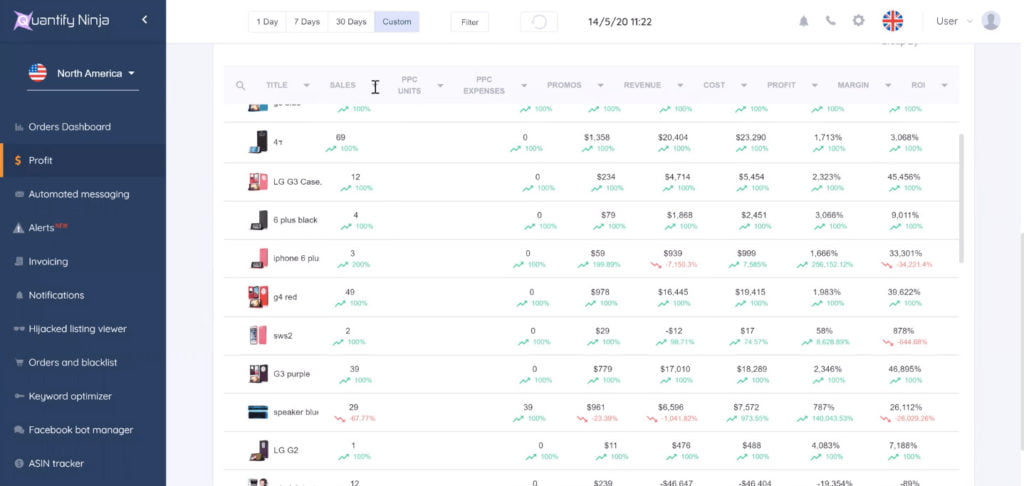 Alerts and notifications
Obviously, if you want to step up in your Amazon business, you need to track what your competitors are doing and get ideas on how to improve your pricing, images and other aspects of the business. As Yinon shares himself, when he was selling on Amazon, he would order products from his competitors just to see how they communicate with their clients and what are their strongest parts that can potentially be used as an example.
"Alerts and Notifications" keeps you up-to-date and notify whenever your competitor product has changed. You can simply add any ASIN that you want to follow – just like in the example below: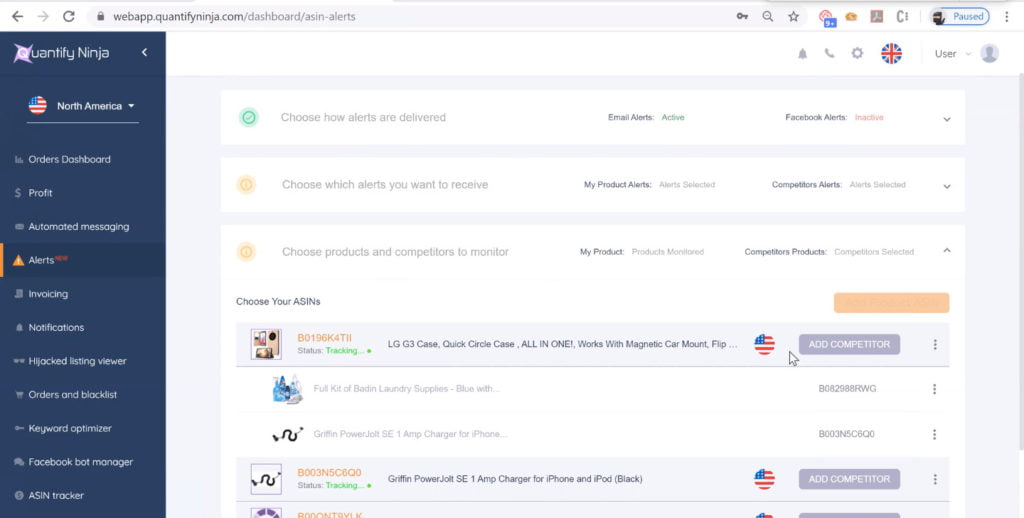 Actually, you can also set alerts on your own products to be notified whenever something on your listing has changed. In this case, Quantify Ninja will send you a notification via email or Facebook Messenger – it's up to you which option is more convenient.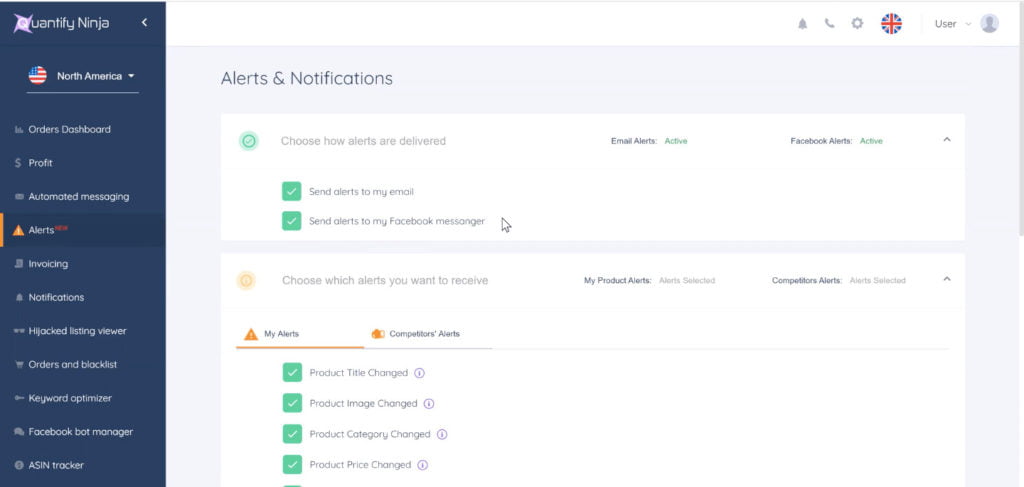 A lot of sellers want to be updated all the time about their real-time sales. This is where the "Notifications" feature comes in – it's not only useful if you want to track your sales but it also points out if something goes wrong, for example, let's say you added a coupon code inside your listing by accident and your sales spiked up. You will most likely find out about it from your notifications.
Automated invoices and messages
Using Quantify Ninja, you can upload you auto-generated invoices directly to Seller Central. Usually, those sellers who sell in European marketplace often need this feature since European customers ask for invoices for their VAT returns. Because of it, this auto-generated invoice feature is available only for European marketplaces.
It's very simple to create your automated invoice – inside the app, you are given the template where you only need to fill out general information and your invoice is set up: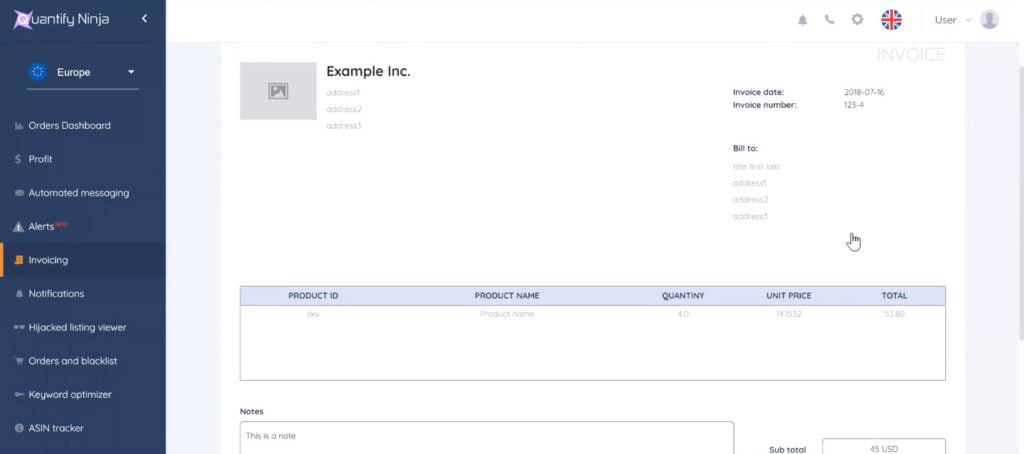 After creating an invoice, you will find it on your invoice list where you can choose which of these you want to automatically upload to your Seller Central: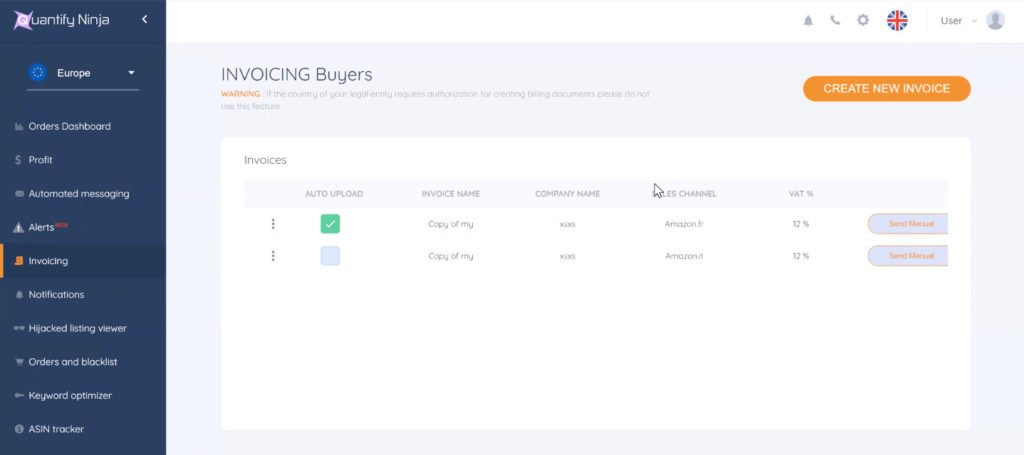 Talking about automated emails and messages, Yinon points out that most of sellers think these are not effective anymore. However, from Yinon's experience, around 30% of emails are still being opened and it's still the best way to get reviews. Quantify Ninja has one of the most advanced automated messaging systems out there, with a possibility to add a short name of your product, meaning you can replace your long product title which is displayed on Amazon to its shorter version (i.e. "Thanks for buying our iPhone Case.") You can also able to add short names for separate marketplaces, translated to that particular language:
Inside the automated messaging feature, you can do A/B testing with different subject lines to see which of your emails works better and send it out to your customers. Do not skip on this feature – doing a proper A/B testing is crucial not only for emails but for your product images, listings, etc. Only in this way, you will learn about where you need to improve and what strategies work better than others.
There are plenty of options how you can configure your automated emails – on the right of the screenshot you can see "Template Options" section where you can choose different options when a specific email needs to be sent: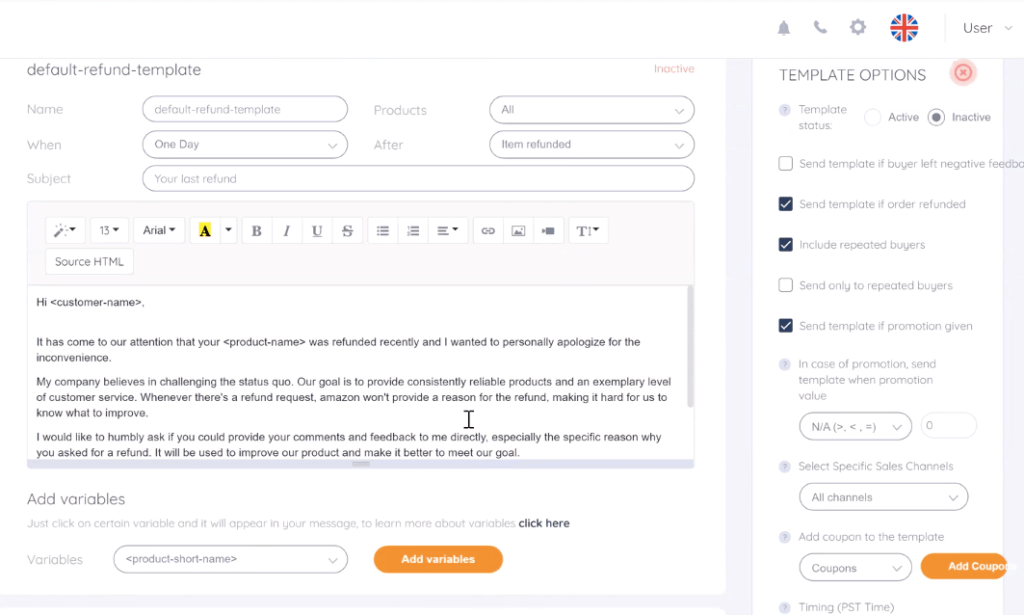 Just keep in mind that your emails should comply with Amazon, meaning you can't ask your customers for positive reviews, send them coupons as compensation and things like that, otherwise you'll get suspended from sending emails forever.
Other useful feature inside the app is Facebook Bot Manager. By using this feature, you can reach out to your customers via Messenger whenever they act on your ad or a specific Facebook post. Actually, setting up your Facebook bot inside Quantify Ninja is quite simple and comprehensive – all you need to do is adding text, different answer options based on customer's reply, and see how does it actually look like at the same time: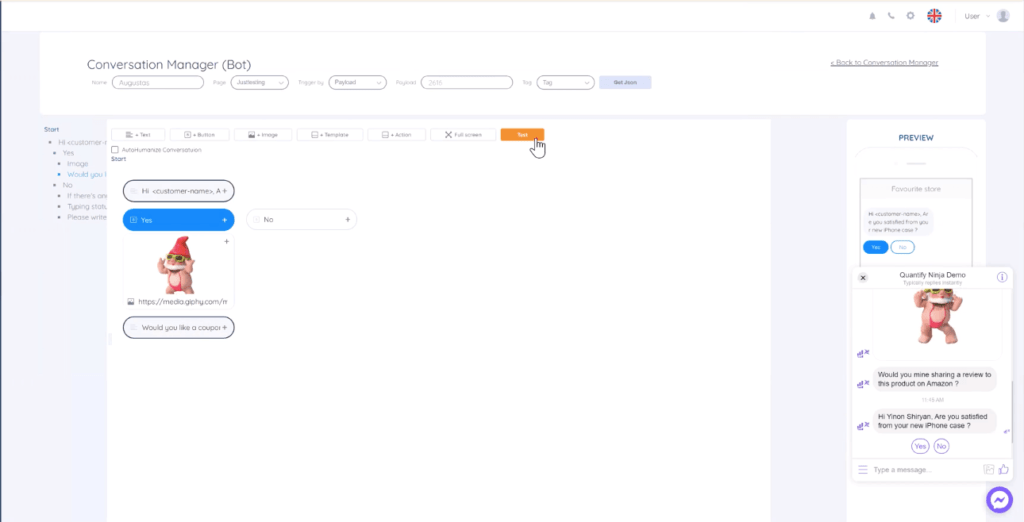 For this, usually, sellers use single-use coupons that can be generated on the "Coupons" section. After interacting with your Facebook bot and asking for a coupon code, people become your subscribers that can be accessible on the "Subscribers" section: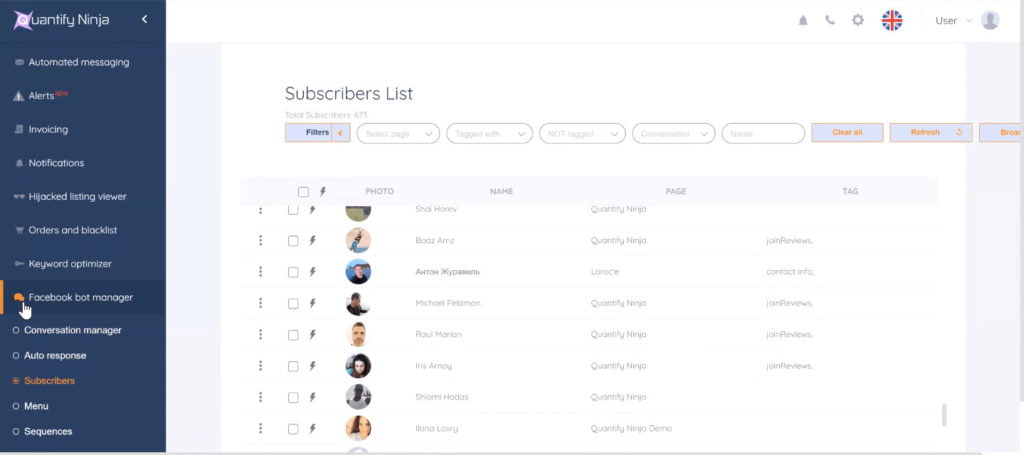 Pricing and future plans
Quantify Ninja has been always known as a very affordable software solution for Amazon sellers. Basically, you can get it from $35 USD for a "Premium Ninja" plan and $55 USD for a "Master Ninja" plan which also includes "Facebook Bot Manager" feature.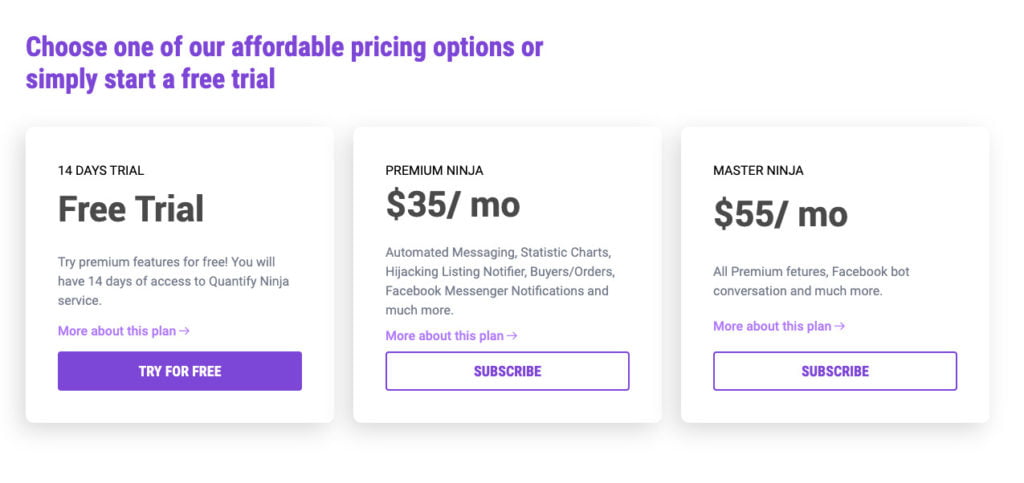 If you want to add multiple marketplaces, it will cost you only $15 USD/monthly per region (remember, region means multiple marketplaces!)
New Quantify Ninja feature to be released
An AI-powered feature that searches the market and finds the best products that you can sell. How does it work? Well, Yinon explains that first of all, they gather information about how many sellers are selling the same product and look at the market revenue. As you can see from the example provided by Yinon, the average revenue increases even though the number of competitors is the same. It means there's is an opportunity to start selling this product because the demand is quite high.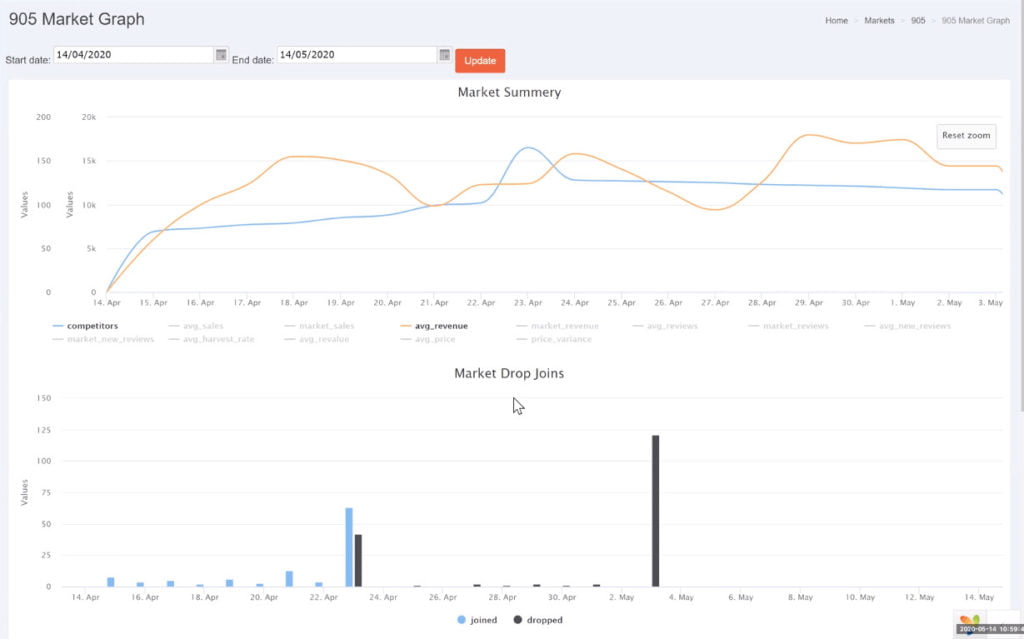 If you are interested to test it out, take a part in the pilot of this new market research feature! Email Yinon at yinon@quantifyninja.com and help Quantify Ninja to develop a brand new feature that will help Amazon sellers to find the most profitable products to sell.