Perpetua is an AI-powered optimization platform for Sponsored Ads on Amazon. Perpetua's Ad engine helps the world's smartest Brands, Media Agencies, and Sellers increase sales, minimize advertising costs and dramatically save time on the minutiae of managing Amazon ads.
With features like keyword and ASIN harvesting, algorithmic bidding, advanced targeting (brand, category, competitor), total sales analytics, and best-in-class mobile apps, Perpetua gives superpowers to anyone who sells on Amazon.
In this blog post, you'll find an in-depth review of Perpetua, including features like sponsored brands video, sponsored product or brand campaign optimization, the newest recommendations feature, and what's coming up soon.
What is Perpetua and who's it for?
Perpetua did a great job creating easy-to-use software to manage and optimize sponsored ads on Amazon. And as everyone knows, sponsored advertising is probably the most scalable, measurable, and effective way to grow one's business, both attributed and organic on Amazon.
The tool covers every marketplace that's available via the Amazon advertising API. So that means all of North America, all of Europe, Japan and Australia.

What's important, Perpetua works with all types of sellers, either they sell one particular product or manage hundreds and thousands of different ASINs. They also work with brands and agencies. So that could be full-service Amazon agencies that manage the end-to-end experience on behalf of their clients. It could also be media agencies that just manage Amazon advertising for their clients.
How does Perpetua work?
Perpetua is a fully AI-powered tool and optimizing Amazon PPC is specifically the type of task it's best suited for. There are simply too many manual tasks that require always-on frequency and the highest level of optimization. So Perpetua kind of gives "superpowers" to anyone that sells on Amazon.
No coupons found.
So with this tool, you start with a goal. From there, you set your target daily budget and set your target ACoS, press launch, and monitor performance in their user-friendly web and mobile app.
How the PPC optimization process looks like
The moment you press launch, we use your historical advertising history to springboard our campaigns. They add the initial campaigns that you don't need to come up with any keywords or bid prices.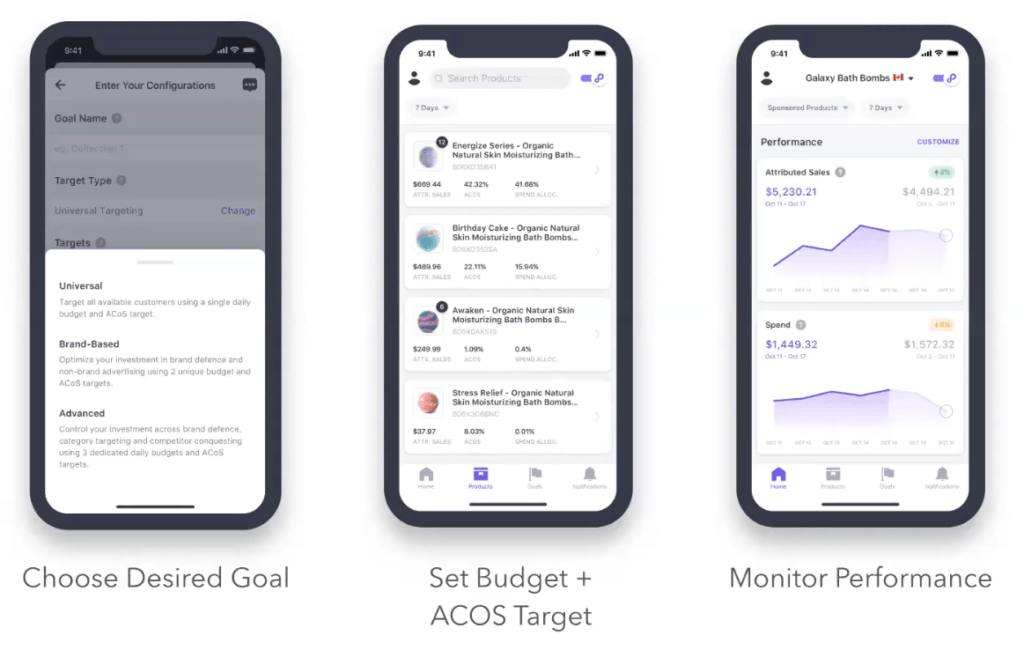 Now Perpetua comes up with all those keywords based on the best of the best of your historical data. They ingest search term reports daily via the Amazon advertising API and inject a new keywords into the campaigns.
If you've given ACoS target, the tool will bid more or less aggressively on existing keywords within the campaign. Perpetua does mash type optimizations on each keyword and algorithmic thinking on keyword and match type combos.
For every single goal that you launch, Perpetua launches an auto campaign, a keyword campaign, and a product targeting campaign. The aggregate budgets of the three campaigns will equal the target daily budget that you've set in their app and they will talk to each other and rebalance amongst themselves based on what's driving sales and efficiency.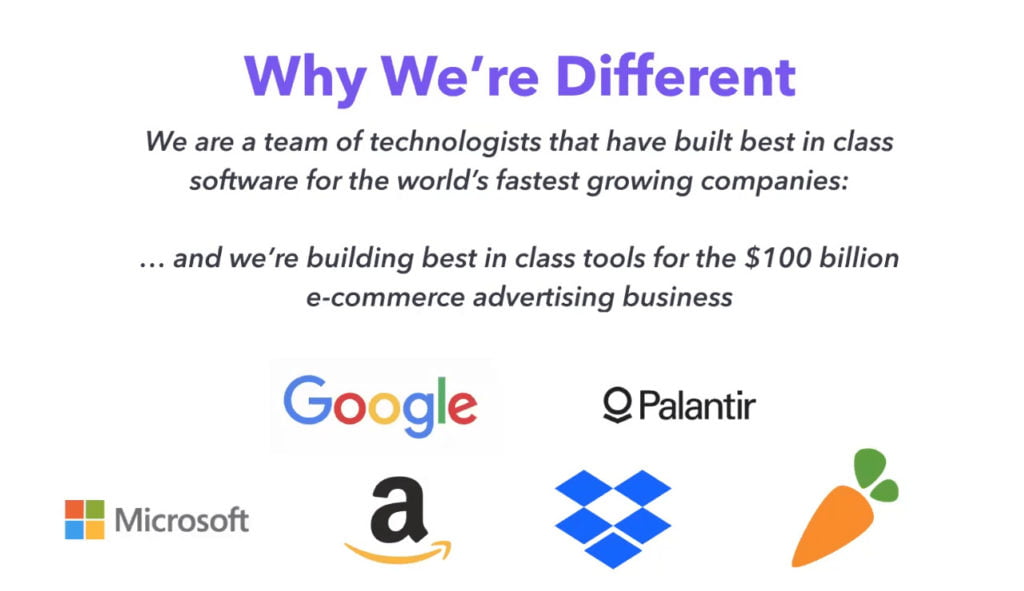 And then finally, Perpetua's predictive models are optimized for total sales, not just attributed sales. And that's a really important concept that they introduce a lot within their features. For example, if you have a branded product, it allows you to set distinct ACoS and budgets based on your granted terms, category terms, and your competitor keywords as well as targets, in case you want to go after competitor, keywords, and ASINs.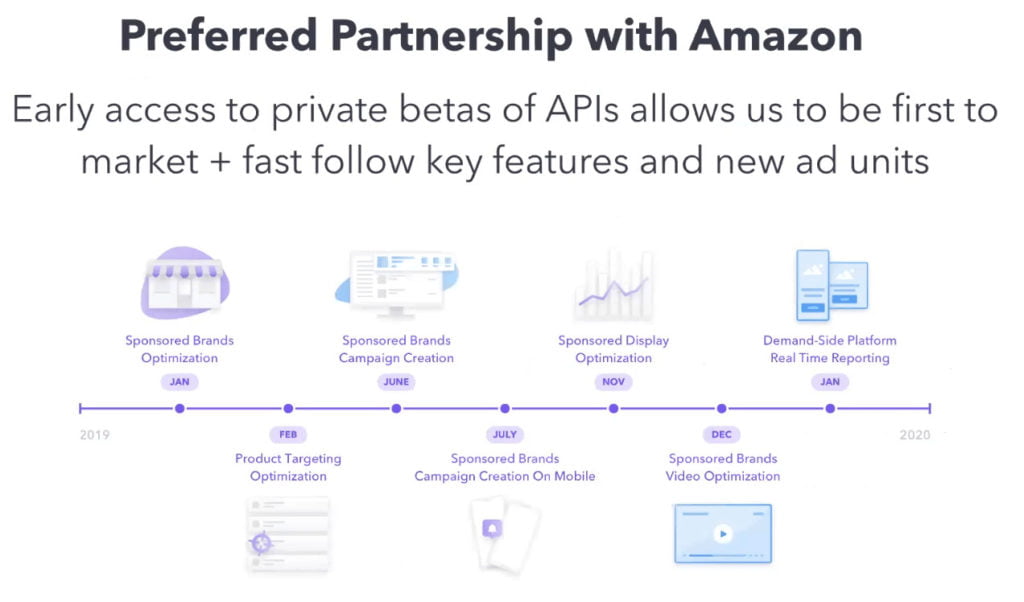 Perpetua's first priority is to be able to ensure that their customers are able to jump onboard all the newest opportunities as quickly as possible.
So, this is an account overview in which you are provided with consolidated performance across both sponsored product and sponsored brand ads.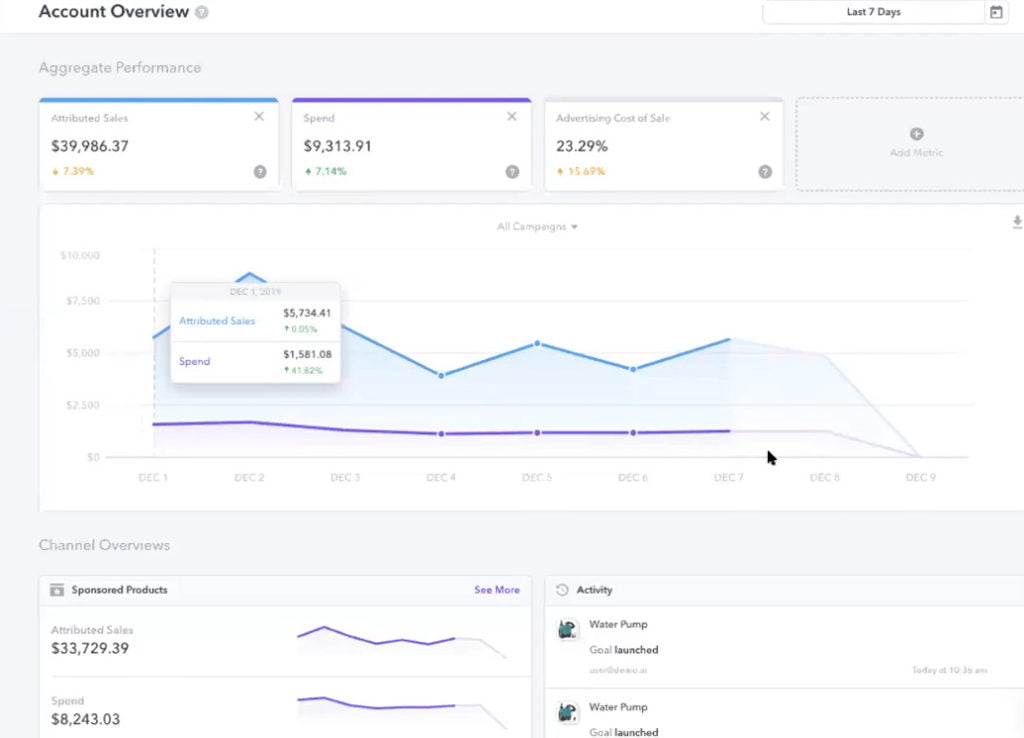 You'll see your aggregate performance here. You can manipulate whatever metric you choose, whether it's impressions, click conversions, cost per click at the account level.
If there are multiple people managing one account, you can keep yourself accountable and know who's doing what on the given account to understand the changes that have taken place. Another cool thing that they offer is annotations on this graph here.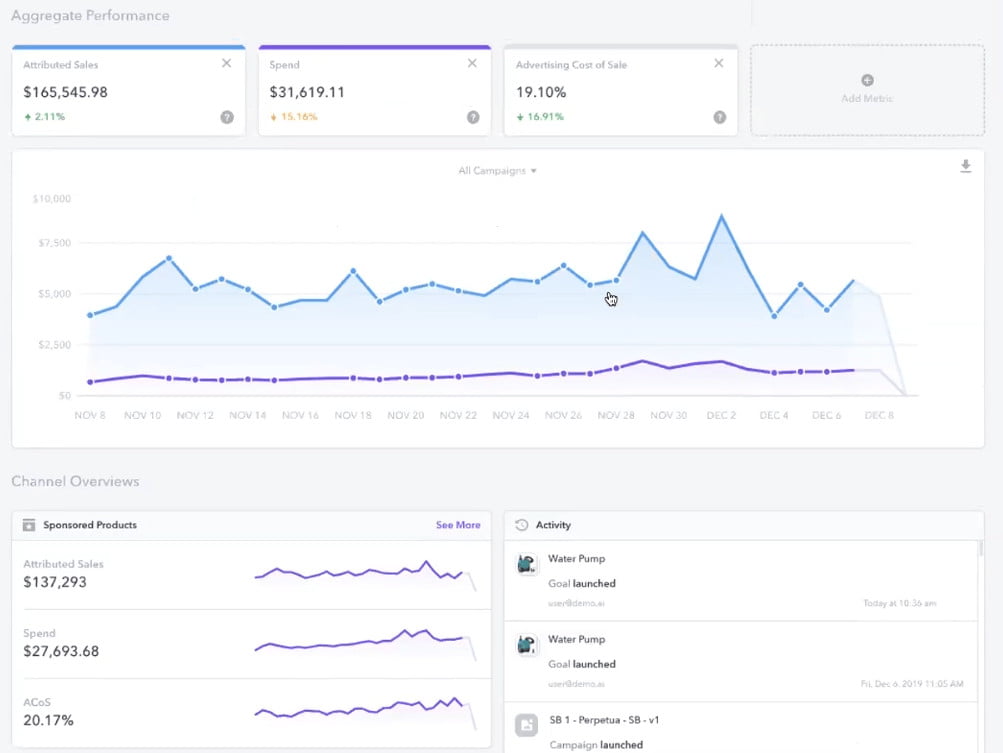 So you can see very quickly the impact that your changes take place on the results of your advertising. Here it shows a campaign launch. But a really helpful example might be you changed your target ACoS from 30% to 50%, and by seeing a very significant corresponding increase in sales and spend, you can identify that change caused that outcome or the business.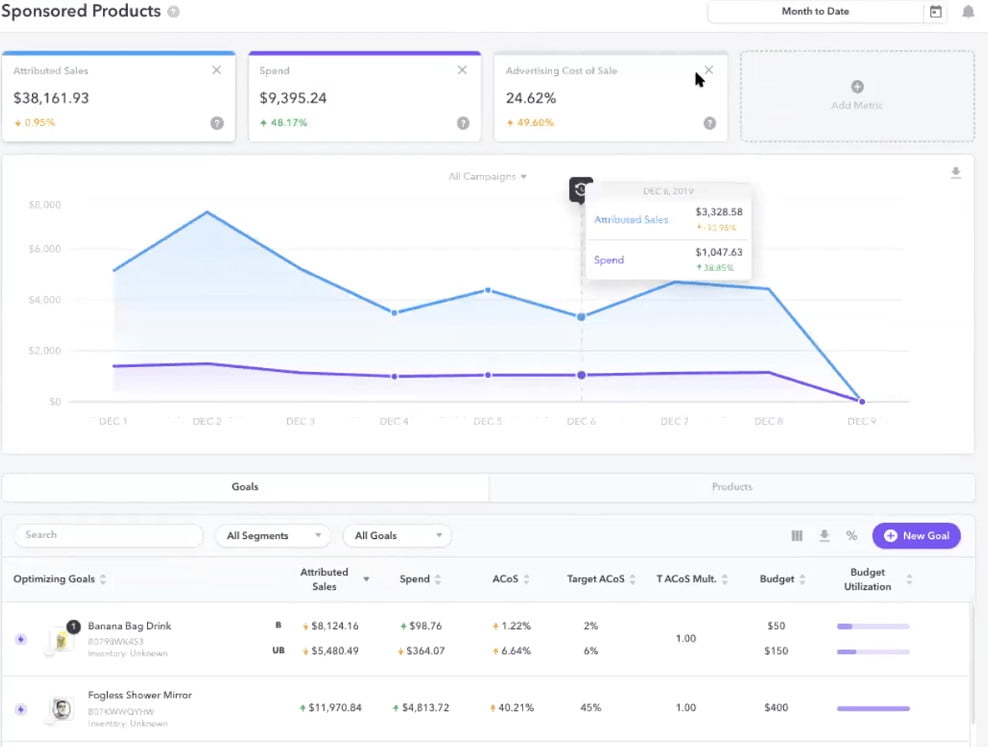 Again, you can manipulate date ranges. If let's say, you want to know the month to date, you can see how you're doing month to date relative to the same period last month. But if you want to look at the 30-day view, you can see how the percentage changes are across the board. Here you only have two goals with specific metrics. But we want to show you the process of launching a new goal and how easy it is.
But all PPC optimization with Perpetua starts with setting different performance goals.
Sponsored product goals
In Perpetua software, when you're managing your ad spend, you don't launch campaigns – you launch goals. Those goals will launch several campaigns for you that will optimize your ad spend.
To set up a new goal for sponsored products, click on "New goal" and you'll be given a list of products that you are not yet optimizing on Perpetua. If there are products that share 70% of keywords, you would want to add these into the same goal.
So select the product(s) you're going to do universal targeting first. Universal targeting allows you to set a simple target ACoS and budget for all keywords and ASINs you're going to bid on.
By setting this up, the goal will automatically launch 3 PPC campaigns:
Auto campaign
Keyword campaign
ASIN targeting campaign
Every single day it will automatically update your bid price and optimize your ad spend so you don't need to do anything yourself. The only thing you are in control with is when it comes to specifying your daily budget and target ACoS.
That's the simplest way of creating a new product goal.
However, if you want more advanced configurations, we offer brand-based targeting. With brand-based targeting, you can select a separate target ACoS and budget for branded and unbranded keywords. That means you can spend less money on your branded keywords in case people will search for your products by typing your brand name.
So in conclusion, for branded keywords, you can set 10% ACoS and a $25 daily budget while for unbranded ones you want to increase it a bit and set 25% ACoS and a $100 daily budget.
And then advanced targeting would be distinct ACoS and budget targets for brand category and competitor if you want to be super aggressive and going after your competitor ad spend. This way you can identify a target ACoS and a budget for competitor branded keywords. For example, 60% ACoS and $30 a day.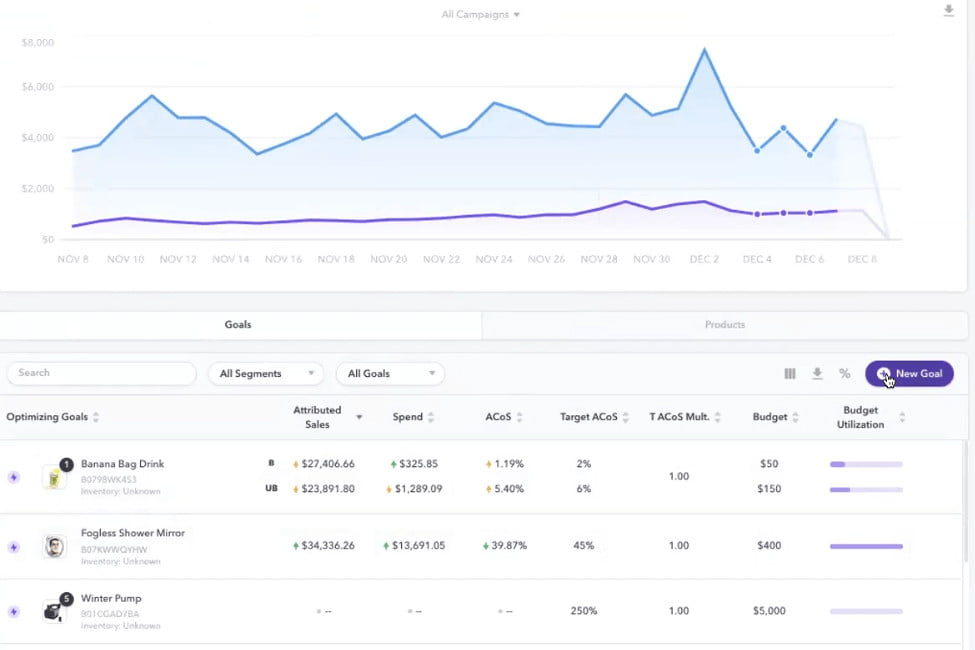 A lot of Perpetua's customers also say: "Oh, like if I'm watching new campaigns then how am I going to get my sales velocity up?" Perpetua found that the 48-hour transition is the best way to do so.
And now the goal has been launched and will start to generate data within Amazon shortly thereafter.
And additionally you can change your budget as well. Let's say your budget is $400 but you could spend $456,37, you might want to change it to $500, given that you're below the ACoS target and been performing really well. But before doing that, maybe it's best to do a deep dive into this product to see what's driving all the sales and what's the cause of that.
One of the cool things that they offer is Bestseller rank. You can see your bestseller rank overtime on a given product.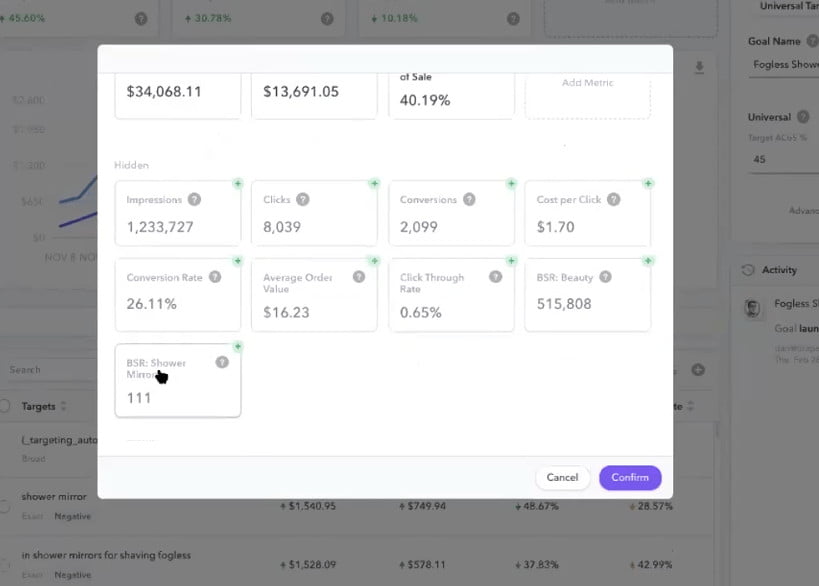 You can also see your attributed sales ACoS and how that's been performing over time and at spending attributed sales against each other. And then you can see here in the metrics specifically what's been driving that amount of sales.
And if you wanted to do a deep dive into a specific keyword, you can see exactly how that has been performing. So you can see the search query that's led these types of sales.
Additionally, a cool thing is their ad engine bid price changes over time. So you can see that bid price changes as cost per click changes. And you can see these day-to-day fluctuations and bid price, a really good example that a human could just never change current bid prices on such a frequent basis because there's just too much data to uncover.
Sponsored brand goals
Let's go to sponsored brand goals. They operate very, very similar to sponsored product goals. So you can do a deep dive or preview into exactly what's going on.
Let's pick 3 ASINs that we want to show up and set targeting ACoS to be 50% and the target Daily budget to be $200 and then press "Launch". And so we just launched a sponsored brand ad. So anyone that's launched one of those on Amazon knows it can be a little bit of a time-consuming and painful process. So that's a really, really easy way to launch a sponsor brand ad.
In this case, we can manipulate certain metrics as well. So if we want to see the click-through rate, average order, order value, conversion rate, cost per click, we can see the products that were being advertised in the copy that we have.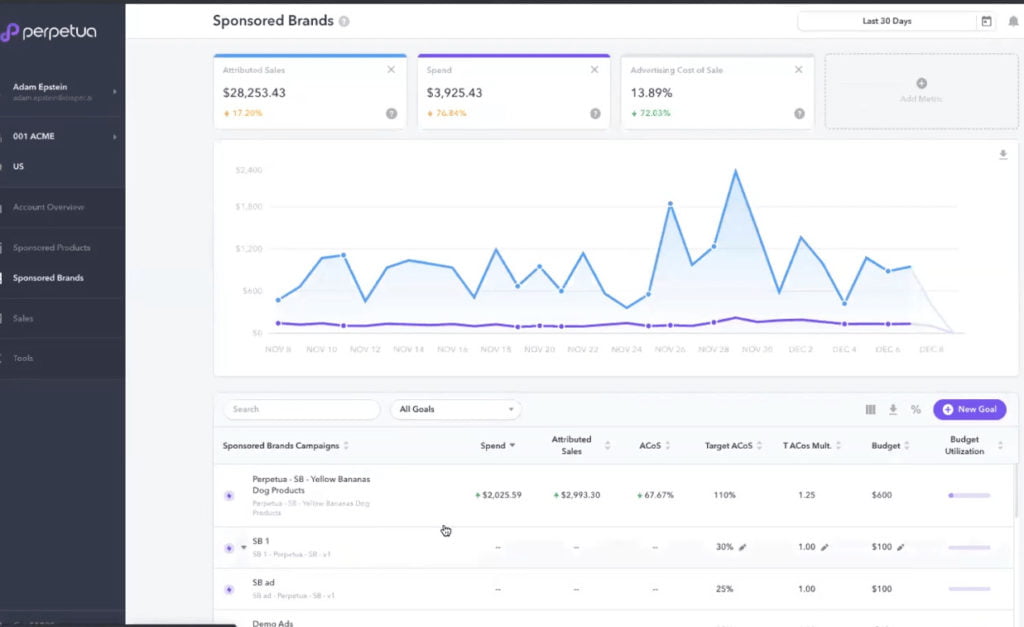 And then again, you can see the keyword performance on the sponsored brand ad as well. Those are sponsored brand ads. And then finally we have our total Sales analytics.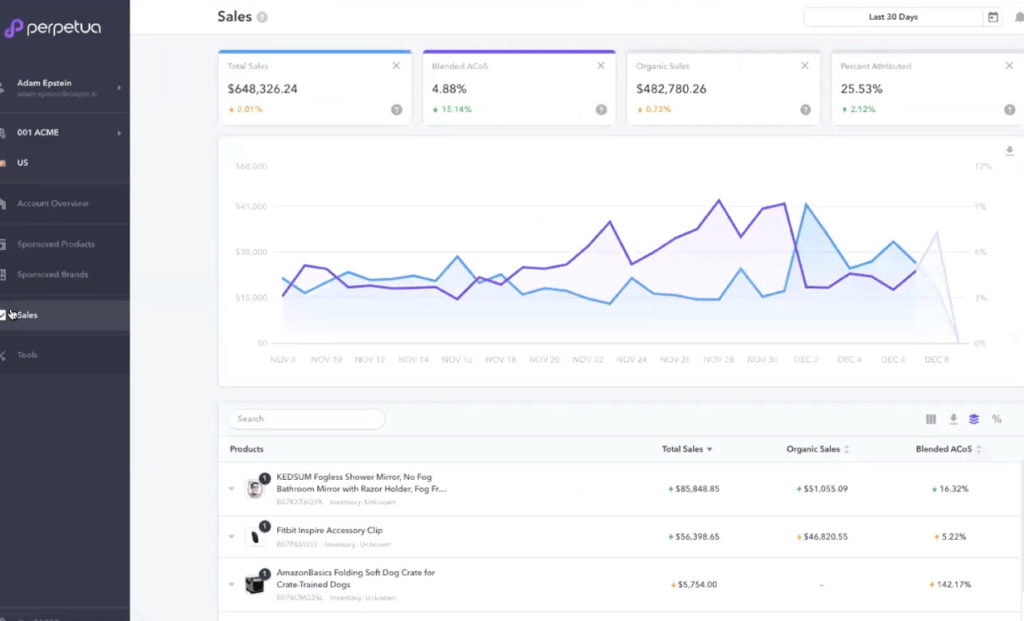 It's really important to look at your total sales and the interplay between attributed and organic to understand the impact of Amazon advertising.
So here you can see your total sales. We have our Blended ACoS, being ACoS over total sales, not just over attributed sales. And we can go deeper into specific products because it's tough to understand the impact of advertising if you're looking at several accounts at once. So you know in these instances that if your attributed sales are going up and organic sales are going up at a disproportionately higher amounts, you know that advertising is working and should probably be throwing more money at that.
But if your attributed sales are going up and organic sales are going down, meaning your advertising might be cannibalizing your organic ranking, or you might just need to retweak your advertising strategy. And Blended ACoS is a really good sign of that.
So if your Blended ACoS is going up, you're not getting enough money off of organic sales and that means that profits are going down. So we want you to understand this metric and retweak your advertising strategy so that you can have both attributed sales and organic sales going up at the same time.
Search term isolation
Search term isolation is sometimes very important when you're running ad spend on Amazon. You don't want to be bidding on the same search terms in 2 different areas.
So with search term isolation, you negative match exact into phrase match groups and phrase match into broad match ad groups, so that you are funneling your ad spend towards exact match keywords.
Let's say you sell coffee and someone types in "organic coffee", you want to bid on that with organic coffee exact match, not coffee phrase match.
Dayparting
Dayparting can be a very useful feature if you have fixed budgets and you want to bid on certain time of the day. In that case, you can build a dayparting schedule.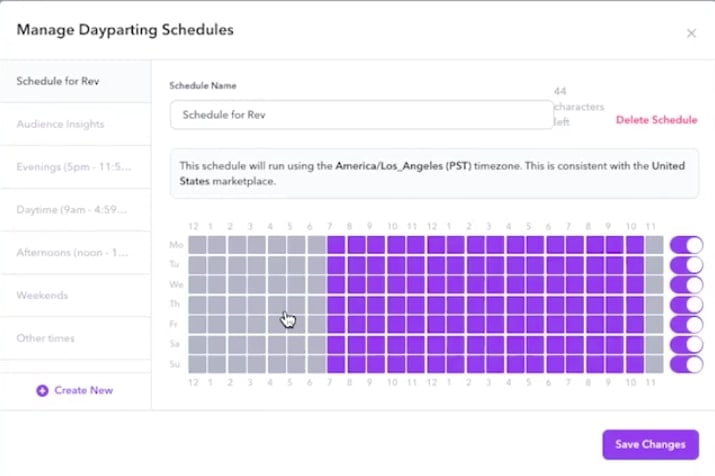 In this schedule, we selected a timeframe from 7 pm to 10 pm, meaning during the rest of the day the bidding will be paused.
Manipulating keyword bid prices
There's a way to manage your ad spend more granularly – it's called manipulating targets. You can do it by using a keyword boost feature.
Keyword boost was built because of the idea that many people want to focus on top of search placement for their most important keywords. And everyone has certain top keywords that they focus on.
You may be setting your target ACoS to 45% but are willing to spend much more money on your main keywords. For this, you want to use a keyword boost that isolates strategic keywords into their own campaign, set a higher target ACoS and apply a higher placement multiplier.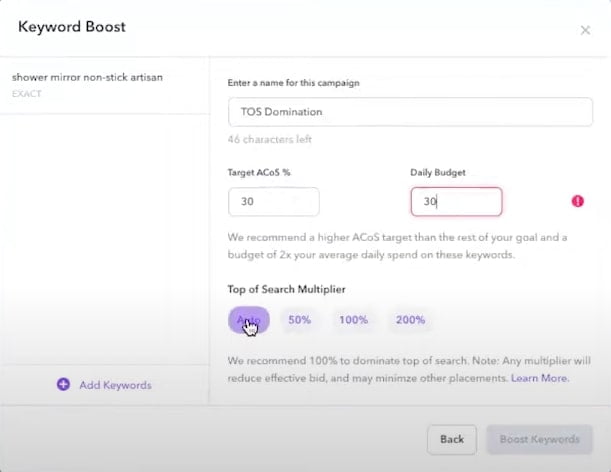 Another way to manage bid prices is bid adjustments. These are very beneficial is you are launching a new product and know which keywords are likely to convert for this product, or you're leading up to a promotional period.
Recommendations
Recommendations is one of the newest feature of Perpetua. With recommendations, you can group your goals together and allow Perpetua's algorithm to give you recommendations on how you can tweak your goals to improve them.
In the strategies tab you create the strategies of what you are actually trying to achieve so the algorithm can use this information to help you do that. There are multiple strategies to create, such as:
Blended ACoS optimization
Organic rank growth optimization
Always-on-budget optimization
BFCM (Black Friday, Cyber Monday) sponsored products performance
Inventory shortage spend deceleration
and others
So these strategies are different and you can use it based on what you want to achieve at a certain point.
Sponsored brand video campaigns
One of the best features that Perpetua has to offer is creating sponsored brand videos without having any video assets at all.
With Perpetua's video creator tool, you can easily set your sponsored brand video campaign and create a video for it at the same time. And it takes just a few moments to do so.
Here's a tutorial on how to do it step-by-step:
Sponsored display ads
Everyone who runs sponsored product ads on Amazon should be also running sponsored display ads. You can see for which sponsored product goals you are currently not running sponsored display ads by selecting opportunities.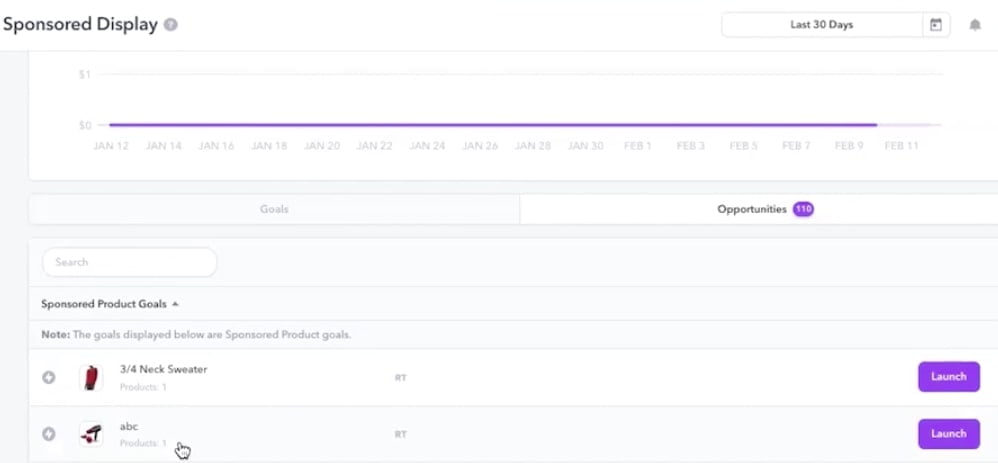 Just select a specific goal from this list, click launch and set target ACoS as well as a daily budget. This is going to bid on specific ASIN pages as well as retargeting.
The really nice thing is that for product targeting, all the ASINs you're already bidding on within product attribution targeting and sponsored products, it will automatically start using those to be bidding on them for sponsored display product targeting and refine the bid price based on your click-through rate, conversion rate, number of impressions, etc.
Amazon DSP
The biggest opportunity for DSP is the fact you can take advantage of all Amazon's first party data on how people behave and target them all over the internet to get them on your product page.
So with sponsored product ads, you are trying to get people who are already buying on Amazon and with Amazon DSP, you can build audiences outside Amazon.
So let's say you want to target people who clicked on your competitor's listing and but haven't bough anything in 6 months or watched this particular show on Prime video. You can use all of this data to drive them to your listing.
Perpetua now allows you to set goals for Amazon DSP the same way you would launch goals for sponsored products or brands. When launching DSP, you can actually select audiences and these are broken down into 3 categories: 1) Top of the funnel 2) Middle of the funnel, 3) Bottom of the funnel. Sponsored advertising is all bottom of the funnel.
Anyway, you can target people who watched your competitor's listing, clicked on your product but didn't buy it, or previously bought something from you. There are a lot of ways of how you can target these people.
As of now, Amazon DSP is not widely used. However, there are a lot of opportunities there so you might want to be an early adopter when it comes to DSP.
Google Ads beta
Assuming most of your sales are coming from Amazon itself, you would want to drive traffic from outside the platform. One thing that you can do is to run Google search ads. Until now, there was no way to actually track how your ads are performing. That all changed when Amazon introduced attribution beta that allows you to see exactly how people behave on Google ads and how does it impact their buying decision.
Right on Perpetua platform, you can build a Google search ad that drives traffic either to a specific product page or your brand store. It will automatically build those attribution tags for you, put them in, and so you can see very easily how much you are spending on Google ads and how much it's driving to your sales.
There is also a separate video on Amazon attribution we did with Perpetua.
Capital page
You can grow your Amazon business funding by applying for working capital through Perpetua. Actually, you can get same-day approvals for loans up to $5 mln. USD. The application process is very simple as well.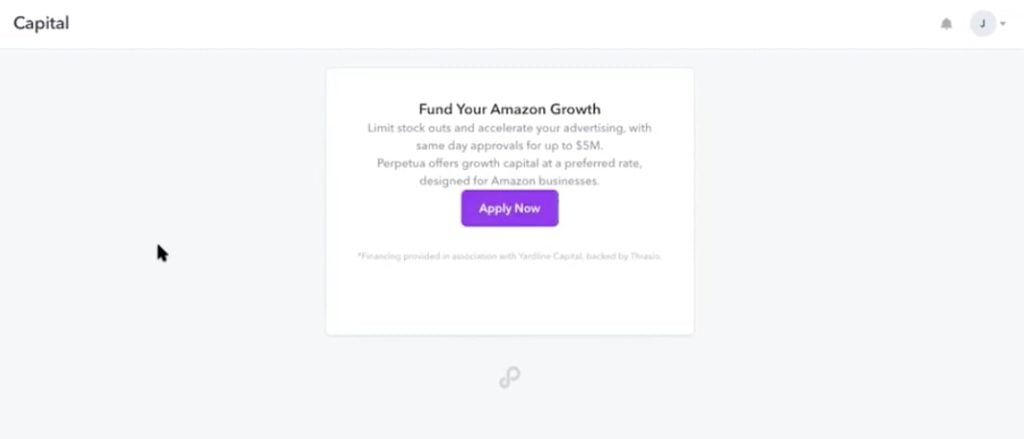 Segments reporting
Another cool thing is Segments reporting. It's good to know how much of your spend is coming from your category or competitor keywords in ASINs. As an example, our category keywords in ASINs are going to be "shower mirror".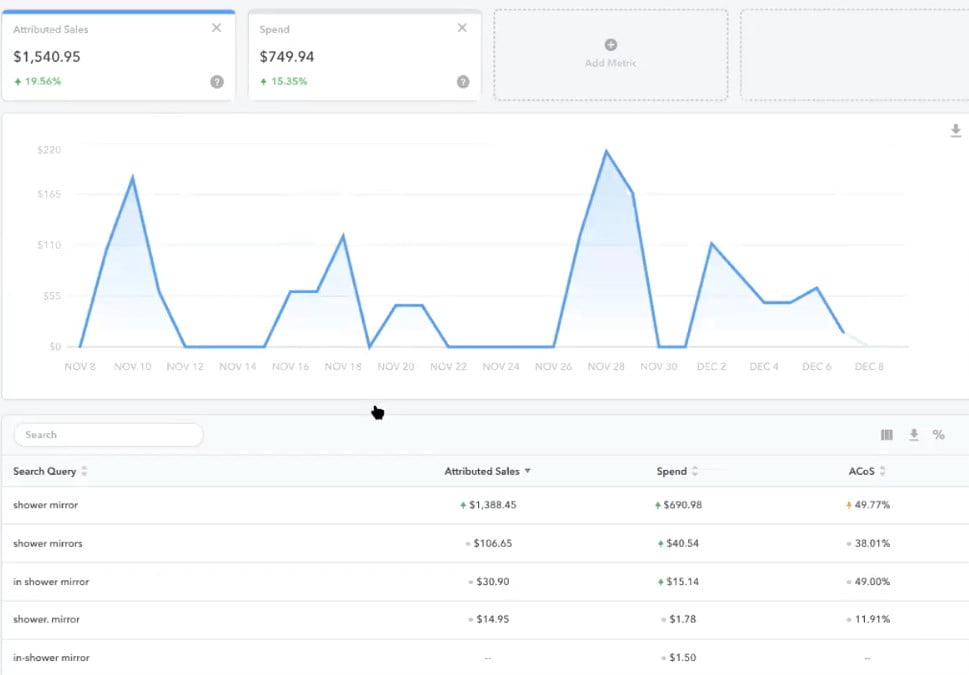 If people are searching for one of your competitors' products and they come to buy your product, that isn't something that they were going to do intentionally. And there's also a nice aspect of everyone wants to dominate their competitors on Amazon. So that segment reporting is really powerful reporting that we can encourage all of you to guide their ad strategy with.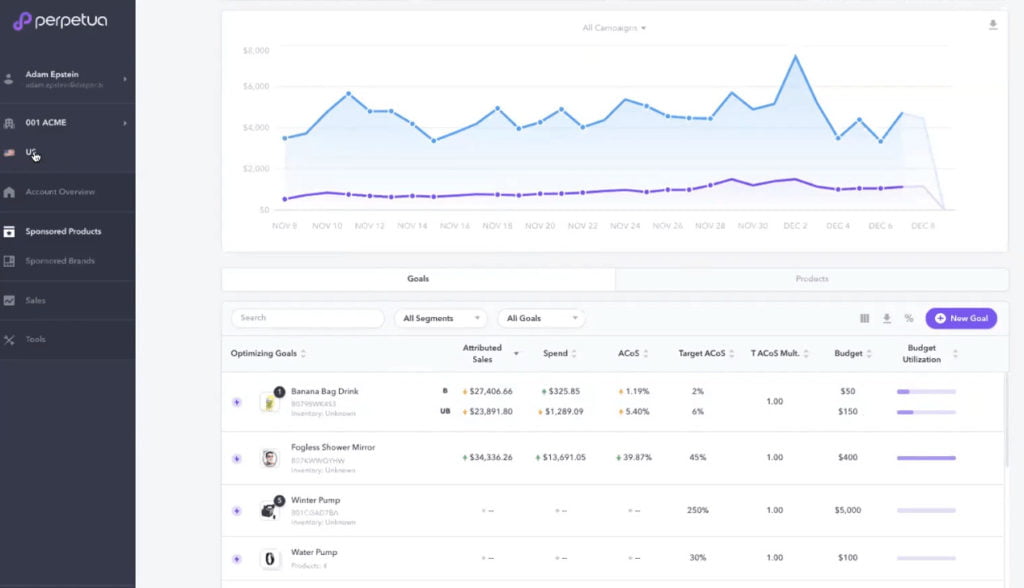 As you can see here, the "Banana Bag Drink" is a branded and unbranded goal. So we want to have a distinct ACoS and budget on the branded terms and the unbranded terms. Going after your branded terms on advertising might cannibalize your organic rank, so it's not a good way to lead to profits.
So here we want to have a distinct ACoS. Our ACoS is 2% on our brand and the real ACoS is 1%, our budget is lower because we don't want to spend too much on the branded terms. And you can see that we want to be a little bit more aggressive on our unbranded targets, so 6% on unbranded, and real ACoS is 5% and then we want to be spending almost $150 on our unbranded targets because this is the type of stuff that's going to lead to true incremental sales growth.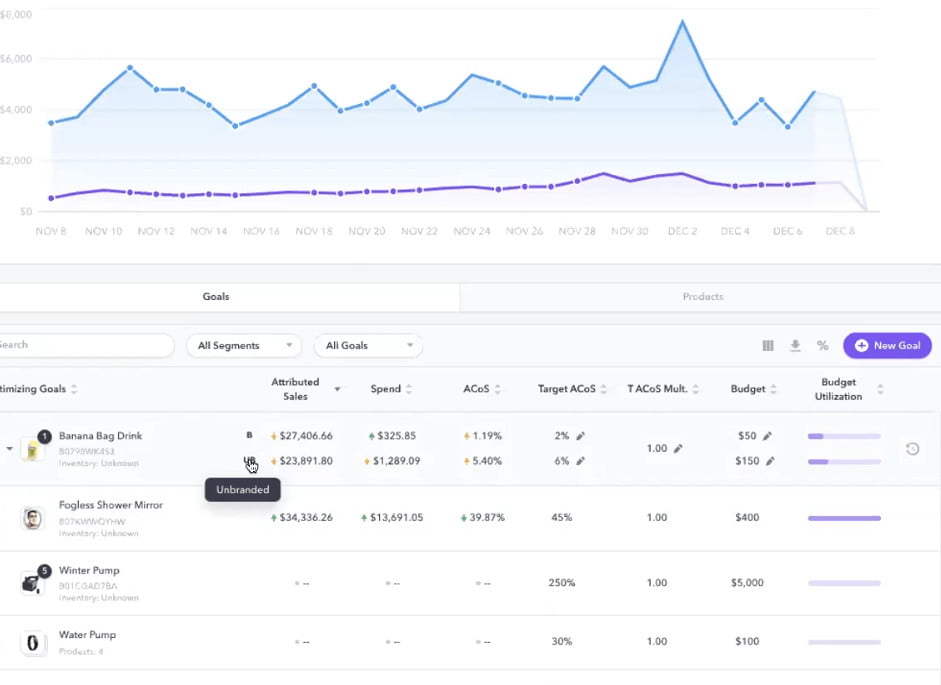 Here you can change your branded phrases. You can very easily add those to the campaign and update the goal in case you realize that you haven't had a new brand phrase before, and you want to add to that. And then you can see here that you can change your ACoS and budget target very quickly based on that as well.
Pricing
Perpetua offers a few different pricing tiers.
For example, if you do <$500 in monthly ad spend, you're good to go with the cheapest plan that would be enough to cover your needs. The price is getting up accordingly how much ad spend you make per month.
If it's in between 5k and 10k, it's $500 a month. If it's over $500, you get $500 2.5% of ad spend.
And if it's over 100k, then Perpetua provides an additional level of support. Anything over $5,000 a month in ad spend, you get a dedicated data strategist that will set up quarterly calls and on-boarded calls to make sure you're set for success.
Perpetua really makes an effort to over-educate and over-communicate with their clients at the outset, so they'd become an expert in using their product and can leverage all of the strategic collaborators within it that drive the most amount of sales on Amazon.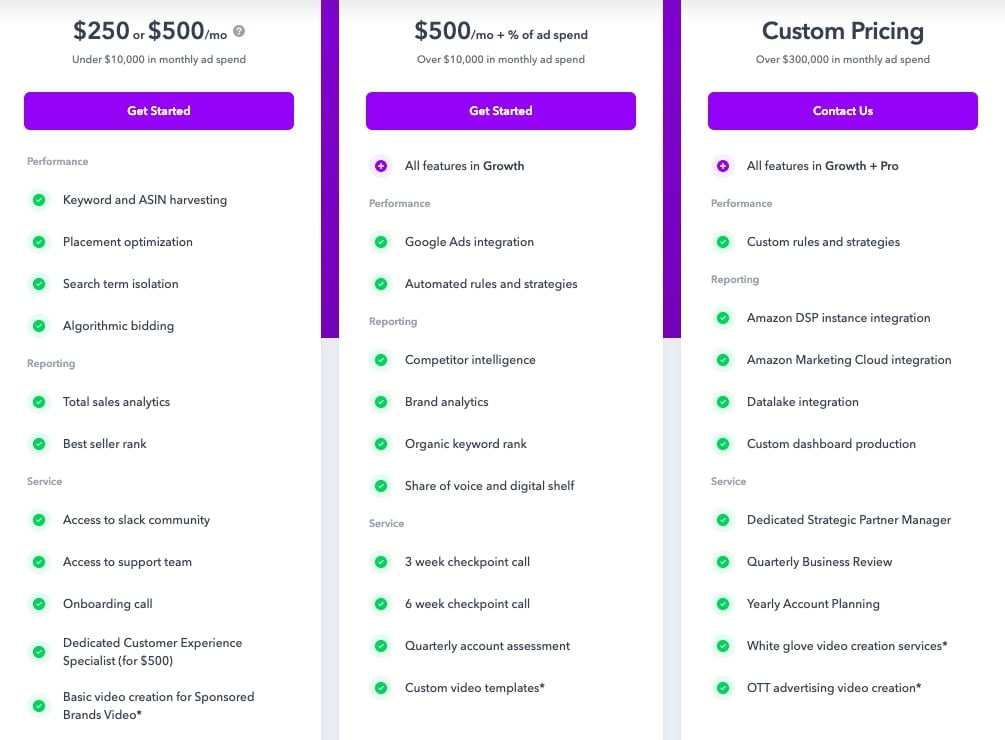 You can use a special offer when signing up for Perpetua and get get 25% off the first 2 months. Claim through this affiliate link.