We have exciting news – Seller Fest is coming to the Baltics! This time Seller Fest Lithuania will be held on September 14-15 in Vilnius, the historic capital of Lithuania. Today we talk about this event with another Lithuanian, Paulina Masson, the founder of Shopkeeper.
Paulina herself is an Amazon FBA Private Label Seller and the Founder of Shopkeeper – a business dashboard for Amazon sellers. So let's see what she has to tell about the event.
What is Seller Fest about?
Seller Fest events are focused on the sellers in a specific country or region and designed to cover a wide range of topics and provide valuable knowledge for Amazon sellers of any marketplace location. We have already hosted Seller Fest Israel 2019 event a couple of months ago and it was a great success! Paulina was also one of the speakers of this event and says that Seller Fest is becoming a nice trend among Amazon community.
Right now we are planning to organize Seller Fest events in different countries across the world, especially in countries, where Amazon seller don't get any kind of events. Both Paulina and I agree that Lithuania is one of those countries.
That's why we decided to continue this trend and gather all top Amazon sellers and experts in Lithuania. The Amazon seller community has been rapidly growing in this country as well as its surrounding countries, Belarus, Latvia, Poland and Estonia, so we are expecting to have participants from all neighbor countries.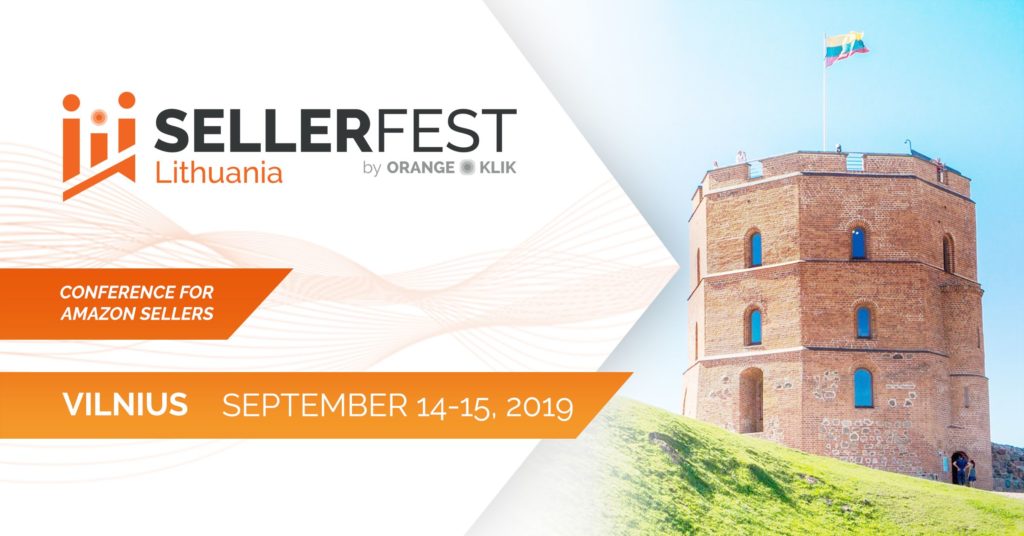 What to expect?
Throughout the event, we'll host sessions with Amazon industry experts from all over the world, including Germany, USA, Canada, Serbia, Ukraine, UK, Israel, Latvia, Poland, and Romania.
Topics of their talks will include, Amazon advertising (PPC), listing localization and translation into other languages, EU Value Added Tax (VAT), the optimization of product images and much more. All presentations will be in English!
You will also meet lots of experienced speakers, including Danny McMillan, Chris Rawlings, Vladi Gordon, Jana Krekic, willing to share every detail they know about scaling up your Amazon business. In the video, Paulina goes through every speaker and shortly presents each topic. There is a detailed list of topics that will be covered:
Danny McMillan – Product Sourcing in Asia
Chris Rawlings – Formula for the Perfect Product Listing on Amazon
Vladi Gordon – The Truth About Your Profit on Amazon and How to Stop Wasting Money
Jana Krekic – How to Start Right on International Markets: Listing Translations, Prices, and PPC
Shane Oglow – Press Releases – Secret Strategies to Launch, Rank, and STICK on Amazon
Alex Wyatt – EU VAT Compliance
Lazar Zepinic – Power of Data – Neglected Reports and Free Ways to Improve Account Performance
Alex Chernenko – 7 Reasons To Register a Trademark For Your Brand. Dos and Don'ts of Protecting Your Brand
Oleg Zaidiner – How to Grow your Amazon Business and Stay Calm and Happy
Vadim Petrov – How to Increase Sales by Creating Images That Tell Your Product story!
Brent Zahradnik – How Advertising Fits Into the Bigger Amazon Picture
Marcin Hashevsky – 3 Elements of Systematization You Can Implement Tomorrow
Damian Wiszowaty – PENTATHLON or How to Handle the Human Factor on Amazon
Anthony Cofrancesco – Selling With Words: Using Copywriting To Convert Customers
Peter Lazea – Steps How to Start on Amazon and Build A 7 figure Business
Even more, there will be a couple of Q & A sessions, during which all participants will be able to ask questions. If you can't come to the event, don't worry – although it's not yet officially announced, we are planning to record every session, so you'll have a chance to participate in the event from anywhere in the world afterward!
Who should attend?
There are several reasons why you would want to join us:
Build your network – we're expecting over 100 like-minded Amazon sellers to attend.
Get personal advice from some of the industry's biggest Amazon experts. Even implementing a few tips could make a big difference to your business.
Amazon is changing fast. Keep up to date with the latest strategies for selling on Amazon in 2019.

Something else you need to know before the event
You can get either regular or VIP Ticket, which allows you to spend half a day with all the speakers on September 13th (one day before the event).
Regular ticket includes participation in the event for 2 days (September 14-15) and, of course, coffee breaks during the conference, so you can network with other Amazon enthusiasts.
VIP Ticket buyers will have a possibility to spend half a day with all the speakers on September 13th (one day before the event). That means you'll have lunch together and 3-hour tour inside and outside Vilnius!
Stay tuned for every update – check out Seller Fest Lithuania 2019 Facebook event and find more info on the official website.
---
Main Sponsor of Seller Fest Lithuania 2019