It takes a lot more than just an idea to start your own business. If you are making this big life decision, be prepared to overcome challenges that are waiting for you.
In this FINAL PIECE TALK episode, Augustas Kligys and Olav Vannik talk about what struggles people are facing when starting an online business and share some tips on how to make it easier.
What are the very first struggles when you start your online business?
Augustas' first step into online business was creating a virtual summit for Amazon sellers. At that time he was still working as a programmer but his dream to create videos and interview other people made him believe into this idea. As he tells, his first fear that he needed to overcome was being a non-native English speaker – he thought it would be too difficult to enter English-speaking market if you didn't speak the language at a native level.
However, in the end, everything's worked out as planned but now Augustas works even more than before and hopes that it will take a few more years until finally having a regular passive income stream.
Going into debt
Olav has a bit of different experience to share – he invested all his savings into his first online business. Even more, he started managing all parts of his business only by himself – doing marketing, building the website, processing payments and so on. At that time, about 7 years ago, there hasn't been any Shopify or Amazon FBA yet and it wasn't very common for people to sell products on such platforms. Olav found himself in a position where he needed to learn all these things by himself.
After a couple of months of selling online, Olav was already in debt – the inventory that he had invested in didn't sell successfully. As he says, people need to learn important things the hard way so once you make a mistake, you need to recover from it and make it better the next time.
Struggling with work-life balance
This is a crucial part of running an online business, especially if you have a family. Working on your own might sound very simple but people often can't find a healthy work-life balance. First of all, you need to focus on your work and try being as productive as possible so you have more free time to spend with your family or people that are close to you.
Both Olav and Augustas agree on that. In this case, you need to learn to say no and give up a lot of things that are of secondary importance.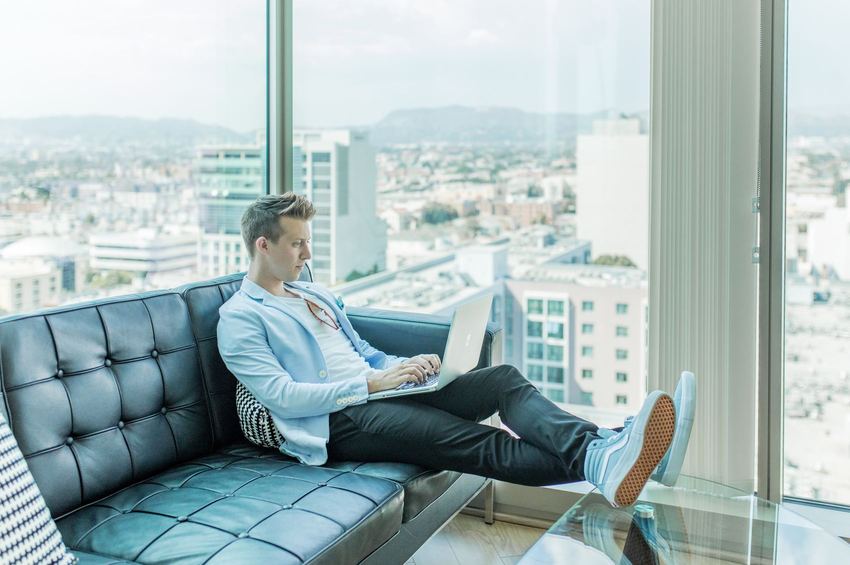 Working extremely hard and taking risks
Talking from his own personal experience, Olav gives a piece of advice for those who want to start their online business – don't quit your job too quickly because it's likely you won't generate enough money in the first year to support yourself. That's where it comes to prioritizing your goals – in order to start your business, first you need to work hard and earn money and at the same time start working on your project. It will require a lot of effort but after a couple of years it will eventually pay off.
There a lot of options what you can do as a side job – selling your services as a freelance, doing customer support, digital marketing, etc. Augustas shares an idea with those, interested in Amazon business – start out as an Amazon account manager and help bigger sellers so you can learn some basics on how to manage the Amazon account. Later, when you feel competent enough, start freelancing for money. In this case, you can work anywhere in the world.
Another thing – be sure to have a plan B in case your business doesn't work out, don't put yourself in a bad financial situation. Build a strong financial basis first. If your plan goes well and later you want to escalate your business, don't be afraid to take risks – they are inevitable.
Some tips to start your business easier
learn from other success/failure stories. Usually, people have this misconception of entrepreneurship and think it's very easy to start on your own. This is because not everyone is telling the truth – every successful business or entrepreneur has its own failure story behind and it's highly encouraged to learn from these real-life stories.
set the right mindset. Augustas tells an example of two different 7-figure Amazon sellers: One of them is always relaxed and the other is constantly being stressed out. The thing is, you need to set the right mindset from the very beginning so you are not scared out after the first failure in your business.
surround yourself with like-minded people. You can learn a lot from people who have the same goal as you do. Olav says he met some aspiring entrepreneurs in Thailand, who hadn't had any business idea at first but started learning from other e-commerce experts and eventually everything worked out just fine. Also, sharing your journey with somebody else who can relate is really helpful to your emotional well-being. You can always find such people on various Facebook groups.
take action right here and right now. If you have a dream to live in some country far away from your home after successfully building your business, don't wait another year for it to happen. Make this step now so you are a bit closer to your long-term goal.
About Olav Vannik
Olav Vannik is an entrepreneur who dropped out of university. He started his first e-commerce business when he was 24 years old and has never looked back since that. He successfully sold his first Amazon FBA business and is now building a new one.