URLgenius is a platform that helps people convert clicks into sales by avoiding mobile web logins. By creating super easy deep links, Amazon FBA sellers can link buyers directly into the Amazon App from other apps and platforms.
If you promote your products outside Amazon, you might know at this point that a simple URL doesn't do any good.
Nobody likes mobile website logins when clicking on the link. Most likely, when a sign-up field pops in, you will abandon this website immediately.
By using deep app linking, your customers get into the Amazon app more smoothly, without any distractions, and yet they are more likely to buy your product. The reason behind it is that deep links help to avoid friction for a consumer by opening apps and avoiding mobile web logins for any app, including Amazon.
In this quick URLgenius demo, we show how you can increase your Amazon FBA conversions by simply implementing app deep linking with URLgenius.
List of features covered in this video:
00:51 What is URLgenius and how does it help Amazon sellers?
02:13 What is App Deep Linking?
03:01 App Deep Linking for Amazon
03:42 Avoid Amazon web logins from any channel
04:27 How to create deep links?
06:27 How URLgenius is different?
06:55 Does it really work for others?
07:31 Analytics for deep links
08:38 Adding Facebook pixel and creating custom QR codes, and other settings
10:12 Account highlights – API for creating links, additional users, etc.
12:06 Privacy policy
12:40 URLgenius pricing
13:35 How does URLgenius free trial and other plans work? Are there any limitations?
15:50 Any other helpful deep linking use cases
17:00 The main advantage of using deep links

---
What is URLgenius?
URLgenius is an app deep linking platform. It applies to any app, including Amazon, and helps sellers to increase conversions, ranking, engagement and sales velocity by smoothly getting their customers to the app.
It's an USA based company which services use many agencies and marketers around the world. The main advantage of URLgenius is that they optimize the consumer journey between marketing channels, websites and apps.
How's it different?
There are some things which makes URLgenius easy to use and differentiate from the competition.
You can create your account immediately and start updating your links
No technical resources required
No need to install anything
No credit card required to test it
Free trial for your first 500 clicks (although if you click here, you can get additional 250 clicks)
What is app deep linking?
It's all about linking to an app, instead of a website. We have all experienced when we click on the link and, instead of opening the app, it takes us to a website log in. What do you do in this situation? You simply close the window.
If you are still sending your customers to the Amazon website, it hurts your conversions.
By using deep links, Amazon sellers can link into the Amazon app more smoothly. For example, URLgenius has a bunch of features that will give you more control, more branding, and drive more traffic to your product listings.
Benefits for Amazon sellers
First and most important, it will help you with increasing your conversions. It's also going to increase your sales velocity, engagement, product ranking, and reduce customer service inquiries since customers get into the app more smoothly and can purchase a product more quickly.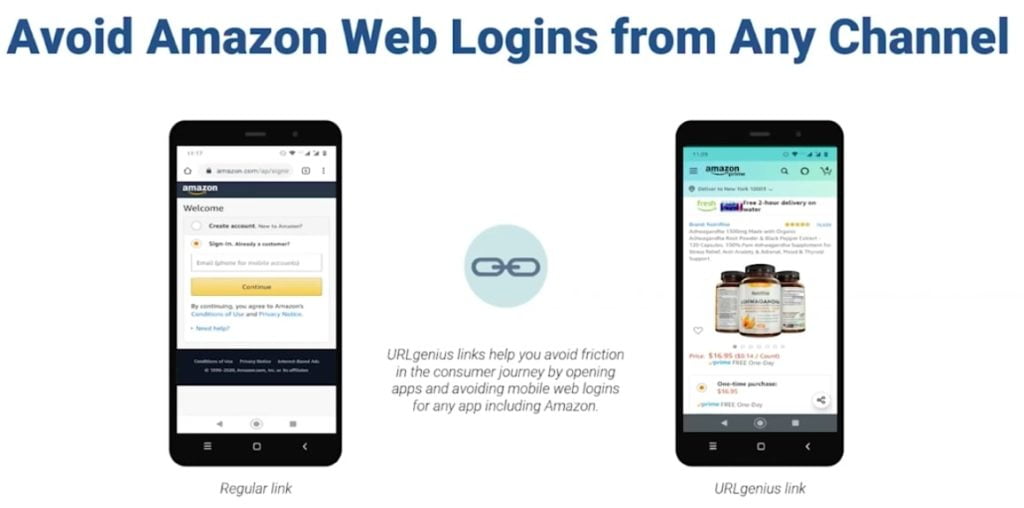 To emphasize it, here you see Amazon web log-in vs URLgenius link. When you promote Amazon product link on any external channel, such as Facebook or Instagram, the regular link will not open the app.
And does it really work that way? Well, we heard it from other sellers who claim that by utilizing URLgenius they have been able to double their conversions in most cases.
So let's jump into how to actually create deep links using URLgenius.
How to create deep links with URLgenius
When you enter into your Amazon product listing, look at the URL – it's a very long and bulky URL with lots of navigation parameters. So what you want to do here is to get the URL that includes product ID (meaning you don't need to copy all of it!)

Then go to URLgenius and simply paste it. You'll immediately get two generated app address – one for iOS, and one for Android.
Here you are also able to customize your link – maybe you want it to type in more easily or to match your campaign, this customization will do the job.
After putting your preferred slug, click on the "Compose Deeplink" button below.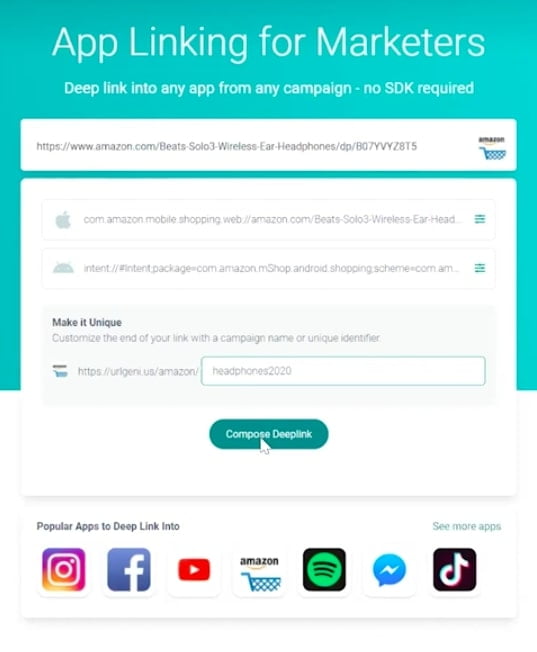 Now it takes you to the settings of your link where you have your completed deep link, a QR code that you can scan right away to test your link, and other settings you can custom. Also, you can create unique QR codes as well – change the color, logo, and density. Let's talk about it more in the next section.
Settings you can customize
There are a few things that you need to know to make the best out of your deep links.
First of all, Facebook pixel – you can active Facebook pixels when configuring your deep links. You can do so on the "Remarketing" section on the settings page: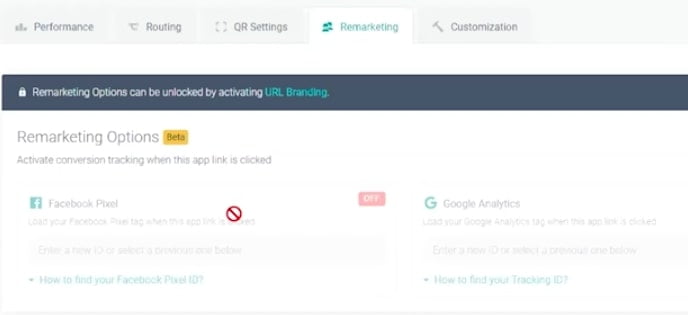 By the way, if you're wondering if a customer does not have the Amazon app installed, you can configure your link so it takes to another place that you specify on the settings page.

Another great feature is that you can set your own domain so it matches your website or branding.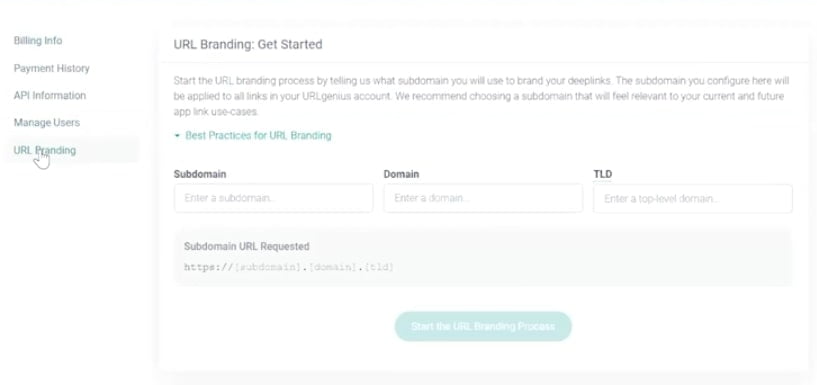 Also, feel free to add additional users in case you have team members you want to add to your account so they can also create deep links for your promo campaigns.
There's an agency dashboard for managing multiple accounts. If you manage a lot of Amazon seller accounts and keep their reporting separate, you can do so without any problem.
Lastly, if you want to create your links programmatically, URLgenius has an API for creating links.
Analytics
In addition, you get access to thorough analytics that provides you data, such as:
Track click
App opens
Visits by Web Referrer
Visits by App Referrer
Visits by location
Visits by city
All of it is very useful if you're promoting your products in different apps since it shows app referral information. It lets you to know your audience better and which app do they use more.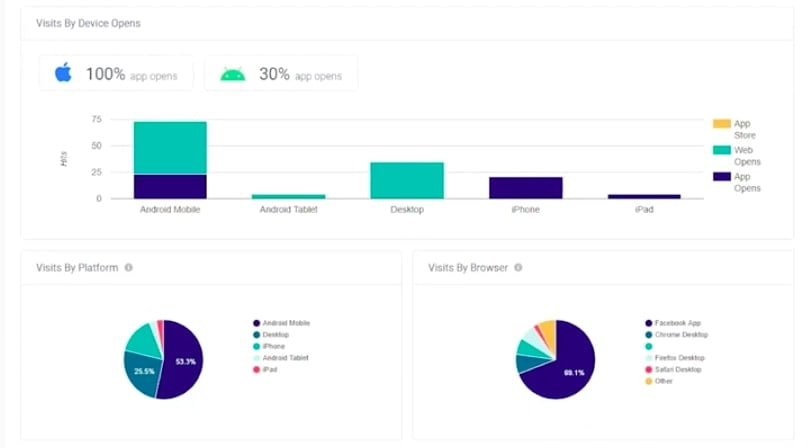 Also, if a product is being promoted globally, you will also know where it gets the most clicks.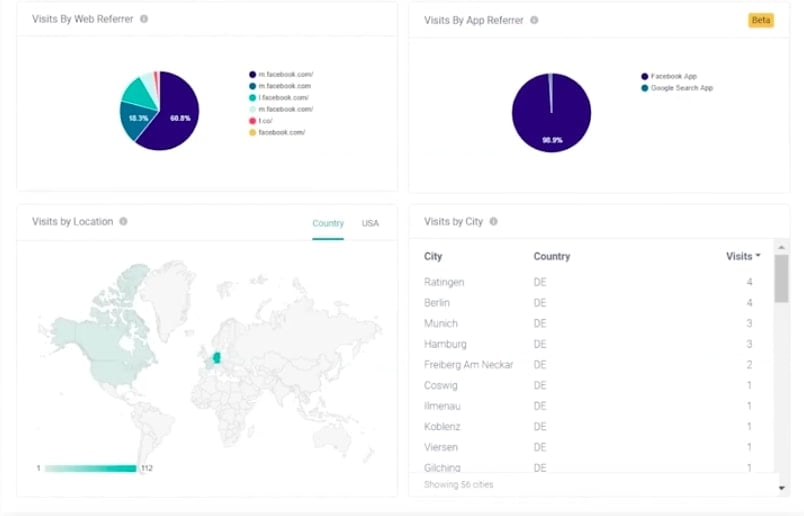 Privacy policy and pricing
Since all people are very strict when it comes to privacy policies, URLgenius makes it very clear. They are a very privacy-forward company, meaning they don't track your customers, dropping pixels to track them all over social media, nor collect any kind of data.
When it comes to pricing, URLgenius gives you a free trial for your first 500 clicks so you can test it. That's a great way to do A/B testing to see how regular links differ from URLgenius.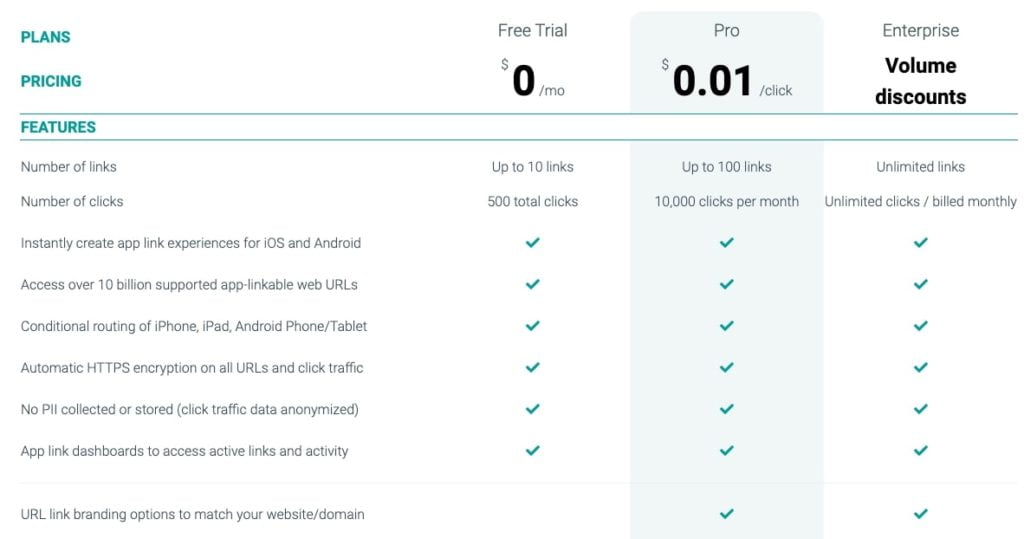 Free trial gives you up to 10 links with 500 clicks, as mentioned above. Once you surpass it, you will need to upgrade, meaning that's the moment you need to add your credit card. If you don't, then your account will be "paused" until you add it.
The Pro plan gives you up to 100 links with 10,000 clicks/month. And even if you're doing more than that, feel free to contact URLgenius and discuss some discounts (by the way, you can always track your clicks volume so you know exactly how many you have left).
We invite you to visit URLgenius using this link that gives you 750 free clicks (instead of 500)!
Also, check out other Amazon PPC tools reviewed on our blog and find the one that suits your needs the best.