Trellis is an advertising automation platform for Amazon merchants, built on the latest knowledge and advances in artificial intelligence and digital automation. Trellis takes care of all aspects of launching a profitable Amazon PPC campaign using Automation, so you can focus on what matters most — growing your business.
In this blog post, we show what's inside the dashboard of Trellis, how to create an Amazon advertising plan and track your PPC performance. Also, one of the best features we review in this tutorial is Amazon video ads creator – it lets you easily and quickly create Amazon ads inside the tool.
What is Trellis and how does it help Amazon sellers?
Trellis helps sellers to better understand the demand for their products by targeting shoppers as they shop on Amazon. They do so by integrating the leading demand generation algorithms and optimization techniques.
The tool is available in all Amazon FBA marketplaces, including Europe, North America, UAE, Canada, Australia, India, and is suitable for any Amazon seller who has a certain goal when it comes to advertising on Amazon. Trellis can be useful for you whether you are about to launch a new product or need more advanced assistance for managing PPC campaigns.
No coupons found.
Trellis review
Dashboard
A performance dashboard is all about giving you a clear and comprehensive overview of how does your PPC performance impacts your overall business growth. There are 4 levels of performance analysis here in the dashboard and it serves different purposes.
The first one includes:
Impressions
Sales generated through advertising (AdSales)
Total sales
ACoS
The results can be sorted out based on different performance periods and this data will be always accessible so you can always go back to compare your advertising performance.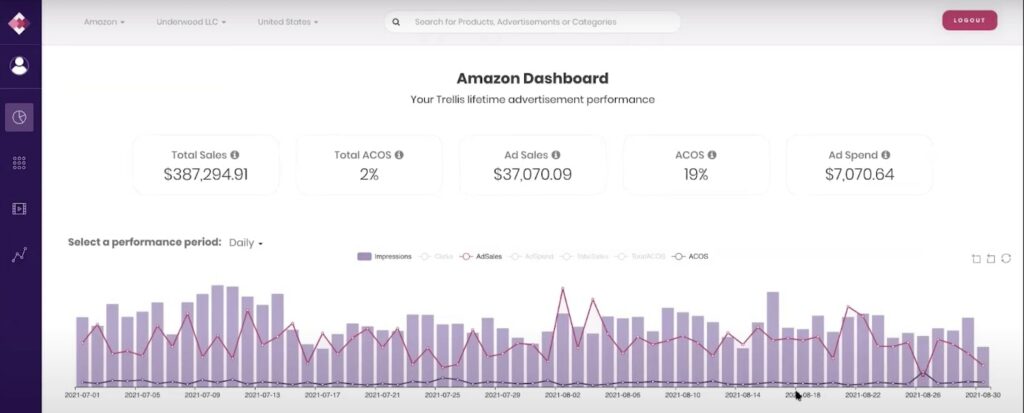 The second level of performance analysis includes product categories with an advertising plan. That means you are able to track the performance of certain product categories and compare it with your overall sales.
All these category boxes are clickable so you can dive into each of them to get even deeper look of how they perform.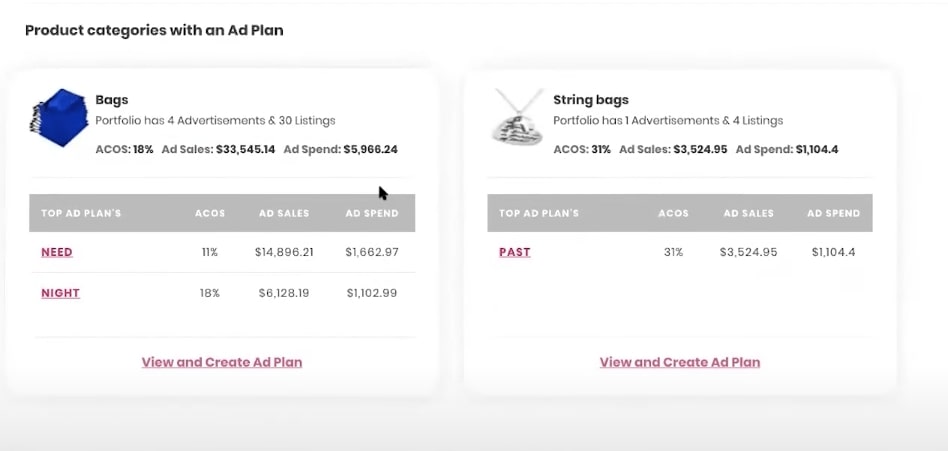 It shows how a particular category is performing in terms of how much money you are spending, whether it's effective and how well your total ACoS is doing.
Then you can look at how a certain advertisement is performing by going to the "Advertisements" section. Here every advertisement has 6 main target mechanisms:
Details
Performance
Ad plan
Keyword
Audience
Product
Details show multiple listings that your ads are running on and give an overview of how each of your listings is performing in terms of ads. Performance shows how a particular advertisement is performing. Keyword – all the keywords that the system is targeting, what are the bids, and the number of orders. Product gives an overview of advertising performance on the product level.

All in all, it gives you a good overview on different levels, from general business level to individual product level.
Creating an Amazon advertising plan
This is where Trellis' algorithms come into play. Creating an advertising plan is very simple and straightforward – first, you give it a name and then select a goal for your advertisement. It's very easy to understand which goal you need to select as there are just a few of them, which are:
Demand generation – it analyzes the shoppers behaviour when shopping on Amazon.
Product launch – tends to be a bit more aggressive at the top of the funnel, therefore it gives more awareness to the brand.
The other 2 are:
Optimize ACoS profitability
Themed ad
Based on which of these 4 you choose, the system then automatically sets the target ACoS as well as maximum ACoS and daily budget.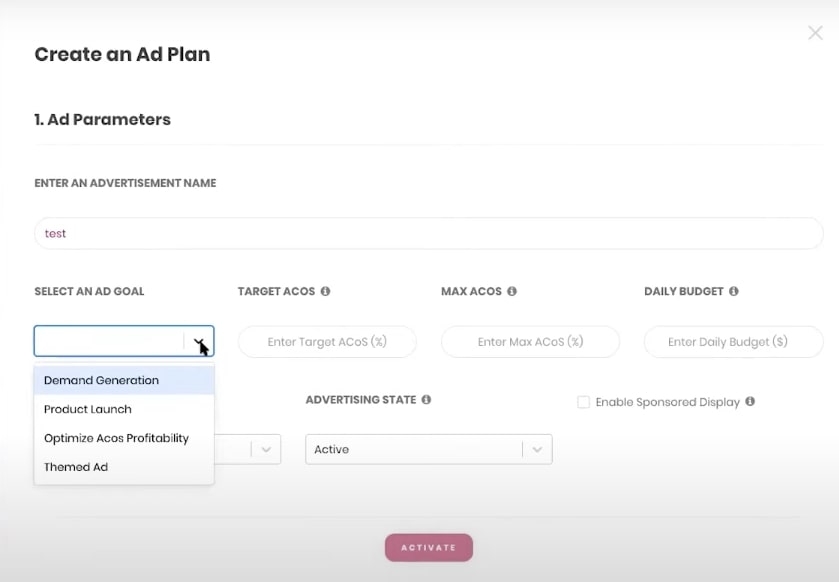 The next step is to select what ad type you would like to run – sponsored product, sponsored brand or sponsored brand.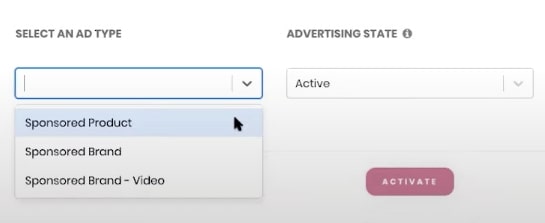 Finally, all is left is to choose the products you want to run ads on. And that's it – from this point, the whole work is done by the system.
Once the system understands what is the objective of your advertising and what products you are advertising, it generates the list of relevant keywords that makes the most sense for your ad goal.
Organizing products into categories
Creating product categories inside Trellis might help you to organize your Amazon business in a more efficient way – by doing so, you can categorize similar products and run ads on these categories. Once you create a new category, the system starts gathering information and tracking its performance.

So basically, it's all about tracking how a certain collection of your products is performing compared to the rest of your products.
Amazon video ads
The easiest way to set up video ads is to upload your own video and let the system do the rest – connect it with Amazon API and validate.
Another way is to create a video from scratch using Trellis' video ad builder. It allows you to choose from different templates and it takes only 8 quick steps to get the final result.

The only thing you need to do is to follow the steps and choose the colors of your brand, upload your logo and provide the text.
Pricing and upcoming features
The pricing of Trellis depends on how many ad plans you are creating. It starts from $99/month and goes up to $299/month. There is no limit on how many markets you can use the tool for and every plan includes the free video builder. Trellis also offers special packages for corporates as well starting from $499/month.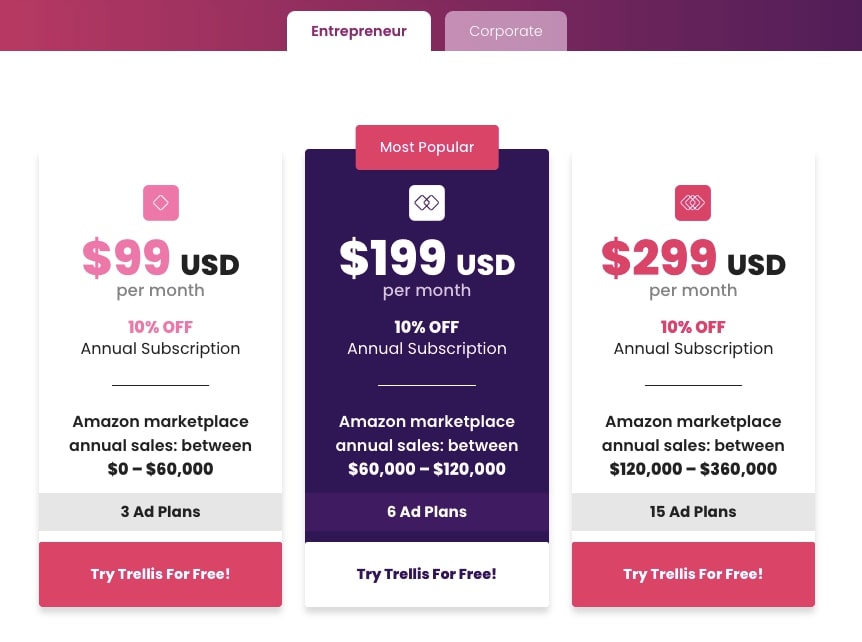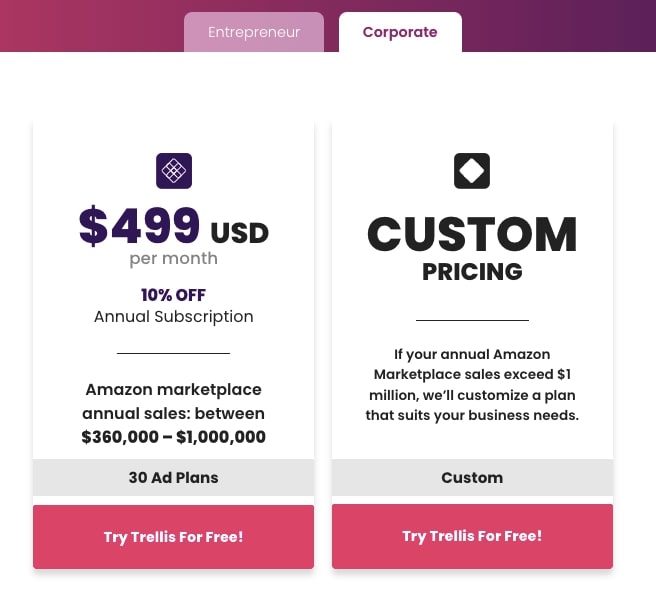 If you want to start using Trellis, get 25% off your first 3 months using coupon code OK25 by signing up through our affiliate link.