Sellozo is your fully automated, AI-driven Amazon advertising software growth suite engineered to help Amazon sellers just like you increase sales, lower ACoS, automate campaign optimization, and increase profits. The tool automates Amazon PPC optimization and allows you to focus your valuable time on the rest of your Amazon business while your Amazon advertising automates to reach your ACoS goals.
In this blog post, we review the Sellozo tool for Amazon PPC optimization and automation. With Sellozo's Amazon PPC Ad Automation technology you can ensure your ads are optimized to perform at their best. The tool helps to drive your sales growth and lower your ACoS at the same time. The features include bid optimization, keyword discovery, campaign and ad launch automation, negative keyword automation, and more.
What is Sellozo and how does it help Amazon sellers?
Sellozo's ad automation platform helps sellers automating their PPC campaigns. The tool is suitable for sellers of all experience levels. Sellozo's team does an onboarding call first to find out where you are in your journey, get some ideas on what you do on your listing if you're just starting out, and want to have a clearer idea on how to get started using the tool. However, if you are a more established seller, during the onboarding call you will be able to jump in and start using the tool right away.
Besides, Sellozo covers all Amazon marketplaces so you don't need to worry if the tool will be suitable for a marketplace you're selling in.
No coupons found.
Sellozo review
When you enter Sellozo's dashboard, you will see different features inside: Product Vu, PPC Manager, Financial Reports. We will quickly go through all of them.
PPC Manager
PPC Manager pulls all your PPC campaigns from Seller Central for the last 60 days. It takes a while and while the import is in process, you will see a pop-up, saying "Book an onboarding call". The reason for this is it gives you a chance you go through all of your data together with specialists so you set up everything correctly.
Once the data is inside Sellozo, you click on the "Optimizer" icon. Turning on the optimizer will start your campaign automation – automated bid adjustments, transfer of keywords, negative keywords, and more. Everything you need to do is to set up your target ACoS.
As you can see, you don't need to create new PPC campaigns in order to start using the tool – Sellozo can work with your existing ones.
The first thing you would want to focus on is the "Actions" button at the top of the table. This is the place where all automation begins!

The second step is to edit your campaigns. The most important thing to focus on right here is your target ACoS – what is your goal for this particular campaign.
After you pick your ACoS, you can go now and select your bid strategy. The bid strategy means what the tool will do automatically everyday. For this, you can choose either conservative bid strategy (10% bid adjustments each day until it gets to the target ACoS) or aggressive strategy (does 15% adjustments).
The last thing to do is to turn on the optimizer switch. And that's it!

Also, you might notice a product targeting switch right next to other settings. If you turn this on, Sellozo will create a manual exact match campaign that will be linked to this auto campaign. So every time you get a conversion in your auto campaign, Sellozo will take that search term, move it as a keyword to your exact match campaign and take the ASIN and take it out the search term report and move it as an ASIN to a different ad group within the manual campaign.

So if you turn both of these on, you're going to cover your search terms as well as product targeting that will be linked together. In this case, all of the search terms will be moved to one ad group while all the ASINs – to another.
Campaign studio
A lot of sellers have very broad campaign structures. Because of it, Sellozo has created a Campaign Studio and this is exactly what sets them apart from other PPC tools. By using this feature, you can create your own PPC flow.
But what does it mean? Let's say you have 1 auto and 3 manual campaigns. You can link these 3 manual campaigns together so that the search terms move from one to another. If you have an auto campaign, you would want to link it to your broad match campaign. The broad match campaign is then linked to the existing phrase match campaign. And then link it to the exact match campaign.

This is when you need apply a rule that tells the tool when the search term converts and how many conversions you want to happen before it's made as a broad match keyword. Usually, sellers stick to 2-3 conversions.
What it means is that you're telling the tool after how many conversions you want before the search term is made as a broad match keyword.
The same applies to other flows as well. So once the search term converts in a broad campaign, the tool will not only move it to your phrase campaign, but it also goes back to your auto campaign and makes the term a negative exact in your auto campaign.
Basically, what's already proven in your broad campaign, the tool will move to the phrase. Once it converts to the exact match, it will go back to a phrase and make it a negative exact in your phrase match. That's how these flows work.
Once the campaigns are linked together, you don't need to do anything, the tool works itself. The only things that you might want to keep an eye on are your budget and/or target ACoS.
Launching a new campaign
Let's say you have a new product to launch. What you would want to do is go to your Sellozo account and click the "Launch campaign" button. If you want to do it simply, just create an auto campaign, following by a manual exact match campaign.
On the other hand, the advanced approach will let you choose what product you want to promote and a campaing pattern (flow). There's a dropdown list that you can choose from.

Again, by choosing a pattern, you let the tool do everything for you. You need to only write a name for this campaign, set the budget, target ACoS, and choose a bid strategy.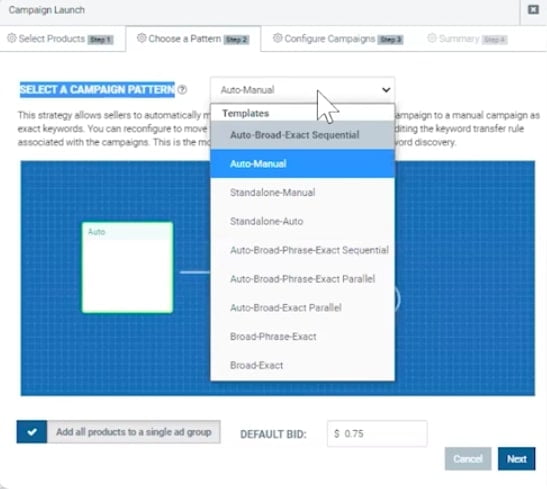 With a dayparting feature, you can also tell the tool when exactly you want to run your promotions – you can turn it on and off at the exact time each day.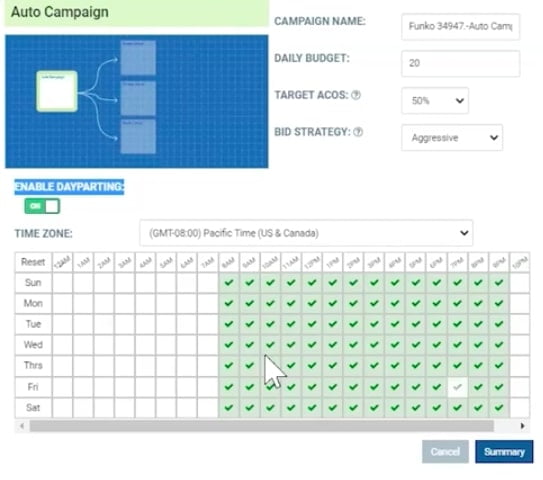 Actually, when launching a new campaign, our recommendation is to do an auto to broad phrase and exact auto. Some sellers, however, do stand-alone manual campaigns and want to keep all the keywords in a broad campaign. Anyway, it really depends on your own situation and this is where an onboarding call might be the best decision to make first.
Targeting and search terms
If you enter the targeting section, you will see all your keywords. Some of these have Sellozo badges on them by which you will be able to tell when Sellozo creates you a keyword. Once you click on any of these keywords, you can edit it – modify the bid or even lock it.

Maybe there's some search terms that you don't want to bid on anymore. In the search term tab, you can make your own negative keywords for these search terms that do not perform well.
Product Vu
Here you can find even more data, rather than just PPC. It takes all of your SKUs and shows all data for each of them.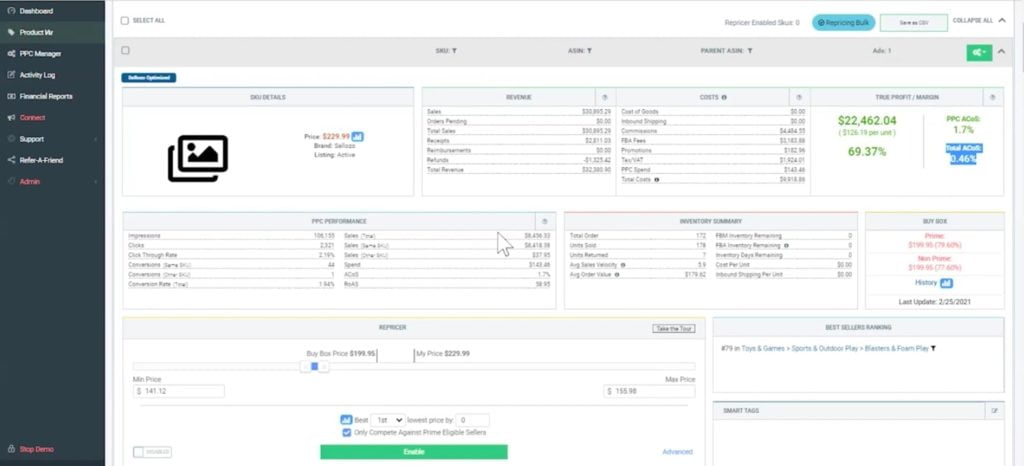 Here you can see how well your product is performing in terms of revenue, costs, PPC, have an overview of your inventory or track how much you make per unit. In the same dashboard, you will notice a smart tags section where you can tag individual products, group them and have an overview of specific tagged products at the same time.
Sellozo dashboard
The dashboard gives you some high-level statistics, such as your total sales, profit, margin, and total ACoS, organic and PPC sales and what changes the tool has made over the last 30 days.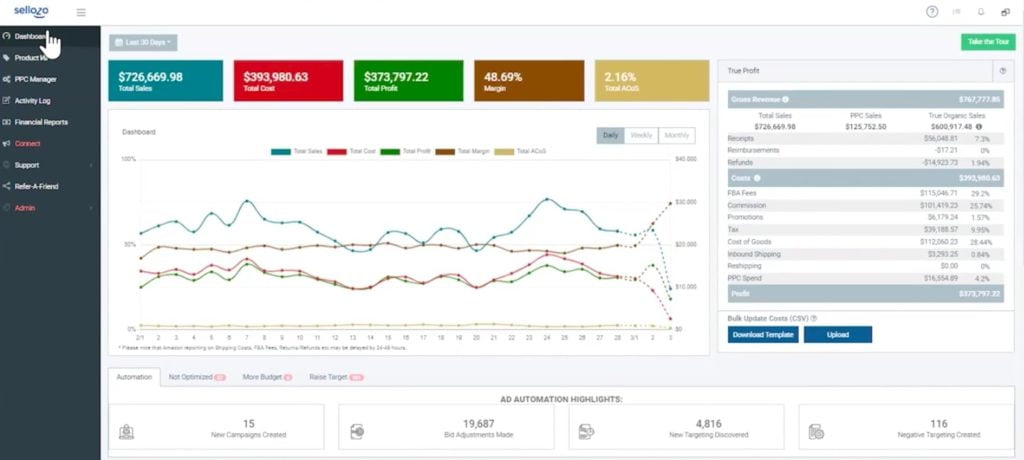 Below you will find an inventory section to know how many units you have in stock at the moment and when you need to restock them based on your 30 days sales velocity. Another thing you will definitely notice is a map just below the inventory data. This map shows you where all your orders are coming from which is very interesting to see.

Financial reports
This features pulls out all your financial data and shows a nice spreadsheet where you can see the summary of all your FBA fees as well as how your sales have changed during the last few weeks or so.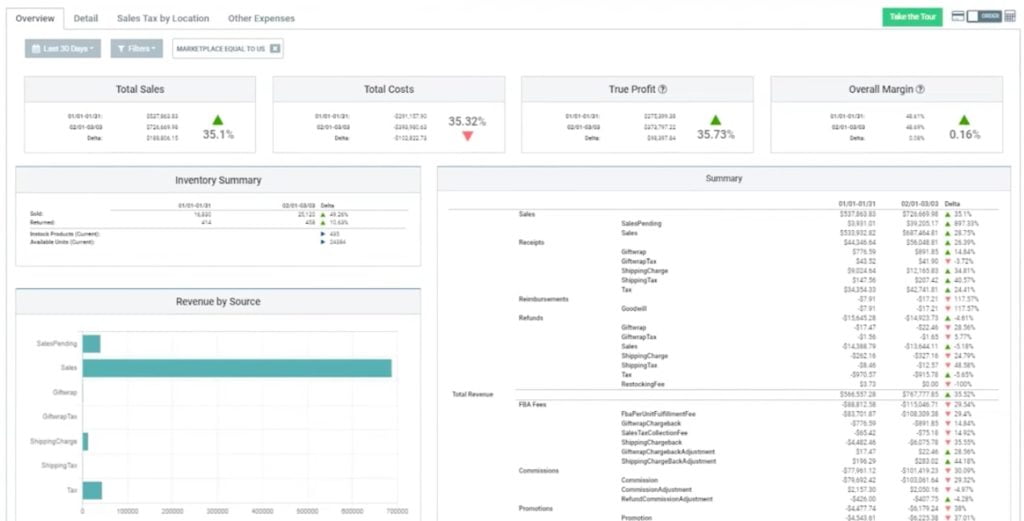 Pricing
Sellozo's pricing is based on a SKU count. If you have 0-10 SKUs, Sellozo will cost you $149/month. The higher the SKU number goes, the pricier it gets – for 11-1000 it costs $299/month and if you have even more SKUs (1000+), then it will be $399/month. All these prices are flat fees so you won't be charged for anything else.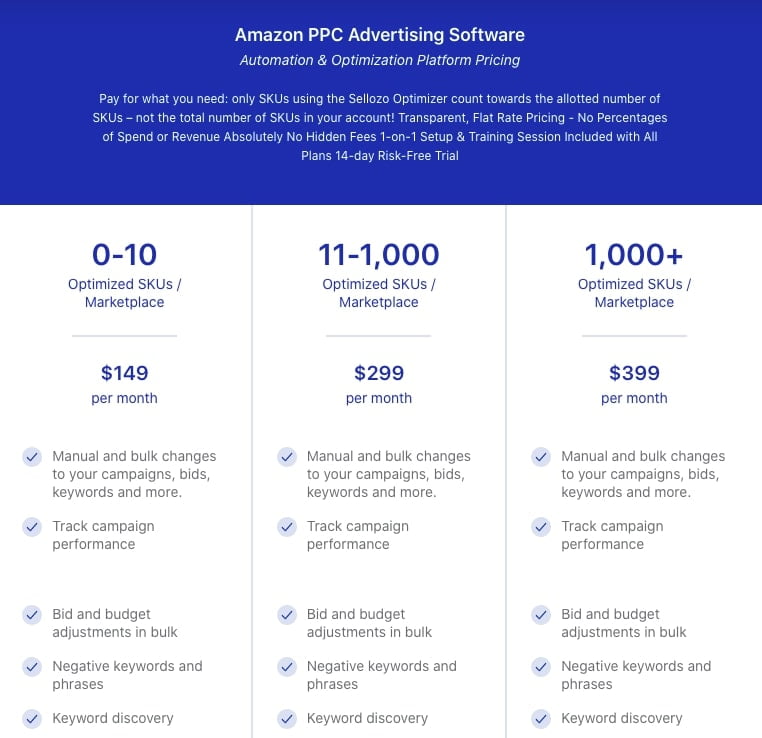 You can also choose how much support you want to get from Sellozo while working on your PPC automation. There's a FREE plan that includes basic support and 1-1 kick-off call while PLUS and MANAGED plans have more to offer – monthly or weekl consulting, ad strategy review, listing review, audits, and more. If you want all of it, choose the MANAGED plan.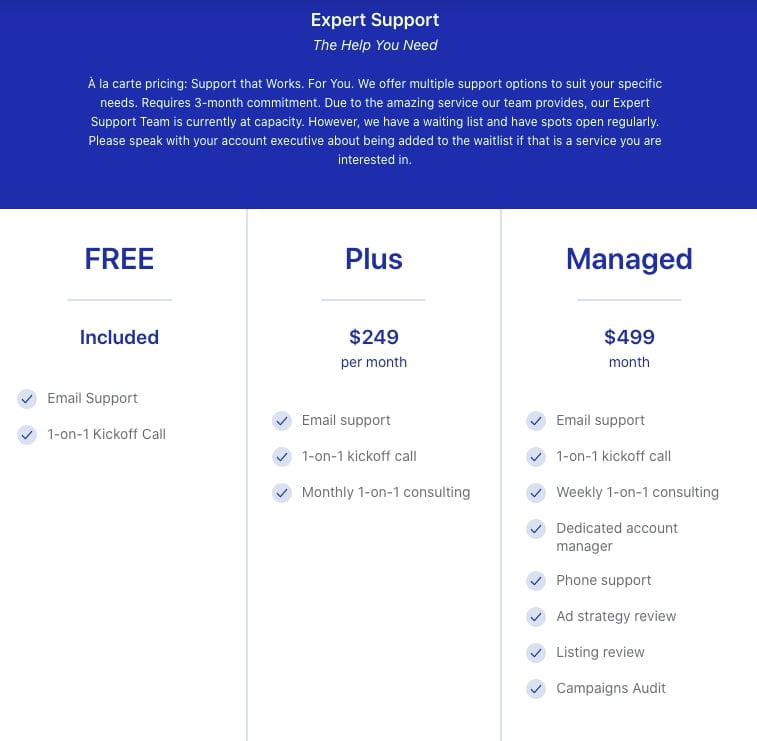 Upcoming features
There are some updates coming on a sponsored display where you will be able to optimize and automate your sponsored display ads. Even more, Sellozo is working on a feature that lets sellers to use their own algorithm within the tool. They will also focus more on sponsored brand ads and creating them inside Sellozo, and, of course, DSP which gets more and more popular among FBA sellers.
If you want to start using Sellozo, here's a special offer for you – get 25% off your first 2 months of Sellozo. You also get a 14-day free trial and 1 onboarding call. Claim through this affiliate link.