SellerMobile provides Amazon sellers with a results-driven software to help automate management & streamline operations to generate more sales. Their innovative web & mobile-based tools provide solutions for: repricing; feedback automation; inventory and restock management; profit, ROI, lost sales, PPC, and competitor analysis; and business intelligence. Hijacker, restock and negative feedback notifications are also available. With new tools continuously launching, they have become a leading third-party solution for eCommerce business management.
No coupons found.
SellerMobile is presented by its co-founder Hiba Weber.
List of features covered in this video:
00:00 Restock inventory for Amazon FBA tutorial
00:35 About SellerMobile
03:02 Which makes does SellerMobile cover?
03:41 How to start using SellerMobile
04:23 SellerMobile dashboard overview
06:16 What information you get from the SellerMobile dashboard: Sales performance analysis, top competitors, Amazon FBA fees, etc.
08:09 Global SellerMobile dashboard – all marketplaces in one place
09:48 SellerMobile features for Amazon sellers
11:19 Inventory management
13:26 Adding the cost of goods
14:16 Restocking for Amazon FBA – inventory forecast
18:57 The right mindset for restocking
20:49 Restock safety stock, restock lead time explained
23:36 Purchase orders and Amazon FBA restock plans
24:51 Creating your own warehouse
26:40 Alerts and notifications feature
29:03 How does it work for different marketplaces?
29:50 Is it possible to pull information for one ASIN on certain marketplaces?
31:00 Pricing
32:39 Up-coming features
33:50 SellerMobile customer support

---
SellerMobile overview
SellerMobile is an all-in-one Amazon tool that helps managing FBA business from start to finish. By using the solution, you are able to access tools such as:
Profit and costs analytics
Inventory analytics
Restock and purchase orders
Feedback automation
Automated repricer
Competitors and hijackers
Amazon PPC
Alerts and notifications
The tools are accessible in one dashboard and is suitable for all Amazon sellers. One thing that new sellers like about SellerMobile is an Alerts and Notification feature, that lets you know when you made a new sale.
It's also an option for those who does retail arbitrage and want to know who they competitors are on their listing, use an automated repricer function that helps you win the Buy Box.
Of course, the main focus here is for those selling as private label sellers. SellerMobile is definitely a way to go for private label. And in this blog post, we'll talk a bit more about inventory restock feature that assures you're on top of your inventory management.
The tool is integrated in 16 Amazon FBA marketplaces as of now and has most of users in the US and European marketplaces.
To start using the tool, you simply need to connect your Seller Central account to SellerMobile software. It takes a couple of hours for SellerMobile to populate your data.
Now let's see how does it look inside.
SellerMobile dashboard walk-through
Sales data
There's one more good thing about the tool – you can use SellerMobile either on the desktop or on your mobile phone. Actually, it initially started as a mobile app and then evolved into a well-developed software that covers various aspect of Amazon FBA business.
Once you enter the dashboard, you immediately see your sales data as well as costs and fees, such as Amazon FBA fees, PPC ads costs, FBA storage fees, profit and margin, and so on:

Performance trends analytics. Just below the above table, you will find performance trends analytics that shows you how your sales been doing overtime:

Global dashboard
The global dashboard gives you an overview of how your sales are performing across all marketplaces. You can compare the data in terms of sales, costs, ptofit, etc. It gives you an idea on how different your sales are in certain marketplaces hence you understand which parts you need to improve in your business.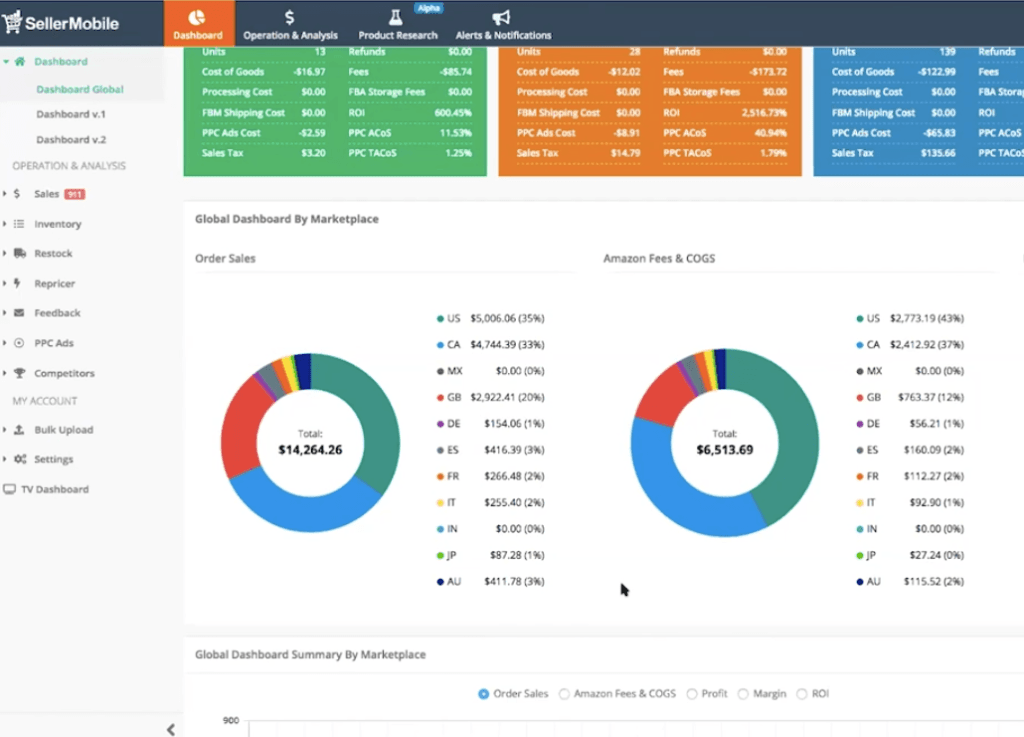 To make a real impact to your Amazon FBA business, you need to look at the individual ASIN.
To help you out with it, SellerMobile has an inventory tab on their dashboard where you can find a complete breakdown of each of your ASINs: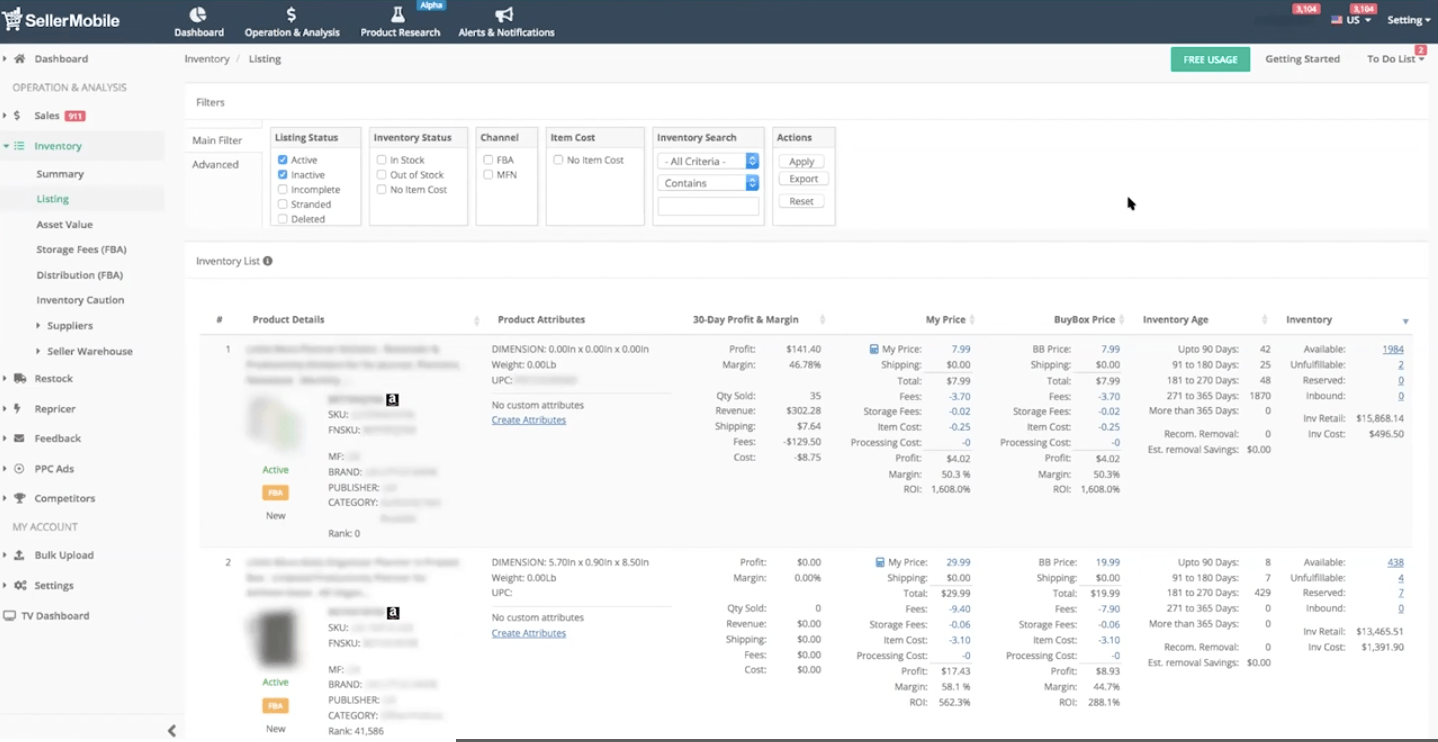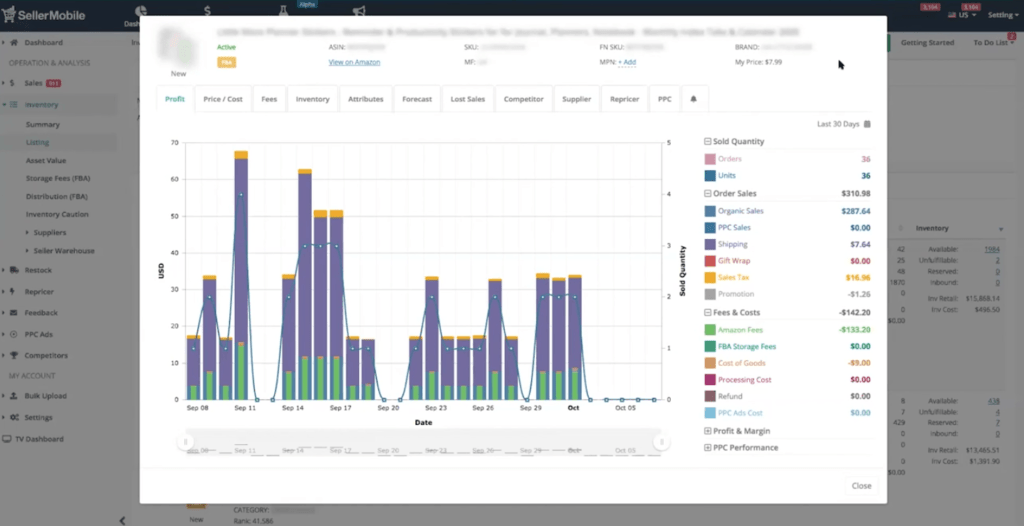 Here you see all the sales data of a certain ASIN.
But what are the key metrics you REALLY need to focus on?
Key metrics to look at
When we talk about Amazon FBA sales, we often use revenue as an indicator of how successfully we sell on Amazon. In fact, what you actually need to look at is profit & margins that really defines how your business is doing.
For this, on SellerMobile, you have the ability to add the cost of goods to your product so you know exactly what your product margins are.
There are a few ways to do so, se let's take a look: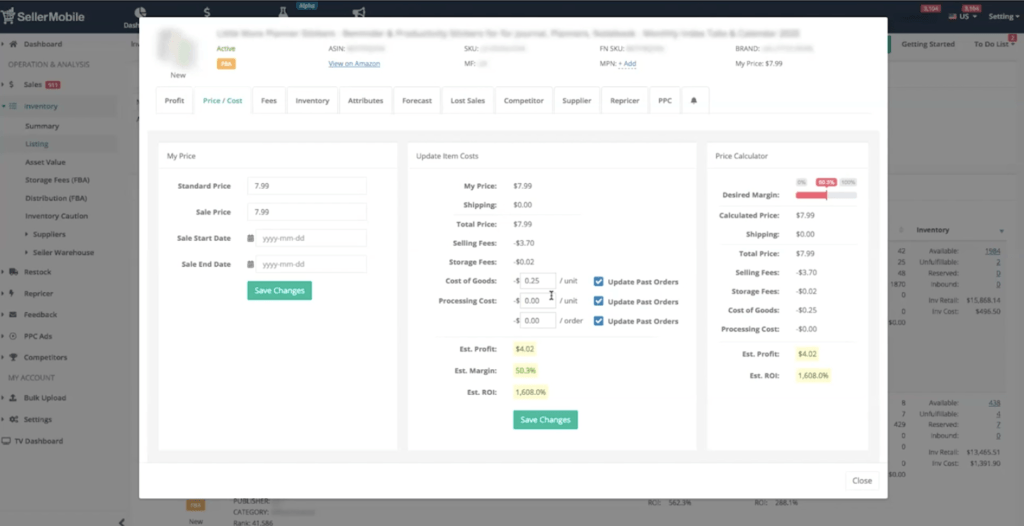 No coupons found.
Here you have a price calculator that estimates your product price based on the information you fill into the "Update Item Costs" section.
The main point of the feature is to estimate what margin you need in order to make a good profit.
Restocking and inventory management for Amazon FBA
SellerMobile uses 12 different algorithms to forecast how much you are going to sell in the near future.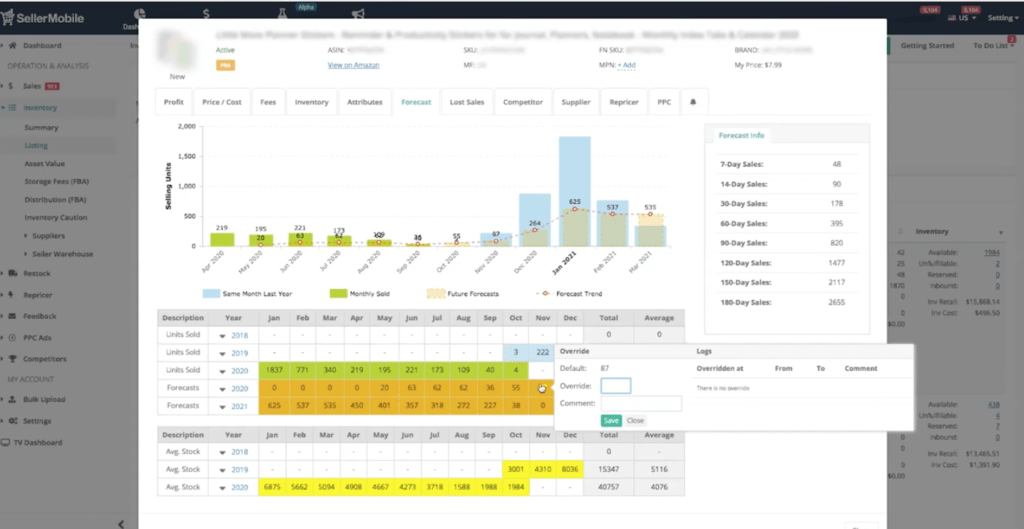 Here you see a table with different colors that indicates certain data:
Blue represents your sales data for the previous year
Green shows the data for this year
Orange stands for projected sales that might happen in the future
The last indicator lets you set your inventory up properly for the upcoming sales.
However, you can't forget there are many moving components that affects forecast data that the algorithm wouldn't know about. For example, it cannot foresee your cashflow or other external factors that can affect your sales (having in mind the current worldwide situation).
This is exactly why you need to specify it separately in the Override section:

It is very important to do so since the algorithm can project the future forecasts more accurately.
Having the right mindset when restocking
Restocking your inventory is something that EVERY Amazon seller needs to deal with.
When it comes to the right mindset, you need to do your restocking on a regular, scheduled basis, meaning you wouldn't want to restock your inventory only when you start running out of stock.
This is the operational task that you can easily outsource to your assistant – as a seller, you might want to focus on more essential parts of the business, rather than dealing with restocking regularly.
Once again, SellerMobile comes to the picture here since it gives you a clear forecast of when and how much inventory you need to restock. Using the data, you are enabled to easily make these kind of decisions.

This is a highly-recommended tool to use for your Amazon FBA inventory management so you don't have lost sales nor overstock.
Safety stock and restock lead time explained
Another thing that the algorithm estimates is safety stock. It gives you a clearer picture of how many days worth of inventory do you want to have.
Restock lead time. It basically means how long does it take for your inventory to go from a supplier to an Amazon warehouse. This is kind of a timeframe you need to set for yourself.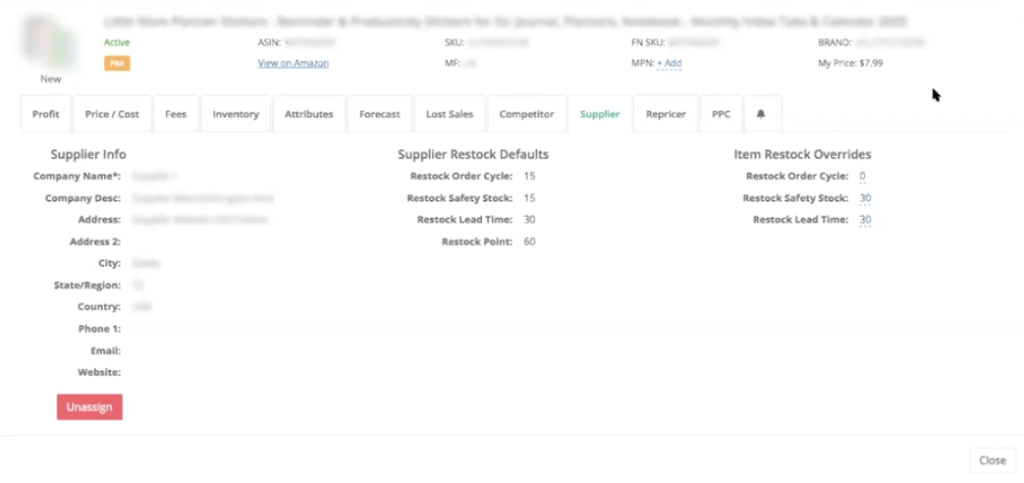 So on SellerMobile, every ASIN is connected with its supplier, so the software automatically suggests you how much time and inventory you need and tells you how much days you have left until you run out of stock.
All in all, having a good restocking system because it reduces logistical costs and you are in control of your cashflow.
Restock plans and creating your own warehouses
One of the benefits of having restock plans on one tool, i.e. SellerMobile, is that you don't need to have different Excel sheets and analyze high amounts of data. Instead, you can filter out at what information you want to see:
Also, you can create your own warehouse within the tool using restock plans. You can specify where you want your products to be shipped from and have it everything put together in one plan.
SellerMobile pricing
SellerMobile subscription starts from $59.99, that covers all main features, including sales and profit analysis, customer and competitor analysis, lost sales analytics tool.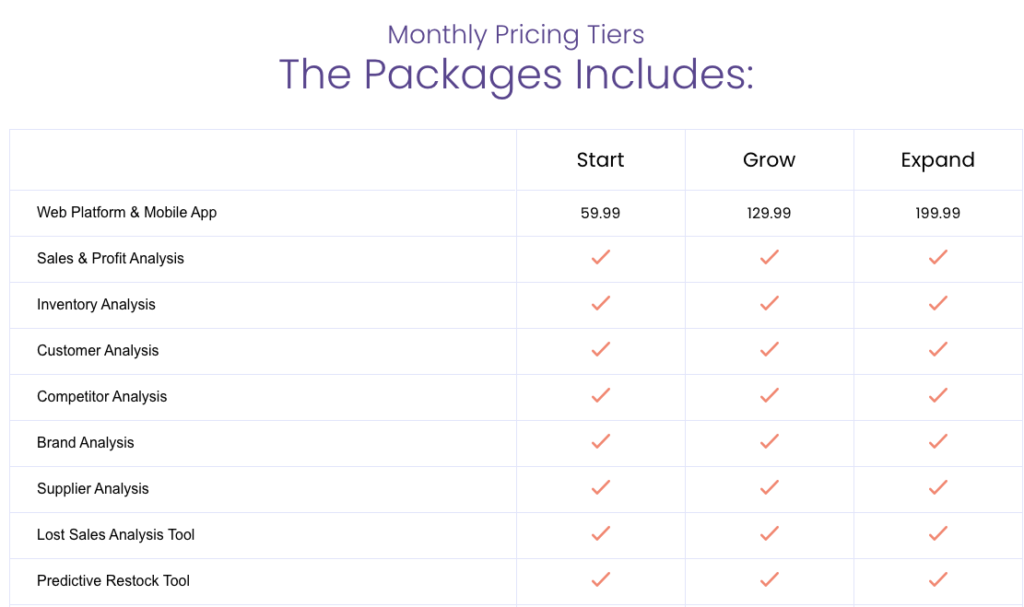 Going with the more advanced plans, it gives you some extra features, such as Amazon alerts and notifications, ASIN rank tracker, Feedback generator tool, and Amazon FBA shipment creation. With the Expand plan, you get the inventory management feature as well.
You can use a discount coupon code "ORANGEKLIK10" to get recurring 10% off any SellerMobile's subscription by using this affiliate link.
No coupons found.