River Cleaner is a Chrome browser Extension that keeps your Amazon product listing compliant! This tool offers guidelines for keeping your listings in check with Amazon's TOS right inside the Seller Central dashboard. Just insert your copy, keywords or other details and instantly see if you face a possible violation.
Here is the list of features and topics covered in this video:
00:44 What River Cleaner is and what problem does it solve for Amazon sellers?
02:36 What kind of users River Cleaner is targeting?
02:51 What marketplaces are covered by River Cleaner?
03:12 How does the River Cleaner connect to the seller's account?
04:13 River Cleaner works directly in your Seller Central
04:48 River Cleaner features on the "Vital Info" tab inside the Seller Central
05:20 Popup recommendation next to the Product Name: triggers when subjective claims, forbidden keywords are in use.
07:31 Tools, which helps to calculate your margin directly on the price setup page.
08:33 River Cleaner checks if images are compliant with Amazon rules
08:43 Tool, which checks if keywords are present in the product description
09:02 HTML editor appears inside the product description field
09:57 Advanced keyword research tool under the "Keywords" tab of ASIN
15:40 PPC Optimizer – suggests keywords, which need to be optimized or added to the negative keywords list
16:10 "Latest Policy Changes" section.
17:28 Overview of 30+ features provided by River Cleaner: index checker, various alerts (hijacker, negative feedback, listing suppression, keyword indexing), order search, string auto correct
20:40 SMART Emails: Drag and drop follow up email creation tool (with images and videos).
24:05 Adding customer's name on the image inside the follow up email
27:35 Pricing
28:16 Is it possible to run River Cleaner tool only on the selected ASINs and not all of them?
29:48 Switching on/off product listing alerts (hijacker, reviews, etc)
30:27 River Cleaner features are spread across Chrome extension v.s. web app
31:12 Upcoming features: keyword tracking, ASIN reverse tool
32:37 Join Facebook group by Ivelin Demirov for advanced seller more tips and tricks
33:13 How do users get support and how fast is the response time?
---
Transcript – Walk-through of River Cleaner
[00:01] Augustas: Hello, everyone. Welcome back to another session of Demo Mondays. Demo Mondays is a video series presented on Mondays where I invite founders and creators of Amazon seller tools to present their products. And they show their products by screen sharing. And today, my guest is River Cleaner.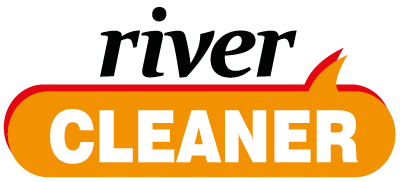 [00:33] Augustas: And River Cleaner is presented by its founder, Ivelin Demirov. Hello, Ivelin. Can you tell us what River Cleaner is and what kind of problem does it solve for Amazon sellers?
[00:55] Ivelin: We are monitoring the Terms of Service and the Style Guides. So if Amazon changed something in the policy, we're the first to know. Later on, we also started monitoring changes in the algorithm. So we do a lot of testing with Amazon. I also have a very old account, which is one of the first accounts on Amazon. And every time they do a change, they first implement it into these old accounts. They'd do split testing in those old accounts. And I had the benefit to be one of the first to know if they're trying new stuff. So we start programmatically checking this account in like every 10 minutes, if there's something new coming up. And usually when they do a new change, we know right away that in the next weeks or months, something new is coming to Amazon. So people who are in my Facebook group know all the benefits of it for a long time, and you can see that because you're in the group, right? You can see how, before Amazon starts implementing a new feature, we already knew that, like months before. This was how River Cleaner was born. And then we started adding more and more features to it and decided to go public to help advanced sellers who had like thousands of listings. And it's also very beneficial for brand new sellers.
[02:34] Augustas: So you answered my next question about what kind of users you're targeting. So basically, everyone can use your tool and benefit from it.
[02:43] Ivelin: It doesn't matter if you have one listing or thousands of listings. We have a plan for you.
[02:51] Augustas: And a very important question for international sellers. What marketplaces do you cover?
[03:07] Ivelin: Right now, we work in the US, Canada, in the five countries in EU, and I'm also working right now with Japan and implementing the same in India.
[03:13] Augustas: Is it needed to link your seller account with your tool?
[03:34] Ivelin: We have tools like Keyword Research and Email Follow-up which require API connection. But right now, we have the fastest API connection like a one-click connection, because most people nowadays have to go copy and paste their details, and Amazon, sometimes, change this process as well. For many people, it's difficult. We have one-click API connections — so click once, and the software will do the rest.
[03:50] Augustas: That sounds interesting. So let's see what you have inside. Are you ready to show us?
[03:54] Ivelin: Yes, I am. Let me switch to my screen and I'll show the various tools that we have right now. We constantly add more and more tools. People request additional stuff in the Facebook group, so we work all the time in improving the existing tools at River Cleaner. This is what River Cleaner is actually doing. It works directly inside your Seller Central, so you don't need to go to a third party software and back and forth. You get recommendations on what's wrong with your listing or what you can improve directly inside your Seller Central. So we have the various tabs that you have on your listing. Every tab has a specific recommendations on the content that you see on the page. So if you go to the "Vital Info", for example, the first thing you see is a pop-up which shows you a mobile view so you can see where your title is truncated and how it looks on various mobile views, so you can actually go and optimize your titles and your images and what will be shown, which part of the description will be shown.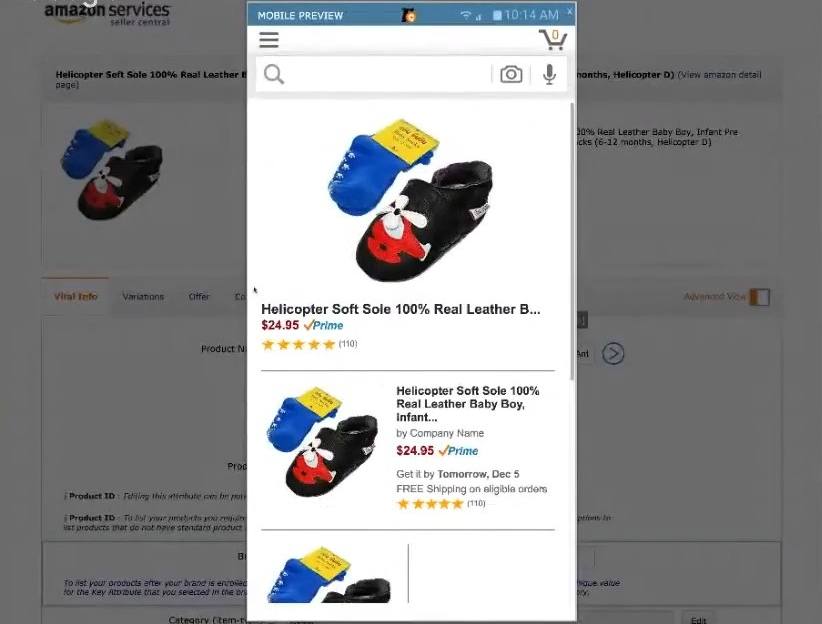 [05:13] Ivelin: And the first three bullet points as well. The next thing you can notice is, around that "Product Name" field — which is your product title — various pop-ups appeared, which are actually recommendations based on Terms of Service and Style Guides. We also check the length of the title. And we have an extensive list that we collected through the years which include Subjective Claims, Forbidden Keywords, keywords that are usually not indexed by Amazon. All of that we actually collected through the years. We have this list that is checking right now in real time your title, and you can see right now, it pulls up from the Style Guides the structure of the recommended product name for this specific category. So it tells you that it has to start with the brand name, and then you have gender, age group, and so on. So these are recommendations directly from the specific style guide. And also, we have a Subjective Claim here — a notification that tells you that "REAL" is considered a subjective claim and this is not something that necessarily contributes to more sales. So Amazon tells you to be careful. It's not forbidden. So we color-coded the messages. If you see something that is in red, then it's urgent to remove, like if you use some forbidden keyword or an offensive term, it will show a red message that tells you to remove that the right away.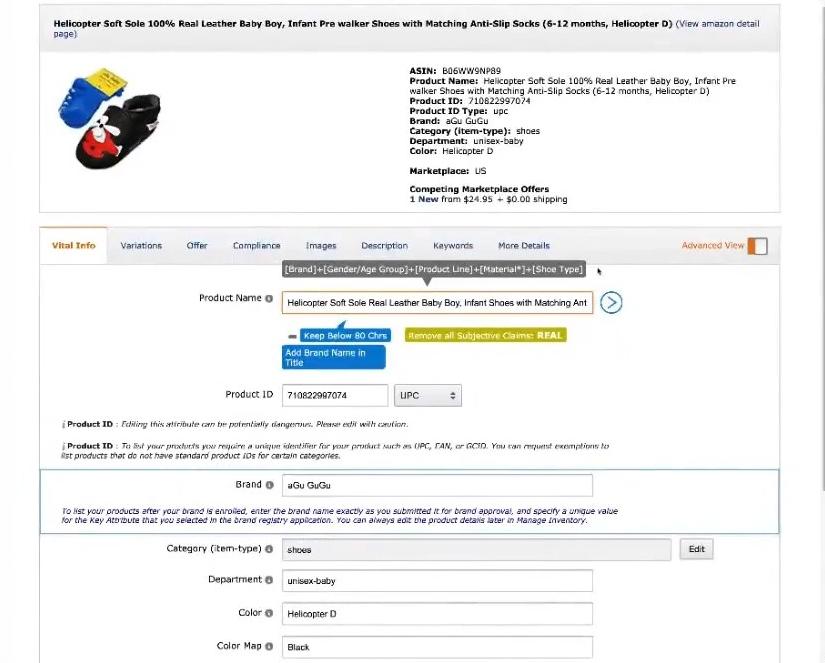 [07:13] Ivelin: We have recommendations on how long the title should be, and with the click of a button, you can actually add your brand name and so on. On every tab that you go, you can see this blue recommendations. These are tools by River Cleaner. For example, in the "Sale Price", if you want to sell and you know your "Sourcing Price", you can save it for each listing. This is not something that you can see inside your listing, this is from the extension. So let's say you want to set the Sale Price at $9, and if you don't know what your Sourcing Price is, if you don't know it by heart and if you don't know what is the FBA fee by heart based on that Sale Price, it will be hard to calculate your Margin right now.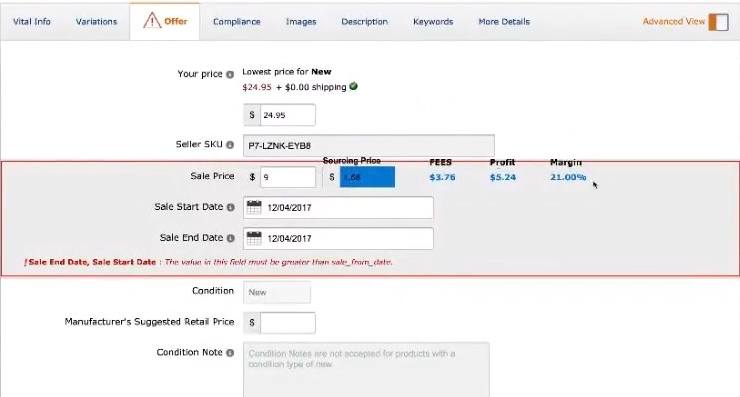 [08:16] Ivelin: So if you go with a lower Sourcing Price, for example, $5, you can easily be losing money on the sale. In other words, we placed the FBA fee directly inside your Offer because usually, you just see it on the Inventory page and it's based on your Full Price and not on your Sale Price. So we have recommendations, we check images if it's pure white background, and we check the dimension of the images if they are optimized. In the "Description", we have a tool which actually checks if your keywords are present in the bullet points and in the description.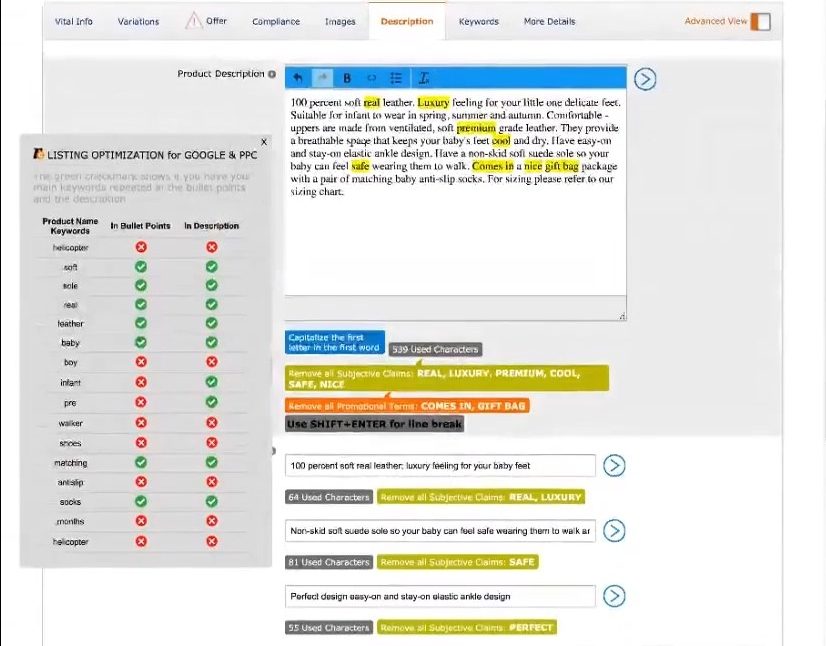 [08:55] Ivelin: This helps you to optimize your listing for Google search and it also helps for PPC when you advertise. We have an HTML tool that is actually very easy to use — you don't need to know HTML that well. It will pop up directly in your "Product Description" so you can quickly start formatting your listing and give it a more readable look, and also, at the same time, it highlights Subjective Claims or Promotional Terms that have been used. If you don't know the rules — and the rules can change anytime — this keeps you updated. And you want to take a decision to do something with it or just leave it like this. If you see a blue button, you just click it and it will reformat your listing automatically based on the Terms of Service.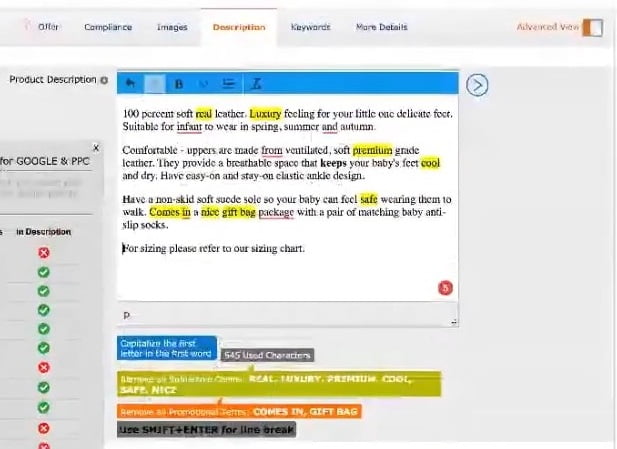 [10:09] Ivelin: On the "Keyword" tab, we have a research tool which actually is very optimized and is a very advanced tool. It looks like a very small window, right here, but there is a lot going on under the hood of that tool. Let me give you an example. So for example, let's say you're looking for baby shoes. As soon as it starts typing, it pulls directly from Amazon all the relevant terms to what you're typing. It's the algorithm that suggests what you usually have in the search bar. And then we grab all of your Top 10 Competitor's Keywords and we compare them with your listing so we can give you recommendations of what you're actually missing. Also, we try to remove the brand names, but sometimes, it doesn't work very well. So you have to be careful not to use any brand names in your backend keywords. But what's neat about this feature is that you'll know right away if you have some very interesting keyword that you are actually missing in your back end. You don't need to go to a third party tool back and forth, copying, pasting and compare if you're missing something.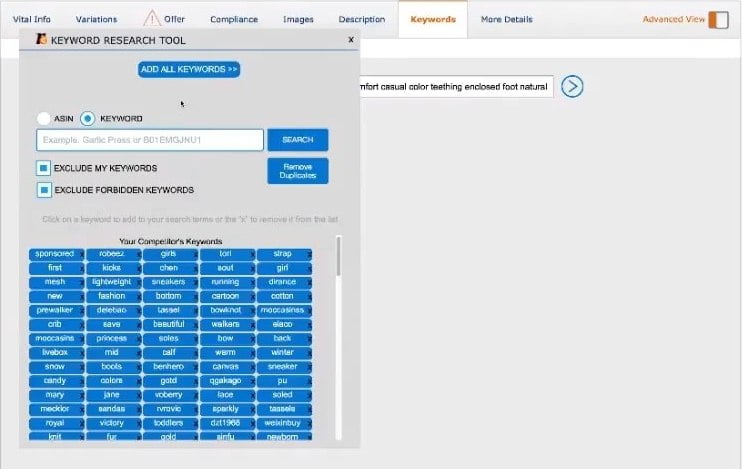 [10:09] Augustas: So these are the backend keywords of your competitors, right?
[11:38] Ivelin: These are actually keywords in the front that you're missing. We have another tool that is specifically for the backend keywords, which is called "Reverse ASIN." This tool here, it's taking the front keywords because after the [keyword limit] changes, after the 250-character limit, most people move their strongest keywords in the front. So in the back, you have misspellings, translations in Spanish and so on. You don't have a lot of room in the back end. A lot of people also use the description field to stuff keywords in there, and we actually also grab these keywords that are not visible if you have enhanced brand content. But they're still indexed by Amazon. So we grab also these fields. So if your competitor has hidden keywords in their description field, we also pull these keywords and compare them against your keywords so that you have idea what you're missing.
[12:53] Ivelin: You can also find articles. If you go to Google, for example, and look for baby shoes. If you grab some of the well-optimized results that you got and find an article — for example, on baby shoes — you can grab this text and put it inside your River Cleaner Keyword tool and it will give you, again, only the keywords that you are missing. It will extract every useful keyword that you have and it will be shown to you in a way that you can just click on one of these.
[13:50] Augustas: Where can you enter this text into this?
[13:56] Ivelin: Just here in the "Search" field. Enter it in here and you can remove the duplicates and it will give you only the useful keywords. So this is another way to find keywords that your competitors are not using but are popular, for example, in Google search. And you can do a lot of research with this tool and all it takes is just one click and you can remove what is not relevant. For example, in here, you can click once to add that specific keyword or remove keywords from that list. And then you can click "Add All Keywords" and this will all be added to yours. And right away, you can see it gives you a recommendation that you are over the 250 [keyword limit] bytes. And we count real bytes. We don't count characters because, in different languages, you have different bytes. And with one click, you can remove all of your forbidden keywords or keywords against the Style Guide. So this is what it's doing directly inside your Seller Central, and there is a lot of power behind this. There's so much information. And every one of you will have a completely different result because of the products that you have and the specific category that you have.
[15:37] Ivelin: It will give you different results. Also, we have a "PPC Optimizer", which we're working on right now, where you can upload your certain reports that you can download from Seller Central. Drag them into here and it will tell you which keywords you need to optimize for and which one you want to add to your Negative Keywords.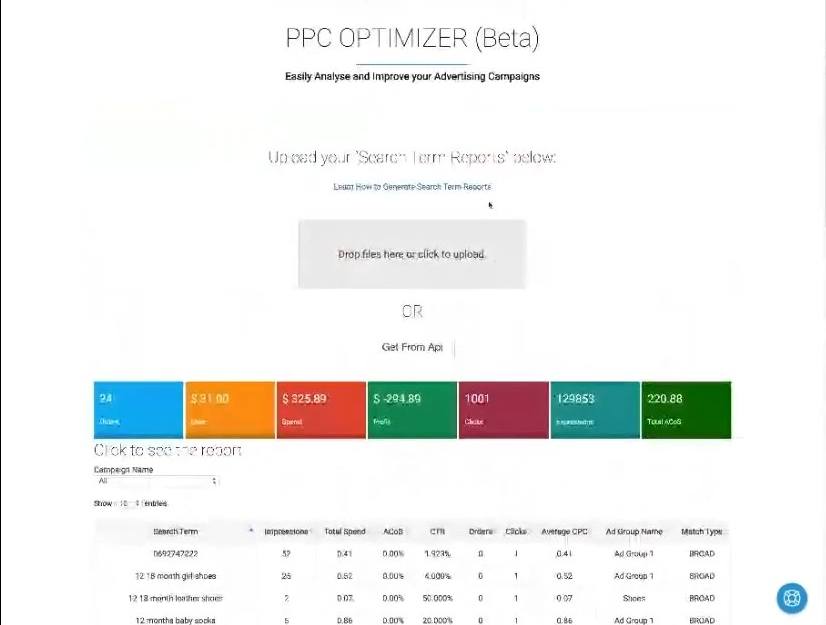 [16:19] Ivelin: [River Cleaner] members can also see the latest changes in the Terms of Service. If you log in and you go to your "Terms of Service" tab, you can see what exactly changed, instead of going all the time to the Help section and read that specific Terms of Service. And people don't remember what was changed the last time. Do they need to read the whole thing? We do a comparison between before [the latest change] and after and we give it in a very easy-to-understand way.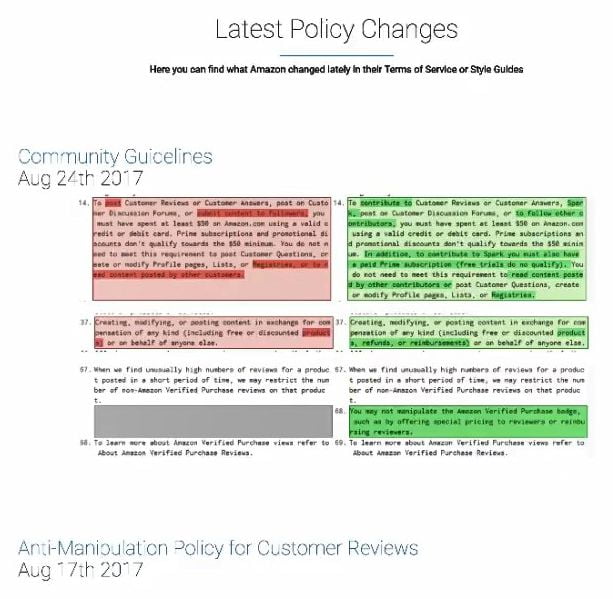 [16:19] Augustas: And are you also checking for policy changes for the other marketplaces? For example, European policy changes.
[16:52] Ivelin: Yeah. Sometimes, Europe is ahead of the US. Sometimes, they do a test in a small country so they can see how it will go, and then they implement that. And we've seen that a number of times — they first start in the UK, and then a month later, the same policy applies into the US market.
[17:15] Augustas: And how do we see this in River Cleaner? How do we see if it's a UK or a US website?
[17:21] Ivelin: It will be sent by email. Usually, we have an automatic email system. Let me just show you the complete list of the features. We have a lot of features and I'm just making sure that I'm not missing any. So we have an "Index Checker" which is a one-click on each field. You can click indexing and we'll go and check if these keywords or phrases are indexed on Amazon. And if you see that something's not indexed, you can go check why it isn't — you're probably using a forbidden keyword or something. We have a lot of alerts that we're sending. For example, "Listing Hijackers Alert." And when you get a negative feedback or your listing was suppressed, you will receive an email immediately, so you can go in and take action on that. We also have the option to check indexing on the background. So people who have hundreds of listings, they don't want to go check all their listings every week, one by one. We do that automatically in the background. And then you'll receive an email that tells you this keyword is not indexed for this listing.
[19:01] Ivelin: We can also search orders by buyer's name or phone number or some other information for people who use third party applications. It's very useful. Amazon's search interface is not that user-friendly. When you do a quick search, you have to always know the order number so it can go and search. We have additional search tools in there.
[19:21] Augustas: And is this accessible through the top menu of your application? You probably cannot show it due to confidential data.
[19:29] Ivelin: Exactly. It's located right here in the "Orders." And then it pulls up a table with all of your recent orders and then you have a search bar where you can start searching. What else do we have? We have all this "Autocorrect" features that Amazon prefers. If you're using some kind of capitalization…they're not forbidden, but they're just preferred by Amazon. So we try to do everything to please them, right? Right now, they started enforcing these How-To guides in some categories and I think more and more enforcement will come into the future. So we're prepared for that. We also have probably one of the greatest Facebook groups, right? Every single famous Amazon seller is in there, so people benefit a lot from that.
[20:43] Ivelin: Alright, let me show you the newest addition to the River Cleaner. We now have a drag and drop Follow-up Email system which gives you the ability to make highly personalized follow-up emails. You can, for example, add the name of your buyer on an image. And let me show you how it works.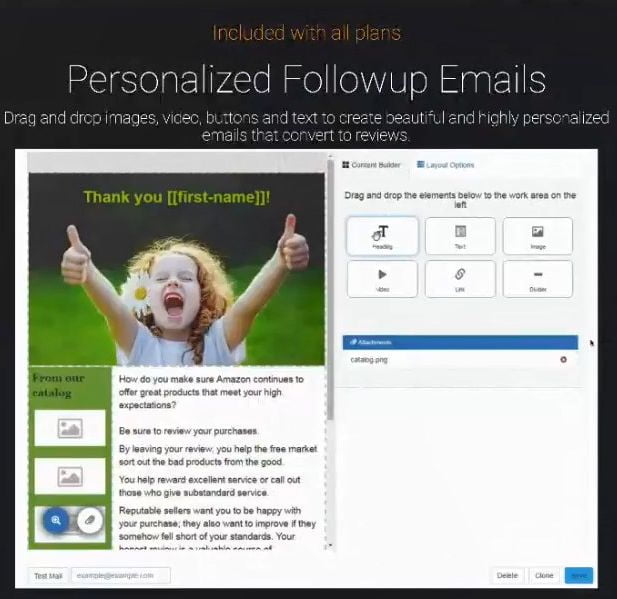 [21:15] Ivelin: So let's start with typing a campaign name here, and choosing one or more products that you want to send in the email, and then create a quick design here. It's a drag and drop interface. You don't need to know any HTML or anything. You just drag an image or a text, and you can also drag a video and it's completely within the Terms of Service because we use the Amazon server and it's completely allowed to have a video in your email. So this can be very useful if you want to send instructional video or how-to or unboxing or any type of video that can help your customer on how to best use your product. You can drag and drop elements right here and quickly change the color of the email.
[22:27] Augustas: You mentioned the video. Will it be just a link to the video or will you put an automatic screenshot or a better image?
[22:35] Ivelin: It's an automatic screenshot, actually. You can drop a file here, and right now, you can see I have a video here that is uploaded. So the customer will actually see a screenshot that is not from your video. And when they click on it, then it will open another window with your video.
[23:08] Ivelin: So when you click on the "Image", it will automatically show the products that you're using, and with one click, it will be inserted in here. And then you can change the link here and you can write like, "Write on my Wall." Because people hate writing reviews, but you like writing on someone's wall, right? Like on Facebook. And you can increase the size here or the texts, align it and change the color quickly of that text — something that goes with your design. And very quickly, you can do some very creative emails that will look much better than just texts that most people see when they receive. And it's much more engaging. And also, what you can start doing is you can add that person's name on the image and this will make them feel special because it doesn't happen every day that you see your name somewhere. You can also add the buyer's city, you can show an image, for example, of Texas, and you can say, "Your package is on its way to Texas." So it makes an impression with just the first second. That's all we need to grab that person's attention. It's very important, so they can read the rest of that email.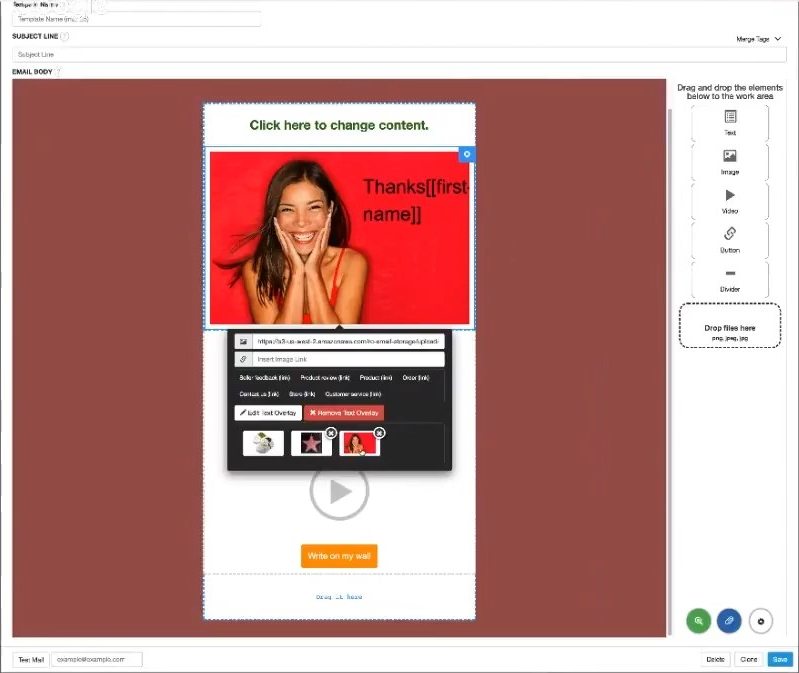 [23:08] Augustas: In your test email, did these HTML messages work very well?
[25:05] Ivelin: Yes. The story behind this is we've done this for many months manually in Photoshop. Every time we received an order, we just open Photoshop and then we put on the name of the person on an image, and say thank you and ask them to leave a review. It worked very, very well, but it takes a lot of time. And we only used it when we launched a new product. We don't do that all the time just to collect these initial reviews and all that you need to help you convert much faster. And then we decided that we can actually automate the system. It's a tedious task every time you have to change the name of the person. So this is what they will actually see when they receive an email. It will have some kind of message. You can say, "Thank you," for example.
[25:05] Ivelin: And this is what they will see in their email. So right now, we're working on many templates that we can offer, including our best converting templates as well. What we've tested in the last months, the ones that work best, we'll be making them as default templates where you can copy and just change your image and your text a little bit and start using that right away instead of composing one by one. But if you want to start by scratch, it's very easy to work with this, without knowing any HTML or anything about the Terms of Service. And you can quickly send yourself a test email so you can see how it will look in your inbox.
[27:24] Augustas: Yeah. It looks very innovative and new.
[27:32] Ivelin: Yeah. So these are some of the tools that we have. You can see the pricing here. It's based on product limitation. So it depends on how many products you have. You can choose your plan, you can always start with one listing, test it, see how it works for your company or business, and then you can go and upgrade your account for more product.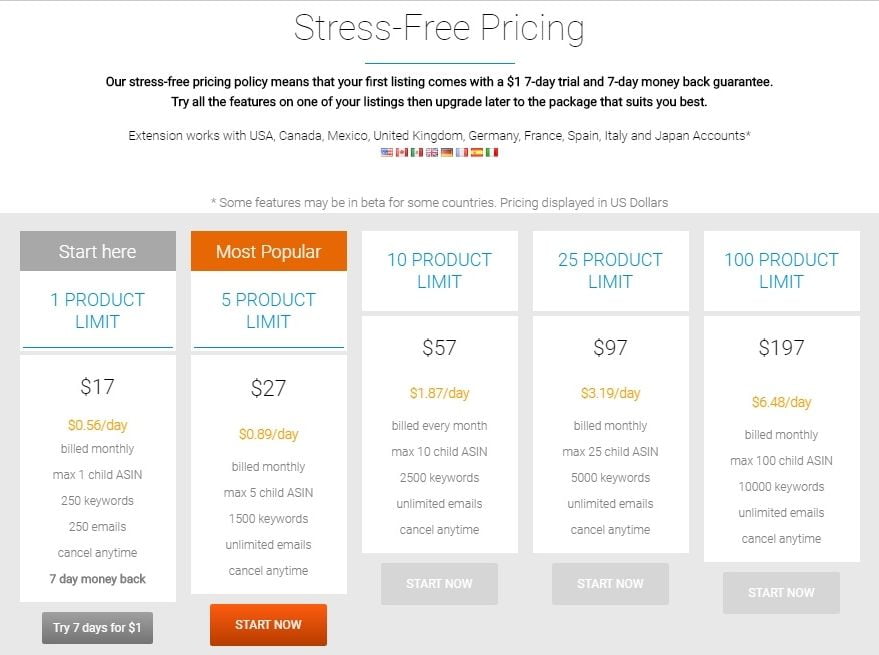 [28:04] Augustas: And if someone has more than 100 [products], do they have to contact you for custom price?
[28:12] Ivelin: Exactly. So if you have more than a hundred products, you can always contact us and we'll give you a special price.
[28:21] Augustas: Let's say I have 200 products but I want to run your software only on 50 products. Is it possible?
[28:49] Ivelin: Exactly. You can see right here. The ones you selected will be the ones that you'll be using. So you can have like 200 products, but you want to use it only on your FBA, and you want only one, or two or three products, the ones you selected, they will be the one that you'll use.
[28:51] Augustas: And how do you choose products from a different marketplace?
[28:57] Ivelin: If you go directly to your Seller Central, in the Inventory page, there will be a "River Cleaner" button that will appear in there. And if you click it, so let's say you sell in Italy, you will go to your Italy account, you go to the Inventory and then you click on that button, and these products will show right here. And then you can go and select the ones that you to want to use.
[29:28] Augustas: But this page is for sending emails, right?
[29:43] Ivelin: Yes. It's the same page. So it appears also on your other accounts. We'll go to the Dashboard. This is what it looks like in the Dashboard. Your product will load here. And these are the alerts that you want to switch on and off for Feedbacks, Reviews, Hijackers, or Inactive listings. So if something happened to your image and your listing is suppressed, you will receive an email. People create a lot of listings and sometimes they will notice it very late. And many people receive email from Amazon, "This listing is suppressed," but many don't receive emails. We take that every minute and they receive a message right away.
[30:32] Augustas: And to be clear, when you sign up for River Cleaner, do you need to install a Chrome Extension? Also, what are the features that can only be accessed through your website? And does the Chrome extension modify Seller Central?
[30:52] Ivelin: Exactly. So the orders, the Terms of Service information, the PPC Optimizer and the smart emails are accessible through the website. All the information that you receive, what you see right here in Seller Central, it's from the extension.
[31:16] Augustas: Great. Very nice. Did you reveal any upcoming features already? Do you have some plans for something interesting?
[31:41] Ivelin: Right now, we're working on Keyword Tracking and the ASIN Reversal. A lot of people are lacking a good keyword tool that gives the exact data from Amazon. So we're working right now on an extensive keyword tool which will give you not only the competitor's back-end keywords, but the search volume of these keywords as well, and also all of the Long Tail Keywords that drive the most traffic for other people. This is what we're using. This is what I think is missing on the market right now, a good reliable keyword tool that is not very expensive. Because there are tools, but they're too expensive. So people are looking for something more affordable.
[32:31] Augustas: OK. Is there anything else you want to show on the screen or are you done?
[32:38] Ivelin: The most that I can share with you is what's happening in the Facebook group. It's only for advanced sellers. So if you're selling for at least a year, you can join the group. It's Facebook.com/groups/RiverCleaner and there's a lot of tips and tricks that we share in there and it can help a lot with your business.
[33:09] Augustas: Yeah. So we'll put a link to your Facebook group. So you mentioned Facebook group. I imagine Facebook group is not really providing support for River Cleaner users, right? Or is it also for support questions?
[33:32] Ivelin: It's not for support. Support goes to email. We have a team that is 24/7, so you can always write to Support@RiverCleaner.com. The Facebook group is specifically for tactics and the newest tricks that come up on Amazon. And also, we announce every changes to the Terms of Service and the Style Guides. So if anything changes, our group members are the first to know.
[33:32] Augustas: And how fast do you answer Support emails?
[34:11] Ivelin: We try to answer within two hours during the weekdays, and eight hours on the weekends.
[34:23] Augustas: That sounds really good. Do you have any offer for Demo Mondays viewers?
[34:35] Ivelin: Absolutely. We have a 20 percent off offer right now until next week. So you can use "Demo Mondays" as a coupon code if you decide to upgrade to a higher plan. Try it on one of your listings, and if you like what what it does, you can upgrade and use the coupon code to upgrade to any plan with the 20 percent off.
[35:05] Augustas: That sounds good. Thanks a lot, Ivelin, for this presentation and good luck in your business. Bye bye.
[35:05] Ivelin: Thank you. Bye bye.