Profit Whales PPC Optimization Software is a complete tool to automate the optimization of your advertising campaigns on Amazon. Forget about the tasks like bid management, keywords harvesting, adding negative keywords, etc. The algorithm will do the work based on your advertising and business goal while you sleep. You sell, Profit Whales do the rest!
Profit Whales is presented by Vitalij.
List of features covered in this video:
00:34 About Profit Whales
04:09 The main screen of Profit Whales
05:07 Four different strategies
05:54 Product settings
06:32 PPC optimization report
07:19 PAT's campaigns
08:21 Dashboard
10:08 CPC compare with Ad CVR
13:43 Support
15:55 Upcoming features
15:42 Dayparting
17:11 Zero to hero tool
19:38 Pricing
21:49 Special offer – use DEMOMONDAYS code to get 30% off the first 3 months
---
Transcript – Walk-through of Profit Whales
[00:00] Augustas: Welcome back to Demo Mondays. Demo Mondays is a video series where I invite different Amazon sellers software creators and I ask them to demonstrate their products just like this on the screen. And today my guest is Profit Whales.

[00:22] Augustas: …and Profit Whales is presented by Vitalij. Hello Vitalij!
[00:26] Vitalij: Hi Augustas, nice to meet you too.
[00:29] Augustas: Hi. Nice to meet you too. So, could you please tell us – what is Profit Whale and how do you help Amazon sellers?
[00:34] Vitalij: Of course, ii will be my pleasure. So, the Profit Whales, if the PPC optimization software is a completely too to automate your advertising campaigns on Amazon and profit players connects to your seller account and is able to optimize your existing campaigns, as well as create your own campaigns and the keyboards. Just add them to your accounts. Also, the ASIN's and categories and pulling these data from your search term reports and other sources. So the Profit Whales is different from other rule-based softwares, where you just configure it, your campaigns based on existing rules. And at the same time you need to understand your PPC well enough, like the setup, the creation, the optimization and analytics and completely learn the tools of the software. You created this rules and after the descript or AI algorithms just take the actions.
[01:37] Vitalij: But don't take your own basis, really useful. But if you're already have any advanced skills. With PPC like with a Amazon PPC or other, like the same experience. On the other hand, the Profit Whales, fully automate all the routine tasks that you can undertake from your advertising. We will with the help of our algorithms, like we call this like "confidence level", make sure that the decisions of your optimization that we will do with our software will be right at least on 90%. So we will add new keywords, we will add your negative keywords, add new ASIN's, change the bids, according to your main goals. So here it is like a short intro regarding the Profit Whales software.
[02:33] Augustas: It's pretty clear. So it sounds like it's perfect for beginner Amazon sellers. Is it good also for intermediate and advanced Amazon sellers?
[02:41] Vitalij: I guess the main strong side on this software is for these like medium Amazon sellers, who just has an experience with the Amazon and PPC, who trieds to scale their business or maybe to optimize their results. For example, just decrease the ACoS, and they have any data, like one month, two months, it's like maybe a year, half a year, and they do the PPC, and now they're focusing on just scaling and loosing in their results. I knew that we could do it for medium size enterprises. Yes. And for beginners, we could also provide some details, but I will tell you a little bit later and how we could help the beginners.
[03:30] Augustas: Perfect. What marketplaces are you connecting to with your tool?
[03:35] Vitalij: Right now we are focusing on the United States marketplace. And we will also just opened Amazon marketplace for us, but the core business and the software right now working only for the United States marketplace.
[03:54] Augustas: Are planning to add the European marketplaces?
[03:57] Vitalij: Yeah, yeah, of course. We'll start from the Canada and then go to the European Union.
[04:02] Augustas: Great. So I think that's time to jump into your tool and see how it works.
[04:09] Vitalij: Here we have like the main screen when you login. Yeah. Two hours.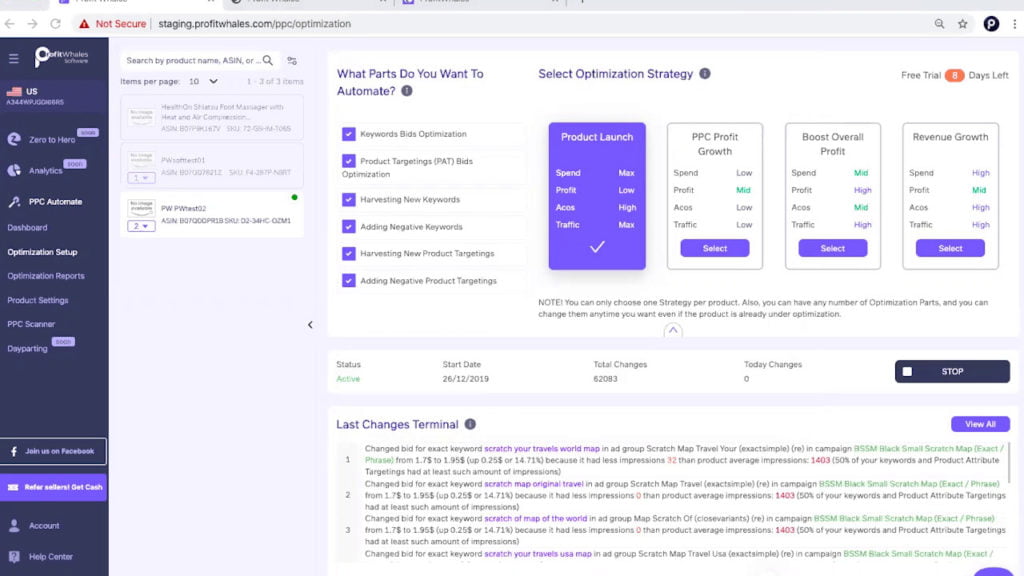 [04:18] Vitalij: For example, our free trial or just logg in to your account. This screen that you will see on the beginning, right. And here on the left side you could see all your products that you will have in your account. So as I have mentioned before, the Profit Whales software will logg in to your Seller Center account and just connect it. And after that we will see all these products. Here you will see what parts do you want to automate – the software will takes care. And so we will work in a case of keywords bid optimisation, product targeting bids optimization, harvesting new keywords, adding your negative keywords or harvesting new products targetings, just adding your negative product targeting. Yes. And here what you should do: we have four different strategies, based on your goals, and if you would like to know more about them, you could just click and see the more information about each one.
[05:20] Vitalij: And all these strategies are stick to your goals just for reaching them according to your stage on Amazon, right. For example, if you want to make a product launch and you understand that you need to boost your PPC and the organic sales, let's go with a product launch for example. And it will be much easier to do, because you just need to click on the bottom start and it will works for you. It's like with two clicks. But one thing that really important, you should go through the product settings and set up your margin, and like "net margin" for these products. How to calculate it – you could see here with "i" just additional info, just set up, for example, like 30. And here you can see that all changes are saved in their account. And after that, go come back to the PPC set top.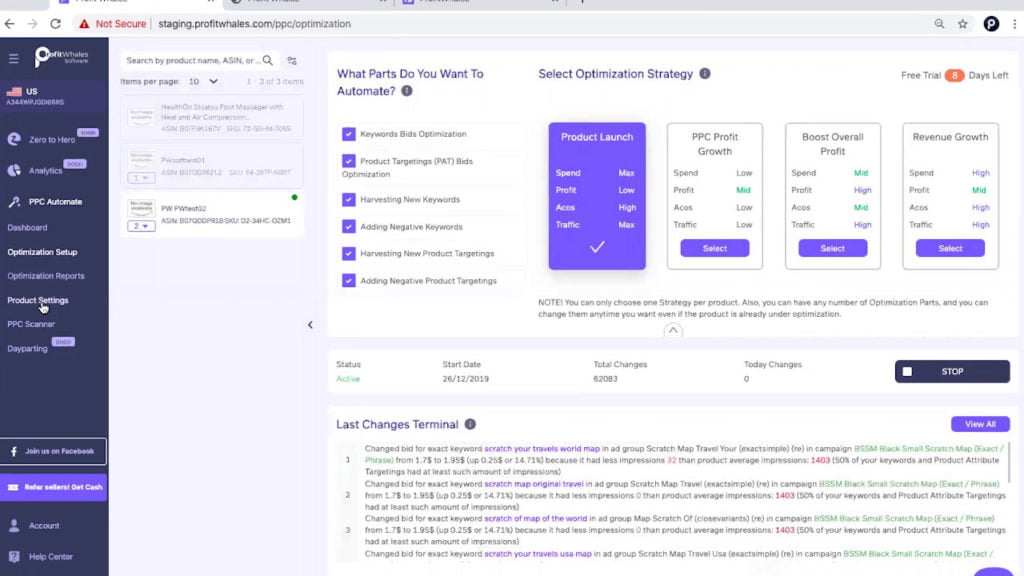 [06:18] Vitalij: Just choosing your strategy that will seems to your Amazon goals. What do you will just get after these PPC optimization, it seems to check in the PPC optimization reports, where you could find all data, for example, according to the last week or last 14 days or less. Today's like the changes. What you'exactly just get and I guess it's like one of the most coolest thing that we have in the software, because you could check the all keywords optimization according to bids, for example, according to ACoS, right. And here you will see that the bid is go up or down, or up or down. It's like based on all algorithm that we have in the software. So what do you need to do is just to sit as more comfortable, as you can and check the data, what we will provide you.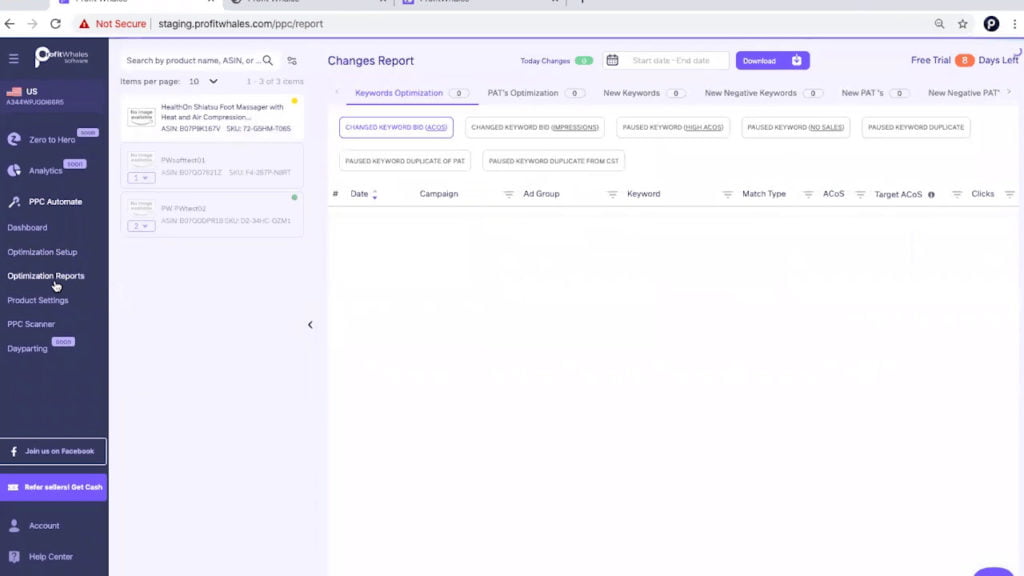 [07:16] Vitalij: So, for example, if you would like to see the PAT's campaigns, it's also the same like the here we have a changes according to the bids. It's going up or down and algorithms do these changing and analyzing these data and every hour just checking is everything is good reaching these goals or not. What about like your ACoS and your goals according to do the strategy that you have choosen.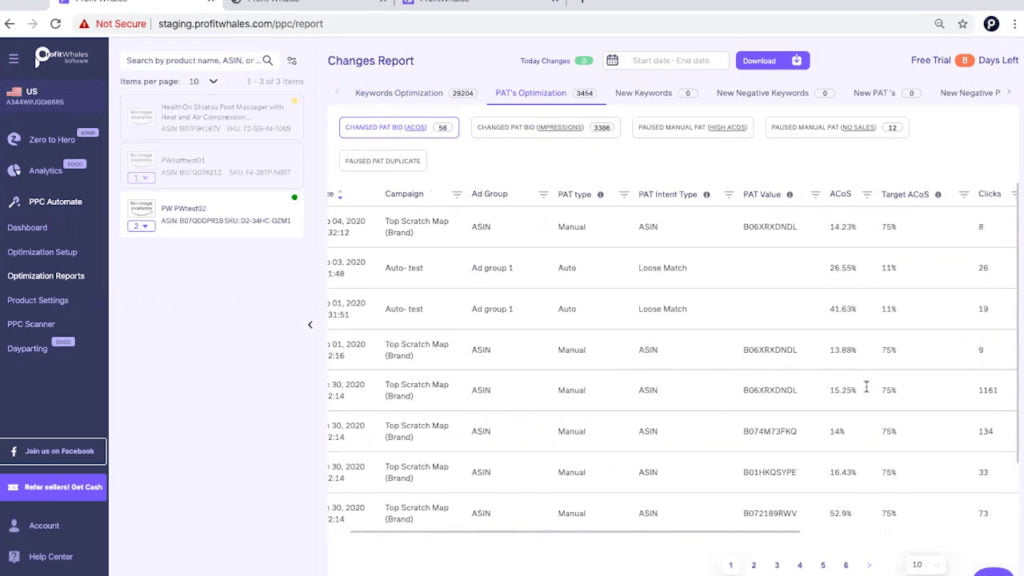 [07:40] Augustas: Sorry, what does it mean PAT?
[07:44] Vitalij: It's the product targeting campaigns. It's the campaigns that according to the ASIN's of your competitors. Also, for what we will do is, I have mentioned before – we could also add new keywords, your negative keywords, you bought campaigns. So we will create the new campaigns in your account, new add groups and we will add all data automatically. You're gonna need to do like not saying, you just need to sit up and let's margin and choose the strategy that you would like to reach.
[08:19] Vitalij: Also let's go through the dashboard. I guess it's like one of the coolest thing that we have. The dashboard will include like the data, according to your goals. Here you can see like the most important data that we have collected to the Amazon sellers. Here you could see like the 16 of them. Also, you can just add more for checking them out or just delete some of them. But I would like to show you why we have like so much of them. Yeah. Because we have added here the organic results and the PPC results. So you don't need to go and to check different reports, right? You don't need to analyze any data from a work file, for example, or something like that. It's worth from search. Here you could see the results according to, for example, like the last week.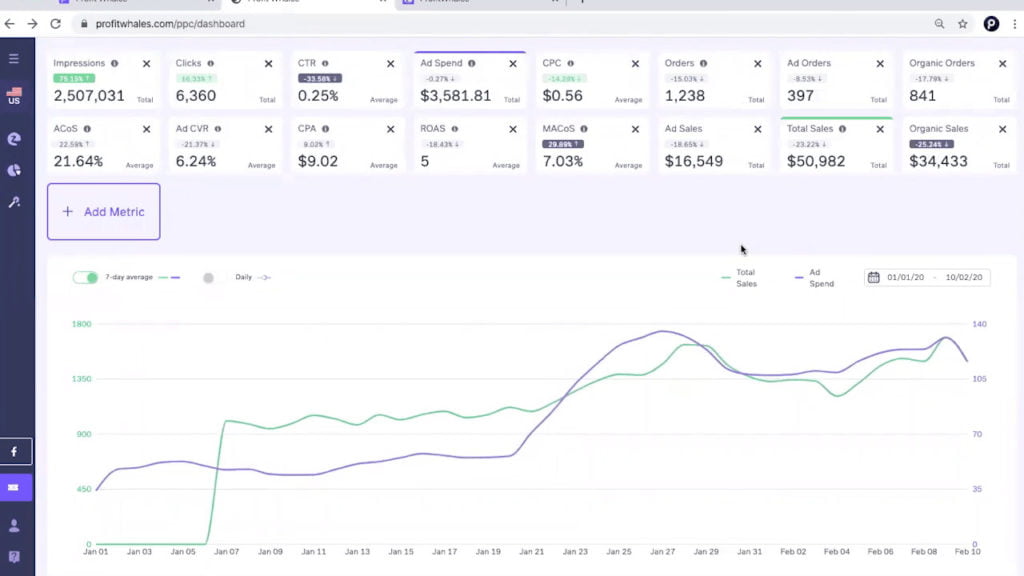 [09:20] Vitalij: Yeah. It's like the lifetime results from our users. And here, how our software start working. We'll launch our software in the 6th of June, and hear that what we get. We just take two metrics like the ad spent and total sales – you see in this account. And if you will check one of tis started this campaigns, the ad spend will go up. And also the total sales. You see that everything is going up, it's like the trend, right? These trans lines are going up and it's really good and amazing results for the January and February results, based on like the USA market. Also, we would like to, for example, compare the CPC – here it is – with a Ad CVR. Not every user just have a chance to colculate the conversion rates, right?
[10:21] Vitalij: And we do it with the help of our software. We would provide you with these metrics. So, what do you have here? You see that yours CPC is going up, and it's not maybe so good, many sellers will tell us, But come on, here you will see that the ad conversion is also going up and you get more sales every time and it's really a good metric for you just for making any more results. Like for making some changes, that you will understand that: "Okay, maybe I need to get more budgets and just to improve my spends for the CPC". If all campaigns work in the same way, it's just go up. So of course, let's do so. Really cool metric.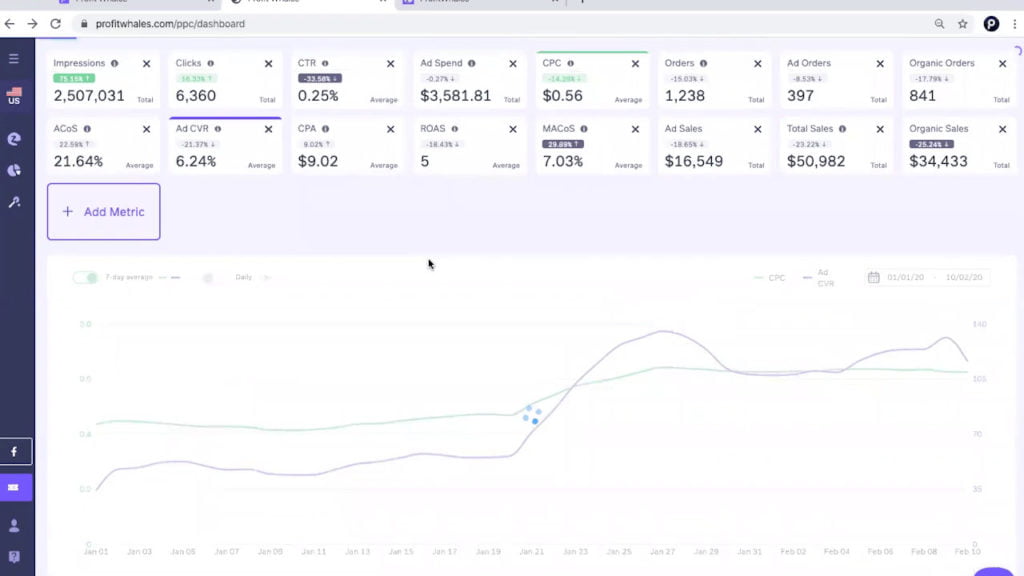 [11:09] Vitalij: You know, that we have these cool compare with like organic and PPC campaigns, right? If you start working on your PPC, it's also boost your organic results. So it's like two really good metrics to compare. For example, the ad spent according to the organic orders. It seems to not like cool to compare, but here you could see that your results is going up. You see like here, like here – it's really cool. And when you start spending more on your PPC, your organic results also given out and these trendline cool for making any decisions for boosting your PPC or boosting your organic results, so you could see the full picture. I guess it's like really cool. We could take the lifetime, for example, not like the three months on Amazon data, just to show and get the information. You can get it for half a year or just a year if you have connecting to our software. So, you we will collect all these data for the huge periods of time.
[12:26] Augustas: Now question about this user interface. Is it possible to compare only two metrics in the graph?
[12:32] Vitalij: Yeah. Right now you could compare only two metrics on the graph.
[12:36] Augustas: Is it possible to reorder these 16 blocks?
[12:41] Vitalij: Of course you could do it. You could just delete them and add another, just orders and other metrics. Yeah. So it's absolutely up to you. You could just delete all of them and just take only like two, for example, like impressions, organic sales and like CTR, for example. Or MACoS metric that everyone loves it. So you could do so and check metrics here. So it's up to you. But what I really do with our Amazon sellers and say users of the software, we just ad all needed like information just for getting through all these data. And it's really help us to make these clear decisions, according to what strategy to use, what we would like to do. It's really helpful for many of the users.
[13:36] Augustas: But all these numbers for those, who doesn't know about PPC, doesn't say anything.
[13:41] Vitalij: Yes, exactly. And that's why we have our support. We have the Kayako – we have more information and details for getting what to do, what metrics to use. We have a great chat here that you could use an answer, just ask all questions, about what metrics, about all information. We also started our YouTube. What is important to us, like theour main mission, is to provide Amazon sellers with these correct information, like with a content regarding the PPC: how to do it correctly, what metrics you should use, what metrics you shouldn't use or to be focused, right? We are going to give like all people and like our audience, our users the knowledge, regarding how to do it easier, how everything in these dashboards could help you to grow your business, to scale it. And that is like, that is really important to us. It's like the main mission to provide all needed information and content to our users.
[14:52] Augustas: Okay. Perfect.
[14:55] Vitalij: Also, maybe I need to say – regarding what do we have also, according to the PPC accounts, it's softwares that will be coming soon: is the "Zero to hero", the "Analytics" and "Daypartying" – all these tools also will help the Amazon sellers to make these correct actions. Because it's really important to understand when you need to increase your PPC budget or decreased, or you should be focused right now on your ACoS or not. And maybe you need some important changes in the organic part. And in this way we will provide you with more analytic data. And in "Dayparting" you will see that the results, according to the, for example, your budgets or something like that, you will see when your campaigns is out of budget, like daily, and you will make any changes.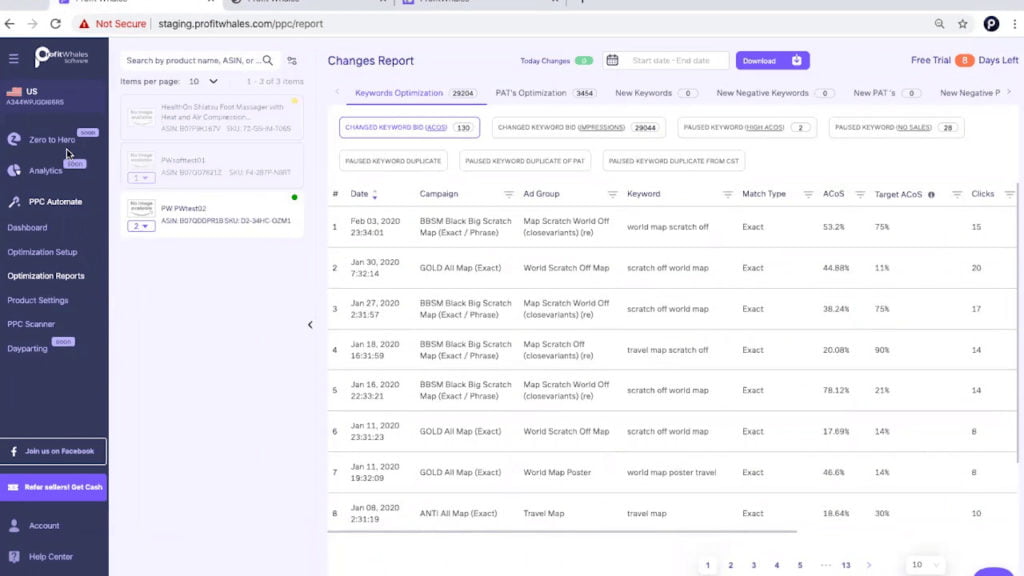 [15:56] Vitalij: We're getting like decrease your budgets on Monday and increase on Sunday, for example. And something like that. This data is like for more experienced sellers on Amazon, just for a check and more details, because there are really thoughts to go through all these data to analyze and provide more specific information that will help you, like to make any changes according to your daytime, like to stop your campaigns for example, on Monday, on Sunday during the some of the hours or maybe to restart them in another day or hour. So all this data, we will provide this soon and I believe that, according to our roadmap, we will do it like the "Dayparting" with more analytics that will help you correctly use your PPC budgets on February, like February 17th.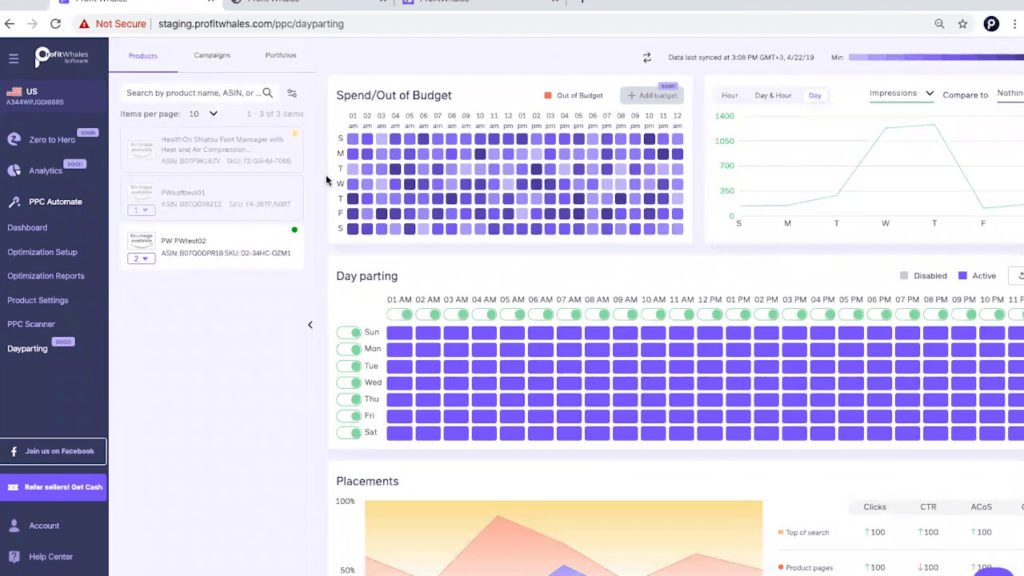 [16:57] Vitalij: Yeah. And other tools maybe I will tell you a little bit later, and we will also do this year.
[17:09] Augustas: And these tool – "Zero to hero". What does it do?
[17:12] New Speaker: Okay. So the "Zero to hero" tool is helping these beginners, the Amazon sellers who wants to start their first PPC campaigns and they don't know how to do it correctly. You will have a chance, with a few clicks create your PPC campaigns from the scratch, like from seven to nine campaigns that will add all needed negative keywords, all relevant keywords, all needed ASIN's, like for the PAT campaigns and all negative POTs, right? So we will provide you with a structure and we will upload it to your account on Amazon. And with a few clicks you will get a big structure with all needed relevant keywords and negative keywords.
[18:01] Vitalij: And you don't need to go through like nothing, you don't need to collect these all keywords, just searching your search terms. We will do it on our sites. So with a few clicks you will get these campaigns structure and that's all, it will works for you. And also, you will connect it to our PPC optimization. Here it is. No worries. We're getting the PPC no more.
[18:28] Augustas: Good, nice.
[18:28] Vitalij: And according to PPC analytics, we have checked a lot of analytics softwares around the market. We just start searching around and we understand that they analytic tools provides only the numbers, like 4 for today and maybe for tomorrow, but not all of them, just today or yesterday or the last week or a month. But we are going to make the analytic that we're like the inventory analytics, regarding like next week, next month, how much you should have, like your products are on these storage, and you will understand how much one you should spend right now for getting all these results.
[19:13] Vitalij: So we will do all these calculations for our users and provide them how to boost your PPC compaigns right now. How to like, for example, be more slow and use all profit for right now, more slowly and we'll do it for our users.
[19:34] Augustas: So now you want to show us the pricing, right?
[19:38] Vitalij: Yeah, I guess it will be the next question, because we have a lot of tools, like most of them, and every time we just got "Hey guys, what is the price for these cool tools, where you do like the everything for right now represents optimization and what is the price for these market?". And if you were just beginning and working with Amazon for example, or you are experienced seller, but you have like not so much money for your ad spend. And you spent less than $1 000 per month, you will pay only $ 35 using our software. So it will be enough. If you want to go more and, for example, it will be $5 000, it will only be like $225. How we calculate it? It's also easy. We do, it's like 100 plus 2.5% per monthly ad spend. And here you could see like in other calculation formulas what we get. Of course, if you just spent more than $1 00 000, just contact us and we will provide you with enterprise prices and packages, how we work. And, for example, if you spent like $40 000, it will be only $1 000 for you for using the software. So it will be quite enough for scaling your business and boosting your PPC campaigns and the expresses that they have.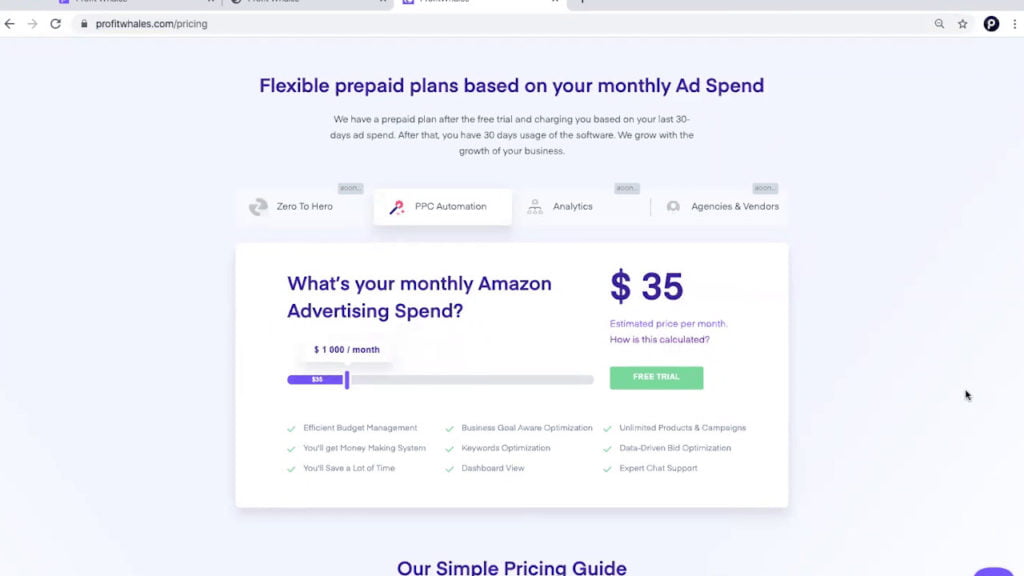 [21:24] Augustas: So it means that you charge after the month is finished, right?
[21:30] Vitalij: Yeah, exactly. We charge after the moth. Like we analyze how much your campaigns just spend during like these months, and you wouldn't like these periods of time and we charging. Yeah, exactly.
[21:41] Augustas: All right. Thank you very much for your clean presentation. And a final question, do you have any offer for Demo Monday viewers?
[21:49] Vitalij: Of course, of course we have. So for Demo Mondays, we have a coupon code DEMOMONDAYS for 30% off discounts for using our software during the next 3 months. So first of all, we will provide you with these coupon. I guess you will add these link to this video, and also we will provide you with 100% support. So, we will provide you like a DSM strategist, how to use and how to correctly work with your PPC compains right now.
[22:20] Augustas: Well, does it mean that if someone is a beginning and spending less than $1000, they are paying $35 and they are getting professional PPC supporting.
[22:28] Vitalij: Yeah, exactly. If you're using our coupon or not, you will absolutely will get the professional support. If you spend like $35, or like $1 000 per month, or like $40 000 per month, it doesn't matter for us, because our main mission – to provide you with a correct understanding of PPC campaigns, provide you with all needed contents. So we are going to work with everyone, who wants to scale and boost their business in this not so simple world like PPC.
[23:01] Augustas: Great. Thank you very much Vitalij and good luck in your business. Bye bye.
[23:04] Vitalij: Thank you so much, bye bye.