Eva connects the most important aspects of your Amazon business into a single intuitive dashboard. AI-Powered price management, restocking, reimbursements, and analytics. With Eva, you can focus on what's important: growing your business and enjoying your freedom.
In this blog post, we review Eva and how to use it for inventory-based price management, and restocking, FBA refund reimbursement that can get your money back from Amazon that you don't know about, and analytics which show you your profits and have an eye on your competitors. The tool also helps you to win a Buy Box and optimize your product pricing. What makes it different from others is smart restocking – the tool automatically calculates how much you need to restock certain products based on how well or bad they are performing.
What is Eva and how does it help Amazon sellers?
In other words, Eva helps Amazon FBA sellers to maximize their profit by product restocking, repricing and reimbursements.
Eva is suitable for any Amazon private label seller, however, the product is tailored slightly more towards advanced sellers. As a founder of Eva says, it's important to serve small sellers too and it strongly reflects in their pricing plans – basically, small sellers can get the same what advanced sellers get for a smaller cost. Also, the tool coverts all American and European marketplaces.
Eva review
Dashboard
The first thing that Eva tries to do is the foundation which is full analytics view that focused on profits. Once you enter Eva's dashboard, you will immediately see how much sales and profits you have generated. The timeframe goes as far as 24 months so you have enough tada to evaluate your business performance.
Scrolling down the main dashboard, you will also find data on how each of the state is performing (if you're selling in the US), the number of refunds and expenses overview. Also, a below graph shows FBA inventory storage fees and at the bottom of the dashboard, you can monitor your inventory – how many units you have available.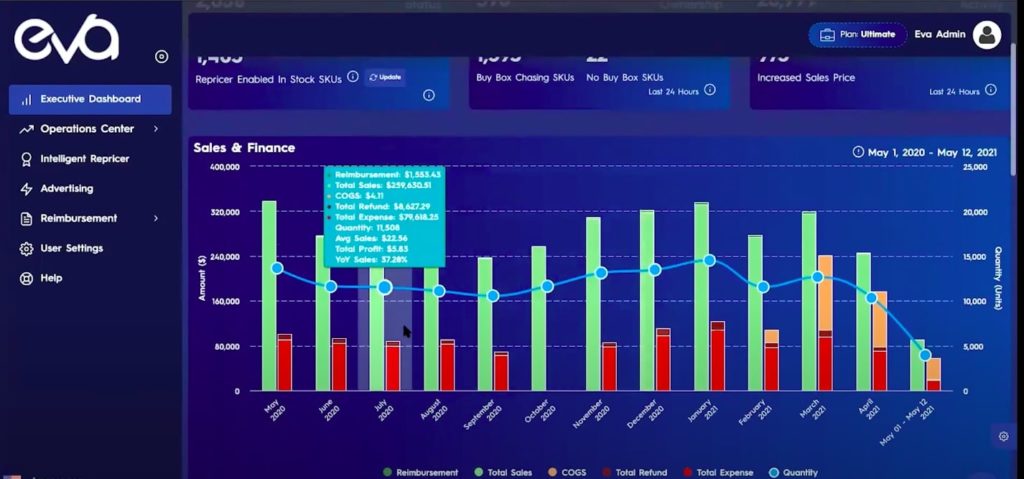 Operations center
In the operations center, you can track your daily sales, profits and margins which is great since you cannot see this kind of information directly on Amazon. Even more, you can compare this data between certain days of the week, i.e. you can see how one product performed last Tuesday comparing to this Tuesday.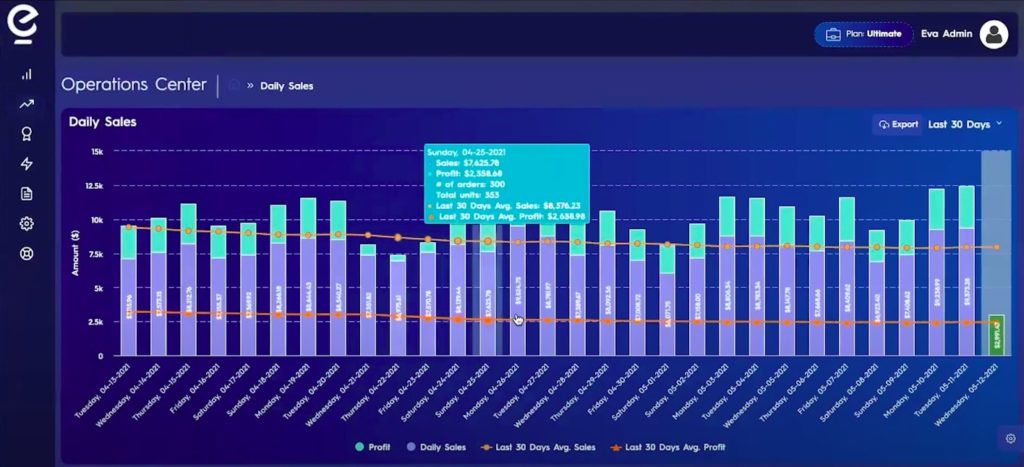 If you go deeper into this operations center, you will find the data about your top 10 performing ASINs. Besides, ASIN segmentation feature allows you to see top selling, medium selling and low selling items. However, in this grapp at the top of the page, you see an overview on a store level. If you scroll down a bit more, you can see a thorough breakdown of each product and once you click on it, it shows the information on a product level. That's how you can get all necessary data on how your products are performing in terms of sales, total expenses, profit, margins, etc.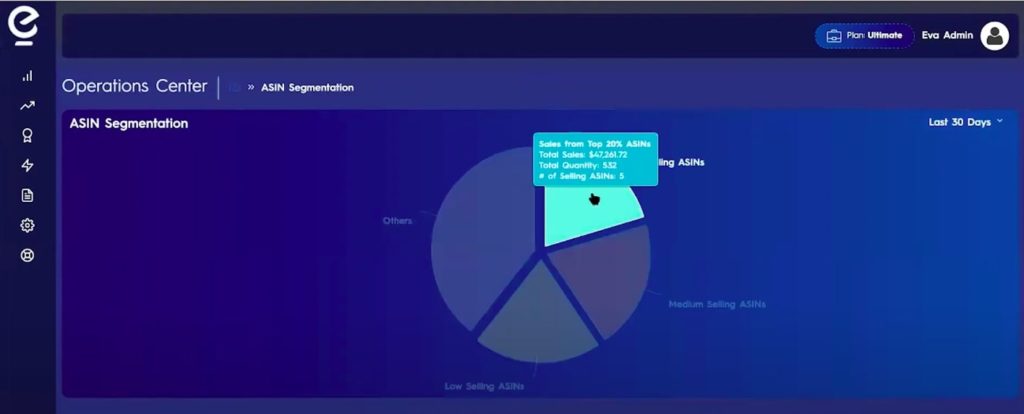 Intelligent repricer
Once you click on another tab "Order & Inventory, Buy Box Status", you can see how much inventory you have left for this product and how has the price changed. Eva has all data in terms of sales velocity and inventory history so it can calculate what should be the best price for a product tomorrow. Based on sales velocity, Eva sets a new price for a product to maximize your profits. And it does it once a day.
For example, if you are running ads and the sales velocity has increased over the last couple of days, Eva also increases the price of a product.
One of the pain points for Amazon sellers the inventory-based pricing. If the inventory is low, Eva increases the price to reduce the sales velocity so you don't go out of stock. This function created 35% of additional profits during the last Q4.

Another thing that Eva takes care of is Buy Box. You will be notified once you lose the buy box and Eva will reduce a product price to get it back. It's very important as losing buy box can cost you in 30% less sales.
We bet you didn't know that 50% of the time there is someone on your listing? In these scenarios, Eva will compete with those hijackers and makes sure they are not allowed to sell on your listing.
All in all, intelligent repricer is a genius feature, escpecially for larger sellers. So Eva knows everything about your product, including your profit and cost information that enables to forecast restocking.
Replenishment
By using all information mentioned above, Eva can actually help you with a smart restocking, meaning it will not only notify you once you're getting out of stock but also increase the pricing of a product and decides which products need to be restocked more than others based on your sales velocity.

Given your funds and sales history, Eva decides which products you need to restock first. You can customize replenishment settings which are replenishment period, replenishment alert period, and stock out alert. Once you change it based on your preferences, the tool will recalculate the stock and rank the top performing items and tell you how many units you need to restock for your given timeframe (let's say you set 14 days period that is shown below):

Considering that Amazon itself cannot help you with making such replenishments and give you such thorough analytics as Eva does, the tool can absolutely change the way you are running your FBA business.
Reimbursements
Recently more and more Amazon sellers became aware of reimbursements. Basically, it's a refund from Amazon for damaged or lost goods, return issues and so on. However, most of the time sellers don't know how to claim these reimbursements. Inside Eva, you can see how much money Amazon owes you and you can get it back using the software. Eva takes only 20% of how much they recover.

However, if you sign up for Eva's premium package, you get $6000 USD in free Amazon reimbursements (with a coupon code "ORANGEKLIK750", you get additional $750 USD in free reimbursements – claim here).
Pricing and upcoming features
Eva's pricing plans are tailored for literally every seller, depending on their monthly revenue. It has 4 regular plans, ranging from up to $30k to $1M in sales:

Of course, the pricier it gets, the more features you have, for example with a premium $199 USD package, you get $250k in free reimbursements. For beginner sellers, it starts from $29 USD a month and this plan covers all essentials mentioned in the blog post.
The upcoming features of Eva includes category-based pricing, meaning you will be able to monitor similar items to your product. For a given category, there will be products from the competitors and Eva will do pricing based on it. This way you can always be ahead of your competition.
If you want to start using Eva, they offer a 15-day free trial. There's also a special offer for you – get 22% off your first month of EVA when signing up through this affiliate link and applying the coupon code EVAFORYOU.