The 12 Days of Nuggets unites the Amazon community for one big purpose. Today we talk with Mike Zagare from PPC Entourage about how he came up with the idea of having the biggest thought leaders and influencers in our industry sharing their VERY BEST NUGGETS in order to contribute to a mission to raise $1,000,000 and massive awareness of Operation Underground Railroad (O.U.R.).
A few years ago, Mike was introduced to Operation Underground Railroad, the organization that rescues human trafficking victims. In the past five years, this organization has rescued thousands of children and helped to arrest human traffickers around the world. From the very first encounter with what his organization does, Mike was shocked by the condition that these kids are in and what people are doing to rehab them. At that time, all Mike could do was donating money but today it grew into a bigger goal.
Sharing Amazon tips to raise awareness
Fast forward to this Thanksgiving, Mike came up with an idea – why not to contribute a small piece of content that people find useful and by doing so create awareness of the existing human trafficking problem? It's been only two weeks since the idea was born and yet Mike's project is now out, attracting more attention than he would've ever thought.

So the main idea of the project is to create small and shareable bite-sized pieces of content, that can raise awareness of O.U.R. through the sharing of that content and from the goodwill that content creates. These nuggets are being shared every day on the 12 Days of Nuggets Facebook page, driving traffic to the main Days of Nuggets site to raise awareness about the evil that is human trafficking and the legion of children suffering because of it.
Some of the biggest thought leaders and influencers in the Amazon industry have agreed to share their VERY BEST NUGGETS (tips, insights, proven strategies), in 'nugget-sized' videos that are going to help to make true "move-the-needle" impacts on your business. According to Mike, it's totally a win-win situation where everyone gets huge value.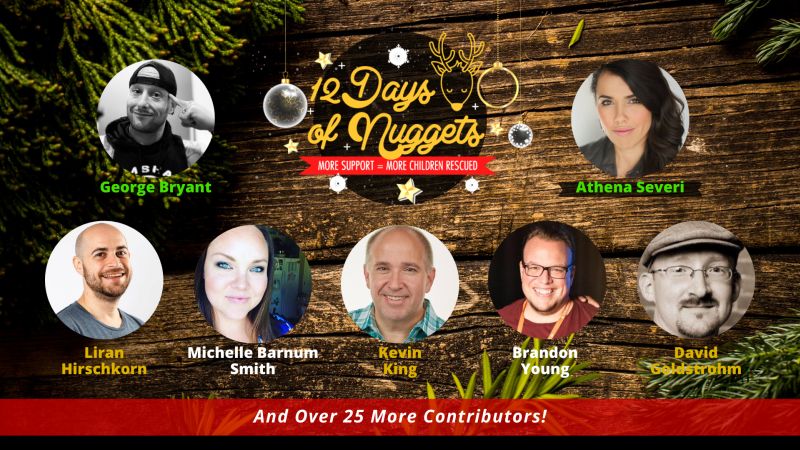 The 12 Days of Nuggets mission is to raise $1,000,000 and help put a STOP to child trafficking forever. Become a part of this – you can donate by clicking here.