BidX goal is to simplify paid online searches with great user experience. Save time managing your PPC: BidX is the smart way to optimize your paid search on Amazon. By automating bid adjustments as well as the keyword and negative keyword management at any scale we deliver you the highest possible conversions on the lowest input resources to skyrocket your profits! BidX is available for Sellers and Vendors in Europe as well as in North America.
BidX is presented by the co-founder Max Hofmann.
List of features covered in this video:
00:33 What BidX is and what problems does it solve for Amazon sellers.
05:16 Which marketplaces are covered by BidX?
05:50 What type of Amazon seller is a best fit for BidX?
06:33 How long does it take to link the Seller Central account to BidX?
07:01 Setting up your BidX account and Dashboard overview.
07:55 The "Management" Page.
08:14 The "Structure" function.
09:19 The "Check Syntax" function.
10:03 The logic behind the Structure function.
10:43 The "Rules" function.
11:06 Creating and setting up a new "Automation Rule"
12:56 Creating and setting up an "Individual Rule"
14:45 Negative Keyword Management
16:05 The purpose of creating a Folder inside the Rules page.
16:50 The "Preview" function overview.
17:16 The "Priority" function.
17:59 The Preview function result and logs.
19:49 The "Controlling" function.
21:05 After uploading the CSV file into the Controlling function, will all the automations be activated, or do you have to activate it one by one?
21:57 The "Discover" function.
23:10 What is the unique selling proposition of BidX?
23:27 The "Sync" function.
24:03 Why you should never put Negative keywords into an Auto ad group.
25:45 Pricing
27:13 Upcoming features:
• adding local translations, especially for the European sellers
• crawling of organic and paid search positions
• automating keywords suggestion and creation
• automating all of the tasks as much as possible
• covering coupons, discounts or lightning deals
• automating Facebook ads creation
29:20 How can users get support at BidX?
29:57 Offer: use DEMOMONDAYS coupon code and get a 14-day free trial plus 1 month free subscription
---
Transcript – Walk-through of BidX
[00:00] Augustas: Welcome back to another episode of Demo Mondays. Demo Mondays is a video series published on Mondays where I invite creators of Amazon sellers softwares and I ask them to present their products just like this on the screen. And my next guest is BidX.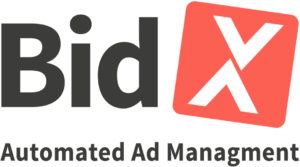 And BidX is presented by its co-founder, Max Hofmann. Hello Max.
[00:28] Max: Hello everybody. Nice to meet you. Nice to be here today.
[00:32] Augustas: And can you tell us what is BidX, what do you do and what problems do you solve for Amazon sellers?
[00:41] Max: Well, BidX is a tool that supports you in automatically optimizing your paid search on Amazon. So we analyzed millions of keywords and we found out what's important if you want to optimize your ads. And I think every Amazon seller, every Amazon vendor who is advertising on Amazon, who wants to advertise on Amazon, know that there are some difficulties in optimizing those campaigns. And the problem we focus on is unoptimized PPC campaigns and how we can improve that. So the basis to show up for an ad is your listing. So first, you have to make sure that all the relevant ads you want to show up are within your listing, and Amazon can find you for that. But many people don't know how to manage their PPC. Many people don't know what is a good click-through ratio or how many clicks should I wait to adjust a bid.
[01:49] Max: There are many KPIs needed to know what you want to do, and even if there are many information on the Internet available, it's not too many and there are only some good blogs where you get those. And if you know what you're doing, then PPC optimization is just super time-consuming. So if you got only five SKUs, it's not a big deal — you can do that easily by yourself. But if you have 50 (SKUs) or if you have 5,000, well that's probably almost impossible and both take a lot of time. So was [the case] for us. When we started BidX a year ago, I found myself in a position where I spent over four hours a week optimizing our PPC campaigns. And I was searching for a tool who did simple rules and simple automatic adjustments. So I could say, "Okay, if the click is 15 and my ACoS is above my target, please decrease my bid." And I found many PPC softwares that helped you, that analyzed the tools, but none of those did automatically those adjustments or the keyword management.
[03:07] Max: And then we thought, "Okay, perhaps there are others who are in the same situation," and so we built our first MVP (Minimum Viable Product) and that was an Excel VBA. So you download it, you borrow files from Amazon, then you put that on the second page of the Excel and you insert the rules "if this, then that" in the Excel and then we hit the "Run" button and it will do it for you. We quite soon realized that the UI experience was terrible. But we published it to a group with a couple of thousand sellers and the response was phenomenal. We had a couple of hundred comments below who wanted to test this. So we decided to push it to the web application still with public upload, public download, and soon connected it to the Amazon API. And only a web tool then could handle all the management automatically. In addition to that, like, if you found your optimal bid once, you probably have to do that next week again because, like, a new seller — perhaps from China — appeared and they do really impressive PPC, so the bid you paid last week is probably not enough anymore.
[04:25] Max: So you have to adjust again. So the process is continuous, and I think that if you do your FBA business right, that is already a really time-consuming business. So besides the daily task, you probably want to expand to new markets, and the PPC optimization is really one of the jobs that just have to be done. And within the Amazon Seller Central back end, it's awful. You have this really complicated, you have to readdress the reports, you have to download, upload and so on. That was not a proper solution. And so what we did, we came up with the tool — with BidX — that checks all your performance data on a daily basis and then adjusts the bids and manages the keywords automatically for you.
[05:15] Augustas: And we heard that you are from Europe, right? It's made in Germany, the software. So which marketplaces are covered by your tool?
[05:25] Max: First, we started with Germany, but then we soon realized that this is a product which can scale. So for now, we are available on all marketplaces where you find Amazon advertising — so in North America, in Europe, as well as in India. And we support Seller Central as well as Vendors via AMS and Headline Search ads.
[05:50] Augustas: And what kind of users are you targeting? You mentioned that maybe with fewer SKUs, you don't need such tool, but is it suitable for beginners or advanced sellers?
[06:03] Max: That's a good question. So our goal was to build a scalable product. So it doesn't matter if you have five SKUs or 5,000. With BidX, you can manage all of them. And if you are a small seller, then probably you only save a little time because management of PPC only takes a little time. But if you are a big seller, then it takes a lot of time. And we built all of our structure that it scales and that it does as much as possible automatically.
[06:34] Augustas: Is it a quick process to link the Seller Central account or Vendor account?
[06:41] Max: I will show you in a bit. The setup process is really easily structured. So mainly, you have four steps. You connect your Seller Central account or AMS account, you pull the data, then we just structure the campaigns and then off you go and you can start using BidX.
[06:58] Augustas: Perfect. So let's jump into the software.
[07:02] Max: Now, you can see the first page when you registered to our tool. The first thing that will appear is the setup process. Within the setup process, you can decide if you want to connect North America, Seller Account or AMS account or Europe for Seller Account and AMS Account. After you did that, you'd come to the Dashboard. At the Dashboard, you'll see all the current performance from the last month and the KPIs of your current performance. On the Dashboard, within the chart, we have once the daily value, but because Monday is much better than Friday, we thought that it's better to show the average and so you can see if there is a trend or if it's going up or if it's going down.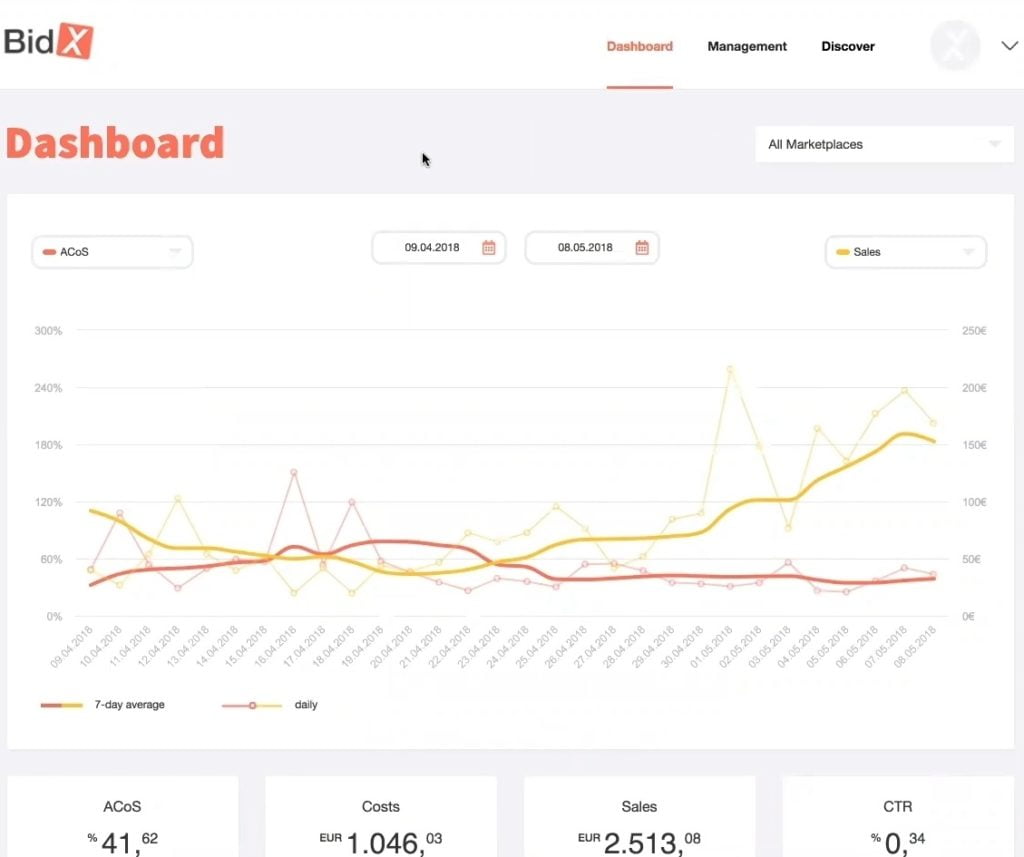 [07:56] Max: The heart of the tool is the "Management" area. Within the Management area, we have three tabs. Currently, what you see is the "Rules" tab. So within over here, you control all the actions that should happen automatically. When you first registered to us, please go to the second tab called "Structure."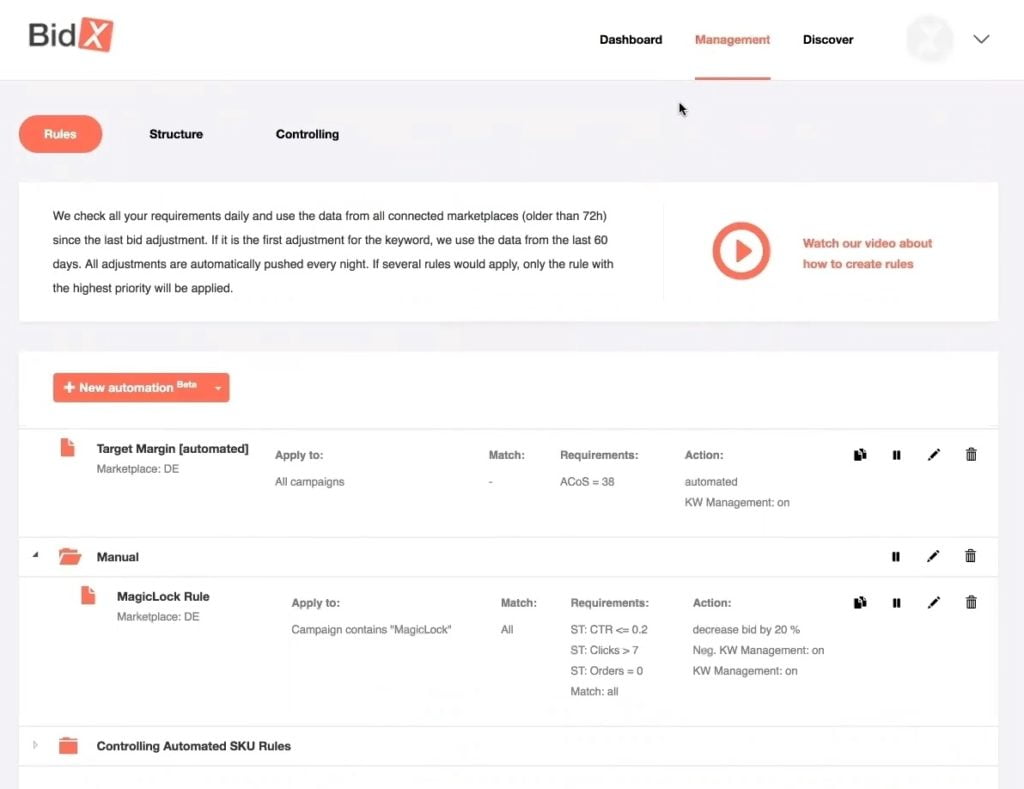 [08:22] Max: At the Structure, we loaded all your SKUs and found corresponding ad groups. What is "corresponding ad groups?" This is our core idea how to manage SKUs at scale. It's known that for one SKU, you should at least create an auto campaign and manual campaigns. And if you do manual campaigns, you can do Broad and Exact or Phrase and Exact, but at least, like, two manual campaigns to build up a structure that is precise and that covers all the possibilities you've got at Amazon. So what we do is during the setup process, we find all those ad groups automatically. And we do this by small identifiers within the name or by just checking which SKU is in an ad group. If we did not find all of them, you can check the syntax and then you see that some of the campaigns did not have any identifier like Exact, Phrase or Broad.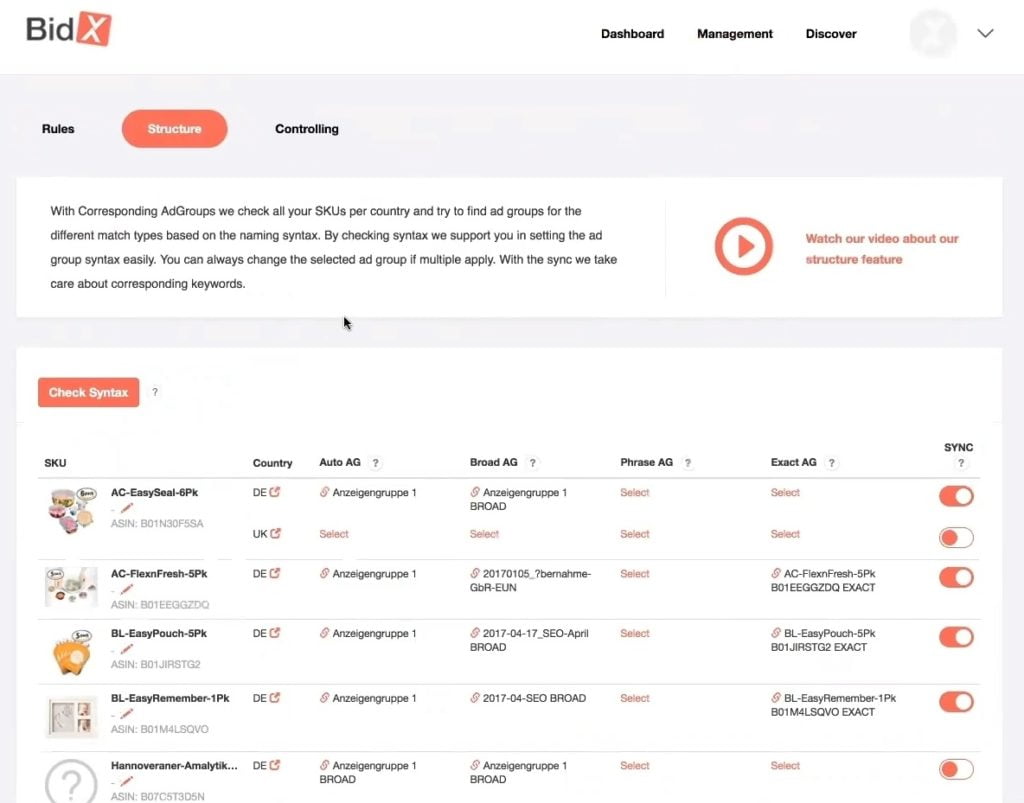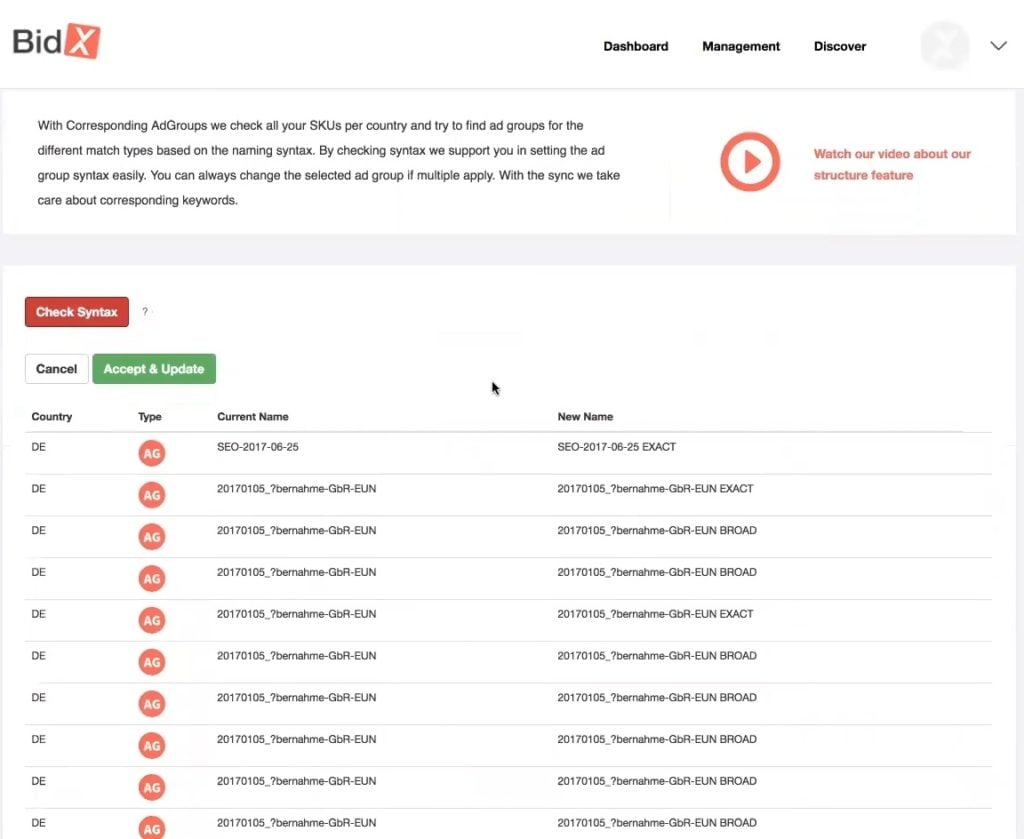 [09:31] Max: So if you want to just accept that, you can click "Accept and Update" and then we recheck all the corresponding ad groups. And that makes it possible to have it for five SKUs or for 5,000. Because, first, we thought about creating rules for different [products]. So when this happens, then you can move it into another editor and put Negatives over there and positive over there, but we thought that does not scale — because you need to create a rule for every single product. So what's behind the logic over here is that we will automatically move keywords around these corresponding ad groups. So, for instance, if a keyword's performance is not as good as it should, or if it performs very good in an auto campaign, we can take this and put it as Negative in the auto campaign and immediately also put it as Broad Match in the Manual Broad campaign and put it as Exact Match in the Exact campaign but also put it as Negative Exact in the Broad campaign. So that would be already five steps you have to do manually, which the tool now does for you. So once the Structure is set up, you can go to the Rules.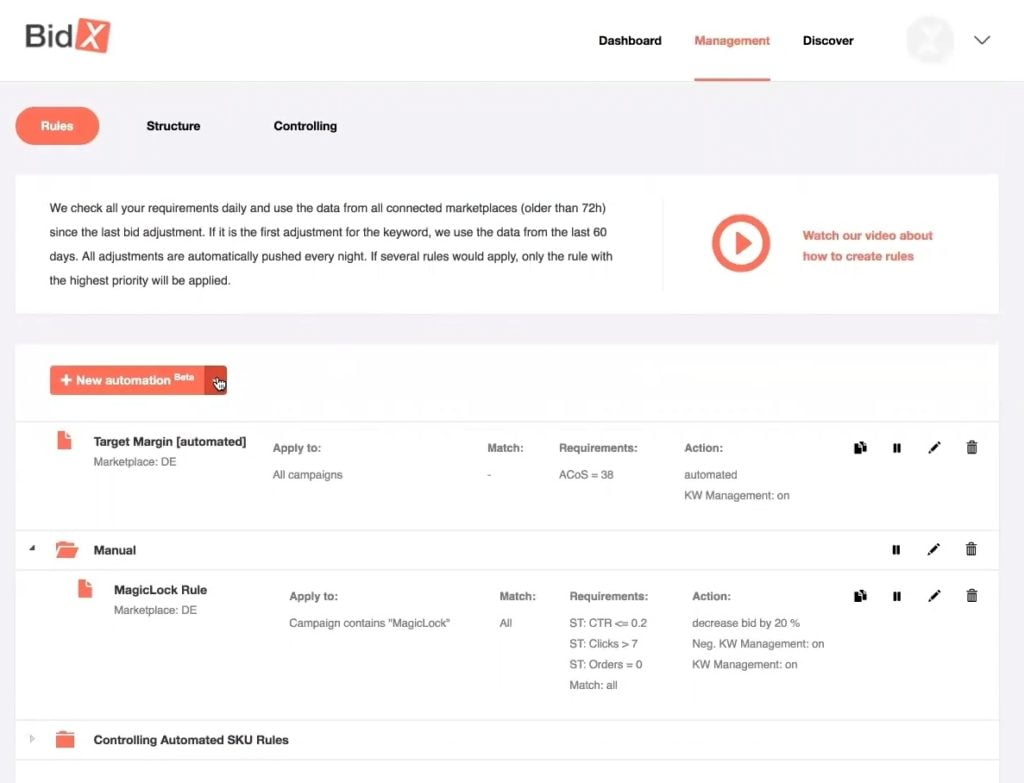 [10:54] Max: Always at the top, we have the small explanation and the video which you can check. And over there, we will guide you through the functionality and you can get an explanation again. So within the Rule section, we have mainly two possibilities. So the first possibility is to create a so called "Automation." With an Automation, you can create an automation that applies to some campaigns which has some ad groups which contains, for instance, "Magic." And we can also exclude some keywords if we say, "Okay, we have one keyword that is very competitive." So people benefit by excluding the keywords they don't want to have adjusted or those they want to have higher ACoS. And then you just enter the ACoS you want to hit. For instance, 25 percent, and you store that. And then, we now created "Test" automation with a campaign "Magic" where the requirement is 25 percent of ACoS.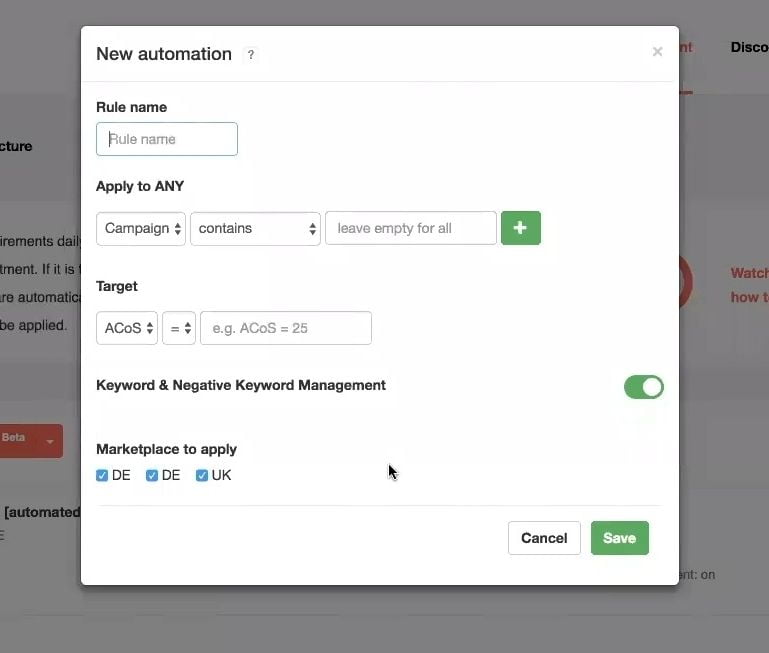 [12:03] Max: And the keyword management I just talked about earlier will be done automatically. So that is the function probably most of the sellers will use because, like I said before, it is difficult to optimize your PPC campaigns if you don't know the KPIs you have to adjust. So, for instance, "What is the good conversion rate?" Or "How many clicks should I wait?" So within our algorithm, we use the knowledge of analyzing many, many million keywords and found especially the dots with which then could be connected and trained neural net to find out, for instance, if a keyword which does not have the conversion yet will convert in the future or won't. But if you say, "Okay, I want to have a little more control", we've got something that's called "Individual Rule." In Individual Rule, you can now set everything you would like to.
[13:09] Max: So we'd call it "Test 2", and then, again, I can say where it should be applied. So, for instance, if I got an Auto campaign or a Manual campaign or only the Exact campaign — and I can again add as many — applying two fields as I want to. Then I can check which keywords should be checked. Do I focus only on the exact ones? Where do I want all of them? And within the requirements section, that's probably the most powerful part, I can say, "Okay, it's the search term, if I go for auto campaigns." Many tools do not optimize auto campaigns, but over here, you can even optimize the auto campaigns because we also check the search term performance. So you can go and say the search term clicks should be higher than, for instance, 50 and the general keyword performance, for instance, should be lower than 30 percent in ACoS.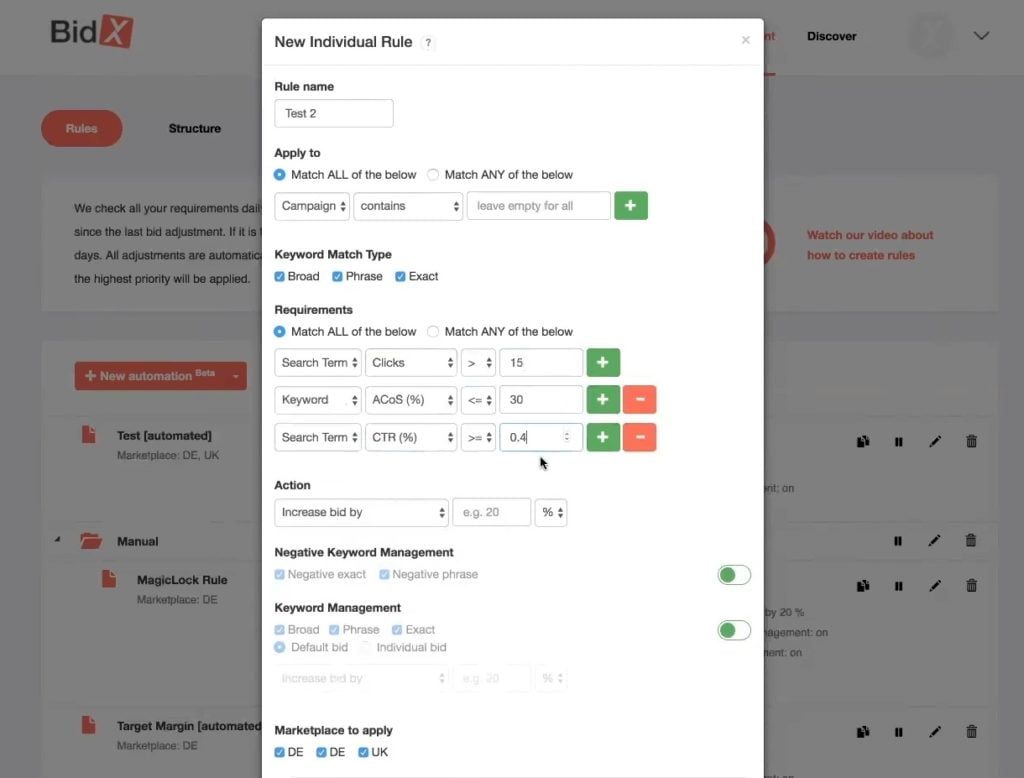 [14:11] Max: And my click-through rate, again, of the search term, for instance, should be higher than 0.4 percent. And then I can decide, "Okay, which action should be done? Do I want to increase the bid? Do I want to decrease the bid?" And, for instance, over here, I can say, "If this one appears, it seems to be good, and then I can increase the bid of the keyword by 20 percent." And over here, I got now the possibility to manually exact Negative Keyword Management to add those, like I said before, in an auto campaign rule at Negative Exact and Phrase. But if we have an Exact corresponding ad group, then probably, it doesn't make any sense to add a Negative Exact over there. So we won't do that. And we can also add the keyword management to put it as positive bid. And there, we can say, "Okay, do we want to take the default bid of the ad group, or do we want to decide an individual bid?" which we can set over here. For instance, if you go for a Broad campaign with 1 euro, and for an Exact campaign with 2 euros, you can only set one individual bid over here. But if you set that as a default bid in the ad groups, then we will add that with different bids. And on the bottom below, we can choose in which marketplaces that should be activated.
[15:41] Max: And this is also one main functionality that it doesn't matter if you are a seller or a vendor, and if you operate in Europe or in North America. We put all those accounts together and you can manage them easily from one interface without switching to all the different accounts. If we now get many rules, that can be complicated. So what we did is we created folders. And in folders, you can easily drag and drop the rules and just put it like on a desktop into different folders to keep an overview of all the rules. You can easily duplicate a rule, pause a rule, edit a rule or delete them. And since over here, I can delete those rules we just created.
[16:42] Max: And now, we only have the "Manual Rules" and the "Controlling Automated SKU Rules." Below the rules section, we've got the "Preview" that is also one of our most used piece I'd say. The Preview allows you to check the adjustments that will happen the next day. And if you do not like what's going to be adjusted, you can always adjust your rules and also change priority. So "Priority" is another function where the sellers can benefit. Because, for instance, if your current ACoS is 60 percent — so that's sometimes high — and you create one rule that says "If my ACoS is higher than 40", and the second rule is "If my ACoS is higher than 20", so both rules would be applied. But with our Priority, we only apply the rule that that is on the top. So if I put the one with 40 above the one with 20, then the one with 40 is applied first and then the one with 20 is applied second. But it's always only one rule that's going to be applied.
[17:58] Max: So we got that "Preview" function, and, normally, it takes a moment. But if it's loaded, you see the bid changes that are going to happen. So you see the "Country", you see the "Keyword", the campaign, ad group and the keywords, and you see the "Current Value", the "New Value", the "Change" and which rule applied over there. And besides the bid changes, we also got the new keywords. And over here, you see, for instance, one new keyword was added with a bid of 77 cents, and we added a new Negative keyword which was Negative Phrase, new keyword with Negative exact. And over here, we did not add a new keyword that is from search term, probably from an auto campaign because that already exists. So if the keyword already exists, we do not add it of course. And on the bottom of that, you'll find the logs.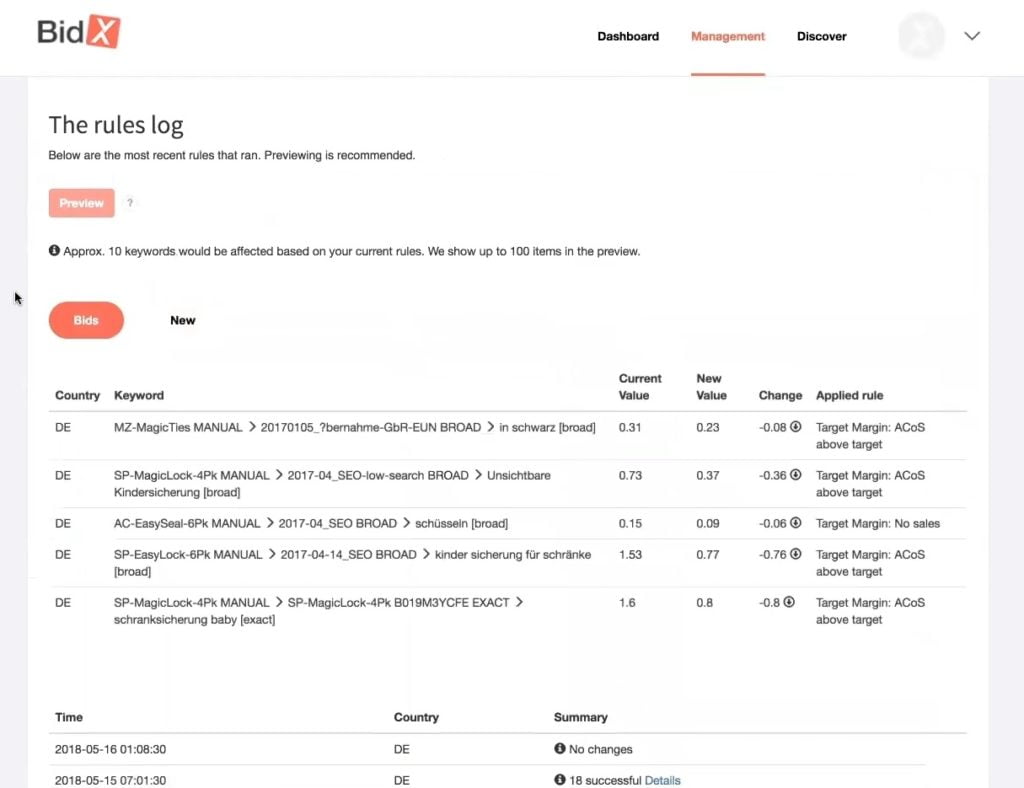 [18:56] Max: So when I click on the log, you can check which changes happened in the past. And again, you've got the area with the bids and you've got the area with new keywords where you can check what has happened, where you see the campaign Auto, the ad group "Anzeigengruppe 1." There was a new keyword created because this rule was applied over there. So we thought when you create manual rules that is for specific, like for top sellers, you can do that. If you got like large portfolios, then you have to manage many ad groups and many SKUs with different ACoS. And what we thought, again, with the scaling objective, we'll build a "Controlling" tab. So within the Controlling tab, you again see all your products, and you can then set a target ACoS which you want to hit, and you just activate the automation.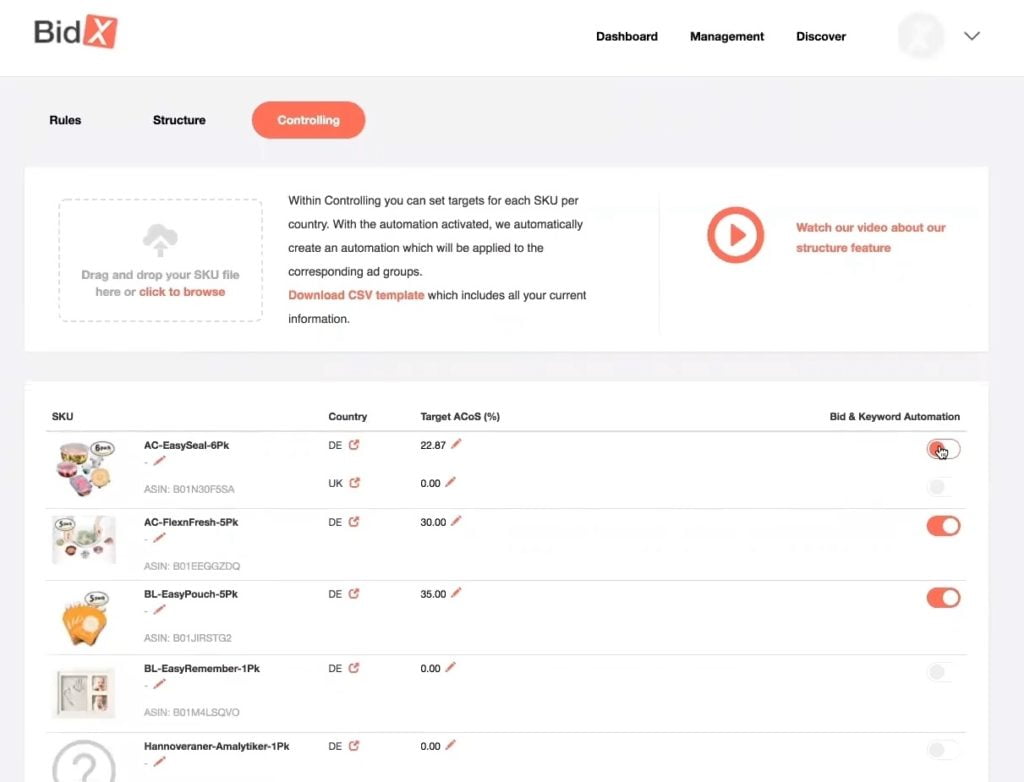 [20:00] Max: So this will create an automation which I showed earlier. And you can do that either manually or you can do that by simply downloading our template. We will store all your current SKUs and targets within it, and then you'll re-upload it. And then, everything applies and you can do that even if you've got many hundreds of SKUs. A simple way to manage different targets at scale and you can always see the picture of current product. You can go directly to the Amazon product page, and you can also set an alternative name which will appear. Currently, you can only set the Target ACoS, but soon, we will also apply all of the profits and costs from Amazon so we can automatically calculate, for instance, the breakeven ACoS.
[21:05] Augustas: One question, when you upload the CSV file, does it mean it will create automatically all these entries on this page? And I see on the right side, you can disable or activate. So if I will upload the CSV file with 500 rows, will all these automations be activated, or do I have to click one by one to activate it?
[21:27] Max: You can just activate within the downloaded CSV file. Just select zero for no activation and one for activation. One when you want to have it activated and zero when you don't want to have it activated.
[21:42] Augustas: Okay, great.
[21:44] Max: Yes. So, the Management area is really the heart of our tool where all the magic happens I'd say, where all the automated actions happen. And of course, we got a "Discover" feature. Within the Discover feature, we again can check all marketplaces from one point, and we can go deeper into a marketplace, as we can see all the campaigns, the current costs, sales, and all the different KPIs. And go deeper, check for search terms without downloading any bulk files or wait for those. And this is for different date ranges, for Sponsored Products as well as for Headline Search Ads easily without any hassle from one place.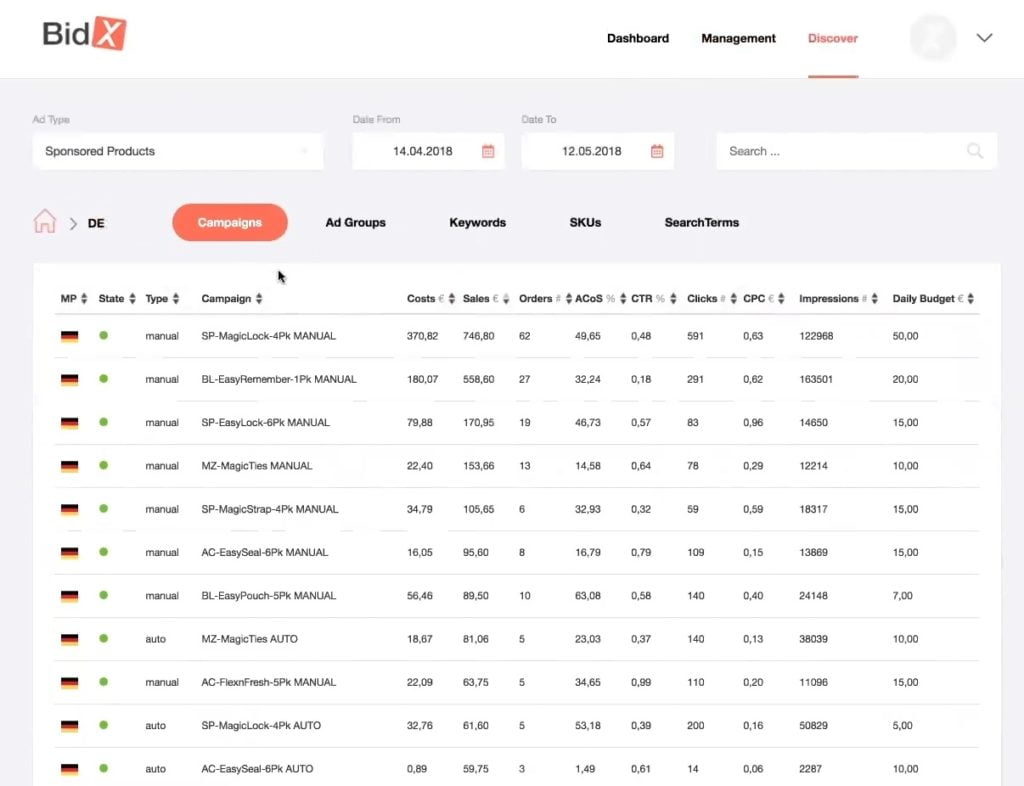 [22:38] Max: And "Search", for instance, if I want to search. A little animation over there. And then we can check all the performances of the search terms, for instance, or for the SKUs. And generally, since we started over the last 12 months, there were a couple of other tools that I created. And I think what makes BidX special or the USP (Unique Selling Proposition) about our program is that we got this large corresponding ad group structure where we can manage keywords and negative keywords really at scale. We got another function where the sellers really benefit that's called the "Sync" function. So what does the Sync function do? We check all your ad groups, and, for instance, if we got an ad group over here which is Broad corresponding ad group, and for instance, has a Phrase keyword in it, one Exact keyword, we will pause that and automatically move it in the Exact ad group.
[23:54] Max: And also, we make sure, for instance, that all Exact keywords are put as Negative Exact in the Broad ad group, but not in the Auto ad group, because putting Negative keywords into Auto ad group will also affect your ad showing up on competitive ASINs. Because even if you see an ASIN in your search term report, that means that the person who visited came from one specific search term to that listing. And if that search term is set as negative, you won't appear on that competitive listing anymore. What's special as well is that you can use the automation or a really, really profound individual rule. So, for instance, we have many agencies which are clients, and those come from Google or from Facebook advertisements where they are used to those rules and they got it set. So especially for those, it is possible to optimize their advertisement for their clients really easily. They save a lot of time and very precisely. And they also support our clients if they need help in setting up their PPC structure. And I think one special thing is that all accounts, it doesn't matter if seller or vendor from Europe or from AMS are in one place put together. So that's basically BidX.
[25:42] Augustas: Great. Thank you. If we have seen all the features, shall we talk about the pricing?
[25:50] Max: Sure. So for now, we offer three plans. The first one, first of all, we offer a free trial for 14 days where you have unlimited access to all of our features. And after that, we've got a free plan for small sellers because, once, we were small as well, and at that time, we used many free tools — and we really like that — and we want to support also small sellers and give them the possibility to have professional keyword management for free to start. And then, if you've got the first SKU set up and your FBA business is going well, then we have one plan that is up to 2,000 keywords for 29 euros and the "Professional" package up to 20,000 keywords for 49 euros. And if you got more keywords than that, you can contact sales and we will offer individual pricing, and we also offer a yearly payment where you get the twelve months for the price of three months. We have to admit that those prices are limited and we will increase them probably soon.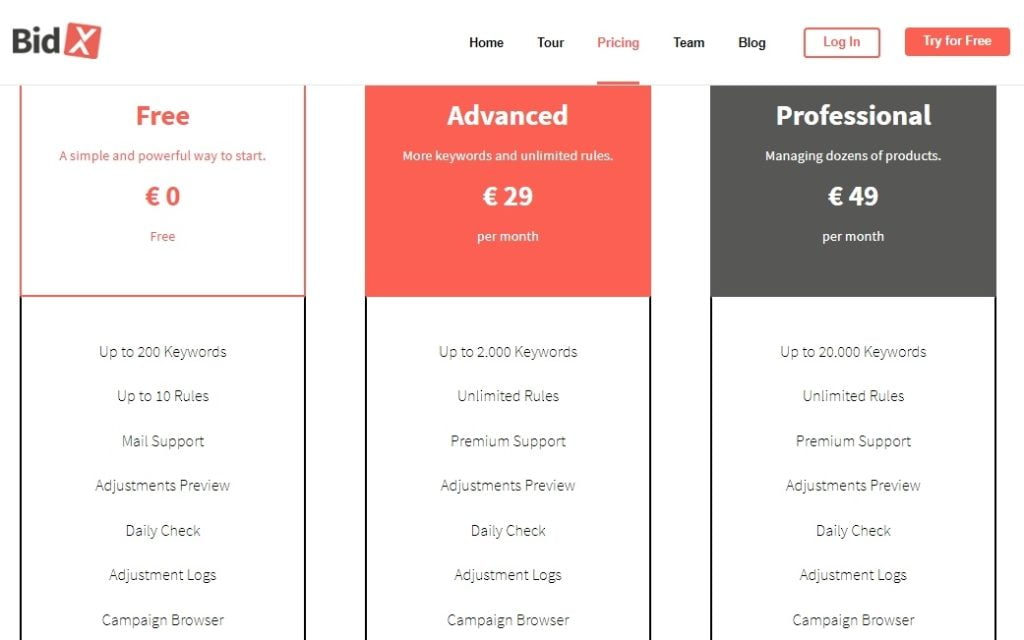 [27:13] Augustas: Great. Thank you very much for your presentation of BidX. And can you reveal to us what future features are you planning to release for your users?
[27:25] Max: That's a good question. So our roadmap is really long. Our goal is to create and optimize Amazon advertisement automatically. So within the next month, we will have small improvements within the tool, we will have local translations, so for European sellers, for instance, in German. And then the next step is the crawling of organic and paid search positions, and also suggest or create automatically new keywords for the users. So our goal is that, somebody has an SKU and he wants to advertise it and he says go, and then we will do everything for it. So after that, we will connect the MWS to access all the sales data and get all the costs to automatically calculate what's, for instance, the breakeven ACoS until which we can push the campaigns forward, and also again, try to automate as much as possible. And later on, we would like to control all advertising possibilities on Amazon. So we want to cover all of them like coupons or discounts or lightning deals. Those are really powerful and there are not many tools that are focusing on that. But if you see Amazon as really a place where you can advertise on many different places, that's huge opportunities. And in the long term, of course, we want to find external traffic for Amazon, so automatically create Facebook ads. That's probably the direction where we're going.
[29:20] Augustas: Oh, that's nice. And the Support, how does it work? What's the best way to reach out to your Support team?
[29:28] Max: Within BidX, and also on the website, we got a small in-app chat, so that's probably the easiest way to contact us. But you can always call us, write us a mail or you Skype, for instance. And over there, we can also schedule and set up call where we'll introduce you again to the tool and, especially, find your requirements and your needs and how we can support you.
[29:57] Augustas: Great. And do have any offer for Demo Mondays viewers to use your software?
[30:03] Max: We thought about that. Besides the 14-day free trial, we offered the first month completely for free. So no matter how many keywords you've got, we offer that for free. And you can test BidX for that time, and within that time, you already will see the direction where this is going.
[30:28] Augustas: And how can people claim this offer?
[30:31] Max: Well, when you purchase a plan, you just have to enter the coupon code DEMOMONDAYS. And if you enter DEMOMONDAYS, all in capital letters, then the first month is cut off.
[30:47] Augustas: Perfect. Thank you very much, Max, for presenting this new tool. I hope it will be useful for many people. And good luck in your business. Bye bye.
[30:55] Max: Thank you. Bye bye.