Amazon Germany now allows shoppers to select their preferred language for the website. Read further to find out how you might take advantage of it and increase your sales.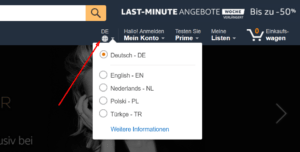 Yes, you've heard it right – users of Amazon marketplace in Germany now can make a choice of switching the whole website to English, Dutch, Polish or Turkish. I personally keep this global language setting set to English. English has been my main day-to-day language for the last 15 years. I make notes and my thoughts come in English. Also it is one of the 3 languages we use at home: I talk in English to my wife, she uses German with our son, while I communicate to him in Lithuanian.
Importance of multi-language product listings for Amazon DE
Recently I have noticed that depending on the buyer's language preference Amazon DE displays product listing in the selected language.
As an example let's take a look at the following Bluetooth speaker from Anker – one of Germany's top seller: https://www.amazon.de/dp/B016MO90GW
Mouse-over the language selector (little globus icon) and pick another language. The headline of the product translates into a chosen language. English and German versions of this particular product have their own bullet points as well. The other 3 languages (PL, NL and TR) only change the headline and the rest is in German.
Here are screenshots of a product listing when English, German and Dutch languages are selected as website preference:
At least 10% of the population in Germany are foreigners
Germany's population is 80 million. According to the recent stats, there are more than 8 million foreigners in this country! That means every 10th person is non-German! That's a huge number and we can assume that some of them (including me) are shopping on Amazon as well.
I personally shop on Amazon DE in English, so any product listing in English helps to make my decision faster. Therefore, my important suggestion to you – make sure your product on Amazon.DE has at least an English translation!
I know, you probably have never thought about it, but it might already make sense to start taking care of Turkish translation of your Amazon Germany products, as there are more than 1 million Turkish living in this country!
Getting translations for your listing
Depending on the budget, different Amazon sellers choose a different approach when it comes to translations. Some hire cheap translators on freelancing websites like Upwork or Fiverr. Others go with more professional, eCommerce aware services. At the moment I can recommend AMZ Europe, which delivers Amazon listing translations for European marketplaces.
If you know more eCommerce translation services, let me know and I will be glad to consider sharing them with everybody.