One day I received a request from Amazon Germany seller to review their product (it was before 22/11/2016 when Amazon forbid incentivized reviews in Europe). When I looked at the seller's product listing, I noticed the green checkboxes.
Use the this trick on your own risk, as some sellers have reported that their listings were suspended due to HTML usage.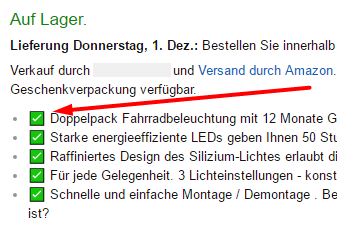 Apparently it is just this HTML code: ✅ which is displayed as ✅ by the internet browsers.
I was wondering if this kind of sign is in compliance with the TOS of Amazon. First, I asked about this few sellers in FB groups, but nobody really had a 100% answer, rather their own interpretation of Amazon rules and fear to do something wrong, hence encouraging not to use this trick .
Amazon does have rules about HTML formatting on their "List of allowed HTML Tags and CSS attributes" article. However, it does not talk about these special HTML entities like ✅. It is definitely not a HTML tag, which are normally enclosed with <…>.
Official Answer by Amazon Germany
I decided to contact Amazon Germany directly and I got the answer next day!
In short: YES, you can use this "✅" HTML code in your bullet points!
Original answer: (Note: I also got 2 attachments which I combined into 1 more explanatory image below)
Dear Seller,

I am Shruthi from Amazon Seller Support and I will be assisting you today. I understand that our concern is regarding usage of the HTML code for your bullet points. Yes, you may go ahead and prefix the code '✅' in your inventory before the bullet point and the same would show up on the detail page. However, the formatting is a little different and hence only the 'tick' mark would show up but not the green background.

Please find the screenshot attached for your reference at the end of this email, below my signature.

What was interesting for me is that using the same HTML code the Amazon representative could not reproduce the green checkbox, but only a black and white 'tick' mark as depicted in his screenshots. But that is another story.
Important is that the green checkbox ✅ has a green light!
What about using HTML code in the Product Title
I haven't asked Amazon about using ✅ character in the product titles, but if you would search google for ✅ you will see that some sellers do take advantage of this trick. If you want to do the same – I advice to contact your marketplace first.