If you ended up reading this blog post, that means you already selling on Amazon or Walmart marketplaces or just started out. And the truth is – once you start looking into opportunities in selling online, one of the first names you might come across is Helium 10.
It's an all-in-one tool suite used by millions of sellers worldwide. It was created to help out the sellers in every aspect of an Amazon business.
In this blog post, we are going to explain what features Helium 10 has, what pros and cons you need to consider before signing up for it, and how much it costs.
Challenges in selling on Amazon FBA
Is it worth start selling on Amazon FBA in 2023? Our answer is yes.
However, today the competition in selling online is fierce and you need to work a bit harder to make your product visible in the sea of thousands of products that compete with each other.
First, your product must be unique – that means sourcing basic things from Chinese suppliers and putting them online doesn't work anymore. Now you need strong branding and work on product development.
But even though you create a sophisticated product that meets the needs of your target audience, it doesn't mean it is going to sell just like that.
The truth is – when you enter the Amazon marketplace, you will not rank on page 1 just by default. For it, you need to find relevant keywords that are not too competitive to rank for but have proper search volume. That means that customers can find your product by entering that keyword phrase in the search field.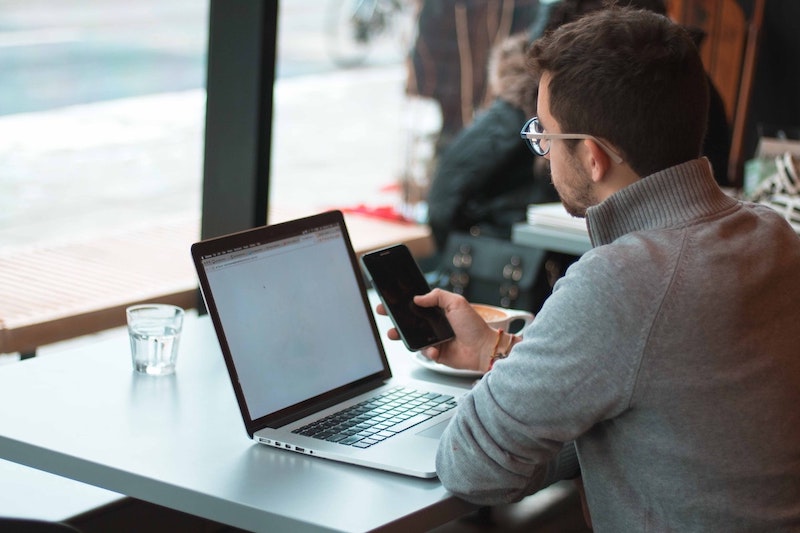 The second thing you must think of is listing optimization – it does not only help with ranking as you can put more relevant keywords in it, but, more importantly, it helps customers to make a buying decision. That means putting high-quality images, crafting informative and catchy bullet points, and, of course, A+ content (don't skip on this one!)
While there are lots of things you need to take care of, tools like Helium 10 can make your keyword research, product marketing, and daily operations a lot easier.
So let's take a look at what exactly Helium 10 does and what features are the most popular among other sellers.
Helium 10 Features
You can start using Helium 10 from the very beginning of your journey as it covers everything starting from product research to product marketing.
Below you will find a quick overview of each tool in the tool suite.
Product Research
Helium 10 helps you find products that are trending, popular and selling quickly. Smart filters and analytics help you find possible revenue streams and review valuable product information.
BlackBox allows you to search products by category (price, reviews, sales, and the number of sellers).
Trendster analyzes the trends throughout the year and helps you find trending products.
Xray runs product analysis directly on Amazon, so you can check for product information and suppliers right away.
ASIN Grabber finds hundreds of product information at once using their Amazon Standard Identification Number (ASIN).
Profitability Calculator uses data such as FBA fees and shipping costs to estimate how much profit you can gain from selling a product.
The Review Insights tool can help you download aggregated customer reviews.
Keyword Research
Helium 10 has keyword research features that help to find high-ranking and high-volume and low-competition keywords that can help rank products high in the search results.
Magnet is a tool that needs only one keyword to find other related keywords, easily widening your product research.
Misspellinator gives you a list of ready-to-use misspelled terms that can be used for product searches.
Cerebro can help sellers check the keyword strategy of their direct competitors, and adjust their own keyword strategy.
Listing Optimization
Helium 10's suite of tools can also optimize your product listings. You can hook your Amazon store visitors with listings that are intuitive, straightforward, and high-quality.
The Index Checker verifies your keyword search results and ensures your visibility in search results.
Scribbles has automated input tracking that finds keywords that you might have missed.
Frankenstein organizes your listings intuitively. It's a tool that can help you write your listings based on the keywords you use.
Operations Management
This tool suite will also help you manage your Amazon store. It has tools like:
Refund Genie which automates refund requests.
Inventory Protector which guards your inventory by limiting the number of orders.
Mobile App provides notifications, alerts, and quick views of your store profit and activity.
Analytics
Here you have a set of tools that collect essential data, allowing you to make data-driven decisions:
Market Tracker allows you to customize markets so you can compare your standing against your competitors.
Profits allows you to review your company's financial health in real time and help you make decisions based on your cash flow.
Keyword Tracker helps you stay on top of Amazon search results and earn the badges you need.
Marketing
When it comes to marketing tools, Helium 10's Adtomic and Portals help you manage your ad campaigns using AI and direct traffic targeting.
Adtomic streamlines your campaigns using search term analytics and predictive bid suggestions
Portals helps you create a product landing page with a simple and easy-to-understand drag-and-drop page builder.
Helium 10 Pricing Plans
Helium 10 has 4 different pricing plans, depending on your needs and level of experience.
First, the good news is – you can start using Helium 10 completely for free as they offer limited access to some of their most essential tool so you can try it out before signing up for a paid plan. And even though it's quite limited, you can get a good glimpse of what these tools can do.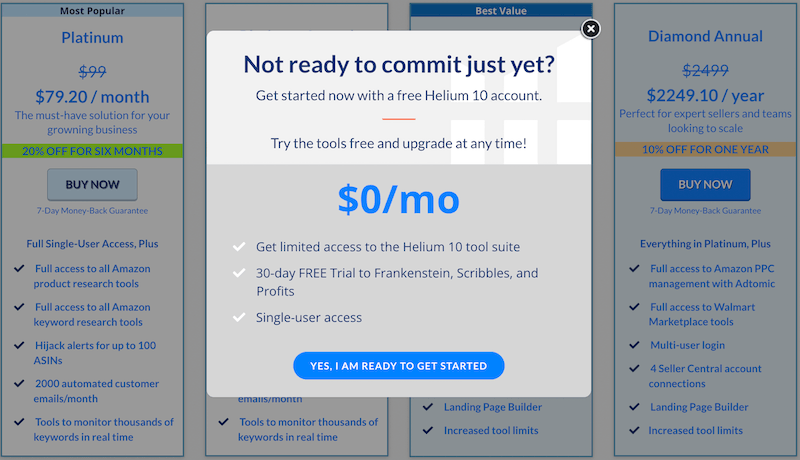 Then, if you want to get more access to these tools, you can choose the suite's Starter plan that gives you limited access to the tools, and full FBA training but provides no access to certain marketing and analytics tools. The monthly rate is $39.
The second plan is the Helium 10 Platinum, which costs $99 per month. It gives you full access to all tools, except for Adtomic and Portals. It includes FBA training and is the most popular package amongst Helium 10 users.
The third plan is the Helium 10 Diamond, which costs $249 per month. It provides full access to all tools, includes FBA training, and monthly expert training, and allows up to three users.
The fourth plan is the Helium 10 Elite, which includes everything in the diamond plan but offers additional quarterly in-person workshops, live monthly online training, and access to Helium 10's Elite Facebook group. The rate is $399 per month.
Helium 10 Pros
Now as you are already familiar with all the tools Helium 10 has to offer, let's sum up how it can help you and go through some pros it has.
Saves your time
First, Helium 10 saves lots of your time as you don't need to guess what strategies would work the best for your product. You don't have to switch from one platform to another in order to track products and manage their operations.
Integration with Chrome browser
Xray Chrome extension integrates quickly with your Amazon account. This makes scanning the products easier on Amazon directly and gives you the most essential product data in just one click.
Best value tools in the market
Its extensive suite of tools such as Frankenstein, Magnet, Scribbles, and Cerebro, have no close competition in the market. And their marketing tools have a built-in SEO suited for Amazon sellers.
The software suite could also be used for building online communities and other online marketplaces, such as Walmart. Tools like Market Tracker help sellers compare and combine several market trends.
Mobile app
Sellers could also use mobile app features to manage their business remotely or on the go. The tools integrate easily and offer more functionality to manage an Amazon seller account.
FBA training course
Additionally, every Helium 10 plan also includes FBA training and their highly responsive support team helps you with any queries.
Helium 10 Cons
All good things have imperfections and Helium 10 is no exception. Let's go through some of the cons you might want to consider.
Takes a bit of effort to learn how to use it
Given Helium 10's expansive suite of tools, the learning curve to use all of them can be steep. Some users find it takes too much time and effort to learn to use them effectively.
Many Helium 10 reviews cite that it has no supplier database and can only track product categories and keywords.
Might be pricey for beginner sellers
Helium 10 may have an affordable starter plan, but full access to all the tools can be expensive for some sellers.
Data is not always accurate
The data presented and collected through the Helium 10 extension has also been questioned, as some users have had to recheck the profit margins and pricing.
"Is Helium 10 accurate?" is a common question asked by Amazon merchants. Well, usually the data used in the analytics is correct, but the system can be buggy at times as it uses real-time data.
Is Helium 10 for you?
Now we know everything we need to know – Helium 10's features, its pros and cons. Now it's time for a verdict – is it for you?
To be honest, given the amount of tools and usability, Helium 10 makes it hard to find a similar alternative in the market. There is a reason why millions of sellers find it essential in running an Amazon or Walmart business as it really helps to build up their business and find products that can bring in profits and rank them high on Amazon search results.
Besides its functionality, signing up for Helium 10 makes you a part of their community as the company is striving not only by providing tools but community support as well.
Next steps
For starters, we recommend trying Helium 10's free plan to get an idea of what this tool suite is about.
Then, if you eventually decide to go for a paid subscription plan, sign up for Helium 10 and use these coupon codes to save some money:
ORANGE10 for 10% off any plan lifetime
ORANGE6M20 for 20% off the first 6 months
Apply any of these at the checkout when signing up.
Also, here you will find more information about different Helium 10 tools and how they can help in your Amazon business.