Why your listings should be optimized for each market separately? In this blog post, Dave Barry from AMZ Europe explains why is it important to have your listings translated natively and shares many other tips on how to improve it.
This is a guest post written by Dave Barry from AMZ Europe. It details how to optimize your listings for the key, non-English speaking markets of Amazon Europe (Germany, France, Italy & Spain).
Dave and his business partner Jérémie run AMZ Europe, a business that offers services to assist Amazon Sellers in Europe. AMZ Europe specializes in optimizing and localizing/translating product listings for the big 5 Amazon Europe Marketplaces – Germany, France, Italy, Spain, and the UK.
Comprising 5 main marketplaces – UK, Germany, France, Italy & Spain – Amazon Europe receives an estimated 295 million visits per month.
Germany (Amazon.de) and the UK (Amazon.co.uk) are the biggest marketplaces, with 124 million and 91 million visits per month respectively. The other three – France (Amazon.fr), Italy (Amazon.it) and Spain (Amazon.es) – account for a combined 79 million monthly visits.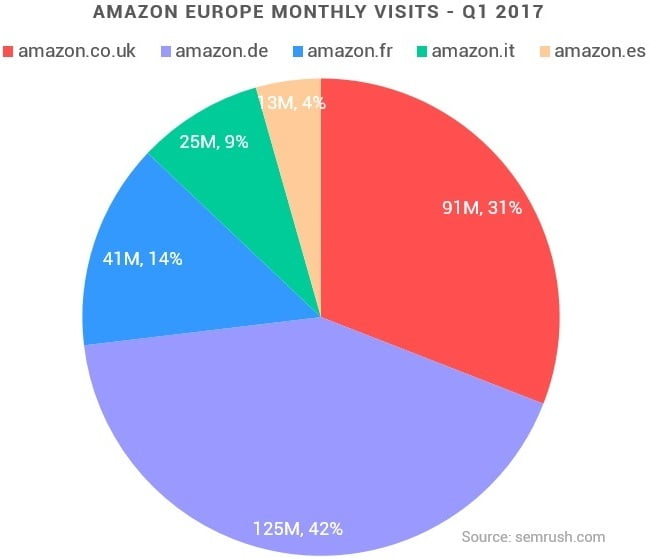 By comparison, Amazon.com is estimated to receive 444 million visits per month – based on these figures, Amazon Europe is approximately two-thirds the size of Amazon.com right now.
However, with a population of over 700 million people and lower competition than in the US, the growth potential in Europe for Amazon Sellers is immense.
With Amazon Europe presenting a significant opportunity, as outlined by the statistics above, Sellers must look beyond basic translation and seek to optimize their listings for maximum success there. In this article, I will show you how.
Always List In Your Target Market's Native Language
Below, we can see how few people speak English in the key, non-English speaking markets of Amazon Europe (Germany, France, Italy & Spain) – just 22% in Spain!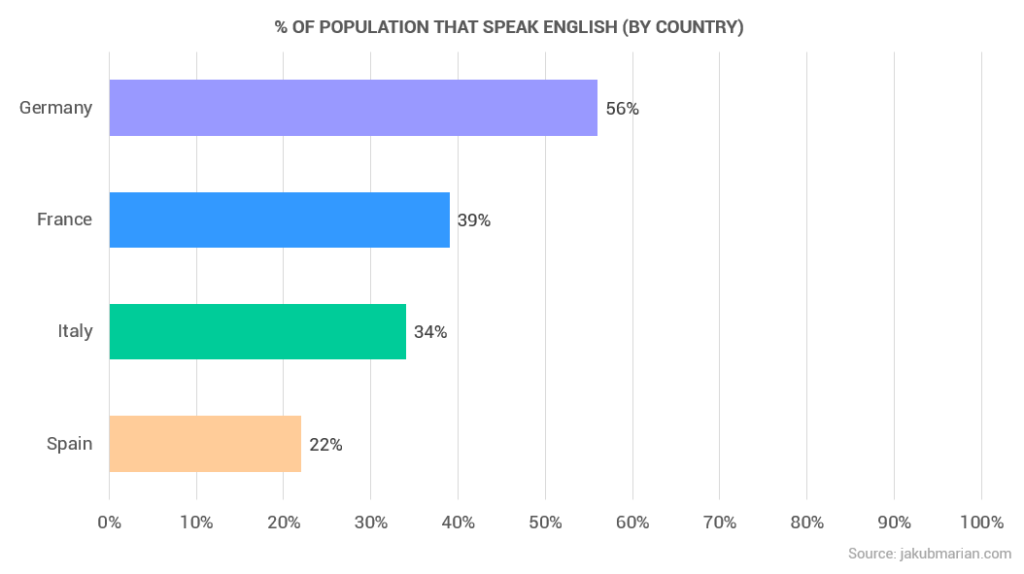 Surprisingly, there are a number of US & UK Amazon Sellers who make the effort to expand and list their products on Amazon Germany, France, Spain and Italy, but present their listing in English. This significantly limits their potential customer base.
We have a clear takeaway here : list in the native language of each of these countries, or the majority of your potential customers will be unable to read about your offering!
Work On Your Amazon Listing(s) In English First
So, you want to optimize your product listing(s) for Amazon Germany, France, Italy and Spain.
We recommend you review your listing(s) in English first – do you have some improvements to make? If so, focus on this before considering optimization in any other language(s).
The reason is that the consultant or agency who will work on optimizing your listing(s) in a new language, will likely start by reviewing your listing(s) in English – this will allow them to learn about your product(s), brand, target market and your preferred style of copywriting.
The better listing you can provide in English, the better listing you will get at the end from the consultant or agency.
Hire Native Professionals To Write And Translate Your Listing(s)
We strongly advise hiring native language professionals to write and translate your listing(s) for Amazon Europe – beyond mastery of language, their knowledge of the local culture (and its customers) will be key to ensure your products are marketed in the right way.
For example, when hiring someone to write your listings for Amazon Spain, a native from Spain (that speaks Castilian Spanish) is generally advised. Although Spanish is the native language of most countries in Central & South America, a different dialect is spoken in these countries (referred to as Latin American Spanish), and translators from these countries will likely use words and phrases that are not used by natives in Spain.
It's important to hire writers with a strong command of English too – this will ensure they fully understand the style and nuances of your English listing (the source text), in addition to your instructions.
Make sure to verify the language credentials of the consultant or agency you are hiring – perhaps they can translate a small sample of text that you can have a friend look over, or they can point to previous jobs done (reviews and testimonials), or certifications held.
If not, you might end up like one of these unfortunate Sellers on Amazon France!
The very first product for shaving "stainless steel beards"!

Who wants to spend €125 on a "rotten" pink pendant?

How about a product for "lower men"?

Don't Just Translate – Localize and Do Keyword Research
Translation is the process of changing written text created in one language into another language.
When your goal is to get an Optimized Amazon Listing in a new language, there is more than translation to account for – two key factors must also be addressed, Localization AND Keyword Research.
1. Localization
As a Seller, your goal is not just to get a listing that is translated accurately. You want a listing that will encourage customers in that market to buy your products.
And so, your listing must not only be translated, but localized.
Localization comprises a combination of translation and copywriting, and involves adapting your listing to the local market you are targeting – the aim is to generate sales copy that is tailored to the local culture and encourages buying behaviour.
Hiring listing writers that have experience with copywriting, as well as excellent translation skills, is recommended – the focus is on conversion, not just translation.
2. Keyword Research In The Local Language
This is required to identify the best keywords in the target language (those which customers use to find a product like yours) – and include them in your listing and back-end search terms.
Failure to do keyword research in the local language is perhaps the biggest reason why sellers struggle when moving to Amazon's non-English speaking marketplaces.
Comprehensive keyword research involves identifying the most important seed terms in your niche, and from these, generating all related and long-tail keywords that customers on Amazon will use to find a product like yours.
Without comprehensive keyword research, keywords will be omitted from your listing or search terms (in the back-end of Seller Central), causing you to miss out on relevant traffic and thus, sales.
Important to note – your product will not appear in Amazon's search results if a customer performs a search using keywords that are not in your listing or search terms.
Many writers who can effectively localize and translate your listing's sales copy for their local market, will not have the required expertise and experience to perform quality and comprehensive keyword research.
As such, a second hire may be required to perform keyword research and ensure your listing includes and targets the best keywords in that language / marketplace. If this is the case, do the keyword research first, as the top keywords identified should be prioritized in your sales copy.
Keyword Research – Tips For Amazon Europe
Now that the importance of keyword research is highlighted, here is some guidance when it's time to do keyword research in German, French, Italian and / or Spanish:
The aim is to first find the highest volume and most relevant keywords / seed terms, and then generate long tail keyword phrases from these – more relevant keywords equals more relevant traffic to your listing;
Keyword research should be done by a native speaker (ideally a language professional) – a comprehensive vocabulary is key to ensure all important keywords are identified. A native speaker will also be able to review the keywords generated and ensure only those that are relevant to your product are included in your listing and search terms – non-relevant keywords will lead to traffic from customers not specifically searching for a product like yours, and likely hurt your conversion rate;
Experience with keyword research is preferable, including familiarity with tools and software that can enhance the process;
Understand the difference between keyword research for Google and Amazon. People search on Google for information, services and products, while searches on Amazon are just for products – prioritize keywords that have buyer intent, over more informational keyword phrases;
Translating your English keywords is not recommended – without doing the "research" part, you will fail to identify keywords and limit the potential traffic to your listing. Furthermore, direct translation of keyword phrases (two or more words) from English into another language can produce a phrase that has a totally different meaning than intended – this will drive non-relevant traffic to your listing and likely hurt conversion rate; and
Run an automatic PPC campaign when you enter a new marketplace – after a week or two, download the search terms report from seller central and see what keywords are converting well.
There are a number of tools that can be used to do keyword research for Amazon Europe, including:
Bottom line – keyword research is a vital process (one that is worth time and investment), as it has a significant impact on the amount and type of traffic directed to your listing.
Tips To Those Writing And Translating Your Amazon Europe Listings
Ensure your writers are familiar with Amazon's guidelines / rules for product content, and are aware of the character limits that apply to the different sections of your listing (title, bullets and description).
Product Title
The same principles apply as titles written in English for Amazon US or UK – your title should combine copywriting (encouraging customers to click on your listing) and important keywords you want to rank for (both high-volume and relevant to your offering).
We recommend you request 2 titles for each product listing – perhaps 1 longer and 1 shorter version – you can then test which one is the better performer in terms of traffic, conversion rate and ultimately sales.
Bullets and Product Description
Emphasize that your text must not only be translated, but localized and adapted so the style is appealing to customers in the target market.
Make sure that units of measurement in your US Listings are adapted to those used in Europe – you can convert many common measurements here.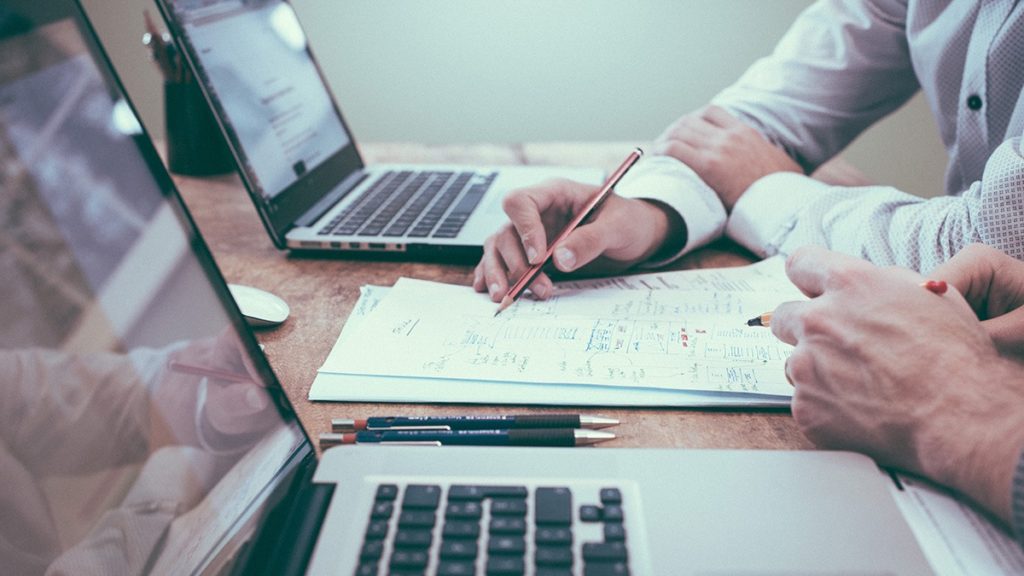 Tips For Writing Listings In Each Marketplace
We present below some tips for sales copy in each marketplace – of course these points are generalizing and consumer behaviour varies at an individual level, but they aim to provide a feel for the different approaches that can be applied in these markets.
Germany
German customers tend to be performance and detail oriented. They will often spend time researching for the very best product, and look for evidence of quality in your product listing. They tend to be more receptive to shorter text and content that is detail and logic oriented, rather than longer and more sales oriented text.

Italy and France
Customers in France and Italy also tend to be methodical when purchasing goods online, often doing research to ensure the product meets their particular need(s). They place high value on the trustworthiness of your brand and product, with particular focus on customer reviews and feedback. Informative and reassuring product descriptions are suggested. Lastly, they display a particular sensitivity to the quality of writing and pictures in your listing – presentation is key.

Spain
Spanish customers place high value on your brand and product's social recognition, but tend to be more spontaneous in their purchasing approach. Your sales copy should remain simple and clear (avoiding details that are not essential), and focus on the best features of your product.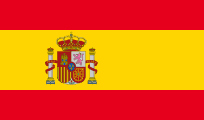 Make Sure To Review Your Translated Listings
It's best practice to have another native speaker review your newly localized/translated listing – perhaps you have a friend that can do this, or you can hire a freelancer.
Your new listings should be proofread at a minimum – spelling mistakes or basic grammatical errors will cause you to lose credibility in the eyes of potential customers.
Ideally, the person reviewing your listing should bear the following criteria into their evaluation:
Localization – is the style of writing suitable for readers / customers in the target market?
Sales appeal – is your listing written in a way that encourages local customers to buy your product?
Your brand – does the style of writing fit your brand?
Your Options For Hiring
Let's evaluate the two common groups that Sellers hire to write and translate their listings for Amazon Europe – freelancers and general translation agencies:
There are a number of websites where you can find and hire freelancers, including Upwork, Guru and PeoplePerHour.
If translation agencies sound like a good fit for your needs, there are a number of them listed here.
As an alternative to freelancers and translation agencies, you can also hire a Listing Optimization Specialist to produce your Amazon Europe listings. AMZ Europe specializes in optimizing and localizing listings for Amazon Germany, France, Italy, Spain and the UK. It's an all-in-one service, created by European Amazon Sellers, and designed to put you in the best position to succeed on Amazon Europe. Offering a unique combination of native copywriting / localization, keyword research and Amazon expertise, they generate optimized listings, designed to increase traffic and conversion rate in your target market.
For each optimized listing ordered, you will get:
Product Title – Enticing, keyword-rich titles to get more clicks from customers
Bullets & Description – Crafted by native copywriters to appeal to customers in the target market and convert
Keywords / Search Terms – Comprehensive keyword research to identify and include the best keywords in your listing and backend search terms
PPC Terms – A list of the best terms to target when advertising your product(s)
Quality Assurance – All contents proofread by a native language professional to provide you with peace of mind
Unlimited Revisions – Our commitment, your satisfaction – unlimited revisions available for 14 days
Bonus optimization tips for Amazon Europe
Product pictures
Amazon Europe does not currently allow sellers to display different images for each marketplace – as such, the same pictures will be shown in the UK, Germany, France, Italy and Spain.
If you have pictures displaying text that (a) is important for customers to make a purchasing decision, and / or (b) enhances your chances of making a sale; we highly recommended you translate this text for each applicable marketplace, and incorporate the translations into your pictures – by doing so, you ensure that customers in each marketplace can read your essential text. Not doing this can frustrate potential customers who can't read English and hurt your conversion.
Multilingual presentation in an image (like the example provided below) can achieve this: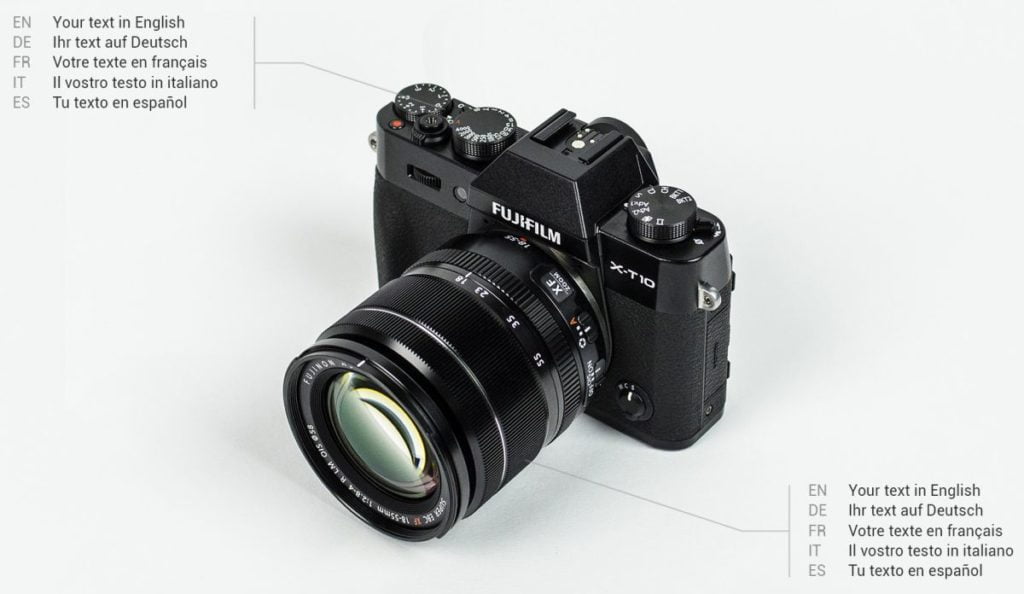 To ensure the text is visible, opt for shorter messages, as it will need to be displayed in up to 5 languages (English, German, French, Italian and Spanish).
Split Testing
We recommend performing split tests (also known as "A/B Testing") on your product listings in each marketplace, and analyzing data to see what works best there. What works best may well vary by country / marketplace.
Key parts of your listing that can be tested (without any language skills):
Main image – will an alternative main image get more clicks / traffic to your listing?
Pricing – what price is optimal for maximizing profit in each country?
Splitly and CashCowPro are software solutions that automate split testing for Amazon Sellers – both are compatible with Amazon's European marketplaces.