Elite Seller is your one-stop location for managing your Amazon businesses from a birds-eye view and organizing your team to focus on actionable tasks to move the needle each and every day. Research, manage and automate your entire Amazon business with ease. Elite Seller offers a truly robust platform that will allow you to consolidate more than half of your app stack for running your business into our seamlessly integrated platform. They'll raise the bar on how you manage your account(s) and they've raised the bar on what to expect from Amazon Software.
In this blog post, we review Elite Seller – an essential Amazon FBA seller tools suite. By using this dashboard, you can track your product performance, automate emails and review requests, create product funnels along with ManyChat rebates which is demonstrated in this demo, manage your customers and orders. Besides, it has reverse ASIN as well as ASIN spy features that allow you to see how your competitors' listings are doing. Also, it helps to track your keyword performance as well as explore new ones. Elite Seller is an all-in-one Amazon seller software suite that is suitable for any Amazon seller.
What is Elite Seller and how does it help Amazon sellers?
Elite Seller platform is built to help you to scale your Amazon business. You can use it either for one or multiple Seller Accounts or even if you are an agency, managing hundreds of accounts. However, again, it's also suitable for those sellers who just begin selling on Amazon, therefore the tool has a pricing plan suited exactly for beginners.
Elite Seller covers all North America and all European markets.
Elite Seller review
Dashboard
When you open the dashboard of Elite Seller, you can see all the important metrics at one glance – the dashboard provides data on your products, how they performed during the specific time period, what was your ACoS and TACoS, give you sales breakdown. Everything on this dashboard can be moved around so you can organize as you like, for example adding metrics that are important to you and removing unnecessary ones.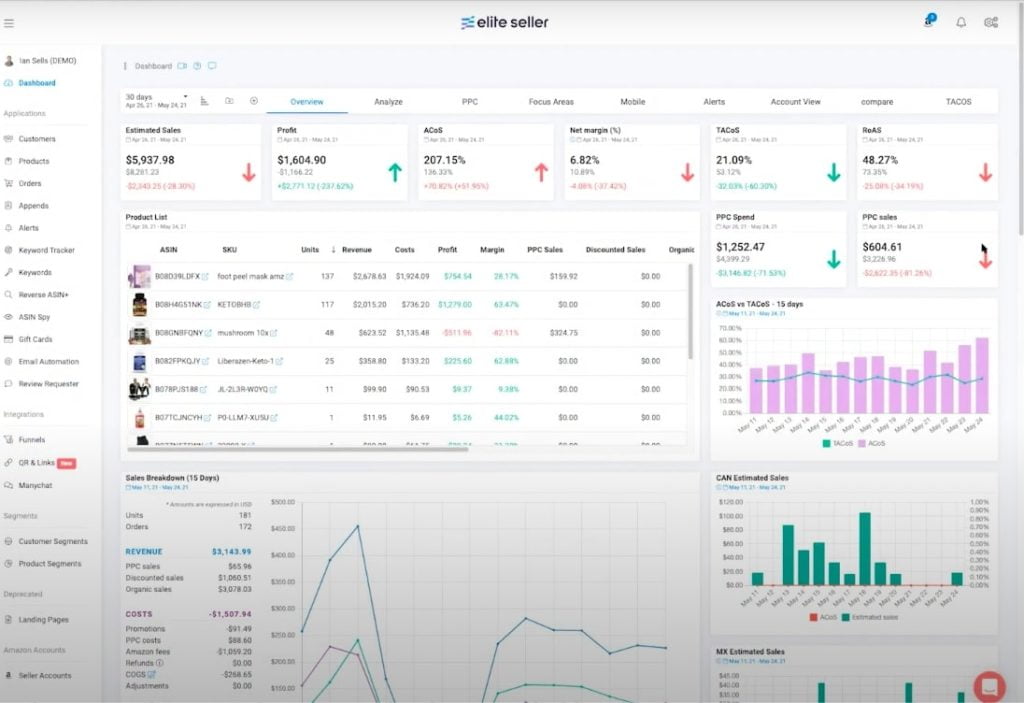 At the left side of the dashboard, you can see the list of different Elite Seller features:
Customers. Here you can manage your customers and create segments based on their behaviour.
Orders. This one helps you to manage and track your orders that are happening across all of your accounts.
Alerts. You can set up when you want to be notified, i.e. when a product's price or the fees changes.
Keyword tracker. It's an automatic tracker that tracks keyword performance across all your accounts.
Keywords. This is a keyword research tool.
Reverse ASIN. It allows to look at different ASINs and see your competitors that relate to a certain keyword.
ASIN spy. You can look at any ASIN on Amazon and see its sales history, when the pricing of a product is changing.
Gift cards. Here you can create and give gift cards to customers.
Email automation. It automates your emails for you, for example emails sent to customers after completing the purchase, such as a PDF guide or a simple "Thank you" email.
Review requester. This is where Amazon sends an automated "Request Review" button to buyers on behalf of a seller.
Funnels. This is where you can build custom landing pages for your products to launch.
QR and links. Here you can create QR codes and links for your products. You can always customize these links and set where they redirect.
ManyChat. That's a ManyChat integration within Elite Seller. If you are doing ManyChat launches, that's a very easy way to do it inside the tool.
Now let's dive into some of these features further.
Products module
In Products section, you can see all products that you have and how they perform, including ratings, sales, daily velocity, profit, margin, sessions, revenue, and so on.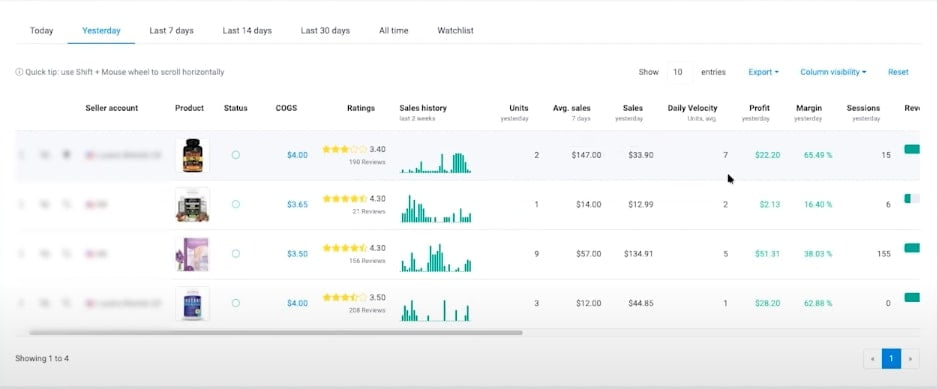 As the main dashboard, this product dashboard is very flexible and also can be adjusted very easily – you can move around different metrics so you can see the most important first. Also, all the data in this dashboard can be exported.
Orders module
Here you can see how many orders you've got during a specific period of time, how many items were included in these orders, etc. You can also see how many of them have been returned. Every product and every order has its own P&L so you can see difference between each product and how much it's impacting your profit and loss.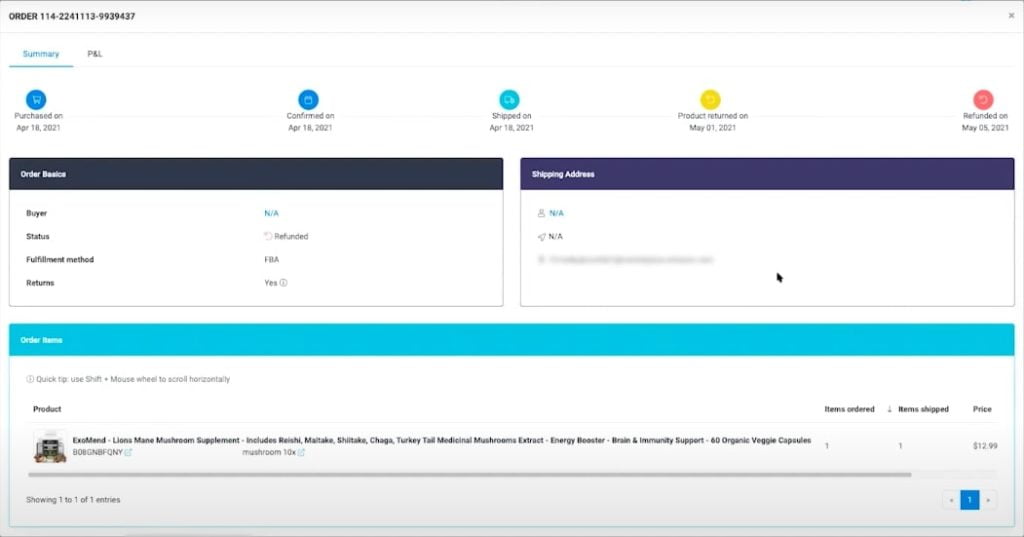 Alerts
With Elite Seller, you can set alerts for all your products across different marketplaces. The tool has many alerts that are being added constantly, for example alerts for a price change, bad reviews, low stock, etc. You can customize these alerts – let's say, when it comes to product ratings, you can tell the tool to send an alert when it drops down under 4.3 stars or similar.
Besides, you can choose how you want to receive these alerts – it can be either your email, Slack channel, directly into Google Sheets. There's an alerts log where you can track all changes of you products.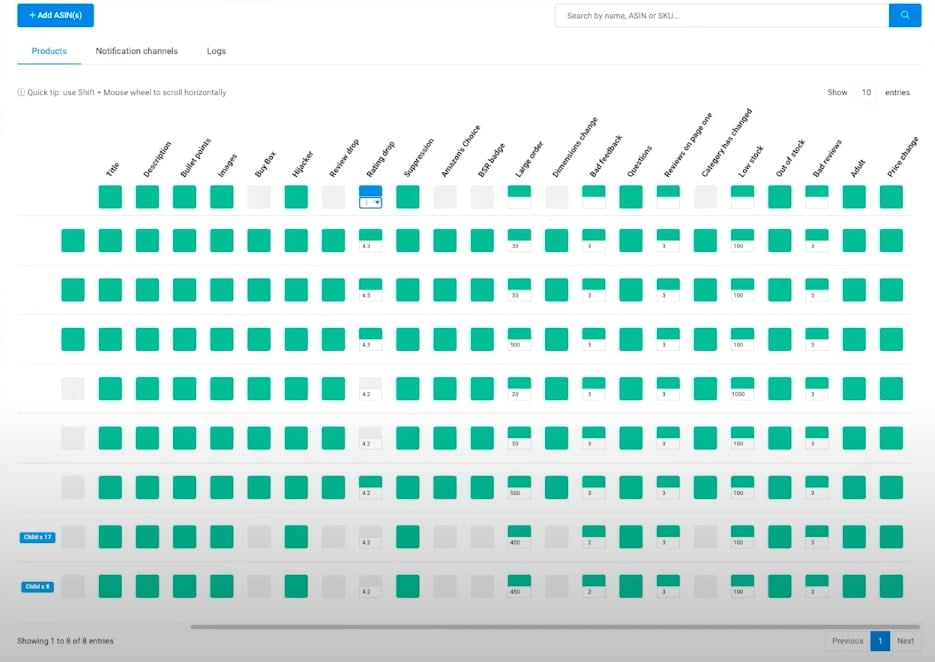 Keyword tracker
It's a very unique feature that finds new keywords that you didn't know you were ranking for. As the tool is scraping Amazon daily, it knows what ASINs rank for what pages and the more ASINs the tool has on the database, the better it knows for what keywords you are ranking for.
It shows you data on estimated clicks, clicks change, and BSR history.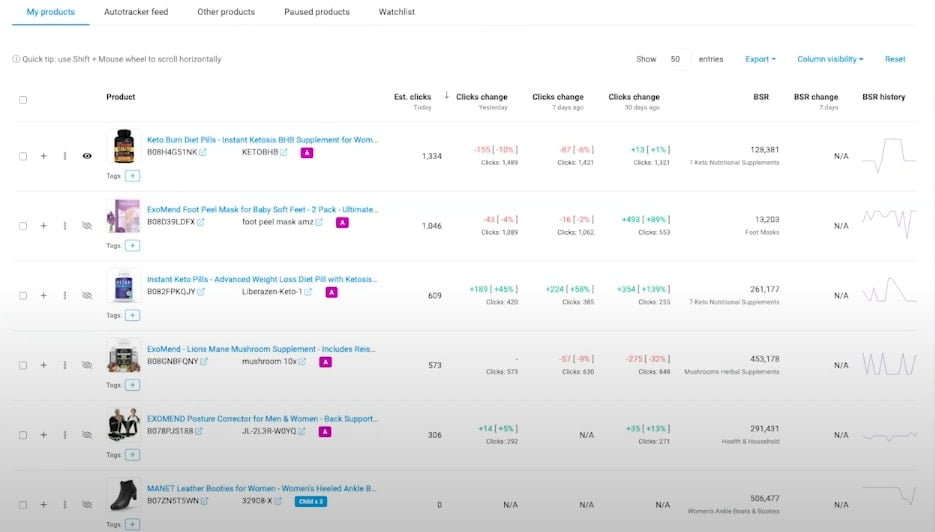 You are able to see what is your keyword search volume and find out the current organic ranking position. If you are doing a launch, you can enable a boost mode on specific keyword so the tool checks it every hour for 10 days to see how it's ranking.
It even automatically tracks new keywords that you recently have started to rank for.
Keyword research
To use this keyword research feature, all you need to do is to enter a seed keyword and the tool will provide you a ton of new relevant keywords and will show how each of them ranks.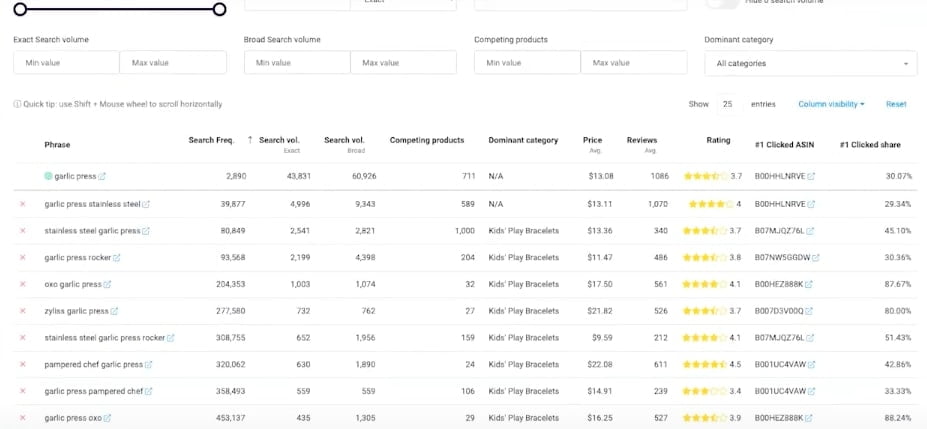 Next to each keyword, you can see what is the top performing ASIN for any particular keyword. You can also filter out the results, showing only 3-word long-tail keywords or set a different word count.
Reverse ASIN
This is one of the most popular features of Elite Seller. To use it, enter a keyword and hit a search button next. The tool then finds ASINs on Amazon that ranks for that keyword. From the list, choose only the most relevant products to yours. You can pick up to 20 ASINs.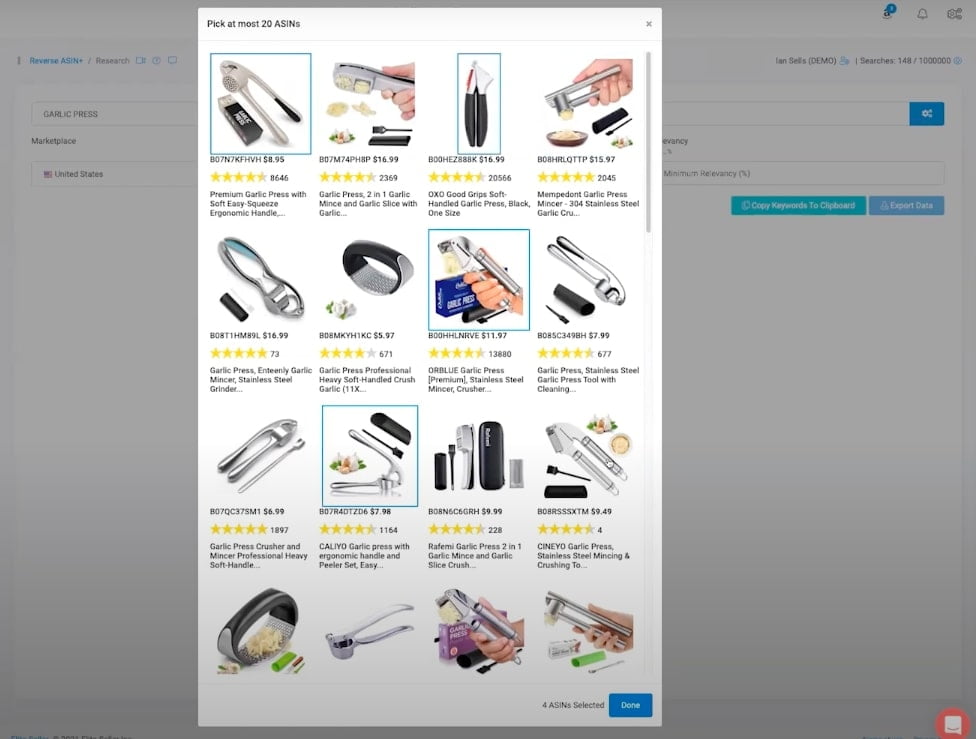 The tool generates all keywords that your chosen ASINs are ranking for and list it by relevancy. It's a very easy way to build your list of keywords by looking at what your top-performing competitors are doing. And it's done only within a few minutes.
ASIN spy
As the name of the feature indicates, you can actually spy on your competitors. It means you can always see how your competitors are doing, what changes they have done to their listings and how it affected their performance. All of the data is put together in a very comprehensive way and the graph is adjustable – you can select only those metrics that interest you the most.
Email automation
Here you can set up all emails that you would send to your clients manually. It can be .pdf guides or just simple "Thank you" emails. Just make sure you stay compliant with Amazon Terms of Service and don't ask to leave a review on your products.
Review requester
However, lots of sellers do not use automated emails anymore – instead, they use a review automator bot that goes into your Seller Account and clicks on the review button based on different settings you have set. You can easily set it up just for specific ASINs or which customers you'd like to send these requests to. It's important to exclude people who have left a negative feedback or asked for refund. So that's how you can customize your review requests, however, you can set it up for your entire account.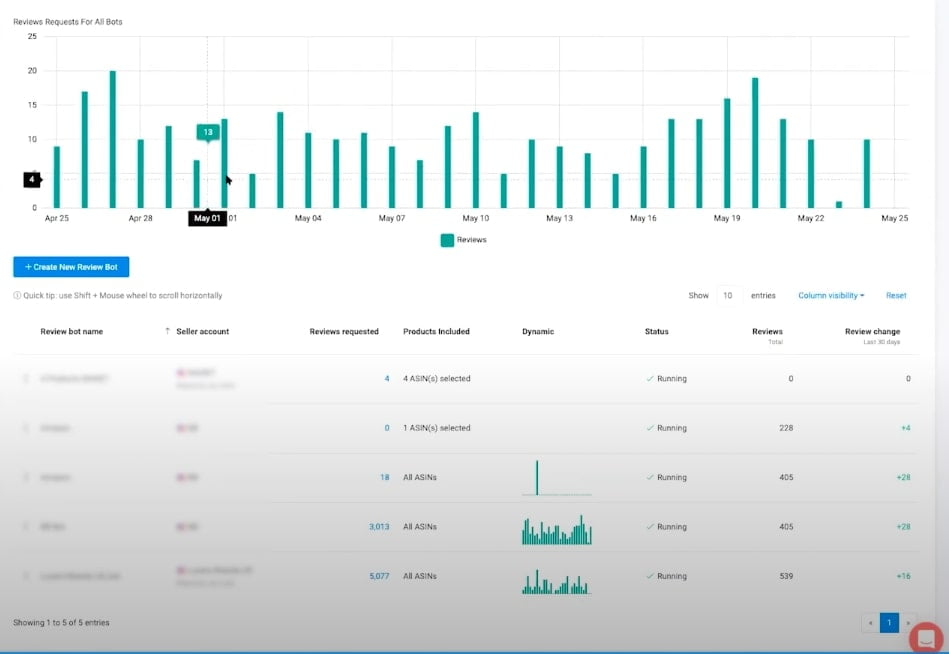 ManyChat
Creating ManyChat campaigns for product launches is a very common practice among Amazon sellers. With Elite Seller, it's very straightforward – to create one, first you need to give it a name, set a product price and a rebate price, how many rebates you'd like to have per day, and for how long. Elite Seller takes care of the rest.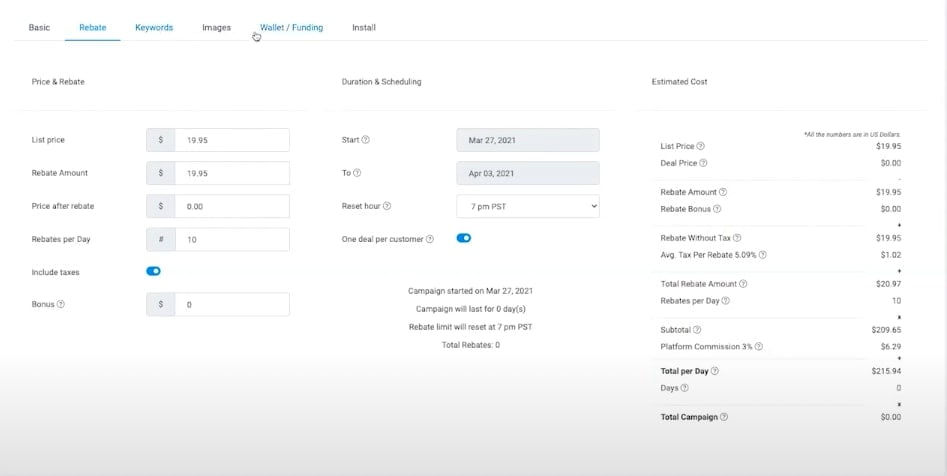 It gives you clear stats on how your rebate keywords perform, how many people have claimed the rebate on a daily basis and for that, you don't need to use any Google spreadsheets – it's all inside the tool.
The tool also automatically black list people who have claimed returns or tried to cheat so you don't need to do it yourself.
Funnels
Funnels are custom landing pages for your products. Elite Seller instantly build those funnels by pulling all the information from your Amazon account – bullet points, images, reviews, etc. These landing pages can be created for rebates when you are about to launch a product.
All you need to do is to specify an ASIN of a product you want to launch, write a campaign name and select an option how you want to collect information for that landing page – you collect email, phone numbers, or both, although it's recommended to collect only email addresses so people go faster through your funnel.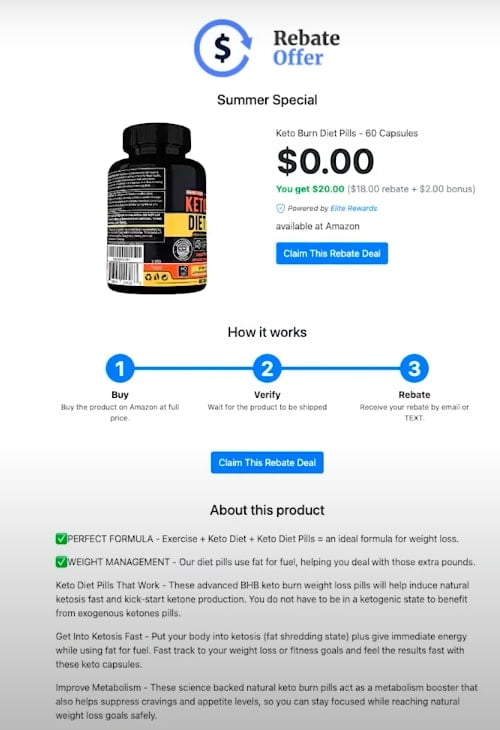 By the way, if you have a certain group of clients that you want to share this funnel with, you can upload an email list that check the box that you want to share it only with this group of people.

Once you create a landing page, you can now drive traffic to it through Facebook or Google ads.
Customer segments
In case you want to group people based on what discount they were given and look at their buying behaviour afterwards – how many discounts they have claimed, how many products bought – you can do so by creating customer segments.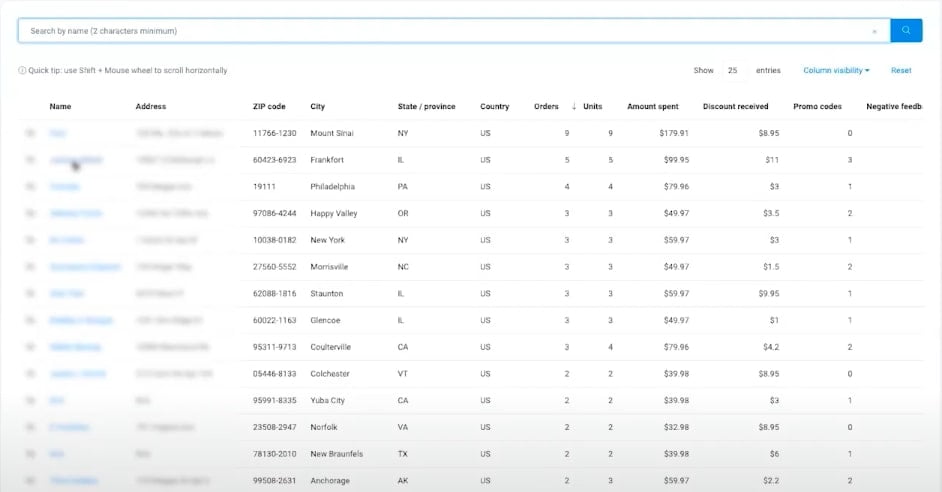 Pricing and upcoming features
Elite Seller's pricing is tailored to both new and advanced sellers so you can start using the platform only from $27/month. Even though it's the cheapest plan, you are still able to try everything that Elite Seller has to offer by choosing this one.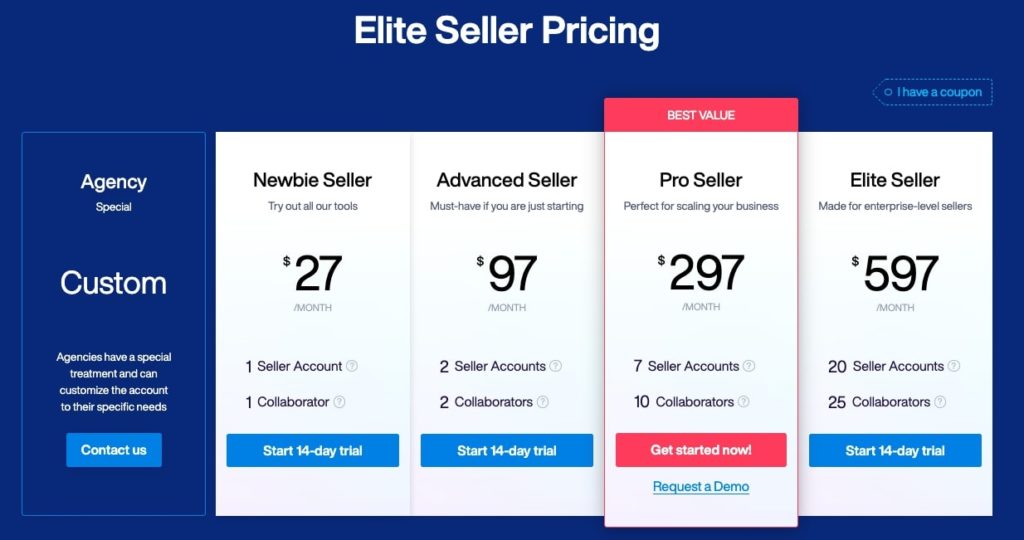 Within the next couple of months, Elite Seller is planning to release hourly tracking option, more alerts – BSR changes, pricing changes, competitor alerts – as well as a Chrome app. They are also adding ACoS and TACoS at a product level, improving the main dashboard with shareable tabs, widgets and templates that can be shared within your team, and many more exciting updates on PPC and inventory management.
If you want to start using Elite Seller, get 20% off lifetime of any Elite Seller plan with a coupon code ORANGE20. Claim through this link.